The nation honors Sen. John McCain
2:50 p.m. ET, August 30, 2018
McCain's motorcade is heading to the airport
The late Sen. John McCain's motorcade just left North Phoenix Baptist Church after his memorial service. The motorcade is now on its way to the airport.
McCain is due to leave Arizona for the last time around 3:30 p.m. ET. His body will be flown to Washington, DC, for more memorial services in the nation's capital and in Annapolis, Maryland.
2:44 p.m. ET, August 30, 2018
McCain's family follows his casket out of church to Frank Sinatra's "My Way"
Sen. John McCain's memorial service just concluded with brief remarks from Rev. Noe Garcia, the senior pastor at North Phoenix Baptist Church.
After Garcia read a portion of Meghan McCain's heartfelt statement that was released Saturday -- in which she wrote that her father was awakening in death "to something more glorious than anything on this Earth" -- Frank Sinatra's "My Way" began to play in the church.
McCain's casket was carried out by the members of the Arizona National Guard, and his family followed close behind.
Watch the moment:
2:33 p.m. ET, August 30, 2018
Joe Biden: McCain joins a "long line of extraordinary leaders in this nation's history"
Vice President Joe Biden remembered the legacy of Sen. John McCain, saying it will "continue to inspire and challenge generations of leaders as they step forward."
"You are a living legacy, not hyperbole," Biden said, speaking to McCain's family. "You are a living legacy and proof of John McCain's success. Now John is going to take his rightful place in a long line of extraordinary leaders in this nation's history. Who, in their time and in their way, stood for freedom and stood for liberty and have made the American story the most improbable and the most hopeful and most enduring story on Earth."
"I know John said he hoped he played a small part in that story. John, you did much more than that, my friend. To paraphrase Shakespeare, we shall not see his like again," Biden concluded.
2:25 p.m. ET, August 30, 2018
Joe Biden: McCain loved the Senate, and lamented how it's changing
Former Vice President Joe Biden, who served in the US Senate alongside John McCain, said the late senator mourned how bipartisanship had faded over the years.
"We both loved the Senate," Biden said. "We both lamented, watching it change." 
Biden and McCain used to sit next to each other during long debates in the 1980's and '90s. In 1996, they were each told independently by their parties that their visible friendship didn't look good.
"That's when things began to change for the worse in America in the Senate. That's when it changed," Biden said.
The former vice president recalled how things used to be in the Senate — and lamented how attacks became more personal and partisan.
"It was always appropriate to challenge another senator's judgment, but never appropriate to challenge their motive. When you challenge their motive, it's impossible to get to go," he said.
Biden's remarks were similar to McCain's speech on the Senate floor last summer, in which he begged his colleagues to restore the chamber to a spirit of compromise that had helped forge national greatness.
2:11 p.m. ET, August 30, 2018
Joe Biden on the cancer that killed McCain, Ted Kennedy, and his son Beau: "It's relentless"
Speaking at John McCain's memorial service, former Vice President Joe Biden spoke about the disease that took the lives of both McCain and his son Beau Biden.
"The disease that took John's life took our mutual friend's, Teddy, the exact same disease nine years ago, a couple days ago. And three years ago, it took my beautiful son Beau's life," Biden said.
He continued:
"It's brutal. It's relentless. It's unforgiving. And it takes so much from those we love and from the families who love them that in order to survive, we have to remember how they lived, not how they died."
Biden later went on to express solidarity with the family mourning, saying experiencing a loss is, "like being sucked into a black hole inside your chest. It's frightening."
"But, I know something else, unfortunately, from experience, that there's nothing anyone can say or do to ease the pain right now. But I pray, I pray you take some comfort knowing that because you shared John with all of us, your whole life, the world now shares with you in the ache of John's death."
2:14 p.m. ET, August 30, 2018
In photos: This is what it looks like at McCain's service
Mourners are gathered right now at John McCain's memorial service at North Phoenix Baptist Church, where McCain's close friends are speaking about his legacy and sharing their memories of the late senator.
Here's what it looks like inside the service:
2:02 p.m. ET, August 30, 2018
Joe Biden: "I always thought of John as a brother"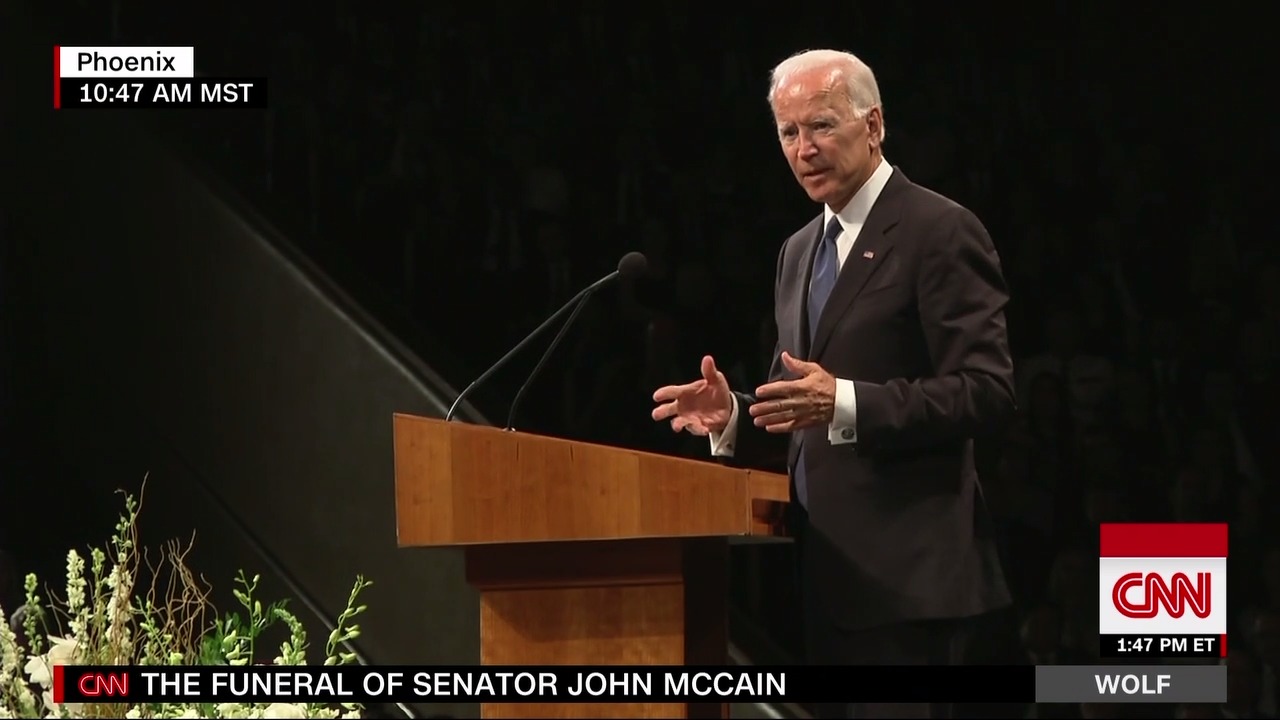 Former Vice President Joe Biden, speaking to mourners, said his relationship with Sen. John McCain was deeper than just colleagues on Capitol Hill.
"The way I look at it, the way I thought about it was that I always thought of John as a brother," Biden said. "We had a hell of a lot of family fights. We go back a long way."
Biden met McCain while working as a young senator. The two traveled together, talked about politics and shared ambitions, he said.
"All politics is personal. It's all about trust. I trusted John with my life and I would and I think he would trust me with his," Biden said.
Watch more:
1:57 p.m. ET, August 30, 2018
Listen to a hymn performed by a Navajo flutist 
During the ceremony, Navajo flutist Jonah Littlesunday performed the hymn "Expression of Love."
There are multiple musical performances planned during the service, including a bagpiper.
2:01 p.m. ET, August 30, 2018
McCain judged people on the "merits of their character" not their backgrounds, NFL player says
Arizona Cardinals player Larry Fitzgerald, Jr. paid tribute to his friend John McCain by highlighting their differences — and pointing out that the late senator looked past them.
"Many people might wonder what a young African-American kid from Minnesota and a highly decorated Vietnam War hero-turned-United States senator might have in common. Well, I thought of a few: I'm black. He was white. I'm young. He wasn't so young. He lived with physical limitations brought on by war. I'm a professional athlete. He ran for President. I run out of bounds."
So why were they friends? "That's just who he is," Fitzgerald said.
He continued: "He didn't judge individuals based on the color of their skin, their gender, their backgrounds, their political affiliations, or their bank accounts. He evaluated them on the merits of their character and the contents of their hearts."
Watch the moment: