The nation honors Sen. John McCain
9:32 a.m. ET, September 1, 2018
Here's a list of who's attending today's service
Sen. John McCain's staff provided the following list of notable attendees expected to attend this morning's service. It includes a number of current and former US leaders, current and foreign leaders, and at least seven POWs:
Current and Former U.S. Leaders:
President Bill Clinton and Secretary of State Hillary Clinton
Vice President Al Gore
Vice President Richard Cheney
Secretary of State Madeleine Albright
Secretary of State John Kerry
Senators Bob Dole and Elizabeth Dole
Associate Justice of the Supreme Court Anthony Kennedy
Representative Gabby Giffords and Captain Mark Kelly
Senate Majority Leader Mitch McConnell
Speaker of the House Paul Ryan
Senate Minority Leader Chuck Schumer
House Minority Leader Nancy Pelosi
Governor Mitt Romney
Director of National Intelligence Dan Coats
Transportation Secretary Elaine Chao
Attorney General Jeff Sessions
Veterans Affairs Secretary Robert Wilkie
Superintendent of the U.S. Naval Academy Walter E Carter, Jr.
Secretary of Commerce Don Evans
Several Current and Former Members of Congress
 Current and Former Foreign Leaders:
President of Ukraine Petro Poroshenko 
Mayor of Kyiv Vitali Klitschko
Former Prime Minister of Ukraine Arseniy Yatsenyuk
Former Deputy Foreign Minister of Ukraine and Former Diplomatic Advisor to the Prime Minister of Ukraine Danylo Lubkivsky
Secretary General of NATO Jens Stoltenberg
Former Secretary General of NATO Anders Fogh Rasmussen
President of Panama Juan Carlos Varela
Former President of Georgia Mikheil Saakashvili
Minority Leader of the Parliament of Georgia (UNM) David Bakradze
Vice Speaker of the Parliament of Georgia (Dream Party) Tamar Chugoshvili
HE Sheikh Thani Bin Hamad Al Thani
Foreign Minister of Saudi Arabia Adel al-Jubeir
Director for International Affairs for the Office of the President of the Republic of Poland Witold Dzielski
Former President of Estonia Toomas Ilves
Defense Minister of Estonia Juri Luik
Foreign Minister of Estonia Sven Mikser
Former Canadian Minister of Defense and Member of Parliament Peter MacKay
Canadian Parliamentary Representative to the Minister of Foreign Affairs Andrew Leslie
Defense Minister of Canada Harjut Singh Sajjan
Foreign Minister of Lithuania Linas Linkevicius
Foreign Minister of Latvia Edgars Rinkevics
Former President of Colombia Jose Santos
President of the Bundestag (German Parliament) Wolfgang Schaeuble
Speaker of Taiwan Parliament Su Jia-chyuan
Former Sri Lankan Ambassador to the United States Devinda Subasinghe 
POWs:
Commander Everett Alvarez Jr. (USN-ret)
General Charles (Chuck) Boyd
Colonel Michael (Mike) Brazelton
Captain Gerald (Jerry) Coffee
Captain Michael (Mike) Cronin
Colonel John Fer
Rear Admiral Robert (Bob) Shumaker
9:27 a.m. ET, September 1, 2018
Cindy McCain lays a wreath at the Vietnam Veterans Memorial
Cindy McCain laid a wreath at the Vietnam Veterans Memorial this morning in honor of her late husband, Sen. John McCain. McCain, and other members of the McCain family, are making their way to the National Cathedral for the funeral service now.
Watch:
9:14 a.m. ET, September 1, 2018
Today: McCain to be honored at Washington National Cathedral memorial service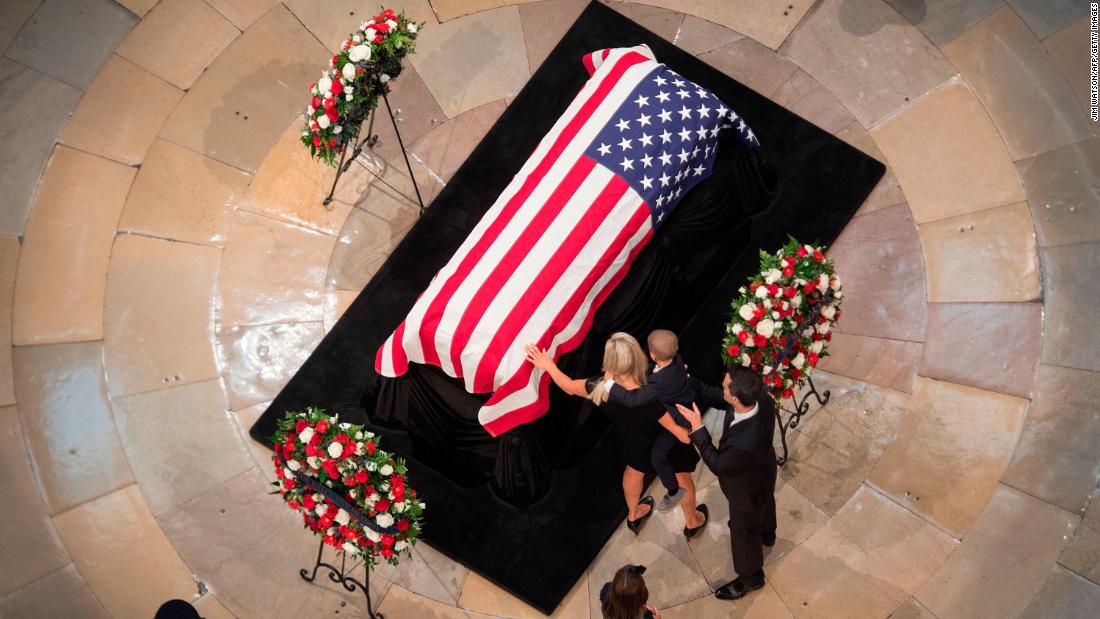 Friends, family and former presidents will gather at Washington National Cathedral this morning to honor the life of the late Sen. John McCain.
The ceremony, which begins at 10 a.m. ET, will feature tributes from Republican former President George W. Bush, who prevailed over McCain in the race for the Republican presidential nomination in 2000, and Democratic former President Barack Obama, who ran against McCain in the 2008 presidential election and won.
The remarks from former Democratic and Republican presidents who were once rivals to McCain will send an unmistakable message of unity and bipartisanship at a time when Washington is deeply divided.
Former Secretary of State Henry Kissinger, former Sen. Joe Lieberman of Connecticut and Meghan McCain, one of the late senator's daughters, are also on the list of those slated to speak at Saturday's memorial service.
Democratic former Vice President Joe Biden, who delivered an emotional eulogy for McCain at a memorial service in Arizona on Thursday, will serve as a pallbearer on Saturday.
Actor Warren Beatty, former New York Mayor Michael Bloomberg, Democratic Sen. Sheldon Whitehouse of Rhode Island, former Democratic Sen. Russ Feingold of Wisconsin and former chief of staff to McCain Mark Salter will also serve as pallbearers, among others.
Republican Sen. Lindsey Graham of South Carolina, a close friend of McCain's, and McCain's children Jimmy and Sidney McCain will take part in the ceremony as well.
4:34 p.m. ET, August 31, 2018
Presidents Bush and Obama will speak at McCain's memorial service tomorrow
A memorial service for the late Sen. John McCain will be held Saturday at the National Cathedral in Washington.
While traveling from the US Capitol to the National Cathedral, the motorcade will stop at the Vietnam Veterans Memorial, where McCain's wife, Cindy McCain, will lay a wreath to honor those who died in the war.
The memorial service at the cathedral will begin at 10 a.m. Scheduled speakers include:
Former President George W. Bush
Former President Barack Obama
Former Sen. Kelly Ayotte
Sen. Lindsey Graham
Former Secretary of State Henry Kissinger
2:43 p.m. ET, August 31, 2018
Meghan McCain posts Instagram picture with "uncles" Graham and Lieberman 
Meghan McCain posted a picture with Sen. Lindsey Graham and former Sen. Joe Lieberman.
Both men had been longtime friends of her father. It appears the picture was taken today, as Meghan's outfit and hair appear to be similar to what she had on at the Capitol today. 
1:43 p.m. ET, August 31, 2018
The public is now paying respect to McCain
Security is now letting members of the public inside the US Capitol to say their final goodbyes to the late Sen. John McCain, who is lying in state.
They will be allowed to do so until 8 p.m. ET.
One of those visitors is Heidi Williams, who says she wants to pay tribute to a man who was bipartisan.
I just feel like today in this environment that it's a great way to pay respect to a man who was a bipartisan you know I think as you read about him and learn about him that even if you didn't believe in his politics that you could respect him as a man. He fought for this country, I think he fought for normal people. I feel that we are just in such turmoil right now that he's one of the last and we hope that the young people come up and vote and change what's going on right now in this country. And so I just wanted to come I've never done this before and so three girlfriends, we all came and decided that it was a pretty meaningful thing.
12:38 p.m. ET, August 31, 2018
Cindy McCain will visit with staff, and her husband's desk on the Senate floor
Sen. John McCain's wife, Cindy McCain, is still on Capitol Hill, and she and Sen. Lindsey Graham will address the Senate staff. 
Afterwards, Graham will escort McCain to the Senate Floor to visit her late husband's desk.