Mark Zuckerberg testifies before Congress
11:04 a.m. ET, April 11, 2018
Zuckerberg: Regulation of our industry is "inevitable"
Facebook CEO Mark Zuckerberg has said before that his industry probably needs to be regulated. He repeated that today during questioning from Rep. Fred Upton in the House hearing.
"The internet is growing in importance around the world ... I think it is inevitable that there will need to be some regulation. My position is not that there should be no regulation, but I also think you need to be careful about what regulation you put in place."
Zuckerberg told CNN last month that he would welcome more regulation of political advertising on the internet.
"There are things like ads transparency regulation that I would love to see," he told CNN. "If you look at how much regulation there is around advertising on TV and print, it's just not clear why there should be less on the internet."
10:47 a.m. ET, April 11, 2018
Zuckerberg: "This is a complex issue that deserves more than a one-word answer"
CEO Mark Zuckerberg repeated an apology offered in a prior hearing that Facebook made a "big mistake" by not taking "a broad enough view" of its responsibility. 
But he faltered somewhat when pressed by Rep. Frank Pallone, a Democrat from New Jersey, for a "yes" or "no" answer on whether Facebook would commit to changing its default settings to minimize data collection "to the greatest extent possible."
"This is a complex issue that deserves more than a one-word answer," Zuckerberg said. Pallone called the response "disappointing."
10:42 a.m. ET, April 11, 2018
Mark Zuckerberg blames "enforcement error" for punishing conservative social media stars
Facebook CEO Mark Zuckerberg blamed an "enforcement error" for conservative sisters Lynette Hardaway and Rochelle Richardson -- better known as Diamond and Silk on Twitter and Facebook -- being told their Facebook content was "unsafe," which they and their supporters decried as censorship.
"We have already gotten in touch with them to reverse it," Zuckerberg claimed, though as recently as yesterday the sisters claimed Facebook had not.
What happened: The Washington Post reported that the sisters began noticing Facebook was limiting the reach of their posts back in September, and when they sought an explanation, they heard nothing. This month they got an email from Facebook that read, "The Policy team has came to the conclusion that your content and your brand has been determined unsafe to the community. This decision is final and it is not appeal-able in any way."
Watch them explain:
10:26 a.m. ET, April 11, 2018
What it was like when Zuckerberg arrived
A bystander told CNN's Laurie Segall they "felt a chill" when he walked by.
10:13 a.m. ET, April 11, 2018
Zuckerberg gives his opening remarks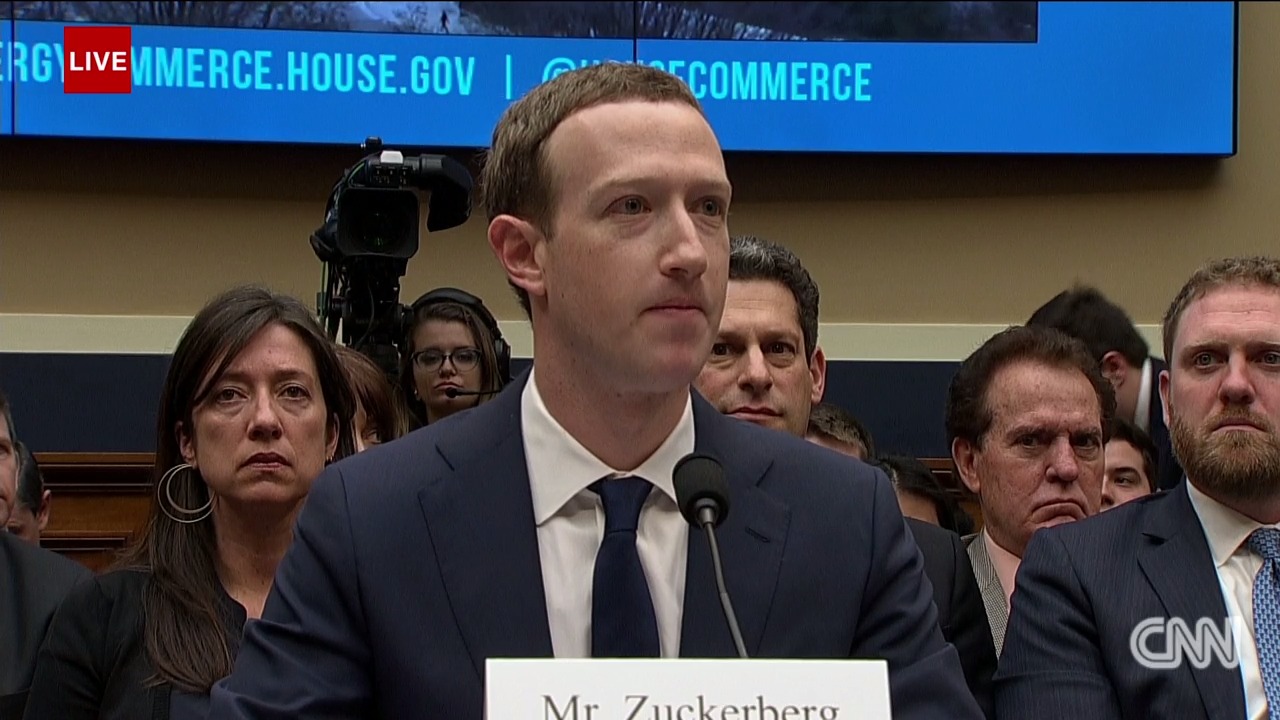 They start like this:
"We face a number of important issues around privacy, safety, and democracy, and you will rightfully have some hard questions for me to answer. Before I talk about the steps we're taking to address them, I want to talk about how we got here."Facebook is an idealistic and optimistic company. For most of our existence, we focused on all the good that connecting people can bring. As Facebook has grown, people everywhere have gotten a powerful new tool to stay connected to the people they love, make their voices heard, and build communities and businesses. Just recently, we've seen the #metoo movement and theMarch for Our Lives, organized, at least in part, on Facebook. After Hurricane Harvey, people raised more than $20 million for relief. And more than 70 million small businesses now use Facebook to grow and create jobs.But it's clear now that we didn't do enough to prevent these tools from being used for harm as well. That goes for fake news, foreign interference in elections, and hate speech, as well as developers and data privacy. We didn't take a broad enough view of our responsibility, and that was a big mistake. It was my mistake, and I'm sorry. I started Facebook, I run it, and I'm responsible for what happens here.
You can read along right here.
10:09 a.m. ET, April 11, 2018
Zuckerberg arrives at House hearing
Mark Zuckerberg has arrived at his House Energy and Commerce Committee hearing, where members of Congress are now reading through their opening remarks.
When it's Zuckerberg's turn to talk, here's what he is expected to say.
9:57 a.m. ET, April 11, 2018
7 things we learned from Zuckerberg's testimony yesterday
Facebook CEO Mark Zuckerberg testified yesterday before the Senate Judiciary and Commerce committees about the Cambridge Analytica scandal.
Here's what we learned from his testimony:
— Zuckerberg's greatest regret is that Facebook was "slow in identifying the Russian operations in 2016," he said.
— He confirmed that special counsel Robert Mueller's team spoke with his employees about Russian meddling in the 2016 election. CNN reported last year that Facebook handed Russia-linked ads over to Mueller under search warrant.
— Zuckerberg made several commitments to lawmakers, including ensuring activist groups aren't targeted on Facebook and promised that his company wouldn't make "any decisions based on the political ideology of the content."
— He slapped down an audio mining conspiracy theory. Zuckerberg said Facebook is not listening in on your phone calls.
— Louisiana Sen. John Kennedy thinks Facebook's "user agreement sucks."
— Zuckerberg was not sworn-in under oath, but he still had a "legal obligation to testify truthfully," a Commerce committee GOP aide told CNN.
— A bogus Facebook profile of Delaware Sen. Chris Coons was created and taken down.