Mark Zuckerberg testifies before Congress
4:37 p.m. ET, April 10, 2018
Sen. Graham: Zuckerberg was "like Jell-O" on regulations
Senator Graham, after his questioning of Mark Zuckerberg told press that he thought the Facebook CEO was "like jello" on regulations. 
"I think you should take what they say with a grain of salt—-we'll see— we'll see how serious they are."
"I think he was sort of like Jello-O on this. He's for regulations except the ones you're talking about. 'So the Europeans maybe don't work here — I don't know, maybe we can find some, give me ideas.' The point was I think we're going to have to lead here. If we are counting on Facebook regulating itself, we're going to fail."
"I am a Republican — I don't like regulating things unless you have to but to me you've got a very large organization without any real competition," Graham said.
"They are good, sincere people. But they've created, in many ways, a monster....there is a dark side to this. And I don't think the industry itself is going to address that dark side."
4:25 p.m. ET, April 10, 2018
Senate staffers hold up a sign of Zuckerberg's past apologies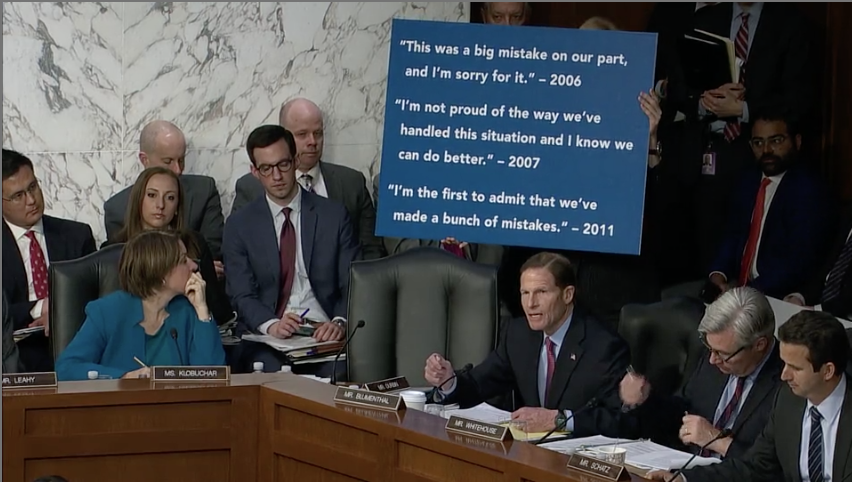 Sen. Richard Blumenthal had staffers stand behind him holding up a sign that displayed Mark Zuckerberg's past apologies.
"We've seen the apology tours before," Sen. Blumenthal told Zuckerberg.
The first, from 2006, followed the outrage that came when Facebook surprised its users with the launch of News Feed, which many believed would be a tool for "stalkers."
The second, in November 2007, came after a tool called Beacon informed users what their friends had purchased.
The third was from December 2011 following Facebook's settlement with the Federal Trade Commission over privacy violations.
Correction: CNN originally identified Sen. Richard Blumenthal as Sen. Ron Wyden.
4:13 p.m. ET, April 10, 2018
Facebook stock closes up
While Zuckerberg was testifying, Facebook stock closed with its best percentage gain since April 2016.
Facebook's stock was up about 2% even before Zuckerberg sat down. It moved even higher when he started addressing some of the tough questions from lawmakers, including one from Senator Lindsey Graham about whether Facebook was a monopoly.
Facebook finished the day with a 4.5% gain, a seeming sign of confidence in Zuckerberg from Wall Street.
Other social media stocks rallied as well. YouTube owner Google rose 1.6%. Snapchat parent Snap Inc. gained 2.3%, and Twitter soared nearly 5.5%.

4:10 p.m. ET, April 10, 2018
The piece of legislation that Zuckerberg is totally behind
During the hearing, Zuckerberg reaffirmed his support for the Senate Honest Ads Act — legislation that would disclose political ads.
This bipartisan legislation would place new disclosure requirements on political advertisements in an effort to combat the kind of election meddling that Russia engaged in during the 2016 election campaign.
He also added Facebook is adding a feature where users can see what all the ads are on Facebook.
4:05 p.m. ET, April 10, 2018
Is Zuckerberg under oath right now?
Facebook CEO Mark Zuckerberg "is not being sworn-in under oath, but he still has a legal obligation to testify truthfully," a Commerce committee GOP aide tells CNN. "By tradition, the Commerce Committee does not swear-in witnesses," the aide added.
From CNN's Daniella Diaz
4:01 p.m. ET, April 10, 2018
Facebook "certainly doesn't feel like" a monopoly to me, CEO says
During his round of questioning, Sen. Lindsey Graham asked Mark Zuckerberg if he thought Facebook was a monopoly.
"It certainly doesn't feel like that to me," Zuckerberg said.
That response drew some light laughter from some in the room.
3:47 p.m. ET, April 10, 2018
Did Facebook employees work with Cambridge Analytica?
Sen. Maria Cantwell, a Democrat from Washington, quizzed Facebook CEO Mark Zuckerberg today over his employees' dealing with Cambridge Analytica, a political data firm with ties to President Donald Trump's campaign.
Asked whether Facebook employees were involved with Cambridge Analytica during the 2016 presidential campaign, Zuckerberg said he didn't know, though they did "help out."
"Although, I know we did help out the Trump campaign overall in sales support in all in same way that we help do with all other campaigns," he said.
Why we're talking about Cambridge Analytica
Last week, Facebook said Cambridge Analytica may have had information on about 87 million Facebook users without the users' knowledge. Previous reporting had put the number of users at about 50 million.
The data obtained was originally collected by University of Cambridge professor Aleksandr Kogan who used an app called "thisisyourdigitallife," which offered a personality test. Facebook users who downloaded the app granted it permission to collect data on their location, friends and things they Liked. The data collection was allowed by Facebook at the time.
However, Facebook has said that Kogan violated its terms of service by giving the information to Cambridge Analytica.
Facebook banned Kogan and Cambridge Analytica from its platform last month ahead of a New York Times investigative report about how the data was passed on.
3:45 p.m. ET, April 10, 2018
Zuckerberg: Mueller's team has interviewed Facebook staff in Russia probe
Facebook CEO Mark Zuckerberg confirmed that special counsel Robert Mueller's team has interviewed the Facebook staff about Russian meddling in the 2016 election.
Zuckerberg said his employees have spoken to the Mueller team, but he has not personally been interviewed.
"I want to clarify, I'm not sure we have subpoenas. I know we're working with them," Zuckerberg said.
CNN reported in September that Facebook handed Russia-linked ads over to Mueller under a search warrant.
3:34 p.m. ET, April 10, 2018
Despite privacy fears, these demonstrators still want to be Facebook friends
Codepink demonstrators held signs before a joint hearing of the Senate Judiciary and Commerce Committees with Mark Zuckerberg that read, "Protect our privacy," "Stop corporate spying," and — in a literal sign they weren't joining the #DeleteFacebook movement — "Like us on Facebook."