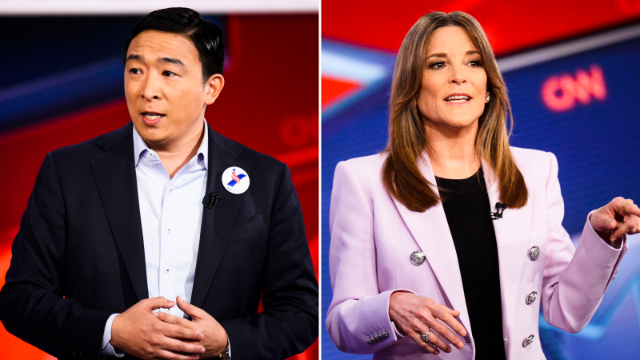 Democratic presidential hopefuls Marianne Williamson and Andrew Yang just wrapped up their CNN town halls, where they were asked about white nationalists, President Trump and jobs.
In case you missed them, here are three key quotes from each of the candidates:
Yang
On his freedom dividends proposal: "The goal is to make an economy that works for every one. A trickle up economy from people, families and community up."
On the support he has received online from white nationalists: "I disavowed any of that support. I don't want anyone that has an agenda different than that of this campaign. We're trying to solve the problem."
On why he supports decriminalizing heroin: "There are countries, including Portugal, that have decriminalized for personal use. They say if you have more than a week supply, then we may treat you as a dealer or supplier or someone engaged in a criminal enterprise and then it's illegal. If we catch you with a quantity that suggest you're using it personally, we refer you to treatment. That's what we need to do in the United States."
Williamson
On why love is the best way to win the White House: "I think it's the only thing that can win the White House," Williamson said. "I think far more people love than hate. The problem is those who hate, hate with conviction. Conviction is a force multiplier. Those who hate today, those who fear, are reflective. They are organized and convicted. Those of us love need to become convicted and organized."
On taking a hardline approach to Israel if she's elected president: "In me, you would have a president who says those settlements are illegal. I would rescind the president's affirmation of sovereignty of Israel over the Golan Heights."
On supporting reparations for African-Americans whose ancestors were slaves: "This is not a debt we can afford to delay any longer."