CNN town halls with Andrew Yang and Marianne Williamson
7:49 p.m. ET, April 14, 2019
Yang says he wants to destigmatize autism and create a federal funding program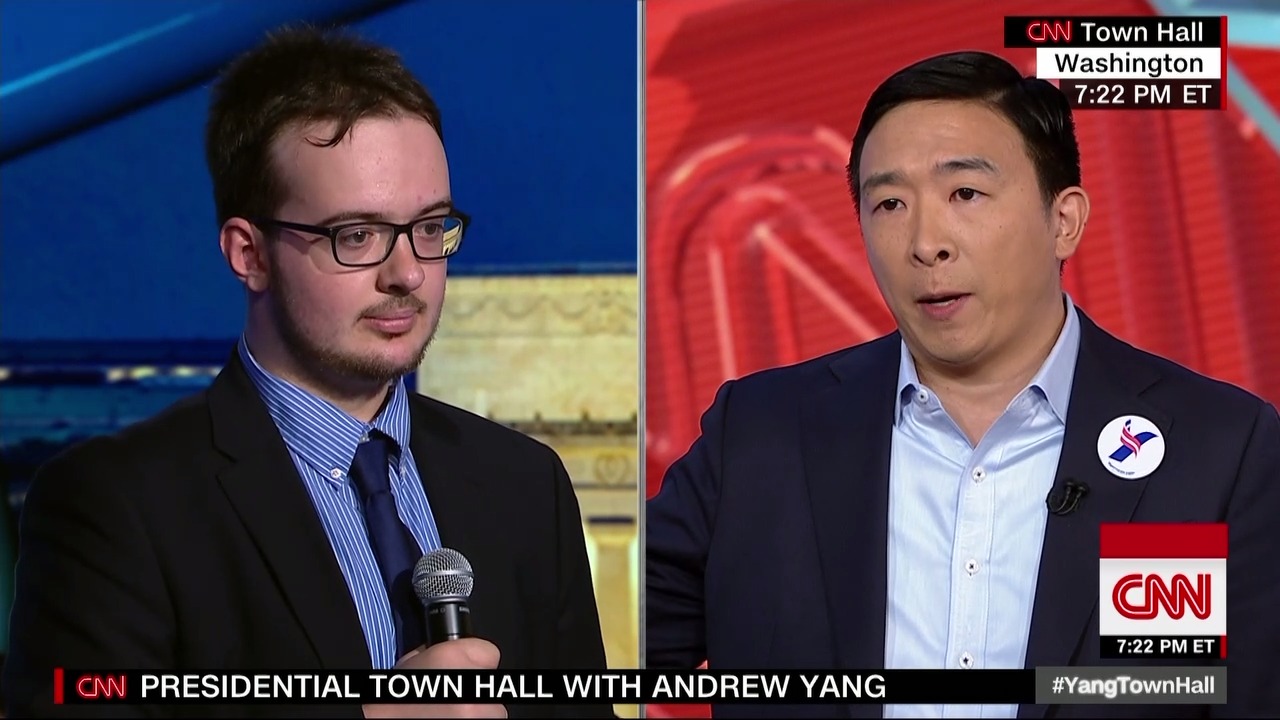 Businessman Andrew Yang, whose older son is on the autism spectrum, told an audience member who said he was as well that he wants to invest more in helping families with children who are developmentally different, or neurological atypical, and destigmatize autism.
Yang said he and his wife first discovered their son had autism when he was turning 4 years old. It came as a "massive relief."
Here's why:
"As first time parents, you don't know, maybe this is perfectly normal, maybe we're just terrible parents. A lot of things two through your mind. When we realized he was on the autism spectrum, it's been this tremendous journey for our family. I know what families go through," he said.
Yang went on to to say as president, he would support a federal program that funnels federal money into schools and communities, so that burden is not on states.
"As a parent of someone who is atypical, I now think atypical is the new typical," he said.
He added: "For whatever reason, it's swept under the rug as something to be ashamed of which makes no sense. I'm very proud of my son and anyone who has son on the spectrum in their family feels the exact same way."
8:11 p.m. ET, April 14, 2019
Why Yang supports decriminalizing heroin and other opiates, but not cocaine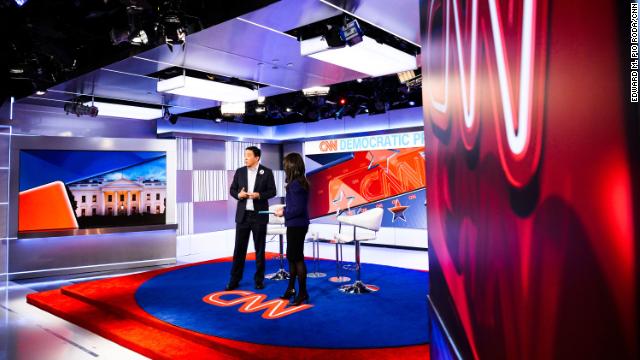 Businessman Andrew Yang said Sunday that he supports decriminalizing heroin and other opiates, but doesn't back doing the same to cocaine.
"We need to decriminalize opiates for personal use," Yang said. "I'm also for the legalization of cannabis."
Yang pointed to countries, like Portugal, who have done the same.
"There are countries, including Portugal, that have decriminalized for personal use. They say if you have more than a week supply, then we may treat you as a dealer or supplier or someone engaged in a criminal enterprise and then it's illegal. If we catch you with a quantity that suggest you're using it personally, we refer you to treatment," Yang said. "That's what we need to do in the United States."
Yang said cocaine is not on his list to decriminalize because "the addiction has very different features."
7:42 p.m. ET, April 14, 2019
Yang disavows white nationalists' support, which he traces to a tweet about demographic changes
Businessman Andrew Yang said Sunday that he was confused by the support he has received online by some white nationalists, something he disavowed.
Yang, the son of Taiwanese immigrants, has curiously received support on online message boards, as well as more mainstream sites like Reddit, from a series of white nationalist accounts. Part of the reason, the campaign believes, is because he has tweeted about demographic changes.
"I disavowed any of that support," Yang said Sunday. "I don't want anyone that has an agenda different than that of this campaign. We're trying to solve the problem."
Yang joked about the support, too.
"I don't look much like a white nationalist. It's been a point of confusion," he said to laughs, adding that one reason his campaign believes he has been getting the support is because he once retweeted a New York Times report that addressed the impact opioids are having on white communities in the Midwest and South.
Yang wrote in his book, "The War on Normal People," that the group he worries about most in America is poor whites, something that is also believed to have encouraged support from white nationalists.
"In the context of my book, I was saying, how will this tribalism and violence manifest itself. Poor whites who felt like they had no future and then that violence would emerge in large part because that group would become increasingly angry and distressed," he said. "That's the context of the book."
7:26 p.m. ET, April 14, 2019
Yang speculates Trump will nickname him "Comrade Yang"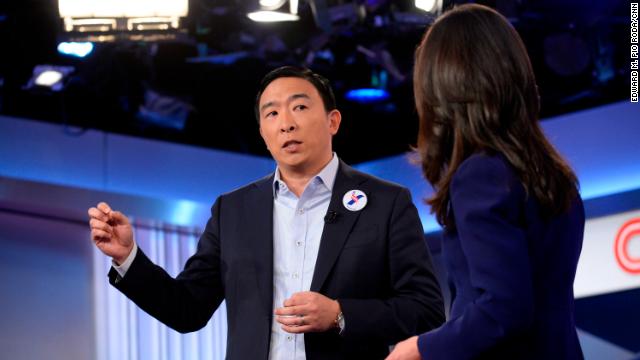 Businessman Andrew Yang said Sunday that he was the best candidate to take on Donald Trump because he is "focused on solving the problems that got him elected in the first place."
But Yang said that he is prepared, if he is able to debate Trump, for the President to give him one of his trademark nicknames.
"My team and I have been joking about what Donald Trump's nickname for me will be," Yang said with a smile. "We have come up with 'Comrade Yang.'"
Yang also answer the question about taking on Trump by delivering what has become a trademark line for the long-shot candidate.
"When I was in Iowa, someone said he cannot wait to see me debate Donald Trump. I'm his polar opposite," Yang said. "What I've been saying is the opposite of Donald Trump is an Asian man who likes math."
8:05 p.m. ET, April 14, 2019
What Yang believes American politicians should be trying to do (it's not saving jobs)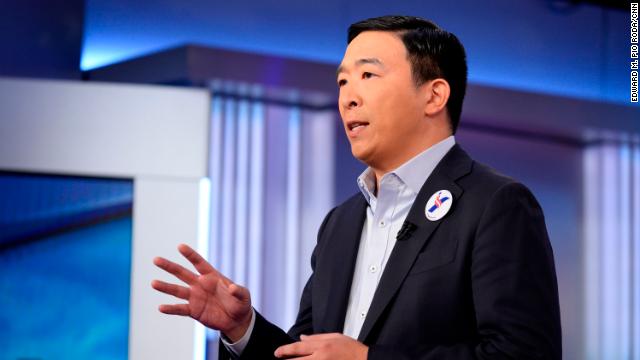 Businessman Andrew Yang said Sunday that the goal of American politicians should not be to save jobs that are being phased out of the economy by automation -- it should be "to make our lives better."
Yang's pitch to deal with the increase of artificial intelligence – a key part of his 2020 pitch – is a freedom dividend, a $1,000 per month payment to every American.
"When you trace the steps, Amazon is sucking up $20 billion in commerce and that's what's causing the malls and stores to close. You see, it's wall-to-wall robots and they are investing billions of dollars in AI. It's difficult (to) stop this process," Yang said.
"We have to instead think about how we can make Americans prosperous through this time. The goal should not be to save jobs. The goal should be to make our lives better."
Yang argued Sunday that automation is a key reason President Donald Trump won in 2016, arguing that the impact the rise in technology has directly impacted swing states that the Republican carried over Hillary Clinton.
"He won… because we automated away four million manufacturing jobs in Michigan, Ohio, Pennsylvania, Wisconsin, Missouri, Iowa," Yang said. "All the swing states he needed to win."
And Yang's argument is that automation is now growing beyond just manufacturing, including "retail jobs, call center jobs and the trucking jobs in the days to come."
Here's what Yang said his goal is with the freedom dividend:
"The goal is to make an economy that works for every one. A trickle up economy from people, families and community up. And though the freedom dividend might help certain Americans more than others depending on their benefits, programs or enrollment, the goal is to make it so we don't stop at the freedom dividend."
Yang acknowledged that the freedom dividend "doesn't solve all problems for all people but hopefully will move us in the right direction."
7:04 p.m. ET, April 14, 2019
In the Green Room with Andrew Yang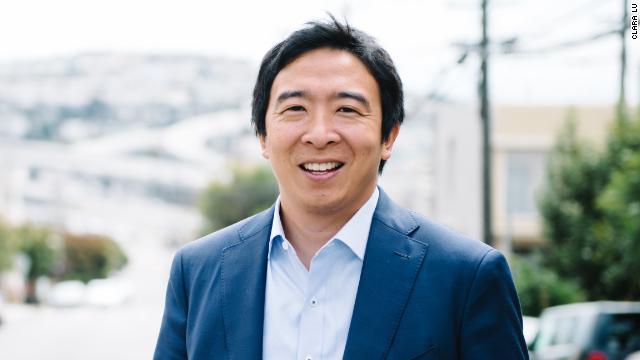 Democratic presidential hopeful Andrew Yang just chatted with CNN and answered a few questions before tonight's town hall.
We asked him six simple questions so voters can get to know him better.
Here's what he said:
CNN: What's one thing about you that surprises people?
Yang: "I like to play basketball, so I play every chance I get."
CNN: What's the best piece of advice you've ever received?
Yang: "If you can find a mentor whose life resembles what you want for yourself, then you should consider yourself very lucky and you should try and work with that person."
CNN: What's your favorite movie and why?
Yang: "'The Shawshank Redemption' because it's on TNT every three hours."
CNN: What was the last book you read?
Yang: "The last book I read was 'Winners Take All' by Anand Giridharadas about how at this point we put everyone who has succeeded in marketplace up on a pedestal and then we listened to everything they say and they are not going to help solve our problems."
CNN: What is your greatest accomplishment?
Yang: "My greatest accomplishment is being married and having two kids that I get to wake up to every time I am home."
CNN: What three issues do we have to deal with right now?
Yang: "The big three issues is one is that our economy is evolving in ways that's pushing more and more Americans to the sidelines. So that's why Donald Trump is our President today — is that we automated away four million manufacturing jobs, so that's issue No.1: the evolving economy. No. 2 is climate change. The last four years have been the four warmest years in recorded history and climate change is about to accelerate and become a growing crisis. And No. 3 is our polarized and dysfunctional political system, which is making it impossible to get anything done to help solve the problems of the 21st century."
7:00 p.m. ET, April 14, 2019
NOW: Businessman Andrew Yang takes questions at CNN's town hall
Businessman Andrew Yang, a Democratic presidential candidate, just took the stage and will answer questions from voters at CNN's town hall.
He visited the set earlier today:
His platform: Yang is an entrepreneur who launched Venture for America, a fellowship program that aims to connect recent grads with startups.
He filed to run for president on November 6, 2017 and gave an interview to the New York Times in February 2018 about his ideas.
Yang wants to give all Americans a universal basic income of $1,000 per month to address economic inequality.
To highlight universal basic income, Yang said he would give one New Hampshire resident $1,000 a month from his own pocket. Jodie Fassi of Goffstown, New Hampshire, was selected, his campaign said.
In case you missed it, his supporters, also known as the "Yang Gang," are hosting watch parties tonight. Here's what you need to know:
8:06 p.m. ET, April 14, 2019
Williamson: Love the "only thing" that can beat Trump
Marianne Williamson said Sunday that she believes love – a key rhetorical pledge in her 2020 campaign – is the best way to win the White House in 2020.
"I think it's the only thing that can win the White House," Williamson said. "I think far more people love than hate. The problem is those who hate, hate with conviction. Conviction is a force multiplier. Those who hate today, those who fear, are reflective. They are organized and convicted. Those of us love need to become convicted and organized."
Williamson used terrorism as an example, saying that while people know how "powerful (terror) is when it's turned into a political force, it's nothing compared to how powerful love is when it's turned into a political force."
She added: "That's what I'm trying to do with my campaign. That's the message I'm giving."
CNN's Dana Bash pushed Williamson on how love could be used against President Donald Trump on the debate stage.
"What do you do with a child? How do you treat a psychopath?" she asked rhetorically. "I would not go in expecting a reasonable conversation."
8:06 p.m. ET, April 14, 2019
Williamson says she would take a hardline approach to Israel if elected president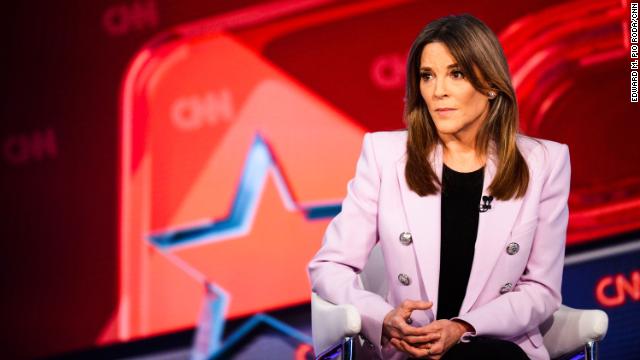 Marianne Williamson, who – if elected president – would be the first Jewish leader of the United States, said while she would both support "the legitimate security concerns of Israel" and "the human rights and dignities and economic opportunities of the Palestinian people," she would take a significantly hardline approach to the Jewish state.
"It's been a long time since the United States could actually be considered by either side as an honest broker," Williamson said.
"With me as president, they will know that they have in the United States a president who listens deeply and totally hears; the leaders of the Palestinian authority will know I listen very deeply."
Williamson laid out a view of U.S.-Israeli policy that was significantly different than Trump and took aim at much of what the President has done on the issue.
"In me, you would have a president who says those settlements are illegal," she said. "I would rescind the president's affirmation of sovereignty of Israel over the Golan Heights."
Williamson also personalized the issue, mentioning that her "love for Israel is second only to my love for the United States."
"The alliance of the United States with Israel is extremely important," Williamson said. "It should be extremely important to all of us. If I'm president of the United States, the world will know, our greatest ally is humanity itself."
She closed the answer by joking how she has experience in marriage counseling: "The fact I've had 35 year doing counseling with couples is something I bring to this table."