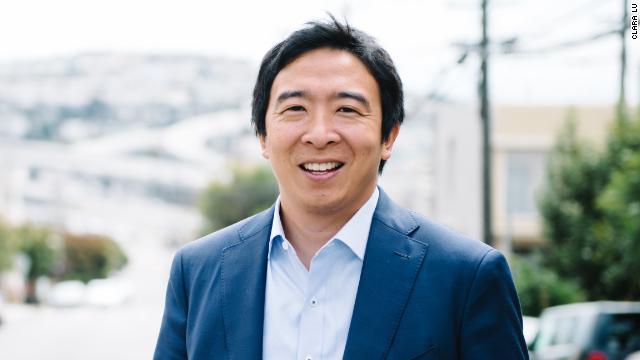 Democratic presidential hopeful Andrew Yang just chatted with CNN and answered a few questions before tonight's town hall.
We asked him six simple questions so voters can get to know him better.
Here's what he said:
CNN: What's one thing about you that surprises people?
Yang: "I like to play basketball, so I play every chance I get."
CNN: What's the best piece of advice you've ever received?
Yang: "If you can find a mentor whose life resembles what you want for yourself, then you should consider yourself very lucky and you should try and work with that person."
CNN: What's your favorite movie and why?
Yang: "'The Shawshank Redemption' because it's on TNT every three hours."
CNN: What was the last book you read?
Yang: "The last book I read was 'Winners Take All' by Anand Giridharadas about how at this point we put everyone who has succeeded in marketplace up on a pedestal and then we listened to everything they say and they are not going to help solve our problems."
CNN: What is your greatest accomplishment?
Yang: "My greatest accomplishment is being married and having two kids that I get to wake up to every time I am home."
CNN: What three issues do we have to deal with right now?
Yang: "The big three issues is one is that our economy is evolving in ways that's pushing more and more Americans to the sidelines. So that's why Donald Trump is our President today — is that we automated away four million manufacturing jobs, so that's issue No.1: the evolving economy. No. 2 is climate change. The last four years have been the four warmest years in recorded history and climate change is about to accelerate and become a growing crisis. And No. 3 is our polarized and dysfunctional political system, which is making it impossible to get anything done to help solve the problems of the 21st century."