The Manafort trial: Guilty on 8 counts
10:56 a.m. ET, August 1, 2018
FBI agent testifies Manafort raid was not a no-knock raid
An FBI agent who raided Paul Manafort's home last year testified that the FBI knocked three times before entering his condo in Washington's Northern Virginia suburbs.
FBI agent Matthew Mikuska said that he and other agents gathered outside Manafort's door, then knocked on three separate occasions and announced that the FBI was there to execute a search warrant.
When nobody answered the door, the agents used a key that they already had and entered the condo, Mikuska said. When they walked in, they saw Manafort standing nearby. 
The raid occurred shortly after 6 a.m., Mikuska said. 
Some news reports shortly after the July 2017 search suggested that it was a "no-knock raid." Mikuska's testimony on Wednesday disputed these reports.
Prosecutors already said in earlier court filings that the raid was not a "no-knock raid."
Watch how CNN reported on the raid at the time:
10:46 a.m. ET, August 1, 2018
Daniel Rabin's testimony concludes, FBI agent Matthew Mikuska up next
Political TV ad consultant Daniel Rabin's testimony concluded 30 minutes after it began with a hard pivot by the defense team toward Rick Gates. 
What this means: The testimony is yet another sign that the defense plans to blame Manafort's alleged criminal financial enterprise on his former deputy.
After prosecutor Greg Andres asked Rabin about the extent of his work in Ukraine with Manafort for former President Viktor Yanukovych, Westling asked Rabin whom he sent invoices for his Ukrainian TV ad work to at Paul Manafort's company.
Rabin said they first went to an assistant at the company, then to Gates. "Sounds like he handled a lot of logistics and business issues," Westling said. 
"That's correct," Rabin responded. 
Rabin also testified that Manafort himself paid him by bank wires and other forms of payment for his work, and at one point Manafort asked Rabin to attend a speech of the Ukrainian Party of Regions billionaire backer Rinat Akhmetov.
The second witness of the day, FBI agent Matthew Mikuska, is now testifying.
10:32 a.m. ET, August 1, 2018
Political consultant Daniel Rabin takes the stand to speak about his work in Ukraine
Around 9:50 a.m. ET, Daniel Rabin -- a political TV ad consultant -- was the first witness to take the stand on Day 2 of the trial.
Rabin is largely speaking about his work in Ukraine with Manafort for former Ukrainian President Viktor Yanukovych and his political party, the Party of Regions.
Rabin previously worked alongside Manafort and Tad Devine, who testified yesterday, also about Manafort's work in Ukraine. 
Before questioning began, prosecutor Greg Andres told the judge the witnesses were testifying so they could establish for the jury the extent of the work Manafort did in Ukraine, up until Yanukovych's ouster in 2014.
Yanukovych has since fled to Russia.
Rabin, whose work like Devine's has largely been for Democrats in the US, is more soft-spoken on the stand than yesterday's witness, his former colleague.
2:29 p.m. ET, August 1, 2018
Trump tweets on Manafort: "Why didn't government tell me that he was under investigation"
Trump took to Twitter Wednesday morning where he appeared to downplay his connections to Manafort -- saying the former Trump campaign chairman worked for him "for a very short time."
"Why didn't government tell me that he was under investigation," he tweeted, noting that the charges Manafort faces "have nothing to do with collusion."
He continued his tweet-spree in another post, writing that questions surrounding Russian collusion with his presidential campaign are a "total hoax."
2:29 p.m. ET, August 1, 2018
Judge tells lawyers to avoid using term "oligarch" to describe Manafort's Ukraine patrons
Before the jury entered the room on Wednesday, the federal judge overseeing Paul Manafort's trial urged both sides to avoid using the term "oligarch" when describing Manafort's powerful patrons in Ukraine. 
Judge T.S. Ellis told special counsel Robert Mueller's prosecutors not to give jurors the implication that oligarchs were criminals. In making his point, Ellis, who is known as a sometimes colorful judge, even invoked two prominent US political donors.
"Mr. Soros would then be an oligarch ... so would Mr. Koch ... but we wouldn't use that term," Ellis said, referring to Democratic megadonor George Soros and one of the billionaire Koch brothers, whose influential network supports Republican candidates. 
9:06 a.m. ET, August 1, 2018
It's day 2 of the Manafort trial. Here's what happened yesterday.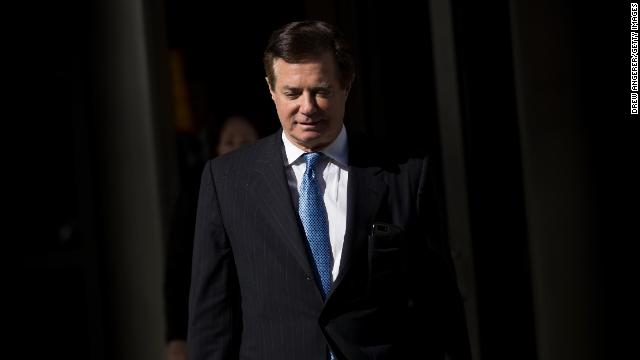 Former Trump campaign chairman Paul Manafort's trial kicked off yesterday. He has pleaded not guilty to federal charges of bank fraud and tax crimes.
The jury will gather again at 9:30 a.m. ET today for day two of the trial. While we wait, catch up on what happened during day one:
The jury: The 12-person jury was selected yesterday morning. It comprises six men and six women. There are also four alternates, three women and a man.
The prosecution's opening statement: Prosecutors accused Manafort of being a "shrewd" liar who orchestrated a global scheme to avoid paying taxes on millions of dollars.
The defense's opening statement: Manafort's lawyer made clear the plan is to point the finger at Manafort's longtime deputy Rick Gates, who pleaded guilty to a conspiracy charge and lying to federal investigators in February. 
The first witness: Following opening statements, Tad Devine, the Democratic political consultant who worked with Manafort in Ukraine, took the stand as the first witness called in the case.
8:47 p.m. ET, July 31, 2018
The first day of testimony in the Manafort trial just ended
The first day of Paul Manafort's trial has just wrapped up.
It ended with testimony from Tad Devine, who was questioned by prosecutors and Manafort's defense attorneys. 
Devine, the Democratic political consultant who worked with Manafort in Ukraine, testified extensively on how much work Manafort did in Ukraine alongside Rick Gates and his associate Konstantin Kilimnik. He spoke about an effort for Manafort to work with other Ukrainian politicians, as recently as 2014.  
"Paul worked harder than anybody," Devine testified. "There were emails through the night going on." 
Prosecutors working for special counsel Robert Mueller questioned Devine for about an hour. 
Manafort's lawyers quizzed Devine about the role of Gates, whose upcoming testimony against Manafort is expected to play a key role in the prosecutors' case. Devine said Gates "did a lot of the day-to-day stuff," like arranging travel, while Manafort led the campaign strategy in Ukraine. 
The jury will gather again at 9:30 a.m. ET Wednesday.