The Manafort trial: Guilty on 8 counts
12:51 p.m. ET, August 7, 2018
Rick Gates describes Manafort's money troubles
Rick Gates testified Tuesday about money issues that Manafort and his various entities began to experience in 2015 and 2016.
Gates characterized the period by saying that vendors would reach out to him and Manafort because "loans had not been paid." 
By late 2015, DMP (Manafort's consulting group) had no clients, according to Gates. He said that they were attempting to secure another political consulting contract in the Ukraine but had not been able to.
By March 2016, Gates said that he was hired to work on a presidential election that Manafort was also working on. Gates did not name Trump.
In this time, Manafort's company was still not earning any money, according to Gates' testimony — he said that he was told that by the accountants that they worked with. 
Gates said at the time he worked on the presidential campaign, his salary was paid by savings and investments from Manafort. Gates also received income from Map Global Holdings, a PR and movie production company; and ID Watchdog. 
In government exhibit 375, which was not dated, an email exchange between Manafort and Gates succinctly summarized the frustration felt by Manafort: "WTF," Manafort wrote to his employee.
"How could I be blindsided like this," Manafort wrote to Gates in response to a tax impact that had been prepared. The taxes were much higher than what had been anticipated. 
Gates admitted that during this time he also supplied false information to banks in order to help Manafort secure bank loans. He admitted to altering the profit and loss documents, which he said was per Manafort's direction. 
In January 2016 Manafort asked Gates to refinance a property in New York City on Howard Street — a property that Manafort never lived in because he stayed at his Fifth Ave apartment when he was in the city, but still claimed to use as a second home in order to secure maximum benefits for the mortgage refinance loan. 
12:41 p.m. ET, August 7, 2018
Meeting notes reference "Trump" — but don't specify which one
The word "Trump" came up in trial today, but it is unclear who it is a reference to.
Prosecutors showed the jury notes that reference "Trump" from a meeting Rick Gates and Paul Manafort had. 
According to the notes, in 2013 a "Trump" was apparently set to receive Yankees tickets from Manafort, though neither the notes nor prosecutors specified which Trump was being referenced.
"Tickets going to Trump next week," the meeting notes said. The reference on the document fell under the item "Yanks," meaning Yankees season tickets Manafort had purchased for several thousand dollars. 
The first bullet point under the "Yanks" header said the tickets were "never received."
Prosecutors did not lead Gates into explaining more detail about the apparent perk — or which Trump it was referring to. Neither Gates nor prosecutor Greg Andres uttered the word "Trump." The agenda was merely shown on screen for a few seconds to the jury.
The Yankees tickets haven't been fully explained in the context of Manafort's fraud case, though prosecutors have alluded in previous court filings and in court that the season tickets were a suspicious purchase of Manafort's that plunged Manafort into debt years later. A Yankees employee is on the prosecutors' witness list but has not yet been called to testify during the trial.
The meeting agenda shown in court Tuesday with the "Yanks" reference also showed how Manafort put Gates in charge of reviewing Manafort's taxes with an accountant and working with their Cypriot law firm on moving money between Manafort's foreign accounts.
Donald Trump himself has not come up yet in the trial, though prosecutors and witnesses have referred to Manafort's Trump Tower apartment as among the real estate properties he falsely described to the banks as his residences.
The Trump Tower apartment, in fact, was used like a rented hotel room for Manafort and his associates when they traveled to New York City, a witness testified last week.
11:46 a.m. ET, August 7, 2018
Gates says he and Manafort were interviewed by FBI about Ukraine in July 2014
Rick Gates testified Tuesday that he and Manafort were interviewed by the FBI in July 2014 in connection with a forfeiture investigation that the Ukrainian and United States governments were working on.
Gates recalled that he was told they were not under investigation at the time and that investigators asked him questions about his work in Ukraine.
Gates said he and Manafort were interviewed separately, and Gates went first. 
Gates testified that after he was interviewed, Manafort asked him to speak with one of their Ukrainian businessmen about the FBI interview. Gates said they met in France.  
Direct questioning of Gates will likely continue for another two hours, according to prosecutor Greg Andres.
12:41 p.m. ET, August 7, 2018
Mystery of "fake" invoices solved
Last week, the government case referenced several "mystery invoices" that appeared to be falsified. 
On Tuesday, during direct questioning of Rick Gates, he acknowledged that he was the one who had created these invoices for fake amounts of money for wire transfers. The prosecutor directly asked him if they were "fake" — Gates replied that they were "modified" invoices. He asserted that the payments were still legitimate. 
The money never actually went to the vendors, like Big Picture Solutions; instead, Gates testified that the money went to banks.
Gates testified that he used information provided by Manafort to create the invoices. The purpose of this, according to Gates, was that the wire transfers would not be recorded on United States business records. 
11:13 a.m. ET, August 7, 2018
Court is on recess until 11:20 a.m. ET
Prosecutor Greg Andres said in court he expects two more hours of direct questioning of Rick Gates before the defense has an opportunity to question Gates.
11:07 a.m. ET, August 7, 2018
Email showed Manafort directing Gates to move money from foreign account
Paul Manafort directed moving money through Cypriot accounts over email, Rick Gates testified Tuesday morning. 
Prosecutors began to show emails between Manafort and Gates Tuesday morning that confirm Gates' story that Manafort directed moving the money his consulting company earned from Ukraine through Cypriot accounts. 
"There were hundreds of these," Gates said in court.
One sent in November 2011 was especially condemning.  
Gates had written to Manafort about transferring money from one of Manafort's shell companies, Leviathan Advisors Limited, to their above-board consulting group, DMP International. "Unless you approve otherwise," Gates ended his note proposing the transfer.  
"This works. Proceed as you lay it out below," Manafort wrote back, signing his email with the letter "P."
The subject line of the email was "Payments."
The "typical practice was Mr. Manafort would send me a list of wire requests," Gates testified to the jury Tuesday. Or, Manafort would send the wire transfer requests to their Cyprus-based law firm.
Moving the accounts
At some point during the European banking crisis, Manafort's law firm in Cyprus that oversaw the legal process of setting up the accounts moved them to the country St. Vincent and the Grenadines, in the Caribbean.
Around that time, Manafort asked for his name to be removed from the bank account registrations, Gates said. Gates said his name was taken off some but not all legal documents in the foreign country.
Gates said Manafort especially wanted to avoid having his name listed in any documents linked to the accounts because he was embroiled in a lawsuit with someone in Ukraine.
A second email
Another email prosecutors showed and Gates confirmed came in 2015, from Konstantin Kilimnik to Gates discussing money a Ukrainian client had not yet paid Manafort's firm through the accounts.
At the time, Manafort was dry on cash and beginning to panic.
Prosecutors have alleged that around this time he was using the hollow foreign accounts to help him reduce the taxes he paid to the US government and defraud at least one bank into giving him a loan. 
"This is to calm Paul down," Kilimnik wrote to Gates. "I think the wire will go next week realistically." Gates told the court that "Mr. Manafort was quite upset money had not been sent," and Kilimnik wanted to show the boss they were making the effort.
That contract for 1 million euros, with Ukrainian Sergei Lyovochkin and executed between shell companies both sides used, was never paid in full. 
12:13 p.m. ET, August 7, 2018
Gates gets into the gritty details on "shelf companies" and Cypriot accounts
Rick Gates started his morning of testimony getting into the gritty details of exactly how much money each Ukrainian billionaire contracted Manafort for — showcasing the amount of money that was flowing into the hidden Cypriot accounts in 2011 and 2012.
It amounted to at least 5 million euros, according to Gates' Tuesday testimony. That's about $5,800,000 in today's US dollars.
Prosecutors and Gates showed the jury four different contracts where a Ukrainian's shell company agreed to pay a Manafort shell company for overseas political or policy consulting work. In one instance, the payment supported lobbying in the United States, Gates said.
The leaders of Ukraine's Party of Regions would meet with Manafort to craft a budget for their campaigns, then agree to amounts and payment structures, Gates testified.
They would then use a law firm in Cyprus to draft the agreements and place contract amount details into them. Some were signed by the directors of Cypriot companies who on both sides oversaw the accounts. 
Working for Manafort, the Russian Konstantin Kilimnik would collect the agreements and execute them, Gates said.
Manafort reported some of the payments to tax authorities in the US as loans — though they were income, Gates said.
He was "trying to decrease his taxable income," Gates said.
The consulting contracts showed Manafort's entities like Black Sea View Limited, Peranova Holdings and Leviathan Advisors Limited would earn more than 5 million euros from the Ukrainian billionaires Sergei Lyovochkin and Sergei Tigiko.
The Ukrainians used shell companies called Telmar Investments and Dressler Holdings to enter into the agreements and make the payments to Manafort, Gates said. 
The companies, which Gates has referred to as "shelf" companies in his testimony, had no employees and sold no products. Their sole reason for existence was to accept payments, he said.
Note: An earlier version of this post incorrectly stated 5 million euros equated $5,794,415,000 in US dollars. That was a few too many zeros. It is about $5,800,000.
9:52 a.m. ET, August 7, 2018
Rick Gates resumes testimony in Manafort trial
Rick Gates has taken the stand again in the Paul Manafort trial in Alexandria, Virginia.
He entered the court room at 9:35 am wearing a dark navy suit and light blue tie. 
Justice Department lawyer Greg Andres, who was questioning Gates for all of yesterday's testimony, resumed his questioning.
He began by asking about the Cyprus bank accounts that Ukrainian businessmen had asked Gates and Manafort to set up for payment purposes. 
9:42 a.m. ET, August 7, 2018
Rick Gates met 20 times with the government to prepare for his testimony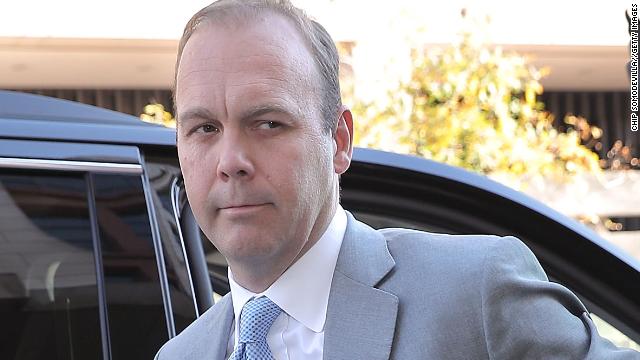 During his testimony on Monday afternoon, Rick Gates offered some insight into his cooperation with the government.
Gates testified that he had met 20 times with the government to prepare for Monday's testimony. 
He said that he had turned over evidence to the government and that the government has promised not to bring any additional charges.
Gates admitted to three other crimes that had not been previously known: He lied on a mortgage application; he lied on credit card applications; and he filed false expense reports to employer.
Gates was extremely forthcoming about the crimes he -- and Manafort -- allegedly committed, admitting over and over that, "yes," he knew he was lying to the accountants, lying about having foreign accounts, lying to investigators during an initial meeting.
One of the first pieces of evidence Gates read from was his plea agreement. He admitted that he had conspired against the government with Mr. Manafort from 2008-2015.