The Manafort trial: Guilty on 8 counts
12:28 p.m. ET, August 2, 2018
A closer look at Manafort's Hamptons pond and waterfall
Here's a closer look at Paul Manafort's pond, described by one witness as "one of the biggest ponds in the Hamptons," and waterfall, which is at his home in Bridgehampton.
Michael Regolizio of New Leaf Maintenance said Manafort paid for much of the work he did at the property through international wire transfer, and was his only client to do so.
The Department of Justice released these photos (they're in black and white).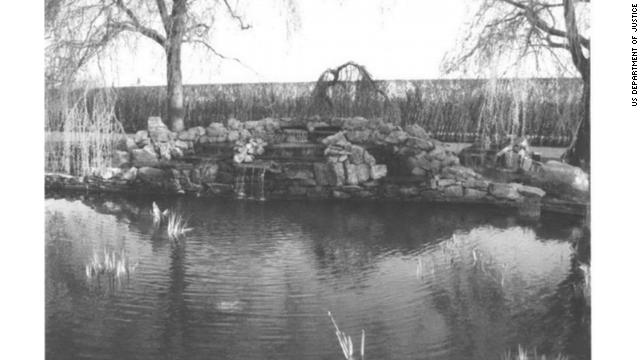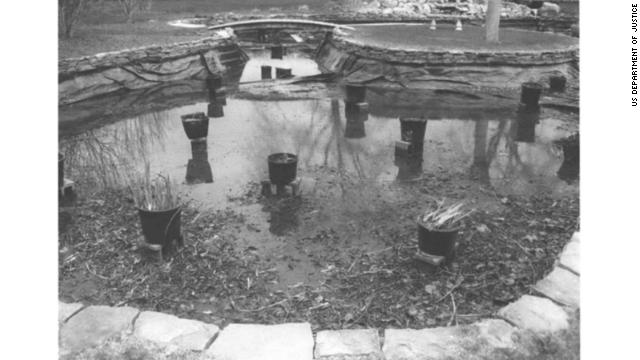 12:24 p.m. ET, August 2, 2018
Manafort's bookkeeper takes the stand
Next to take the the stand is Paul Manafort's bookkeeper, Heather Washkuhn.
Prosecutors say her testimony will delve into the tax and bank fraud portion of the case. Manafort has pleaded not guilty, but is accused of lying to the IRS to hide his income, and lying to banks to secure millions of dollars in loans.
Washkuhn is the 12th witness and her testimony should last 2-3 hours, according to prosecutors.
12:13 p.m. ET, August 2, 2018
Manafort's landscaper says document is a "fake invoice"
Prosecutors revealed yet another document that showed a bill from New Leaf Maintenance, a landscaping company used by Paul Manafort, which had listed an incorrect vendor name and address. 
Defense attorney Jay Nanavati asked Regolizio if he would call the document a "fake invoice." Regolizio replied yes.
Regolizio of New Leaf Maintenance also said he never met, communicated with or received payments from Rick Gates — Manafort's longtime deputy on whom defense attorneys have indicated they'd like to pin the alleged crimes.
Immediately after they showed the jury the fake invoice, prosecutors asked Regolizio if he had ever met or corresponded with Konstantin Kilimnik, a Russian who has been indicted in DC in a separate case for helping Manafort attempt to tamper with witnesses. Regolizio said he did not know Kilimnik.
Prosecutors have not yet revealed what they believe the fake invoices prove in their case.
12:00 p.m. ET, August 2, 2018
The pattern that has emerged in many of the witness' testimonies at Manafort's trial
Vendors who sold custom men's clothing, audio-visual services, landscaping, home renovations and cars have told the jury in Northern Virginia that Paul Manafort was a major customer and frequently paid with the unusual method of wiring money from corporate-named bank accounts in Cyprus. 
The vendors largely say they do not recognize the company names Manafort used, yet they knew the payments came from him because their amounts matched the bills they sent him.
12:05 p.m. ET, August 2, 2018
Landscaper describes Manafort's impressive pond and flower bed in the shape of an "M"
A landscaper in the Hamptons described how Paul Manafort — and Manafort alone — commissioned him to care for hundreds of flowers at his house, as well as "one of the biggest ponds in the Hamptons." 
Michael Regolizio of New Leaf Maintenance said Manafort paid for much of the work through international wire transfer, and was his only client to do so.
Regolizio testified that Manafort spent about $450,000 on landscaping over five years.
The landscapers initially only handled tree-care for Manafort's Bridgehampton estate. But in 2012, they took over Manafort's entire Bridgehampton home's outdoor work.
This included:
Sending landscapers there four to five times a week to prune 14-foot hedges
Mowing the lawn and fertilizing
Planting "hundreds and hundreds of flowers" 
Pruining a flower bed next to the tennis courts
Maintaining the large pond with a waterfall feature, and care for a white and red flower bed in the shape of an "M."
Regolizio said Manafort would personally call his landscape company's offices before one of the wire transfers came through, to give them a heads up.
They knew the wired money coming from corporate payers came from Manafort because the only other other client Regolizio had who paid in that way made transfers from domestic banks and used his own name, the landscaper said.
Regolizio started working for Manafort after the construction contractor Stephen Jacobson connected them. Jacobson testified on Wednesday about millions of dollars of home renovations he did for the Manaforts, and how those were paid for by wire transfer.
11:30 a.m. ET, August 2, 2018
See Manafort's $15,000 ostrich coat
To demonstrate Paul Manafort's elaborate spending habits, prosecutors released an image of a $15,000 coat made from an ostrich. Our panel takes a look.
11:02 a.m. ET, August 2, 2018
Manafort's trial is in Virginia. But in some ways it's all about Cyprus.
The case is unfolding in Virginia, but in some ways, it's all about Cyprus. 
Most witnesses have been asked about Cyprus in one way or another: Several of the vendors that Paul Manafort did business with were asked repeatedly which country Manafort's payments came from.
The answer, often enough, was "Cyprus."
Witnesses were also asked to read the address of the banks, most of which were located in Nicosia, the Mediterranean nation's capital. 
In their indictment, prosecutors said Manafort owned or controlled more than a dozen entities in Cyprus, which he used to funnel money around the world. They also said in court filings that they obtained records from the government of Cyprus to help their case. 
10:50 a.m. ET, August 2, 2018
Mysterious documents add to intrigue in Manafort case
Jurors were presented with what appeared to be a falsified invoice from one of the home improvement companies that did business with Paul Manafort. 
Joel Maxwell, chief operative officer of Big Picture Solutions, testified that Manafort paid his company more than $2.2 million over several years for various home technology improvements, including installation of wireless networks and audio/visual systems. 
Most of the payments came from Manafort's offshore accounts, Maxwell said. 
After prosecutors detailed the invoices, they showed Maxwell another document that purported to be an $163,000 invoice from his company to one of Manafort's overseas companies.
But there were problems with the document: For one, the document misidentified the name of the company as an LLC, and parts of the address were incorrect. "We're not an LLC," Maxwell said, and the documents are "not detailed like ours would be." 
The mystery document originated from St. Vincent and the Grenadines, a Caribbean island chain where Manafort kept some of his offshore accounts. Prosecutors haven't yet explained why they spent two days presenting these documents and highlighting apparent inconsistencies.
But they could have been used by Manafort to hide or falsify financial documents. 
10:35 a.m. ET, August 2, 2018
Swapped binders in the courtroom offers a moment of levity
There was a brief moment of levity in the courtroom when Judge T.S. Ellis noticed that his binder, containing exhibits and documents, was swapped with one of the prosecutors' binders. 
In response, prosecutor Greg Andres joked that Ellis now had a sneak peek at their strategy.
"It was pretty clear," Ellis replied. " I didn't need to have it." 
The binders were quickly switched back.
Manafort's lawyers got a chance to look at the page that Ellis saw from Andres' binder, which had some red markings and handwritten notes on the page.