The Manafort trial: Guilty on 8 counts
9:40 a.m. ET, August 2, 2018
Invoices show Manafort paid $18,500 for a python jacket, among other expenses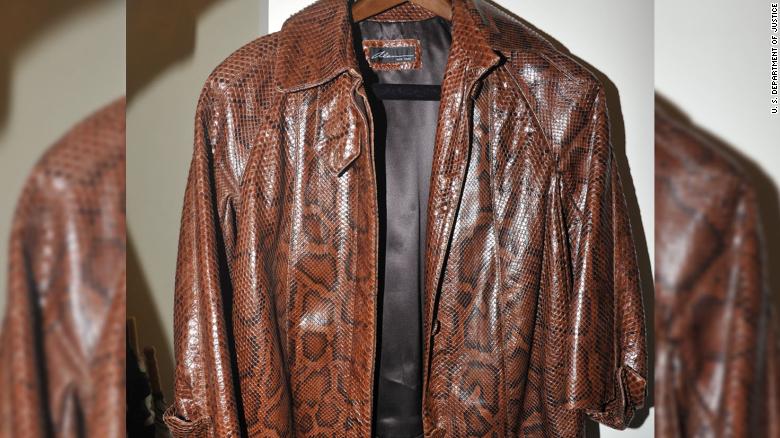 The Justice Department released photos as part of the evidence entered at Paul Manafort's trial on Wednesday.
Manafort spent over $900,000 with the custom men's clothing store Alan Couture, one witness who ran the store told prosecutors. In total, the six vendors on the witness stand Wednesday described more than $6 million in payments Manafort sent to them for luxury items and services.
Manafort appears to have purchased not just an $15,000 ostrich jacket, but also a $9,500 ostrich vest. And the cost of that Python jacket? $18,500, according to invoices from Alan Couture entered into the case's evidence collection.
Here's one of them: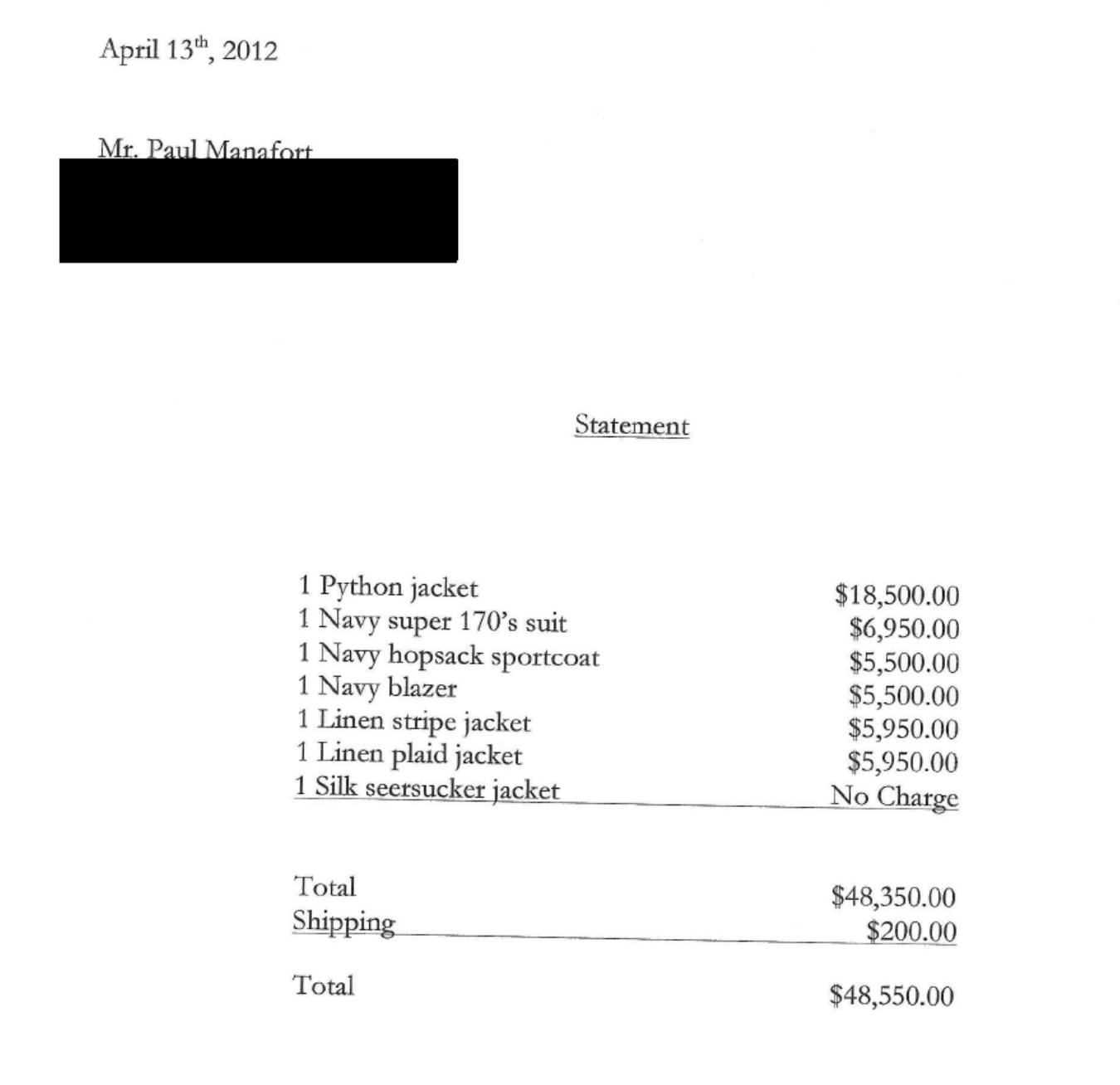 We don't know which of the Manafort jacket photos released by DOJ is the $15,000 jacket "made from an ostrich," as the prosecution team says the reference in the opening statement came from the invoices, not the evidence photographed in Manafort's home. 
All we know is that the ostrich jacket is one of the Alan Couture clothing items.
The purchases appear to have hit a note with the wider public. After prosecutors first spoke about a $15,000 jacket "made from an ostrich" in the trial's first minutes, the anti-animal cruelty group PETA published a letter Wednesday to Manafort's lawyer.
The group asked Manafort to donate the ostrich jacket to them so they can teach children it was "cruelly obtained." Manafort could receive a tax deduction, PETA added.
Take a look at some photos of Manafort's various jackets and suits below.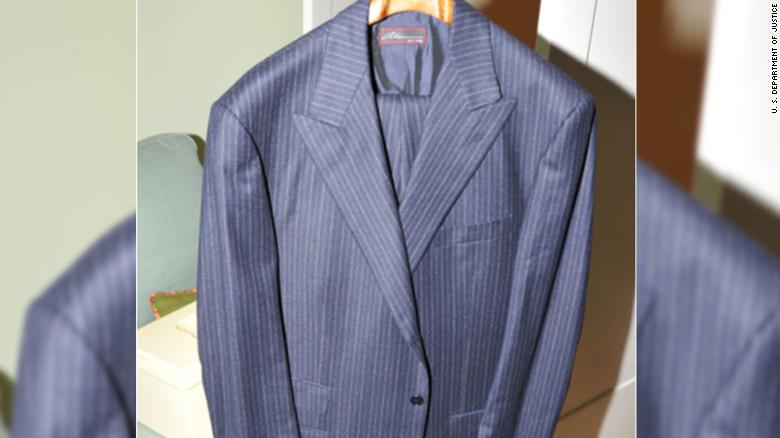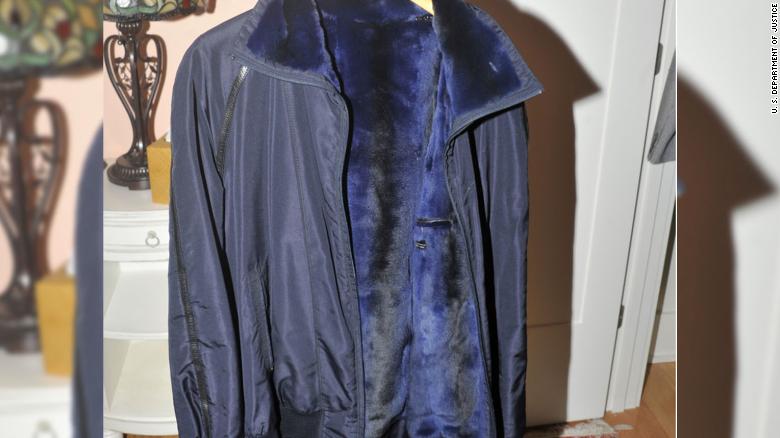 9:11 a.m. ET, August 2, 2018
Mueller's team formally argues to judge they should be able to show Manafort's purchases to the jury
Mueller team's is now formally arguing to Judge T.S. Ellis that they should be able to show proof to the jury of Manafort's lavish lifestyle, including photos of his high-end custom jacket, his real estate expenditures, and other extravagant purchases. 
Ellis has so far stopped the prosecutors from showing photos of Manafort's luxury purchases to the jury. The defense has wanted them kept out of the trial too. Ellis has reminded the lawyers and Northern Virginia jurors multiple times that it's not a crime for a person to be rich. 
But Mueller's team says evidence of what Manafort spent his Ukrainian lobbying proceeds on IS evidence of the crime itself, and shows how he personally benefited from allegedly defrauding the government. 
"That Manafort had an expensive lifestyle that required lots of money to maintain is important proof as to why he would commit the bank frauds" after his lobbying work declined in 2014, prosecutors wrote.
8:44 a.m. ET, August 2, 2018
Prosecutors try to cut out part of Manafort's tax defense in overnight filing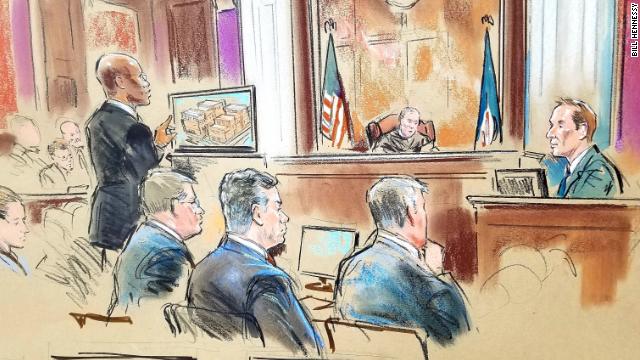 Prosecutors in the trial of former Trump campaign chairman Paul Manafort argued overnight Thursday that the defense's assertion that Manafort was never audited by the Internal Revenue Service shouldn't factor into the jury's determination of whether he committed a crime.
Generally, both prosecutors and defense during a trial can attempt to curtail the opposite sides' arguments by asking the judge to decide whether he will allow certain types of evidence to be presented to the jury.
In his opening statement Tuesday, defense lawyer Tom Zehnle told the jury they should expect to hear how Manafort never faced a federal inquiry about his taxes, making it suspicious that prosecutors brought this case. 
Special counsel Robert Mueller's team, however, said in a court filing after midnight Thursday morning that the point about whether Manafort shouldn't matter. An IRS audit is a civil procedure and not part of the criminal inquiry, prosecutors say.
Manafort is currently fighting in court charges of 18 financial crimes, including submitting false income tax returns to the IRS.
Manafort's "argument that a civil audit should have been conducted and the fact that one was not creates a substantial risk of misleading the jury, prejudicing the government, and inviting jury nullification," prosecutor Van Grack wrote, referring to the outcome in which jurors believe a defendant committed crimes but vote not to convict because they believe the person was not fairly prosecuted. 
In his opening statement to the jury, Zehnle criticized what he said was the government's "rush to judgment" in the case.
"You're going to learn that Mr. Manafort was never audited by the IRS, nor were any of his companies. So as you consider this, as you hear all the evidence come in, the documents and the testimony, you might ask yourself whether the government knew enough to initiate the audit. Did they have enough evidence?" Zehnle said.
It's likely on Thursday that Judge T.S. Ellis will address this issue during the trial proceedings without the jury in the room.
Ellis has already decided one other argument from Manafort's team out of trial. The defense lawyers are not allowed to suggest to the jury that an earlier federal investigation that started before the special counsel's office formed ended with a decision not to prosecute Manafort. 
6:04 p.m. ET, August 1, 2018
The second day of testimony in the Manafort trial just ended. Here's how it went down.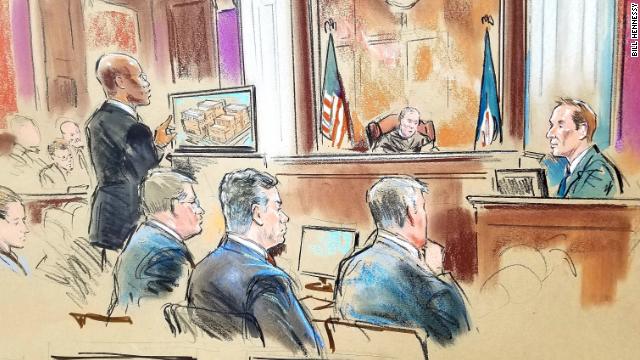 The second day of testimony in the Paul Manafort trial has just wrapped up. Here's everything you need to know:
The witnesses: The jury heard testimony from several witnesses, including political TV ad consultant Daniel Rabin, FBI agent Matthew Mikuska, clothing store manager Maximillian Katzman, general contractor Stephen Jacobson, financial officer Daniel Opsut, longtime Manafort neighbor Wayne Holland, builder Douglas Deluca and Ronald Wall, a financial executive at the House of Bijan.
Trump tweets: President Trump started the day tweeting about his former campaign chairman — in one tweet he posed the question: "Who was treated worse" Al Capone or Paul Manafort?
The luxury items: Katzman, a former clothing store manager, testified that Manafort paid for tens of thousands of dollars worth in expensive suits with international wire transfers. Opsut, who works at a Mercedes-Benz dealership in Virginia, said the Manafort family bought and leased expensive cars using Manafort's offshore accounts in Cyprus. 
Trump mentioned: The word "Trump" landed in the courtroom for the first time during trial. Jacobson, the general contractor, told the jury he worked on renovations at Manafort's Trump Tower apartment.
Rick Gates: Prosecutors raised the prospect that Gates, Manafort's longtime deputy, would not be called as a witness, potentially complicating the defense's attempts to deflect blame from Manafort to Gates.
What prosecutors said: Prosecutors said they plan to rest their case against Manafort next week but did not indicate which day they expect to be done.
5:48 p.m. ET, August 1, 2018
Manafort used offshore accounts to pay for home renovations, contractor says
Paul Manafort used offshore accounts to finance a grandiose home renovation that included an outdoor kitchen and garden, according to testimony from a contractor who worked with Manafort years ago. 
Virginia-based builder Douglas Deluca told the jury that the project included an exterior garden design, outdoor kitchen and outside seating. The "outdoor garden concept," as Deluca put it, also featured soapstone counter-tops, antique brick and a pergola, a large wooden structure that provides shade to those underneath. 
In an email, Manafort told him: "On matters of contract and budget, you will deal with me."
By having DeLuca read the email aloud, prosecutors highlighted that Manafort was directly involved with the payments for the project. 
Manafort's defense team has blamed Manafort's longtime deputy Rick Gates for the alleged financial wrongdoing. But DeLuca and some other witnesses on Wednesday said they never met Gates or heard of him. One of the witnesses who sold luxury suits said Gates would sometimes facilitate Manafort's payments. 
4:53 p.m. ET, August 1, 2018
Longtime friend and neighbor testifies against Manafort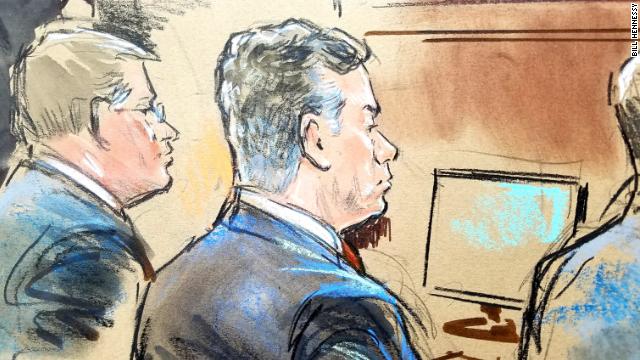 Wayne Holland, longtime friend and neighbor of Paul Manafort, was briefly questioned by prosecutors and the defense team about a real estate deal he helped the Manaforts with. 
In 2012, Holland helped Manafort's daughter Andrea buy a house in Arlington, Virginia, for $1.9 million.
Manafort had told Holland over email he'd pay for the property through a company called Lucicle Consultants Limited.
Prosecutors have said this company is among the shell companies in Cyprus that Manafort used to hide cash from the US government. 
Manafort himself handled much of the payment and orchestrated the transaction, Holland told the jury. Holland also said the Manaforts offered the full listing price for the house when they bought it. 
Holland is a neighbor across the street from Paul and Kathleen Manafort, who both watched him closely as he testified. Holland has known the couple for almost 30 years, after he noticed a bolt of lightning hit their house. 
Holland said they were "very close friends."
When asked by defense attorney Jay Nunavati if Manafort and his wife Kathleen were the "nicest neighbors you ever had," Holland replied yes.
4:51 p.m. ET, August 1, 2018
Trump's name was mentioned for the first time in the courtroom
The word "Trump" landed in the courtroom for the first time during Paul Manafort's trial Wednesday.
Steve Jacobson, owner of Hamptons construction company, told the jury he worked on renovations at Manafort's Trump Tower apartment. Prosecutors did not dwell on renovations at that home.
Jacobson worked on personal projects for Manafort in the Hamptons and New York City.