The Manafort trial: Guilty on 8 counts
11:07 a.m. ET, August 7, 2018
Email showed Manafort directing Gates to move money from foreign account
Paul Manafort directed moving money through Cypriot accounts over email, Rick Gates testified Tuesday morning. 
Prosecutors began to show emails between Manafort and Gates Tuesday morning that confirm Gates' story that Manafort directed moving the money his consulting company earned from Ukraine through Cypriot accounts. 
"There were hundreds of these," Gates said in court.
One sent in November 2011 was especially condemning.  
Gates had written to Manafort about transferring money from one of Manafort's shell companies, Leviathan Advisors Limited, to their above-board consulting group, DMP International. "Unless you approve otherwise," Gates ended his note proposing the transfer.  
"This works. Proceed as you lay it out below," Manafort wrote back, signing his email with the letter "P."
The subject line of the email was "Payments."
The "typical practice was Mr. Manafort would send me a list of wire requests," Gates testified to the jury Tuesday. Or, Manafort would send the wire transfer requests to their Cyprus-based law firm.
Moving the accounts
At some point during the European banking crisis, Manafort's law firm in Cyprus that oversaw the legal process of setting up the accounts moved them to the country St. Vincent and the Grenadines, in the Caribbean.
Around that time, Manafort asked for his name to be removed from the bank account registrations, Gates said. Gates said his name was taken off some but not all legal documents in the foreign country.
Gates said Manafort especially wanted to avoid having his name listed in any documents linked to the accounts because he was embroiled in a lawsuit with someone in Ukraine.
A second email
Another email prosecutors showed and Gates confirmed came in 2015, from Konstantin Kilimnik to Gates discussing money a Ukrainian client had not yet paid Manafort's firm through the accounts.
At the time, Manafort was dry on cash and beginning to panic.
Prosecutors have alleged that around this time he was using the hollow foreign accounts to help him reduce the taxes he paid to the US government and defraud at least one bank into giving him a loan. 
"This is to calm Paul down," Kilimnik wrote to Gates. "I think the wire will go next week realistically." Gates told the court that "Mr. Manafort was quite upset money had not been sent," and Kilimnik wanted to show the boss they were making the effort.
That contract for 1 million euros, with Ukrainian Sergei Lyovochkin and executed between shell companies both sides used, was never paid in full. 
12:13 p.m. ET, August 7, 2018
Gates gets into the gritty details on "shelf companies" and Cypriot accounts
Rick Gates started his morning of testimony getting into the gritty details of exactly how much money each Ukrainian billionaire contracted Manafort for — showcasing the amount of money that was flowing into the hidden Cypriot accounts in 2011 and 2012.
It amounted to at least 5 million euros, according to Gates' Tuesday testimony. That's about $5,800,000 in today's US dollars.
Prosecutors and Gates showed the jury four different contracts where a Ukrainian's shell company agreed to pay a Manafort shell company for overseas political or policy consulting work. In one instance, the payment supported lobbying in the United States, Gates said.
The leaders of Ukraine's Party of Regions would meet with Manafort to craft a budget for their campaigns, then agree to amounts and payment structures, Gates testified.
They would then use a law firm in Cyprus to draft the agreements and place contract amount details into them. Some were signed by the directors of Cypriot companies who on both sides oversaw the accounts. 
Working for Manafort, the Russian Konstantin Kilimnik would collect the agreements and execute them, Gates said.
Manafort reported some of the payments to tax authorities in the US as loans — though they were income, Gates said.
He was "trying to decrease his taxable income," Gates said.
The consulting contracts showed Manafort's entities like Black Sea View Limited, Peranova Holdings and Leviathan Advisors Limited would earn more than 5 million euros from the Ukrainian billionaires Sergei Lyovochkin and Sergei Tigiko.
The Ukrainians used shell companies called Telmar Investments and Dressler Holdings to enter into the agreements and make the payments to Manafort, Gates said. 
The companies, which Gates has referred to as "shelf" companies in his testimony, had no employees and sold no products. Their sole reason for existence was to accept payments, he said.
Note: An earlier version of this post incorrectly stated 5 million euros equated $5,794,415,000 in US dollars. That was a few too many zeros. It is about $5,800,000.
9:52 a.m. ET, August 7, 2018
Rick Gates resumes testimony in Manafort trial
Rick Gates has taken the stand again in the Paul Manafort trial in Alexandria, Virginia.
He entered the court room at 9:35 am wearing a dark navy suit and light blue tie. 
Justice Department lawyer Greg Andres, who was questioning Gates for all of yesterday's testimony, resumed his questioning.
He began by asking about the Cyprus bank accounts that Ukrainian businessmen had asked Gates and Manafort to set up for payment purposes. 
9:42 a.m. ET, August 7, 2018
Rick Gates met 20 times with the government to prepare for his testimony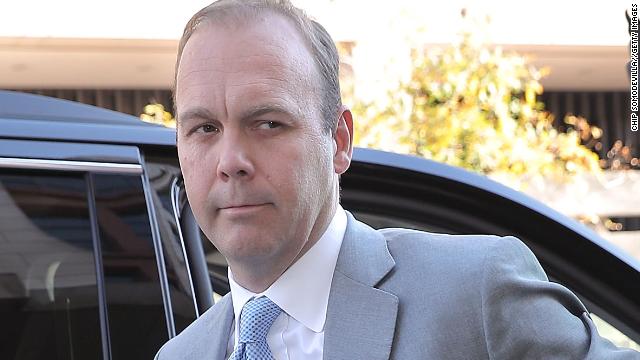 During his testimony on Monday afternoon, Rick Gates offered some insight into his cooperation with the government.
Gates testified that he had met 20 times with the government to prepare for Monday's testimony. 
He said that he had turned over evidence to the government and that the government has promised not to bring any additional charges.
Gates admitted to three other crimes that had not been previously known: He lied on a mortgage application; he lied on credit card applications; and he filed false expense reports to employer.
Gates was extremely forthcoming about the crimes he -- and Manafort -- allegedly committed, admitting over and over that, "yes," he knew he was lying to the accountants, lying about having foreign accounts, lying to investigators during an initial meeting.
One of the first pieces of evidence Gates read from was his plea agreement. He admitted that he had conspired against the government with Mr. Manafort from 2008-2015. 
9:14 a.m. ET, August 7, 2018
Day 6: Gates returns for high-drama testimony against Manafort
Paul Manafort's former deputy-turned-prosecutor's witness Rick Gates returns to the courtroom Tuesday for a second day of testimony against the former Trump campaign chairman.
The testimony is poised to pack even more drama into the courtroom than the 78 minutes Gates was on the witness stand a day earlier, as Manafort's defense team will get the chance to cross-examine Gates — and they've made clear the crux of their defense will be to blame Gates for Manafort's alleged crimes.
Gates was a deputy to Manafort in his lobbying business and then on the Trump campaign, but after flipping and pleading guilty to charges earlier in February, he testified against Manafort on Monday that they had 15 foreign accounts they did not report to the federal government, and they knew it was illegal.
Gates also told jurors that he cheated Manafort out of "several hundred thousand" dollars, which is likely to be a threat Manafort's attorneys pull on to try to undermine Gates' credibility with the jury.
Manafort is charged with 18 counts of tax and banking crimes, and has pleaded not guilty to all charges.
Special counsel Robert Mueller's team indicated it expects to question Gates for three more hours on Tuesday before the defense team will get its chance to grill him.
On Monday, Gates described his history of working with Manafort, his plea deal and how Manafort's consulting business operated in Ukraine. But there are plenty more details that were laid out in the indictment against Manafort that Gates hasn't yet discussed that will likely be raised on Tuesday.
Gates' testimony is expected to be the key focal point of the Manafort trial, the first that Mueller's team has brought before a jury as part of the broad investigation into Russian election interference in 2016.
Trump hasn't tweeted about Manafort since the first day of the trial last week, and the trial itself is not about the work Manafort did on the campaign. But Gates' testimony pits two former senior Trump campaign aides against one another. After Manafort left the campaign in August 2016 amid swirling questions about his Ukraine work, Gates stayed on the campaign and later helped found pro-Trump advocacy group, before he was ultimately forced out, too, as questions mounted about Manafort.
6:08 p.m. ET, August 6, 2018
Court wraps for the day. Here's what happened on Day 5.
The fifth day of Paul Manafort's trial has ended, but is scheduled to pick back up tomorrow at 9:30 a.m. ET.
Here's what you need to know from today in court:
Witnesses: Manafort's former accountant Cindy Laporta, senior special agent with the Treasury Department's Financial Crimes Enforcement Network Paula Liss, and Manafort's former business partner Rick Gates.
What Rick Gates said: Gates told the court about his admission that he committed crimes alongside Manafort, to which he pleaded guilty and agreed to cooperate with the federal investigators. During his Monday testimony, Rick Gates clearly stated he and Manafort had 15 foreign accounts they did not report to the federal government, and knew it was illegal.
Gates also told the jury that as part of his plea with the government, he revealed several other crimes that were not previously known and are not in the federal indictments of him and Manafort. 
5:43 p.m. ET, August 6, 2018
Manafort trial adjourns for day; Gates to return to stand tomorrow
Rick Gates' testimony stopped at 5:34 p.m. ET, when Judge T.S. Ellis excused the jury for the day. Court will resume tomorrow at 9:30 a.m. ET.
Gates, carrying a copy of a Dan Brown novel, exited the courtroom with his attorney.
He did not speak to anyone on his elevator ride down.