The Manafort trial: Guilty on 8 counts
12:37 p.m. ET, August 8, 2018
Judge and prosecutor keep butting heads in Manafort trial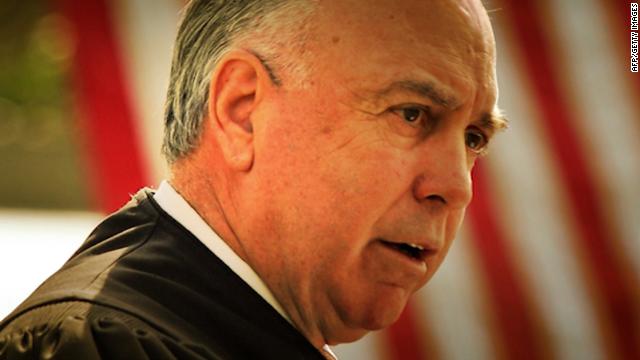 Judge T.S. Ellis once again reminded prosecutors on Wednesday that they should wrap their case quickly. 
"As a concession to the shortness of life, we need to get it done," Ellis said, after prosecutor Greg Andres implored him to allow them to show the jury documents an FBI agent reviewed. "Now we need to bring it to a close and it's lunchtime."
Andres said his side has focused sharply on the accusations they need to prove.
Earlier in the morning, Ellis had reprimanded Andres for being impolite, while the jury watched. 
After Ellis questioned whether defense attorney Kevin Downing followed the prosecutors' lead from the day before in his inquiries of witness Rick Gates, Andres responded, "Yeah."  
Ellis turned to Andres: "Be careful about that. This is not an informal proceeding."
Andres: "Yes."
Ellis: "I beg your pardon."
Andres: "Yes, judge."
What happened earlier in the week
Ellis, privately, told Andres he needed to look at the senior judge while speaking to him, and accused him of having tears in his eyes, according to an exchange recorded in a court transcript that the jury and the public did not hear.
12:03 p.m. ET, August 8, 2018
Gates' testimony just wrapped up. Here's why it matters.
Defense lawyer Kevin Downing and prosecutor Greg Andres spent the first hour of Paul Manafort's trial on Tuesday trying to distract the jury and one-upping the other's set of questions for star witness Rick Gates.
Downing kicked off the questioning with a focus on what Gates told the FBI and Justice Department years before he was charged. 
Ten minutes later, it was Andres' turn to attempt to reverse damage done, since Gates had recounted throughout Tuesday a host of crimes he committed against Manafort, against the government. He admitted in detail to his own personal moral failures. 
Did Gates have any doubt that if he lied in court or to the prosecutors, "the Special Counsel's Office would rip up your plea agreement?" Andres asked in his final minute question Gates before handing the reins back to the defense. "No doubt at all," Gates said.
Gates' testimony is among the most important of the trial: It pits the longtime right-hand man and the boss face to face for the first time publicly since Gates flipped.
Since Gates pleaded guilty to conspiracy and lying to investigators in February, he has assisted the prosecutors with this case and its broader investigation into Donald Trump's 2016 presidential campaign, where Gates served as a top official.
He's lived at home with his wife and four children in Richmond, facing some travel restrictions, while Manafort has been jailed for alleged witness tampering since June 15.
11:27 a.m. ET, August 8, 2018
Why Gates was asked about his "secret life"
Following Manfort's defense attorney's question to Rick Gates on whether he had disclosed four extramarital affairs to the special counsel — a question to which prosecutor Greg Andres objected — Judge T.S. Ellis then had a private conversation, out of earshot of the jury, with both sets of lawyers about whether Downing could ask about other extramarital affairs. 
What Manafort's attorney said: Manafort's attorney Kevin Downing had said he wanted to ask the question because it spoke to whether Gates had lied to the special counsel's office, and whether Gates' plea agreement would still be valid. 
Once the judge talked to the lawyers, however, Downing wasn't able to re-ask Gates the question about four extramarital affairs. 
Instead, he asked Gates more broadly: "Does your secret life span over many years?"
Gates responded yes. "I made many mistakes over many years," he said.
His three days on the witness stand then ended. 
11:23 a.m. ET, August 8, 2018
Manafort trial on break until 11:45. Up next: an FBI accountant will testify.
The witness Morgan Magionos, an FBI forensic accountant who traced Paul Manafort's wire transfers, has been called to testify by the prosecutors, but he has not yet taken the stand.
The judge and attorneys discussed whether Magionos would be able to read emails Manafort sent and review his phone records. Judge T.S. Ellis is currently considering what he'll decide. 
The court proceedings have a break until 11:45 a.m.
11:20 a.m. ET, August 8, 2018
Gates has finished testifying
During re-cross examination, defense attorney Kevin Downing suggested that Rick Gates may have had additional extramarital affairs when he asked Gates if he had disclosed to the government that he had four extramarital affairs. 
Prosecutor Greg Andres objected to the question on relevance grounds, and they are now in bench conference with Judge T.S. Ellis.
Gates did not answer the question.
Gates previously admitted in court to having one affair almost a decade ago and expressed regret for it.
10:35 a.m. ET, August 8, 2018
Prosecutors just asked Gates if the government told him how to answer questions
Rick Gates was asked by prosecutor Greg Andres during redirect questioning today whether the special counsel's office had told him how to answer questions.
Here's how he answered:
"The only answer I was told was to tell the truth."
Gates previously testified that he had met with the government 20 times to prepare for his testimony in the Manafort trial.
10:20 a.m. ET, August 8, 2018
Cross-examination of Gates is over, and prosecutors expect to question him again for 30 more minutes
Rick Gates has taken the stand once again this morning in the trial of Paul Manafort in Alexandria, Virginia. 
He began at 9:52 a.m. ET with more cross-examination by Manafort's defense attorney Kevin Downing. Downing finished cross-examination at exactly 10 a.m. 
Downing began by asking Gates about an FBI interview that he and Manafort participated in July 2014 about payments from Ukraine. Gates had testified to this interview during his direct examination yesterday. At the time, Gates had not answered many details about what Manafort had instructed him to do during that period. 
The interview was in regards to a forfeiture investigation between the Ukrainian gov't and FBI. Gates testified that he personally had revealed to the FBI that they had accounts in Cyprus and St. Vincent and the Grenadines — he said that he and Manafort did meet before his interview and that Manafort said that they should be "open" about the bank accounts. Gates testified that he named several of the banks accounts during his interview with the FBI. 
Downing asked if he was "open and truthful" with the investigators. Gates replied that he had been. 
Downing ended the cross-examination with a question about whether Gates was aware of Manafort's net worth in the 2015-2016 period. Gates answered that he wasn't privy to Manafort's personal net worth but he thought it would be in the realm of $6-10 million. 
What happens next: Prosecutor Greg Andres estimated that he would need about 30 more minutes for redirect examination of Gates.
9:57 a.m. ET, August 8, 2018
Day 7 of the trial has officially started
Court started today at 9:50 a.m. ET, marking the 7th day of trial for President Trump's former campaign chairman Paul Manafort.
The judge is now on the bench.
What we're expecting today: Manafort's former deputy-turned-prosecutor's witness Rick Gates returns to the courtroom today for a third day of testimony.
9:24 a.m. ET, August 8, 2018
Court will reconvene today at 9:30 a.m. ET
Paul Manafort's former deputy-turned-prosecutor's witness Rick Gates is expected to return to the courtroom Wednesday for a third day of testimony against the former Trump campaign chairman.
Yesterday, on Day 6, Gates testified against Manafort for more than six hours.
Gates described in detail his crimes against his employer and even an extramarital affair he'd had, while turning the knife on his longtime boss by outlining the crimes he claims Manafort directed him to commit.
Manafort's team, meanwhile, has hung much of its strategy on carving away at what Gates says.
Defense attorney Kevin Downing pushed as hard as he could for the last two hours of Tuesday's proceedings to get a rise out of Gates, who refused to engage with more than flat, passionless responses.
Gates even refused to call the man he had known for decades and worked under for years "Paul," instead referring to the defendant as "Mr. Manafort." The pair avoided all eye contact.