The Manafort trial: Guilty on 8 counts
5:53 p.m. ET, August 17, 2018
Manafort judge says he has received "threats" and won't release juror names
The judge presiding over the trial of Paul Manafort said he's received "threats" and is not willing to disclose jurors' names and addresses requested by media outlets.
"I don't feel right if I release their names," Judge T.S. Ellis said.
Ellis did not disclose details about the threats in a hearing Friday. But he said it was enough to make him wary of making the 12 jurors and four alternates' names public. The jury has not yet reached a verdict and is currently deliberating for the second day.
"I've received criticism and threats. I'd imagine they would to," he told an attorney representing seven media organizations at a hearing Friday. 
"I had no idea myself this case would arouse such public interest. I still am surprised," Ellis said.
He added that the US Marshals Service follows him everywhere, even to his hotel — which he presumably stays in when court is in session because he lives outside of Northern Virginia. The jurors don't have that protection, and Ellis even keeps secret the name of his hotel, he said. 
He also noted that making the jurors' names public in such a high-profile case could chill future potential jurors in similarly watched cases from wanting to serve.
The media attorney, Matthew Kelley from the law firm Ballard Spahr, argued that the appeals court governing the area says juror names should be made public except in special circumstances.
5:58 p.m. ET, August 17, 2018
Paul Manafort is in the courtroom for a 2 p.m. ET hearing
Paul Manafort, his defense team and prosecutors are in the courtroom for the 2 p.m. ET hearing on motions brought by CNN and other media to unseal some sealed parts of the trial, as well as the names of jurors. 
The judge had asked the team, including Manafort, to attend.
12:57 p.m. ET, August 17, 2018
Trump calls the Manafort trial "very sad" — but he won't comment on a possible pardon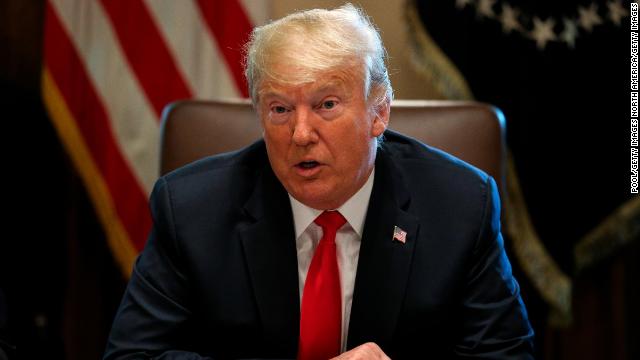 President Trump on Friday characterized the trial that is ongoing against his former campaign chairman Paul Manafort as "very sad."  
But asked if he would pardon Manafort, Trump answered, "I don't talk about that."
He went on to criticize the trial, in which Manafort is facing multiple charges, including bank fraud.
"I think the whole Manafort trial is sad," Trump said. "I think it's a very sad day for our country. He worked for a me for a very short period of time. But you know what, he happens to be a very good person. I think it's very sad what they've done to Paul Manafort."      
11:17 a.m. ET, August 17, 2018
Manafort judge: "A thirsty press is essential in a free country"
Judge T.S. Ellis said he will hold a hearing after 2 p.m. ET today on a motion by CNN and other media organizations to unseal the names and addresses of jurors, as well as other parts of the trial that are currently secret.
The judge says he plans to make public all bench conferences currently under seal with one exception — likely the part of the trial where the Special Counsel's office discussed information about their ongoing investigation. 
"A thirsty press is essential in a free country," Ellis said.  
Some names and medical information may also be redacted from what is ultimately unsealed.  
9:46 a.m. ET, August 17, 2018
The jury's second day of deliberations has begun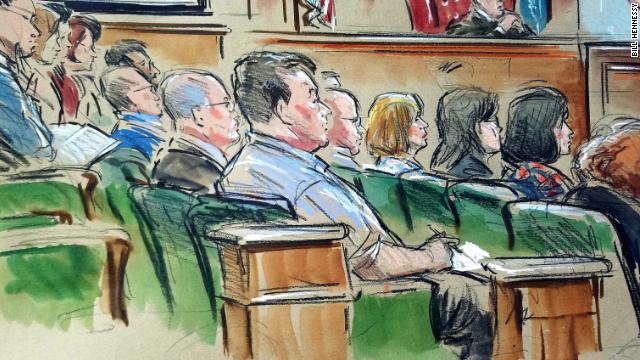 The jury was sent back to resume deliberations at 9:38 a.m. ET. 
With that, the jury has now entered its second day of deliberations. 
9:43 a.m. ET, August 17, 2018
The jury asked four questions yesterday. Here's how the judge answered them.
The jury's first day of deliberations ended yesterday after they asked the judge four questions.
Those questions were...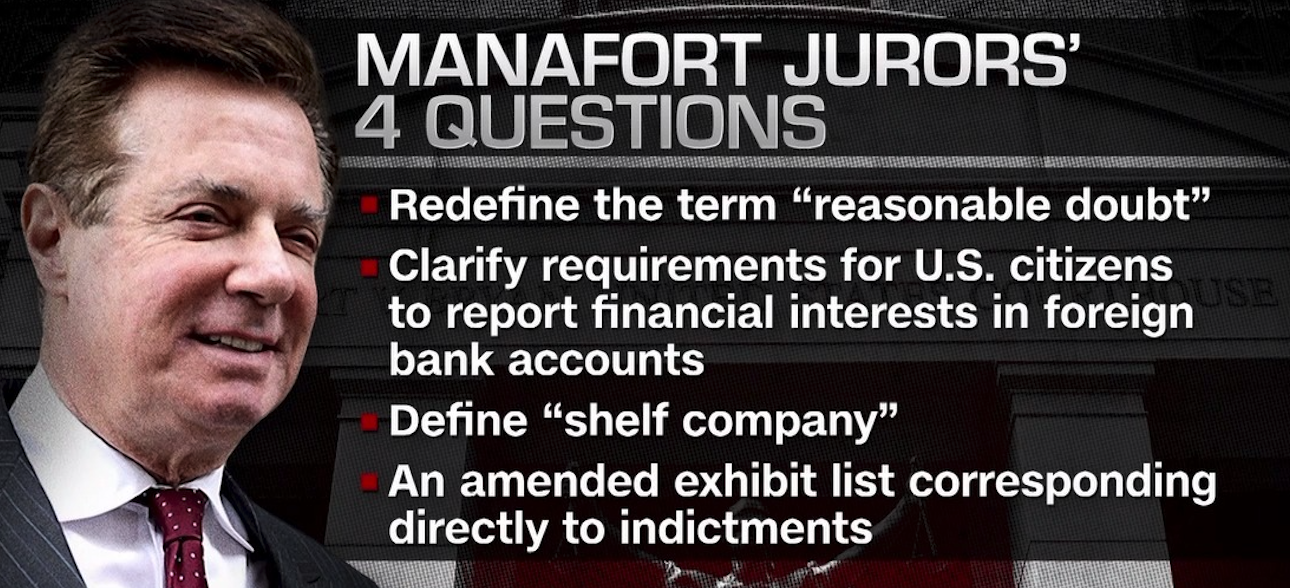 And here's how Judge T.S. Ellis responded:
On the tax questions: He told the courtroom Thursday he would instruct the jury to rely on their "collective recollection" regarding their questions on "shelf" companies and foreign banking filing requirements. He would give them no further answers on those points. 
On the definition of reasonable doubt: He said that the prosecutors had to prove their case not "beyond possible doubt," but beyond "doubt based on reason."
On the question about exhibits: The jury had also asked if the court could match exhibit numbers to indictments. Ellis said the court could not amend the exhibit list.
8:26 a.m. ET, August 17, 2018
The jury starts its 2nd day of deliberations at 9:30 a.m. ET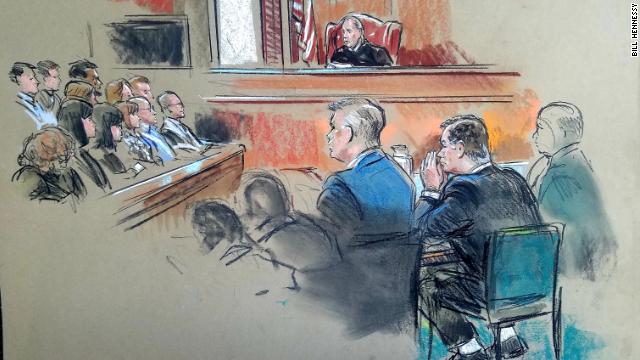 The jury in the trial of former Trump campaign chairman Paul Manafort will return to court at 9:30 a.m. ET for its second day of deliberations.
After a full day Thursday, the jury hadn't yet reached a verdict on the 18 counts of tax evasion, bank fraud and hiding foreign bank accounts brought by special counsel Robert Mueller as part of the investigation into Russian interference in the 2016 US election.
We're not sure how long all of this could take: There could be a few more hours left, or the process could take days. Manafort is charged with 18 counts of tax and banking crimes, and the jury has a lot of evidence to sift through as it debates those charges.
We'll update here as soon as we know more.