The Manafort trial: Guilty on 8 counts
4:41 p.m. ET, August 1, 2018
General contractor details "hundreds and hundreds" of Manafort bills paid by wire transfers
Stephen Jacobson, a longtime construction contractor who worked on personal projects for Paul Manafort in the Hamptons and New York City, testified Wednesday that Manafort had paid him millions of dollars worth of home renovations, mostly through international wire transfers.
One incoming wire transfer in 2010 paid for home improvements worth $124,000 and came from a shell company that Manafort allegedly used called Global Highway Limited. "This matches up with the invoice I sent to him," Jacobson testified.
When Jacobson and Manafort met
Paul Manafort first met Jacobson around 2001, when his wife, Kathleen, asked him to repair a backsplash above their kitchen countertop. He also described how he years later ripped out a back wall of the Manafort's house to expand their dining room, and ripped out everything from cabinets and countertops to lighting in the family's kitchen in their Bridgehampton mansion. Jacobson also constructed a pool house for the Manaforts.
"It's literally hundreds and hundreds of pages of billing over the course of the years I've worked for Mr. Manafort," Jacobson told the court.
In 2010, 2011 and 2012, the contractor billed Manafort more than $500,000 each year. In 2013, Manafort's invoice for home improvements was $1.13 million, Jacobson said. 
"He always paid his bills. I never think I get paid fast enough," he said, when asked if Manafort paid on time.
What prosecutors are trying to show: They are trying demonstrate how Manafort used money he earned in Ukraine for his personal benefit, and hid it from federal authorities and others in shell companies.
5:35 p.m. ET, August 1, 2018
A Mercedes-Benz dealership's financial officer takes the stand
Paul Manafort's cars make for the next topic of discussion, as prosecutors brought in a financial officer from a Mercedes-Benz dealership in Virginia.
Daniel Opsut testified that Manafort's family bought and leased expensive cars from the luxury dealership and paid using Manafort's offshore accounts in Cyprus. 
Paying from offshore accounts is "not common, but it's not unheard of," Opsut said. 
The Manaforts bought a new 2013 Mercedes-Benz SL550.
Manafort's wife, Kathleen, bought the car, which had a price tag of about $123,000.
They traded in two older Mercedes-Benz vehicles, and the rest of the money was wired from an offshore account. 
Kathleen Manafort was in the courtroom while Opsut testified about her cars.
Prosecutors have a photograph of Manafort's car in their exhibit list, but they did not attempt to present the image to the jury on Wednesday. Both sides have wrangled over which photos can be shown to the jury — an early, recurring theme in this case. 
The next witness for the prosecution, real estate agent Wayne Holland, took the stand shortly before 3:30 p.m. ET.
5:40 p.m. ET, August 1, 2018
Prosecutors expect to rest case against Manafort next week
Prosecutor Uzo Asonye told Judge T.S. Ellis this afternoon that the prosecution believes it's paced ahead of schedule.
Asonye said they plan to rest their case against Paul Manafort next week but did not indicate which day they expect to be done.
The new expectation makes sense, given that Ellis has tried to move the evidence presentation along during the trial. Occasionally, he would tell the prosecutors they didn't need to show the jury evidence they had planned on. Ellis also repeatedly told the lawyers to "hurry up" or "move along" to the next question with witnesses. 
The proceedings on Tuesday — the first day of the trial — flew by with jury selection, opening statements and the first witness' testimony.
"It's my job to see we get this thing done with the least amount of wasted time," Ellis told the lawyers Wednesday afternoon.  
Previously, prosecutors have said they'd like to call anywhere from 20 to 35 witnesses to testify against Paul Manafort. In recent weeks, prosecutors told the judge they needed three weeks to present their case, but their side's presentation clearly won't stretch that long. 
It's not clear yet how much time Manafort's defense team will need to present his case, nor is it known whether Manafort will testify on his own behalf. 
Six witnesses have given testimony so far as of Wednesday afternoon.
3:05 p.m. ET, August 1, 2018
Beverly Hills fashion store exec: Manafort was a "very good customer"
Jurors heard testimony from Ronald Wall, a financial executive at a high-end fashion store in Beverly Hills. 
Wall described Manafort as "a very good customer" at the world-famous store, known as the House of Bijan. 
Much of Wall's testimony centered on payments the company received from Manafort's offshore accounts. Special counsel Robert Mueller's team has accused Manafort of hiding millions of dollars in Cyprus and other countries to avoid paying US taxes.
Under questioning by Manafort's attorney, Wall testified that some of Bijan's other clients "occasionally" paid with wire transfers. 
The witness seemed uninterested in the proceedings, sometimes giving extremely brief answers. He acknowledged that he was testifying Wednesday as a result of a federal subpoena, and that Mueller subpoenaed financial documents from his company. 
Judge T.S. Ellis once more criticized the prosecution's strategy, saying, "I understand this effort to show that he lived lavishly, but at some point it's not relevant." Mueller prosecutor Greg Andres said he was trying to highlight Manafort's income, not his lifestyle. 
3:38 p.m. ET, August 1, 2018
Manafort was only client to pay with international wire transfers, former clothing store manager says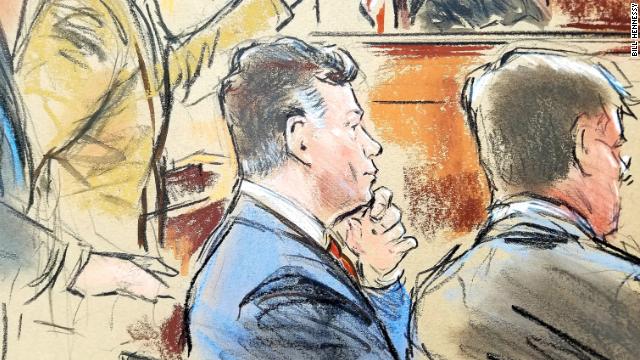 Maximilliam Katzman told the jury Wednesday that Paul Manafort was the only client of high-end men's boutique Alan Couture to pay with international wire transfers. 
Katzman confirmed documents that show incoming international wire transfers from Manafort's companies for thousands of dollars worth of clothing. The clothing was custom made for Manafort. 
In one email, Manafort wrote to the clothing boutique, "You will be receiving an email for the amount due from Leviathan," his foreign shell company.
During his testimony, Katzman, who was manager at his father's store Alan Couture, described several invoices for Manafort:
Manafort bought four suits and two trousers for $15,195, according to one invoice, for instance, Katzman said.
In total, Manafort spent on average $100,000 with the store every year from 2010 to 2012. In 2013, Manafort spent $443,160 at the store, Katzman said.
After he said Manafort was an important client, Judge T.S. Ellis asked Katzman if all of Alan Couture's clients were important. "I don't want to answer that," Katzman said, to much laughter in the courtroom. 
He finished testifying around 2:15 p.m. ET.
Ronald Wall, the longtime chief financial officer of another exclusive men's clothing boutique, House of Bijan, is now on the stand.
2:48 p.m. ET, August 1, 2018
Judge says jury may bring a birthday cake to court
Judge T.S. Ellis said the jury may bring in a birthday cake on Friday to celebrate a birthday.
"I stopped having those," Ellis said with a smile about birthdays. "My wife is younger and I'm waiting for her to catch up."
It was a brief moment of levity from the judge who has attempted to hurry the presentation of evidence along and treated the prosecutors sternly during their questioning of witnesses.
The 16 jurors met each other yesterday, and have appeared to follow the evidence presented and Ellis' interjections closely during the first five rounds of witness testimony.
2:29 p.m. ET, August 1, 2018
Trial resumes with testimony on Manafort's suits
The Paul Manafort trial has reconvened this afternoon with testimony about Manafort's vast spending on luxury suits. 
Jurors heard testimony from Maximillian Katzman, 29, who works at his father's high-end men's fashion store in New York.
He testified that the store, Alan Couture, has only about 40 regular clients and Manafort was one of their top five buyers. Manafort primarily bought suits, sportscoats and outerwear, Katzman said. 
Katzman's brown hair was slicked back and he wore a crisp navy suit, pocket square and striped tie.  
Prosecutors have made a point to highlight Manafort's wealthy lifestyle, which they say was funded through illicit means. This strategy earned an early rebuke from the judge, who told them yesterday that it wasn't a crime to be rich. 
12:50 p.m. ET, August 1, 2018
Here's how the rest of the day will play out
The Manafort trial has taken a midday break. Court will be back in session at 1:30 p.m. ET.
What to expect after the break: Prosecutors said three or more witnesses will be called this afternoon.
Those witnesses are ...
Maximillian Katzman
Ronald Wall
Daniel Opsut
12:29 p.m. ET, August 1, 2018
Will Gates testify in Manafort trial? That's an open question.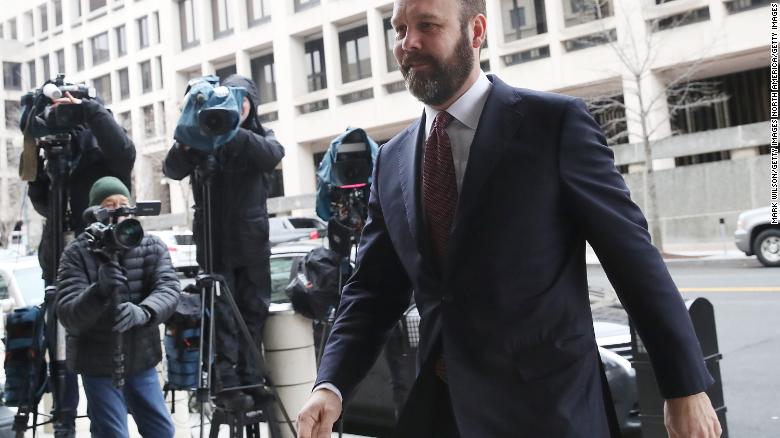 Prosecutors opened the door to the possibility that Rick Gates may not testify at Paul Manafort's trial, prosecutors said on Wednesday, after two days of the defense team attacking the supposed "star witness."
"He may testify in this case, he may not," prosecutor Uzo Asonye said in court with the jury present Wednesday.
Asonye added his team is always reevaluating whether to call a witness or not, depending on how the case is going and timing. He then quickly backtracked on his statement -- adding that he didn't mean to suggest Gates wouldn't testify.
Gates is on the witness list and played a central role in both sides' summaries of their cases, which they presented Tuesday afternoon. Prosecutors have said they have a broad swath of people planned on their witness list, not just Gates.
Judge T.S. Ellis has tried to hurry prosecutors along all day as prosecutors used an FBI agent to walk the jury through documents found in Manafort's home. Ellis has repeatedly reminded the prosecution they should bring witnesses to testify who have first-hand knowledge of Manafort's spending.
Ellis said, "If you're to call Mr. Gates, this is a waste of time," referring to FBI agent Matthew Mikuska's testimony about a memo titled "Gates agenda" that appeared to be a strategy memo from 2013.
And then this happened: During the back-and-forth about whether Gates will testify, Ellis noted the flurry of journalists who left the courtroom, saying that they "scurried out of here like rats out of a sinking ship."