This is the longest shutdown in US history
2:33 p.m. ET, January 16, 2019
US Secret Service is prepared to support security for a State of the Union
The Secret Service would be prepared to provide security for the State of the Union address, even during a government shutdown, according to a law enforcement official. Most of the agency's employees are considered essential and have been working without pay for the past several weeks.
That has included most personnel responsible for planning security measures around the address, the official said. Meetings have continued to take place about the event during the shutdown. The official said security planning for the State of the Union started months ago, before the shutdown began.
Still, some employees who would be involved in the planning are currently on furlough and not working — both at Secret Service and at other government agencies. That includes some people in intelligence and logistics roles.
Because the State of the Union is a designated "National Special Security Event," it requires assets and support not just from the United States Secret Service but across multiple government agencies, including some closed by the shutdown, a separate law enforcement source told CNN. That could be difficult to plan and execute because of the lapse in funding, the source said.
Some context: Of 7,222 Secret Service employees, 5,978 are considered essential and would have to work unpaid during a shutdown.
2:21 p.m. ET, January 16, 2019
Trump's meeting was respectful — but Democrats pushed to open government first, source says
A member who attended President Trump's meeting with the House's bipartisan Problem Solvers Caucus described it as a respectful exchange of ideas.
The member said both sides agreed to keep talking, but there were no signs they are closer to a deal.
In fact, Democrats who attended the meeting kept pushing to open government first before immigration talks. But Trump didn't get into any feisty or angry exchanges and the tone was overall positive.
6:50 p.m. ET, January 16, 2019
Kevin McCarthy: Trump should still deliver his State of the Union address on Jan. 29
House Minority Leader Kevin McCarthy, railing on Speaker Nancy Pelosi, said President Trump should still deliver his State of the Union address on Jan. 29 before Congress.
"To change course like that shows she's playing politics," McCarthy said. "To change course is just unbecoming of the speaker."
 McCarthy, fired up, said: "He should come here, give the speech," telling Pelosi to "act like a speaker."
"It is not a security issue — that's politics. It's pure politics."
Asked if Trump should still come to the House chamber on Jan. 29 even if Pelosi rescinds the invite, McCarthy said, "Yes, absolutely. That was the invitation."
CORRECTION: A previous headline contained an incorrect title for House Minority Leader Kevin McCarthy.
1:58 p.m. ET, January 16, 2019
The White House doesn't want senators to sign a bipartisan letter to end shutdown, sources say
White House officials are privately lobbying senators to not sign a bipartisan letter calling on President Trump to reopen the government for three weeks while immigration talks take shape, two sources said.
The legislative affairs office is running this effort, the sources said.
About that letter: A draft letter is being circulated from Republican Sens. Lindsey Graham and Chris Coons that would seek to get the President to reopen the government with a three-week continuing resolution while the Senate debates a way forward on the President's budget request for border security.
The letter is just a draft at this point, but is being circulated. We do not know who will sign it, and we do not know when it will be sent.
1:42 p.m. ET, January 16, 2019
GOP senator: Pelosi suggesting moving the State of the Union is "making things worse"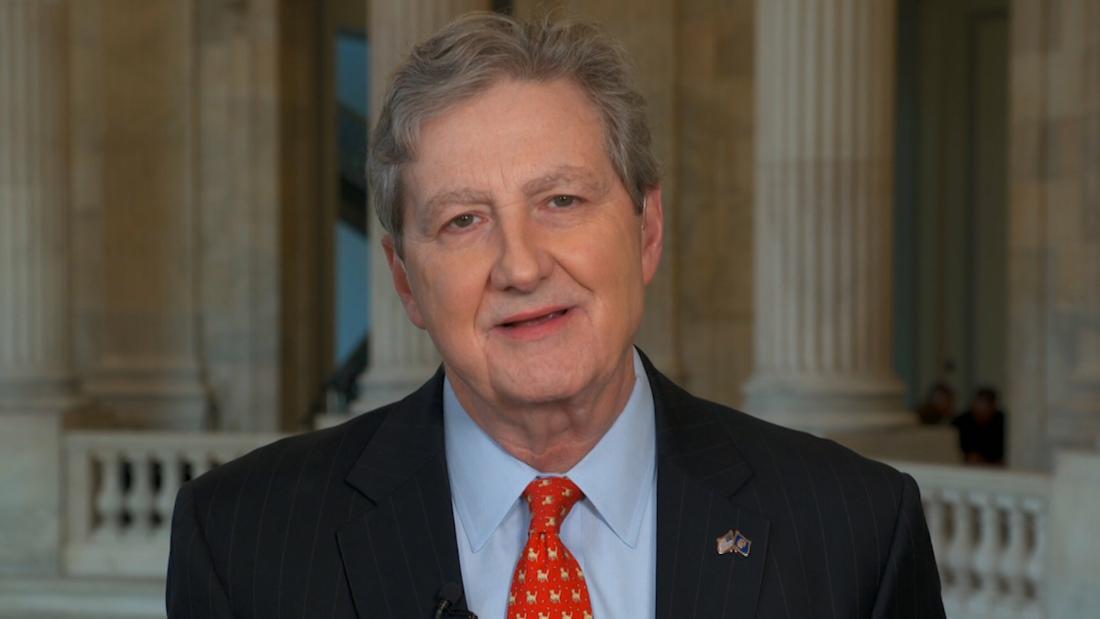 Republican Senator John Kennedy called Speaker of the House Nancy Pelosi's request to move the date of the State of the Union address a "tactic" that is "making things worse."
Kennedy suggested that President Trump should speak before the Senate instead if he is unwelcome in the House. 
"I think the President ought to go ahead and give the State of the Union as normal," Kennedy said. "He can come to the Senate if Mrs. Pelosi doesn't want him to come to the House. I just think that sort of tactic is making things worse."
Typically, the State of the Union is given before a joint session of Congress with both senators and representatives in attendance, although the Speaker of the House is the one that invites the president to speak.
He said the real problem with the shutdown negotiations is that too many people in DC are "drunk on certainty and virtue."
Kennedy said he spoke to the President about the shutdown for nearly two hours while on Air Force One on Monday and left with the impression that Trump is dug in. 
 "He is a carnivore — and on this one he believes he is right," he said.
1:32 p.m. ET, January 16, 2019
White House: Trump's meeting with bipartisan lawmakers was "constructive"
A meeting between a group of bipartisan lawmakers, President Trump and his team was "constructive," White House press secretary Sarah Sanders said.
Trump met with members of the House's Problem Solvers Caucus at the White House today to discuss the shutdown.
"They listened to one another and now both have a good understanding of what the other wants," Sanders said. "We look forward to more conversations like this."
A key point to remember: This isn't a group that can make a deal — they aren't large enough and they aren't empowered by leadership to do anything.
1:16 p.m. ET, January 16, 2019
JPMorgan Chase CEO says the shutdown is a negative for the economy
JPMorgan Chase CEO Jamie Dimon called the government shutdown a "self-inflicted wound" that is a "negative" for the economy.
"You can't have a democracy where you refuse to compromise," Dimon said while speaking at a Manhattan luncheon hosted by the Economic Club of New York.
Dimon added that he hopes "there's a deal to be done." He advocated giving President Trump money for border security. In exchange, the Democrats should ask for progress on the Deferred Action for Childhood Arrivals program or other immigration policies.
What Trump officials have said about economy: White House economic adviser Kevin Hassett acknowledged Tuesday that the White House underestimated the negative impact on the United States' economic growth from the ongoing government shutdown.
He told Fox Business Network the White House "found that actually the damage is a little bit worse because of government contractors, something that was excluded from our first analysis."
Hassett added that diminished spending by furloughed employees will be made up once they receive back pay after the shutdown ends, alleviating some of the damage.