This is the longest shutdown in US history
2:51 p.m. ET, January 14, 2019
GOP senator asks Trump: "When are you going to help us open the government?"
Sen. Lisa Murkowski, a Republican from Alaska, raised concerns about the "indefinite state of impasse."
"It's just not good for any of us," she said.
Asked about President Trump rejecting a three-week bill to open government, Murkowski told CNN, "Well, then Mr. President when are you going to help us open the government?"
She is among at least three Republican senators who suggested they would break with Trump and support appropriations bills that do not include funding for a wall.
More than 1,000 federal workers per 100,000 Alaska workers are affected by the shutdown.
2:34 p.m. ET, January 14, 2019
Trump again blames Democrats for the shutdown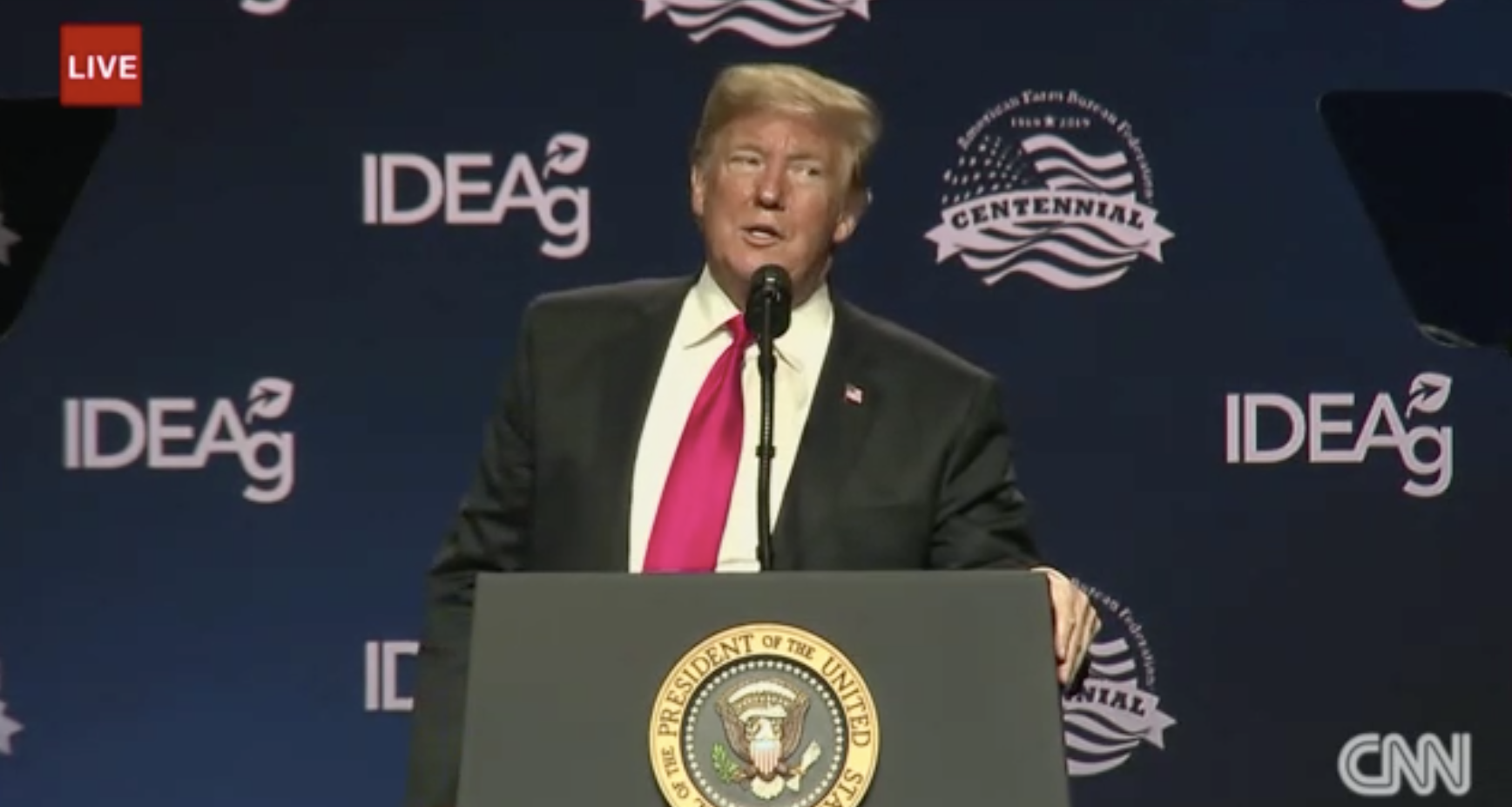 President Trump continued to make the case for border security to the Farm Bureau convention, casting blame on Democrats.
"The government remains shut down for one reason and one reason only: the Democrats will not fund border security," he said Monday.
He continued: "They will not approve the measures we need to keep America safe." 
Trump added that the US Department of Agriculture is working to help farmers impacted by the shutdown and again said — without evidence — that many of those affected by the shutdown have expressed their support. 
Earlier, he introduced Arizona rancher Jim Chilton, who has a ranch on the US-Mexico border, and invited him on stage to make brief remarks. 
"Mr. President, we need a wall," he said, receiving a standing ovation from the crowd.
2:22 p.m. ET, January 14, 2019
Trump on border wall fight: "I will never, ever back down" on keeping Americans safe
President Trump continued to make a pitch for his border wall during a speech to the Farm Bureau's annual convention, alluding to the political fight on day 24 of the shutdown. 
"When it comes to keeping the American people safe, I will never, ever back down. I didn't need this fight," he told the farmers' convention. 
He didn't use the word "Democrats" but named Senate Minority Leader Chuck Schumer and continued to suggest that he isn't getting border wall funding because Democrats don't want to give him the win ahead of the 2020 election.  
"We're dealing against people who think that if they can stop me from building a wall... They think that's a good thing for 2020," he said. 
Trump told the crowd he isn't building the wall as a "political thing": "I'm doing it because we have to do it
He continued: "We're gonna have a wall, we're gonna have a barrier." 
Trump said that he has "built a lot more" and "renovated" parts of existing border wall. He listed off a series of statistics. 
Trump also spoke extensively about immigration laws and the visa lottery program and appeared to strike an optimistic tone about immigration reform. 
"We're fighting hard. We're fighting very hard for you," Trump said, telling the group that he is "making a lot of progress." It's unclear what progress he was referring to.
1:56 p.m. ET, January 14, 2019
The FDA is still monitoring food and flu outbreaks despite shutdown
The Food and Drug Administration will continue to monitor and respond to outbreaks of food poisoning and the flu, as well as food and medical product recalls.
The agency will also keep screening imported food and medical products. And the FDA says it will address public health issues that pose an imminent threat.
But remember: About 41% of the FDA is off the job due to the shutdown, and some employees caution that response time to emergencies could be slower.
The FDA can call back furloughed employees in an emergency, but they'd only stay as long as needed to address that situation.
1:40 p.m. ET, January 14, 2019
How Native American tribes are affected by the shutdown
Tribes that rely on federal funds for services, such as health clinics and food pantries, are affected by the shutdown.
About 1.9 million Native Americans and Alaska Natives get funding from the Bureau of Indian Affairs, which is operated by the Department of the Interior, one of the agencies hit by the shutdown.
For one tribe of Chippewa Indians in Michigan, the cost amounts to $100,000 each day the government is shut down, The New York Times reported.
1:00 p.m. ET, January 14, 2019
Trump won't "budge even 1 inch" on border wall funding, source says
President Trump is digging in his heels on his demand for a border wall, telling aides and allies that he believes he is winning the battle for public support.
Over the last 24 hours, Trump has privately touted a Washington Post-ABC News poll indicating that public support for a border wall has increased to 42% from 34% last year, a source familiar with his comments told CNN.
"He's not going to budge even 1 inch," a source familiar with the President's mindset told CNN.
But a CNN/SSRS survey published Sunday shows a majority of the public blames the President, with 55% saying he is more responsible for the shutdown than are Democrats in Congress, while 32% say the blame rests mostly with the Democrats.
12:44 p.m. ET, January 14, 2019
This is what the TSA line looks like at the Atlanta airport today
CNN's Omar Jimenez shot video of the line of people waiting to go through security at the Hartsfield-Jackson Atlanta International Airport.
The line wraps through baggage claim:
Earlier today, the airport's website estimated that wait times to get through security were more than an hour for some checkpoints.
Elise Durham, the airport's director of communications, told CNN the long security lines were in part due to short staffing at Transportation Security Administration checkpoints.
"Mondays are always busy days for us at Hartsfield-Jackson, but I can tell you that we are down a few security lanes because of the shutdown," Durham said.
While the lines are long, they are moving, Durham said. 
12:31 p.m. ET, January 14, 2019
Why Congress (and the President) still get paid during a shutdown
About 380,000 federal employees are required to stay home, while another 420,000 must work without pay. Many of them missed their first paychecks on Friday.
But congressional lawmakers and President Trump himself aren't missing any paychecks.
That's because the salaries of the President and members of Congress are written into the Constitution and aren't funded through annual appropriations.
That said, remember:
11:50 a.m. ET, January 14, 2019
There are no meetings scheduled on Capitol Hill today
We're entering the fourth full week of the government shutdown, and talks are frozen.
House and Senate are both scheduled to come back into session this afternoon — but things are a little in flux due to the weather and subsequent closure of the federal government in Washington. 
So there's not much on today's agenda: There are currently no meetings scheduled and no new proposals being traded, aides in both parties say.