This is the longest shutdown in US history
1:33 p.m. ET, January 17, 2019
What federal employees can and can't do during a shutdown
The federal government has been shut down for 27 days and hundreds of thousands of workers have gone for weeks without pay.
As of now, it's unclear when the shutdown will end.
In the meantime, here are some tips about what federal workers can and can't do during the shutdown:
Seek outside work: One option for furloughed federal workers is to get another, temporary job. But the restrictions can be complex or specific and they do have to follow federal ethics rules, which could limit the type of work or amount of money they can earn, and they are subject to being recalled to their government job on short notice. 
Apply for unemployment insurance: Much like employees who are laid off from a private sector job, federal employees who are furloughed are generally eligible to apply for unemployment insurance from their state. Unemployment insurance typically must be paid back, either by the employee or through paycheck garnishments. Unemployment insurance, however, is not available for federal employees required to work without pay through the shutdown.
Apply for assistance from banks or credit unions: As CNN reported, some financial institutions are offering payroll advances or low- or no- interest loans. These options are generally meant for short-term needs, and may be less helpful to employees the longer the shutdown stretches on.
Report to work, if requested: Furloughed employees have been recalled to work, as we have seen in several cases. IRS and National Park Service employees, for example, have been called back to perform specific work since the shutdown began in late December. But in most cases, this work is not paid until the shutdown is over. 
Quit or retire: Some federal employees who are fed up with the uncertainty may decide to quit and take their talents to the private sector, a tough decision given the hoops many of them had to go through in order to acquire a federal job. If an employee has met the age or years of service requirements to qualify for their federal retirement program, they may be able to retire, or take deferred retirement. If not, an employee may be eligible to receive their retirement contributions as a lump sum payment, which could be rolled into an IRA or other retirement plan.
1:17 p.m. ET, January 17, 2019
Why New York City's mayor says a "full-blown crisis" will hit on March 1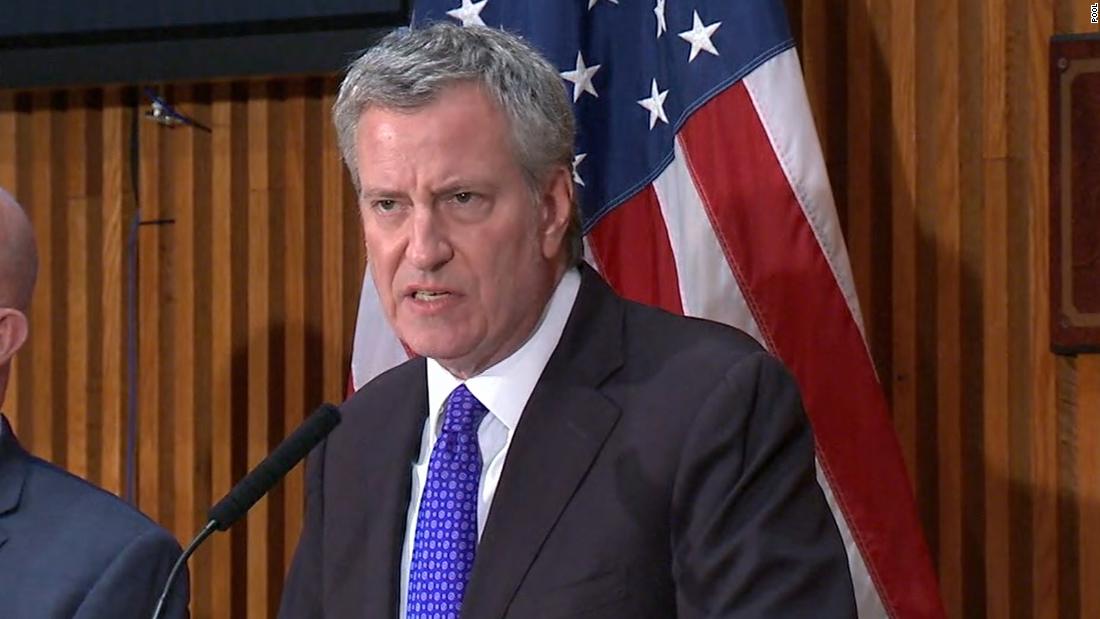 New York City Mayor Bill de Blasio said the largest city in the United States is entering a "full-blown crisis" as the partial government shutdown stretches into the 27th day.
New Yorkers will start to feel that crisis on March 1, when the city will lose "half a billion dollars a month" in federal funding, de Blasio said.
The mayor said these funds are needed for food stamp programs and rental assistance.
"My job whenever possible is to reassure people and let them know that we have things well in hand, but when it comes to the shutdown of our federal government things are beginning to spin out of control. Things are happening that no city and no state could possibly compensate for. This is absolutely uncharted territory," de Blasio said.
The mayor called on Senate Majority Leader Mitch McConnell to end the shutdown and called on Trump to so the same.
"This has to end. A President is supposed to protect us. You're making it worse. You have to end this," he said.
12:51 p.m. ET, January 17, 2019
Federal workers might have broken the law for creating GoFundMe accounts to survive shutdown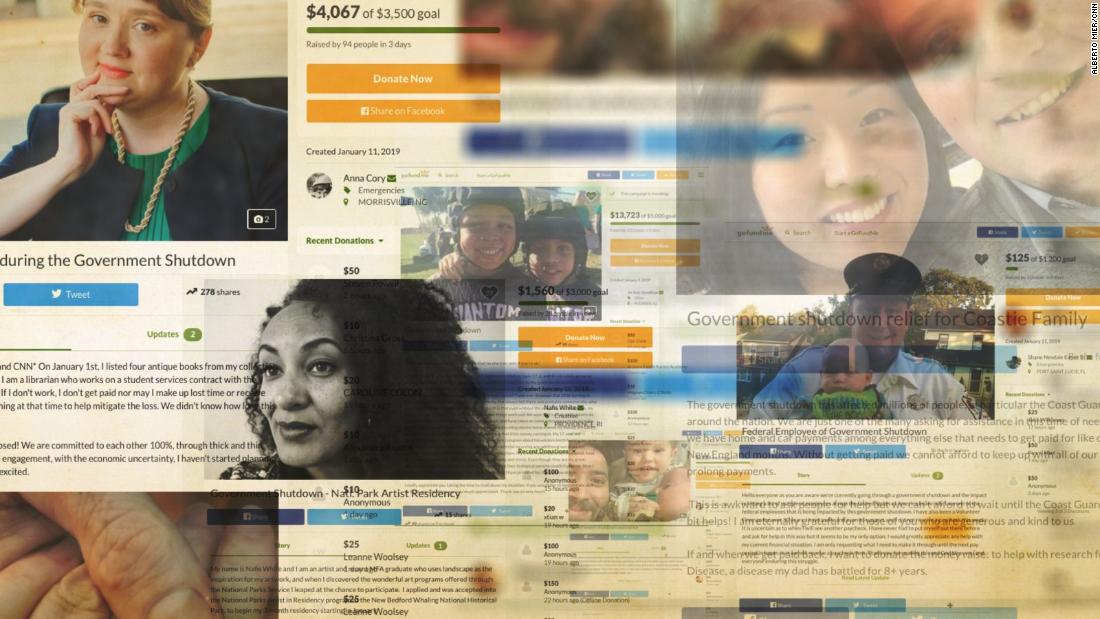 As the partial government shutdown rolls on with no end in sight, many federal employees are scrambling to make ends meet. Some have turned to GoFundMe to raise money for living expenses. 
More than 1,500 campaigns have been set up on the crowdfunding site by furloughed government employees looking for help, GoFundMe spokeswoman Katherine Cichy told CNN.
Together, the campaigns so far have raised more than $300,000.
But these workers may be breaking federal ethics laws with their online fundraising. And the government office that could offer them some clarity on that is closed — because of the shutdown.
The federal law the government employees might be running afoul of is part of the United States Code that deals with the salaries paid to government officials and employees, under a section called "Bribery, Graft and Conflicts of Interest." In a nutshell, it says federal employees aren't supposed to supplement their salaries with outside income. 
If they do, the penalties could be steep: Punishment could be up to five years in prison, the law states. Employees also could be fined up to $50,000 for each violation or the amount of the compensation they received, which ever amount is greater.
12:32 p.m. ET, January 17, 2019
Trump speaks significantly longer on shutdown than Syria attack
President Trump spoke Thursday significantly longer about the border wall than he did on the four Americans who were killed in Syria this week.
Trump, speaking at the Pentagon and in front of service members at an event on missile defense, spoke for 20 seconds about the attack in Syria. Trump, who also blasted Democrats for the stalemate, talked for three minutes and 14 seconds on the border wall and shutdown.
Here's the entirety of Trump's remarks on the attack in Syria:
"I want to take a moment to express my deepest condolences to the families of the brave American heroes who laid down their lives yesterday in selfless service to our nation. These are great people, great great people. We will never forget their noble and immortal sacrifice."
What we know about the Syria attack: ISIS claimed responsibility for a deadly explosion that killed two US service members, a defense contractor and a Department of Defense civilian, the US Central Command said in a statement. Three other US service members were injured in the attack.
At least 10 other people were killed in the attack in the Syrian city of Manbij on Wednesday.
12:08 p.m. ET, January 17, 2019
The White House is considering alternative State of the Union venues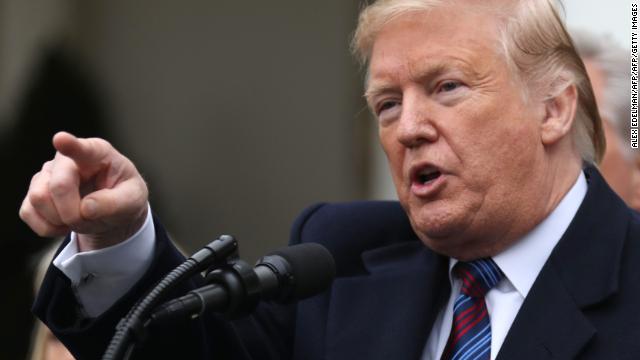 White House aides appear unsure of how to proceed with President Trump's State of the Union address after Speaker Pelosi's letter on Wednesday requesting he move the date.
Trump's silence on the status of the speech has stretched into a second day.
The White House is weighing alternatives for the venue and style of Trump's State of the Union, but doesn't appear to have settled on a plan just yet, people familiar with the matter said.
How Trump sees it: Trump himself has viewed the letter as a political stunt, according to a person who discussed it with him. He did not raise it during a lunch meeting with lawmakers on Wednesday, and did not appear overly incensed by the move. 
Some inside the West Wing have viewed Pelosi's letter as an opportunity to finally break the traditional State of the Union mold — something previous White Houses have mulled but ultimately decided against.
Alternatives being discussed: Some advisers have pushed Trump to deliver his State of the Union address from the Oval Office in order to continue projecting the message that he is sitting in the White House, waiting for Democrats to make a deal.
However, a primetime address delivered from the Oval Office earlier this month fell flat — a memory that could deter the President from selecting the audience-less venue for an annual tradition he actually likes to observe. 
Trump told people last week he hated the address he delivered from the Oval Office, which he thought looked and sounded awful.
11:53 a.m. ET, January 17, 2019
Union representing prison workers: The shutdown is a "recipe for disaster"
The American Federation of Government Employees, the union representing thousands of correctional workers, sent a letter to US Senators warning them about the problems brewing inside of federal prisons because people aren't being paid.
The union calls it a "recipe for disaster."
The letter says this:
"We work in an already dangerous and stressful environment, where going to work distracted or fatigued can lead to serious injury or death. As the shutdown enters its fourth week, many of our members are being required to work mandatory overtime, and do so without pay, while many are preoccupied by how they will pay their rent or mortgage, their car payment, or their electric bill. It is a recipe for disaster because a distraction could cost you your life."
The letter also points out that many of the workers are in rural areas and that 30 percent are veterans.
11:19 a.m. ET, January 17, 2019
What happens if Trump refuses to move the State of the Union? Pelosi says she'll "cross that bridge" later.
Speaker of the House Nancy Pelosi said she has not yet decided what she'll do if President Trump refuses to move the date of the State of the Union address, as she requested.
A reporter just asked her this: "If the President comes back to you and says, 'I want to give the State of the Union at the Capitol on the date we agreed to,' what will you do then?"
"We'll cross that bridge when we come to it," she said.
She noted that she hasn't heard from the White House about her letter in the past 24 hours.
11:13 a.m. ET, January 17, 2019
The State of the Union isn't a "sacred date," Pelosi says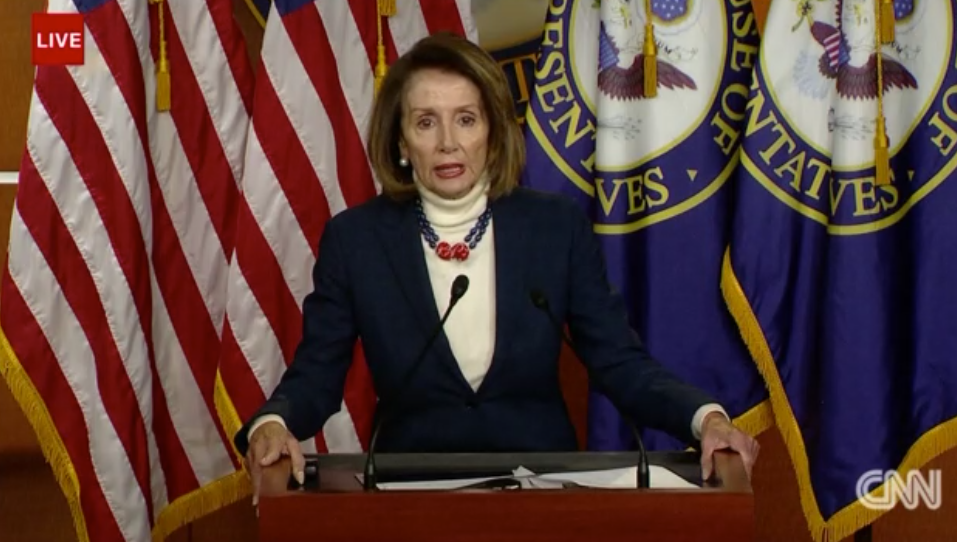 Nancy Pelosi, speaking at a news conference this morning, reiterated her request that President Trump move the date of the State of the Union until after the partial government shutdown is over.
She said the date — Jan. 29 this year — is not a "sacred date."
"It is a date we agreed to," she said. "It could be a week later."
Security at the event, she said, is a major concern for her.
"The continuation of government is the reason for all of the security, as well as the power that is in the room," Pelosi said.
"They trained for this. They should be paid for this."
11:11 a.m. ET, January 17, 2019
Nancy Pelosi: Furloughed workers are "not appreciated by the administration"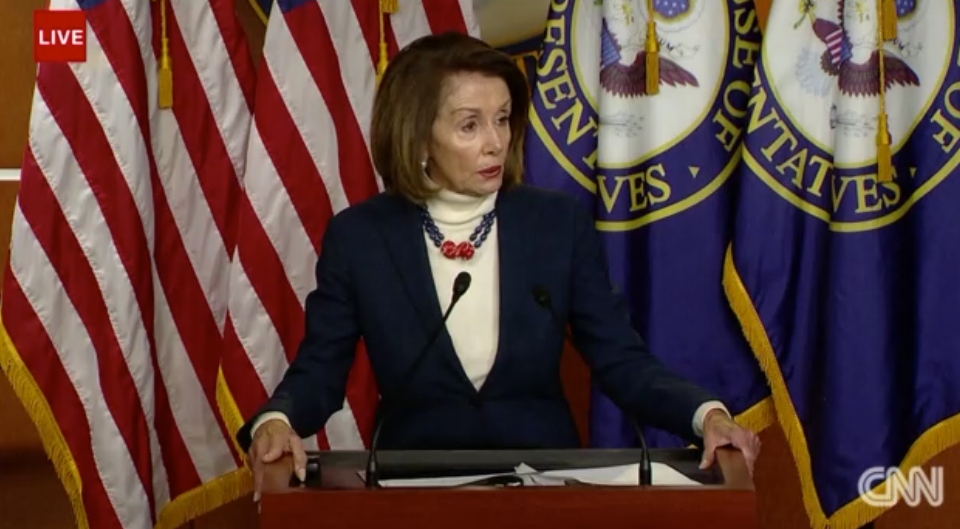 Speaker of the House Nancy Pelosi said she doesn't understand why the "reality" of the shutdown and what it means for hundreds of thousands of furloughed workers hasn't sunk in for the Trump administration.
"They're not appreciated by the administration," Pelosi said. "These workers make a difference in the lives of American people"