This is the longest shutdown in US history
11:24 a.m. ET, January 16, 2019
Whether Trump gives his State of the Union speech at the Capitol is actually up to Nancy Pelosi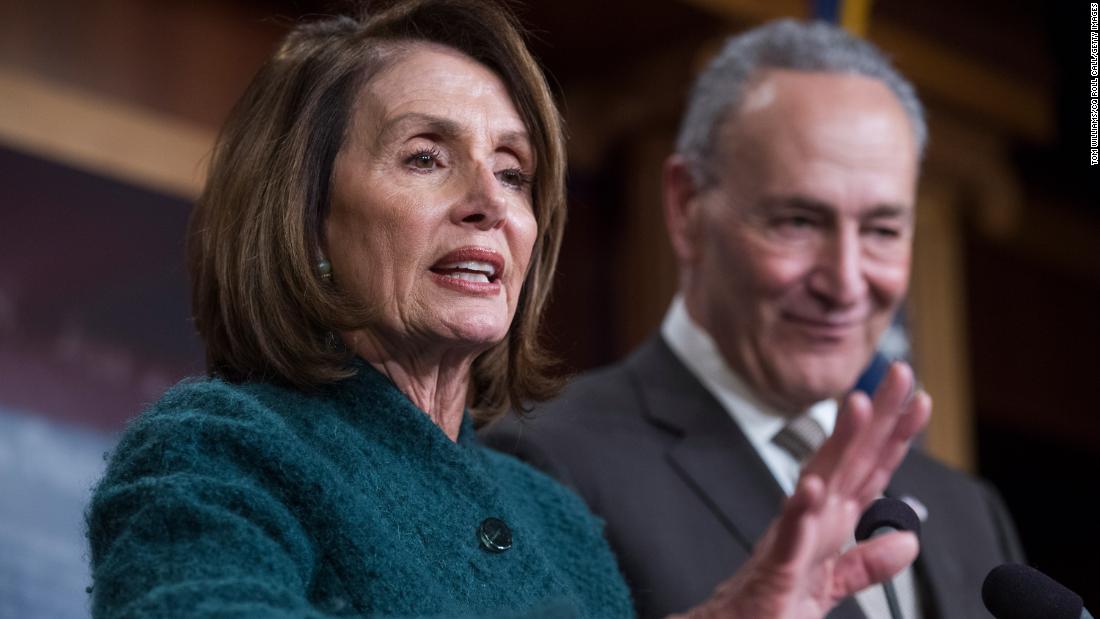 Speaker of the House Nancy Pelosi this morning asked that the White House work with her on finding a new date for Trump's State of the Union address, but make no mistake: This is up to her.
It's the House speaker's prerogative to invite the President to give the State of the Union. While there's no precedent for it (that we're aware of), if Pelosi decides the President shouldn't go to the Capitol to speak on Jan. 29, the President will not go on Jan. 29
Keep in mind, in order to green light the State of the Union, both the House and the Senate have to pass resolutions. Neither have done so yet — and Pelosi controls whether the House passes one at all.
That said, at least one congressional Republican has called Pelosi's date-change request "far-fetched."
"I don't know how they do that. I can't imagine telling the President of United States — one, they are not negotiating with him on the shutdown and two, now they are going to tell him he can't come to the Capitol to them," GOP Sen. John Thune said.
He continued: "That seems pretty far-fetched. I don't think that's going to go over very well with the American people."
11:05 a.m. ET, January 16, 2019
A Democrat and a Republican wrote a letter asking Trump to reopen the government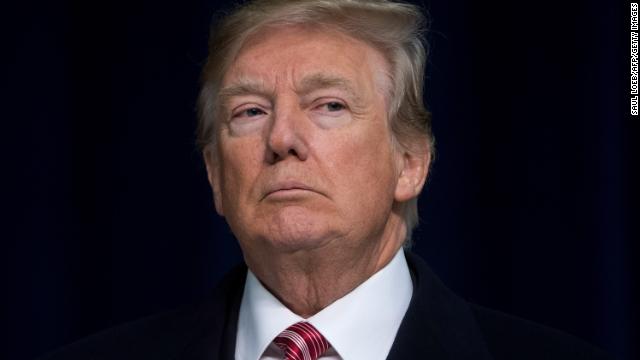 There's a draft letter being circulated from two senators that asks the President to reopen the government with a three-week continuing resolution while the Senate debates his border wall funding demand.
The letter is from GOP Sen. Lindsey Graham and Democratic Sen. Chris Coons.
Remember: The letter is just a draft at this point, but it is being circulated.
We're not sure who else will sign it, and we do not know when it will be sent.
Here's what the letter says:
Dear President Trump,
We write to you as a bipartisan group of Senators committed to resolving our current budget stalemate by strengthening border security and ending the partial government shutdown.
As you know, on January 6, your Acting Director of the Office of Management and Budget, Russell Vought, submitted an appropriation request for addressing the humanitarian and security challenges at our nation's southern border. We believe that such requests deserve consideration, through regular order, a process we support. We respectfully request that you join us in supporting a short-term Continuing Resolution (CR) of three weeks to give Congress time to develop and vote on a bipartisan agreement that addresses your request. We commit to working to advance legislation that can pass the Senate with substantial bipartisan support.
During those three weeks, we will make our best efforts following regular order in the appropriate committees and mark up bipartisan legislation relating to your request. This would include debating and voting on investments on the Southern border that are necessary, effective, and appropriate to accomplish that goal.
10:26 a.m. ET, January 16, 2019
Flying is less safe today than it was before the shutdown started, says air traffic control union head
Trish Gilbert, executive vice president of the National Air Traffic Controllers Association, says air travel now is less safe than it was before the shutdown began.
"We do not have the professionals on the job. We are working with bare-bones crews," she told CNN. "I would say it is less safe today than a month ago. Absolutely."
The bottom line is it's still safe to fly right now — but that could change the longer the shutdown drags on.
Issues like understaffing and employees quitting (because they have been furloughed or asked to work without pay) will only get worse with time. Other issues that aren't a problem now may be in the future.
For instance, while the government is shut down pilots can't get their licenses renewed and new air traffic controllers and other critical positions can't be trained to assume their roles.
Watch more from Gilbert:
10:25 a.m. ET, January 16, 2019
Trump's State of the Union speech could be all about the shutdown
President Trump's team is prepared to craft his State of the Union address around the shutdown — specifically targeting Democrats — if it's still ongoing by the day of the speech, an administration official said.
Stephen Miller and other White House speechwriters have been working on the address for weeks now.
Trump is due to give his State of the Union address on Jan. 29, which will be the 39th day of the government shutdown if lawmakers do not act to end it (or if Trump vetoes their plan).
Earlier today, Speaker of the House Nancy Pelosi asked Trump to move the day of the State of the Union, citing security concerns during the partial government shutdown.
10:04 a.m. ET, January 16, 2019
Some government employees are being ordered to work — without pay
When the partial government shutdown went into effect last month, hundreds of thousands of federal employees were furloughed.
But as the partial shutdown drags on into its fourth full week, many of those furloughed workers have been deemed essential and have been ordered to return to work — but without pay.
The largest of the switches from furloughed to essential is happening at the Internal Revenue Service. The IRS will officially be recalling tens of thousands of workers — 36,000 of them — to process tax filings and refunds.
Here are a few more examples:
Food and Drug Administration announced Monday that food inspectors, who hadn't been inspecting food since the partial shutdown began, would return, without pay, to start inspections again.
The Federal Aviation Administration announced Tuesday it would recall an additional group of furloughed employees, according to the New York Times, adding thousands of unpaid workers to the air traffic controllers and other FAA employees who had been working since the shutdown started.
The National Park Service has recalled some park rangers to keep parks open, as some were overflowing with trash and waste, despite the shutdown.
9:38 a.m. ET, January 16, 2019
Nancy Pelosi asks Trump to postpone his State of the Union address due to shutdown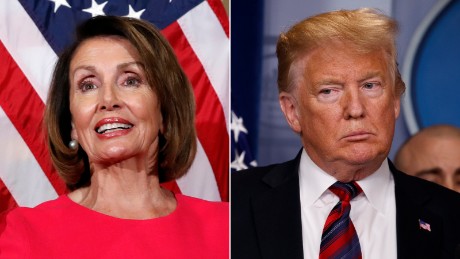 Speaker of House Nancy Pelosi sent a letter to President Trump asking to move the day of the State of the Union citing security concerns during the partial government shutdown.
"Sadly, given the security concerns and unless government re-opens this week, I suggest we work together to determine another suitable date after government has re-opened for this address or for you to consider delivering your State of the Union address in writing to the Congress on January 29," she wrote.
Trump is scheduled to deliver the State of the Union address in person before a joint session of Congress on Jan. 29.
Here's the full letter Pelosi sent to Trump:
9:29 a.m. ET, January 16, 2019
Some Democrats will meet with Trump at the White House today
The White House has been trying to peel moderate Democrats away from House Speaker Nancy Pelosi.
Its first effort at that strategy failed yesterday: Said moderate Democrats were invited to the White House for lunch — and they didn't show.
Another group of moderates — this time the bipartisan membership of the Problem Solvers Caucus — have been invited today. They are expected to attend.
The group attempts to serve as a middle ground of sorts for both parties, which generally makes the base of each party suspect of their actions. But they're generally always willing to talk — and that's precisely what will happen today with the President.
But remember: This isn't a group that can make a deal. They aren't large enough and they aren't empowered by leadership to do, well, anything. So it's a meeting. And that's about it. 
9:13 a.m. ET, January 16, 2019
Is Trump concerned about the shutdown's impact on the economy? Here's what Sarah Sanders said.
White House press secretary Sarah Sanders was just asked whether President Trump is concerned the economy is being adversely impacted as a result of the shutdown. 
She told reporters that the administration is focused on the "long-term economic goals" of the administration.
"Honestly, I haven't asked him that specific question. I know that there has been some impact, but at the same time again we're focused on the long-term economic principles that the President's laid out," Sanders said.
8:44 a.m. ET, January 16, 2019
Trump to supporters: "We're going to stay out for a long time if we have to"
In a phone call to supporters on Tuesday, President Trump encouraged his backers to stick together and call their representatives in Congress to express support for the wall, according to a person familiar with the conversation.
Trump said it wasn't a political argument but a matter of national security and warned of the dangers of illegal immigration in dire terms, including the safety and security argument he's been making in public.
Trump repeated several times that he doesn't plan to back off his demands and needs his supporters to back him up.
"We're going to stay out for a long time if we have to," Trump said. "We'll be out for a long time."
At the same time, Trump appeared to downplay the effects of the shutdown on workers or the functioning of government. 
"People are very impressed with how well government is working with the circumstances that we're under," Trump said.
The quotes were reported by AP and confirmed by CNN.