8:48 p.m. ET, October 10, 2019
Biden has a moment of levity: "When I came out..."
Joe Biden described his first public statement supporting same sex marriage in 2012 as when he "came out," causing a stir in the audience in Los Angeles before the 2020 candidate caught himself and smiled.
"For example, when I came out and," he said before realizing that he was using a term often used to describe when someone comes out as LGBTQ. "Came out -- when I publicly stated -- well."
"That would be news," CNN's Anderson Cooper said with as Biden smiled.
Biden then walked across the stage and put his arm around Cooper, who is gay.
"I got something to tell you," he said as the audience clapped.
"I kind of figured it out a while ago," Cooper added.
The moment of levity came in the midst of Biden's town hall appearance, where the former Vice President spoke out about the need to root out discrimination, homophobia and the impact that a country's approach to gay people should have on American foreign policy.
Biden said in 2012 that he was "absolutely comfortable" with same-sex marriage, a comment that put him – at the time – ahead of then-President Barack Obama.
8:57 p.m. ET, October 10, 2019
Biden: Transgender people should be allowed to serve in the military
Shannon Scott, who served more than 10 years in the US military, said she was forced to choose between serving the country and her true identity as a transgender woman
"This was indeed one of the most difficult decisions I've ever made," the US Air Force veteran said.
Scott, who served two combat tours in Iraq, then asked former Vice President Joe Biden what he would do support troops.
Here's how Biden responded:
"If I were president, you would not have to choose. Not a joke. You would not have to choose. The fact of the matter is that we're in a position where transgender men and women are in a position where they should be able to do anything anybody else in the world can do. There should be no difference."
Some background: In January, the  Supreme Court allowed President Donald Trump's transgender military ban to go into effect on Tuesday, dealing a blow to LGBTQ activists who call the ban cruel and irrational.
The policy, first announced by the President in July 2017 via Twitter, and later officially released by then-Secretary of Defense James Mattis in 2018, blocks individuals who have been diagnosed with a condition known as gender dysphoria from serving with limited exceptions. It also specifies that individuals without the condition can serve, but only if they do so according to the sex they were assigned at birth.
WATCH MORE:
8:41 p.m. ET, October 10, 2019
Judy Shepard, mother of Matthew Shepard, asks Biden about hate crimes
Judy Shepard, one of the nation's foremost LGBTQ rights figures, was on hand for CNN's town hall Thursday night and asked former Vice President Joe Biden how he would reduce hate crimes against LGBTQ and marginalized communities.
Shepard is the mother of Matthew Shepard, the gay 21-year-old University of Wyoming student whose 1998 murder is one of the nation's highest-profile hate crimes against LGBT people. She and her husband Dennis founded the Matthew Shepard Foundation.
"I don't want to ruin her reputation but I consider Judy a friend," Biden said before answering her question.
Biden stressed the importance of passing the Equality Act, saying it would come "first and foremost."
"That's important. That's important because it'll change a whole range of things," he said.
Biden also said his administration would track hate groups and more muscularly enforce civil rights laws.
Biden also said that "people don't know" that LGBTQ people don't have the same civil rights protections that bar employers from firing them over their sexual orientation that exist for other protected classes. He said he would "constantly talk about and educate the public."
"The American people are better than we give them credit for, but we allow the homophobes to be able to control the agenda," he said.
8:22 p.m. ET, October 10, 2019
Biden recalls his "absolutely comfortable" with same-sex marriage comments from 2012
Joe Biden has occasionally been on defense on the campaign trail about some of his early statements about LGBTQ issues, but he often notes that he stepped out even before then-President Barack Obama to say that he was "absolutely comfortable" with same-sex marriage in May 2012. His unexpected remarks caught some within the Obama administration off guard, because Obama had spoken about his evolution on the issue but had not yet gone that far.
The then-Vice President made his surprising comments during an interview with NBC's "Meet the Press": "I am absolutely comfortable with the fact that men marrying men, women marrying women and heterosexual men and women marrying one another are entitled to the same exact rights, all the civil rights, all the civil liberties."
"You know that caused no consternation at all," he said to laughter during Thursday's Town Hall. "Barack knew my position," he added. While serving in the administration, he said, "I was going to be a good boy… unless I was asked."
8:37 p.m. ET, October 10, 2019
Booker won't say if religious institutions should lose tax-exempt status over anti-LGBTQ stances
New Jersey Sen. Cory Booker declined to directly answer whether a religious education institution should lose their tax-exempt status if they oppose LGBTQ rights, avoiding taking a side on a hot button issue that matters greatly to religious Democrats and Republicans alike.
Donald Trump's administration has moved at numerous times to protect the tax-exempt status of religious organizations and schools, even if they don't support certain LGBTQ rights. The issue is also important to religious Democrats in states like South Carolina. The state recently sought a waiver from the Department of Health and Human Services that allows taxpayer funded foster-care agencies to refuse to perform certain services if they conflict with the organization's religious values.
Booker decried the Trump administration "turning against what the Obama administration did" and said "whether you're a school and are providing health care for folks, whether you are a bakery, you cannot discriminate."
"We must stand up as a nation to say that religion cannot be an excuse to deny people health insurance, education, or more," Booker said. "This cannot happen. And I will make sure that I assert the laws to make sure."
But Booker did not say whether those organizations should lose their tax-exempt statuses.
"So would they lose their tax exempt status," CNN's Dana Bash asked.
"Again, I will press this issue. I'm not saying, because I know this is a long legal battle. I'm not dodging your question. I'm saying I believe fundamentally that discrimination is discrimination," Booker said. "And if you are using your position to try to discriminate others, there must be consequences to that. And I will make sure to hold them accountable using the DOJ or whatever investigatory. You cannot discriminate."
"No yes or no there," Bash followed up."That is a process and I'll make sure I will hold them accountable, if it means losing your tax status," Booker said, adding, "there has to be consequences for discrimination."
8:42 p.m. ET, October 10, 2019
The promise of the Equality Act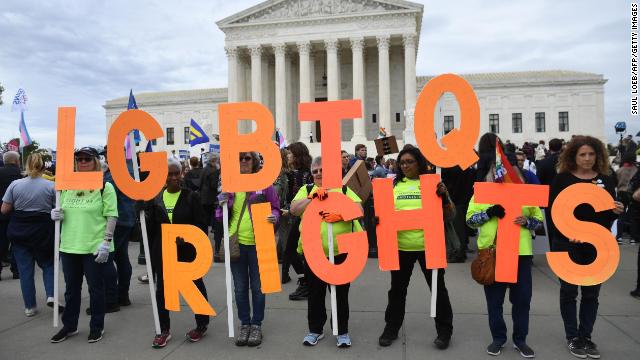 One piece of legislation that quickly came up on Thursday was the Equality Act -- a bill that could fundamentally change LGBTQ Americans' lives.
Passed by the House of Representatives in May, the wide-ranging Equality Act would amend the Civil Rights Act of 1964 and other civil rights laws to prohibit anti-LGBTQ discrimination in all aspects of commercial and public life. Crucially -- and for some, controversially -- the bill would enforce these protections without religious exemption.
If the Democrats retain the House and win the Senate in 2020, many expect that they would have the votes to send the measure to the President's desk.
Yet there's additional potential in the Equality Act. If it gains enough support in Congress, its explicit affirmation of LGBTQ rights and the lives they protect could also help to radically change the character of how America has traditionally portrayed LGBTQ people.
Indeed, for many LGBTQ Americans, there's promise in the paradox that a country that has for so long legislated against LGBTQ Americans just might use that same power to better their lives -- and also help to vanquish the narratives that have ostracized them for their differences.
8:17 p.m. ET, October 10, 2019
Booker on lifting ban on gay men giving blood : "Absolutely yes"
New Jersey Sen. Cory Booker was asked Thursday if he would end the Food and Drug Administration's ban on gay men giving blood if they have had sexual intercourse within the last year.
"Two words: Absolutely yes," Booker said.
The Food and Drug Administration lifted its lifetime ban on accepting blood donations from men who have had sex with men in 2015, limiting the ban to only men who last had a sexual encounter with a man within 12 months.
He said the ban, which originated in the 1980s, at the height of the HIV and AIDS epidemic, is an outdated stigma, and that if he wins the Democratic 2020 nomination and is elected president, he would be "using my platform everyday to dispel ignorance."
"I'm going to be using my platform everyday to tell the truth, to heal, to bring the truth forward," Booker said.
9:00 p.m. ET, October 10, 2019
Booker calls violence against LGBTQ community a "national emergency"
Cory Booker was asked to outline his plans to end the rising number of hate crimes against members of the LGBTQ community, particularly the alarming level of violence against transgender women of color.
Last year, the Human Rights Campaign tracked the murders of at least 26 transgender people. This year, that tally is already at 18.
Booker called the violence a "national emergency" and noted that he has proposed an "Office on Hate Crimes and White Supremacy," but added that he would not stop there.
"Thirty percent of LGBTQ youth, 30%, have reported missing school in the last month because of fears for their physical safety. We live in a country where we still see regular, everyday violence and intimidation and bullying against Americans, because of who they are," Booker said. "So, number one, I am going to appoint a secretary of education, first of all, that sees the dignity and the worth and the value of every one of our children, and I will have a department of education that takes the steps necessary to protect all children in America."

WATCH HERE:

7:55 p.m. ET, October 10, 2019
Booker "proud" of Stanford op-ed on the evolution of his views on gay people
New Jersey Sen. Cory Booker said Thursday he was proud of a 1992 opinion piece where he, then a student at Stanford University, explained how he evolved from a hatred of gay people to acceptance of LGBTQ people.
Booker, in a piece titled "Pointing the finger at gays," explained how he once was "disgusted by gays," "hated gays" and "thought of two men kissing each other was about as appealing as a frontal lobotomy." Booker went on to explain in the piece, however, how a gay counselor at Stanford "began to move me past tolerance."
"Well, it didn't take me long to realize that the root of my hatred did not lie with gays but with myself. It was my problem. A problem I dealt with by ceasing to tolerate gays and instead seeking to embrace them," Booker wrote.
Booker explained on Thursday that he held his views about gay people, in part, because he grew up "as a young man in a toxic environment of football and the like."
"As a campus activist, I wanted to try to push people to understand the absurdities of homophobia, and became a campus activist on those issues," Booker recalled. "And so I wrote this article to challenge people about their homophobia and about their hatred and to say the euphemisms we use for hatred is just wrong."
He added: "I will always be someone that tries to push the lines of comfort, often talking about my own experiences. And I am so proud of that column, and I am proud that this doesn't start for me when I decided to get into politics and it started as a teenager that saw growing up in the '80s, an environment that was hostile and physically dangerous to my peers and friends who my faith taught me to love no matter what."