Homeland Security secretary testifies
11:19 a.m. ET, March 6, 2019
Nielsen said she doesn't know how many children are in custody
DHS Secretary Kirstjen Nielsen was unable to say the number of children who were in Customs and Border Protection custody — but she promised to provide it later.
Here's how her exchange with Rep. Sheila Jackson Lee went down:
Lee: "Do you know how many young people are detained?"
Nielsen: "I don't have that in front of me."
10:56 a.m. ET, March 6, 2019
Nielsen defends Trump's national emergency declaration despite his claim he "didn't need to" do it
Chairman Bennie Thompson just asked Nielsen about President Trump's statement that he "didn't need to" declare a national emergency at the border.
The Homeland Security secretary defended Trump's declaration, which she's previously supported, though said she wouldn't disclose what the two talked about as it is "protected under privilege."
"My conversations of course with the President, generally speaking, are protected under privilege, but what I would say is his explanation in general, in public has been that he hoped Congress would act, that it didn't have to come to issuing an emergency declaration if Congress had met his request to fund the resources that CBP has requested," she said.
10:35 a.m. ET, March 6, 2019
Nielsen pushes Congress for merit-based immigration system, echoing Trump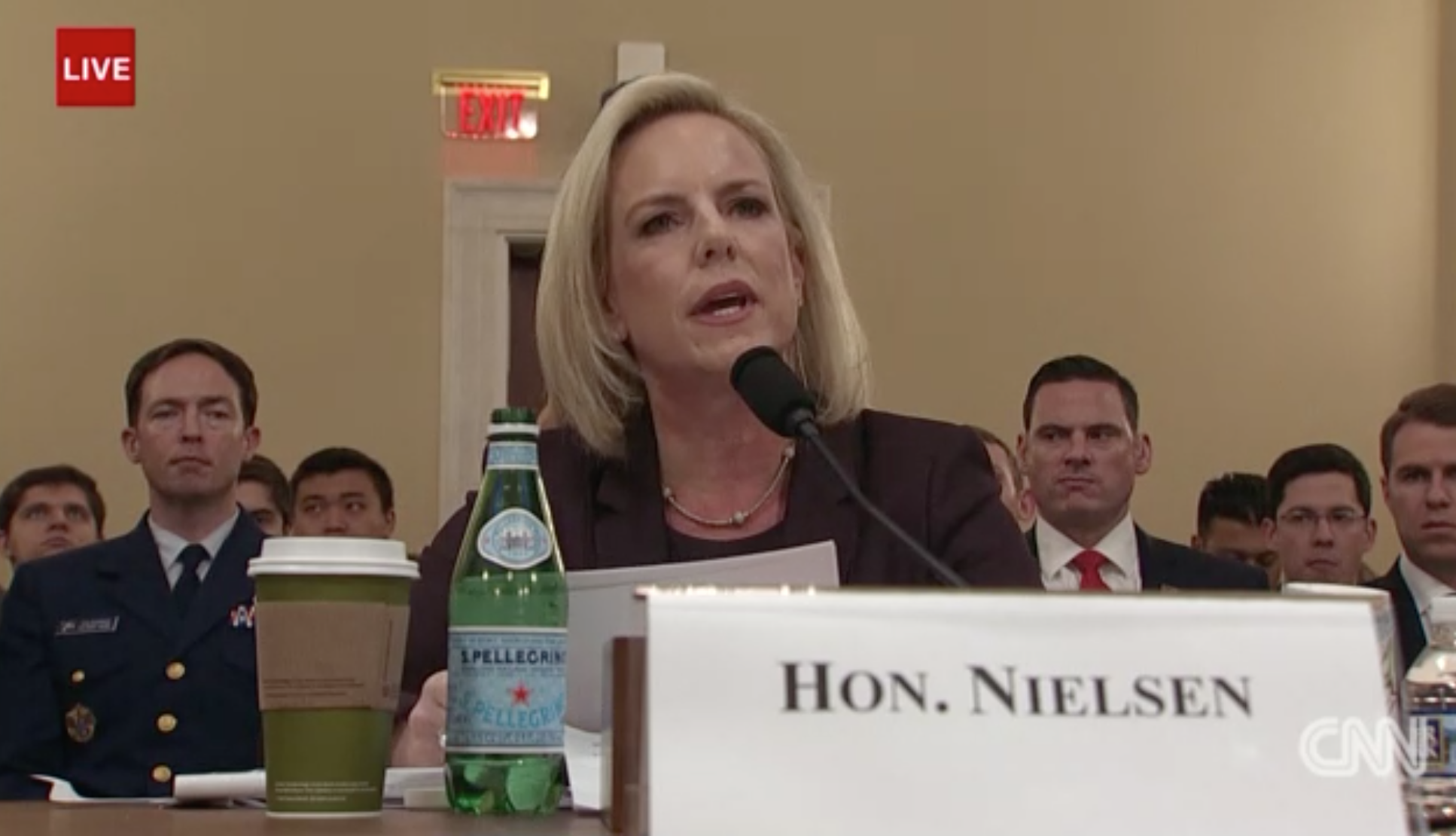 DHS Secretary Kirstjen Nielsen is pushing Congress for an immigration system that President Donald Trump has repeatedly urged its members to consider — one based on merit.
"We want to strengthen legal immigration and welcome more individuals through a merit-based system that enhances our economic vitality and the vibrancy of our diverse nation," she said.
The system, which prioritizes high-skilled workers, is used in some parts of the world, though not in the US. Since the 1960s, the US immigration system has largely based entry on family ties.
Immigration restrictionist advocates believe a merit-based system would reduce immigration rates and ensure that they do not need public assistance.
Critics argue, however, that in doing so such a system could harm industries that rely on low-skilled immigrant labor.
10:30 a.m. ET, March 6, 2019
Lindsey Graham declares border situation "dangerous and becoming worse" at separate hearing
There's another border-related hearing happening this morning on Capitol Hill.
The Senate Judiciary Committee is holding a hearing on the smuggling of people at border with Kevin McAleenan, the commissioner of US Customs and Border Protection. At the start of that hearing, chairman Lindsey Graham, said the crisis on the southern border is real.
Here's how Graham put it:
I want to be direct. Contrary to what some political opponents and media outlets claim the situation on our Southern Border is dangerous and becoming worse. This is not a hoax, this is not a manufactured crisis, it's not a cable television ploy. It is real, it is serious, it is a threat and it poses a direct challenge to the safety and security of the citizens of the United States. To believe otherwise is to deny reality and ignore the facts.
10:19 a.m. ET, March 6, 2019
Top Democrat declares days of "lax oversight" of DHS are over
House Homeland Security Chairman Bennie Thompson today declared that the days of "lax oversight" of DHS by the Homeland Security Committee are "over." 
Thompson also signaled he would be willing to force the administration to turn over documents the committee has requested from DHS on a host of issues. 
In his opening remarks at a hearing on border security with DHS Secretary Nielsen, he characterized what the Trump Administration has said about border security "misleading at best," declared that there is a "non-existent emergency" at the border, and pointed specifically to the family separations under the Trump Administration.
Thompson also took issue with Nielsen prior testimony, in which she said, "We never had a policy for family separation." 
Citing "internal memoranda," Thompson said Nielsen "was aware the Administration's policy would require families to be separated" and "no amount of verbal gymnastics will change that she knew the Trump Administration was implementing policy to separate families at the border."
"To make matters worse," Thompson added, "the Administration bungled implementation of its cruel plan, losing track of children and even deporting parents to Central America without their children."
"Today, the Secretary can choose whether to be complicit in this Administration's misinformation campaign, or she can correct the record and start a serious discussion about the way forward on border security."
10:00 a.m. ET, March 6, 2019
Here's what Kirstjen Nielsen will tell Congress (according to prepared testimony)
According to her prepared testimony, Department of Homeland Security Secretary Kirstjen Nielsen will call the situation along the US-Mexico border a national security and humanitarian crisis, and double down on her support of President Donald Trump's national emergency declaration.
"Today we are seeing the results of a failure to act and a broken system," she says in the testimony posted ahead of her appearance before the House Homeland Security Committee at 10am.  
Her remarks draw on Customs and Border Protection data that show an influx of migrants crossing the border and paint a picture of an overwhelmed system.
According to recently released CBP data, more than 76,000 people were apprehended or deemed inadmissible at a port of entry in February. Nielsen will testify that those figures are projected to increase and warn that DHS capacity is "already severely strained."
She also briefly touches on the so-called Migrant Protection Protocols, a policy that requires some asylum seekers to return to Mexico while they await their immigration court hearing, and describes it as a way to "dissuade those who intend to file false claims."
Nielsen urges Congress to pass legislation "to fix outdated laws and gaps in our authorities" -- for example, doing away with the Flores Agreement, which requires that children be released from detention within 20 days, and reform asylum standards.
While immigration and border security make up the bulk of her testimony, Nielsen will also highlight DHS efforts to respond to natural disasters and drug smuggling, and strengthen cybersecurity.
8:27 a.m. ET, March 6, 2019
Here's what you can expect at this hearing
Homeland Security Secretary Kirstjen Nielsen on Wednesday will become the highest Trump administration official yet this year to testify on the administration's immigration policies.
Nielsen, who assumed the post in December 2017, is appearing before the House Homeland Security Committee for a hearing on border security, which encompasses President Donald Trump's national emergency declaration, the border wall and the administration's "zero tolerance" immigration policy, which resulted in thousands of migrant children being separated from their undocumented parents.
It's expected to be contentious, as Democratic lawmakers could hammer the secretary over the controversial policies and denounce the President's declaration, which they've already voted to terminate in a resolution that's now being considered by the Senate.