Homeland Security secretary testifies
12:51 p.m. ET, March 6, 2019
Nielsen says border patrol doesn't put children in cages
DHS Secretary Kirstjen Nielsen and Rep. Bennie Thompson, the chairman of the House Homeland Security Committee, sparred at today's hearing over whether children are kept in "cages" at border patrol facilities.
The exchange prompted Nielsen to use her hands to show what a cage would look like. 
Thompson called on Nielsen to "admit" that Customs and Border Protection uses cages, which he had seen. But Nielsen said that as children are processed, CBP uses "sub-parts" of its facilities to separate them for their safety.
Here's how the exchange unfolded:
Thompson: For the record, are we still using cages for children?
Nielsen: Sir, we don't use cages for children. In the border facilities, that you have been to, they were not made to detain children. As the children are processed through, they are in sub-parts of those facilities
Thompson: Madam, madam secretary ... 
Nielsen: Yes, I'm being as clear as I can, sir. Respectfully I'm trying to answer your question.
Thompson: Just yes or now, are we still putting children in cages?
Nielsen: To my knowledge, CBP never purposefully put a child in cage, if you mean a cage like this? [Uses hands to show a cage] 
Thompson: Purposefully or whatever, are we putting children in cages as of today?
Nielsen: Children are processed at the border facility stations that you have been at ... 
Thompson: And I've seen the cages. I just want you to admit that the cages exist.
Nielsen: Sir, they're not cages
Thompson: What are they?
Nielsen: They are areas of the border facility that are carved out for the safety and protection of those who remain there while they are being processed. If we have two gangs, we separate them into separate areas of that facilities.
Thompson: No, no, madam secretary.
Nielsen: If we have a father and daughter, we separate (them) from another son. 
Thompson: ... we are not going to go through the semantics. Now I saw the cyclone fences that were made as cages. And you did too. All you have to do is admit it. If it's a bad policy, then change it, but don't mislead the committee. 
Nielsen: Sir —
Thompson: Do not mislead the committee.
12:28 p.m. ET, March 6, 2019
Nielsen says family separation wasn't intended to be a deterrent, despite leaked memos
Homeland Security Secretary Kirstjen Nielsen said the policy, which resulted in thousands of children being separated from their parents, wasn't intended to be a deterrent, contrary to what leaked internal memos have since shown.
But that memo: In January, Sen. Jeff Merkley released a memo, dated December 2017, that was drafted by senior officials in the Department of Homeland Security. The draft memo, which Merkley said he had received via a government whistleblower, provided a snapshot of the extent the administration was willing to go to deter migrants from trekking to the US-Mexico border, ranging from separating families to possibly denying children asylum hearings.
That draft included plans to separate families months before the "zero-tolerance" immigration policy was announced by then-Attorney General Jeff Sessions.
Under a section dubbed "short term (next 30 days) options," the memo says:
"Separate Family Units. Announce that DHS is considering separating family units, placing the adults in adult detention and placing the minors under the age of 18 in the custody of HHS as unaccompanied alien children..."
12:19 p.m. ET, March 6, 2019
Nielsen confirms that most terrorists were stopped while trying to fly to US — not at the border
Homeland Security Secretary Kirstjen Nielsen confirmed on Wednesday that most of the known or suspected terrorists who were stopped trying to enter the US were attempting to fly, rather than by using land borders. However, the secretary would not share specific numbers in an unclassified setting.
Why this matters: This topic arose in January, when as part of a presentation on border security, the Department of Homeland Security said that 3,755 known or suspected terrorists were prevented from traveling to or entering the US.
That number — as presented — was highly misleading. The figure, as the DHS writes, represents individuals blocked from "traveling to or entering the US" — but not necessarily along the Southwest border. It is not uncommon for an individual named on a federal watchlist to be denied access to a flight at a foreign airport or from obtaining a visa when they apply for entry at an embassy abroad.
12:08 p.m. ET, March 6, 2019
Nielsen says she doesn't have numbers on drugs coming through border
At a House Homeland Security hearing, Secretary Kirstjen Nielsen was unable to provide numbers on the volume of illegal drugs coming through the southern border.  
When Rep. Mark Walker asked about the volume of drugs, here's how she responded:
"I don't have the exact figure at my fingertips but it's going up, particularly cocaine, methamphetamines, and unfortunately, fentanyl."
Walker followed up and asked her about some numbers that had been reported.
Walker: Our numbers show since FY12, about 15 million pounds seized. Does that sound like it's in the ballpark?
Nielsen: It does but it sounds like it might not include the Coast Guard, which would be a whole lot —
Walker: OK. 15 million pounds. Would you say that's a crisis, 15 million pounds?
Nielsen: Yes sir.
11:46 a.m. ET, March 6, 2019
At immigration hearing, Nielsen says cybersecurity could be US homeland's biggest threat
DHS Secretary Kirstjen Nielsen says the current cybersecurity threat is "blinking red" and is possibly the "highest threat that we face in the homeland."
Here's her exchange with Rep. John Katko:
Katko: With respect to cybersecurity, which I'm the ranking member of that subcommittee right now, there's a bill that we're going to be submitting next week that suggests and asks that a cybersecurity infrastructure advisory committee be created, similar to what we did with TSA in the ASAC committee. Are you familiar at all with that bill and are you — do you think that an advisory committee is necessary?
Nielsen: So, we're happy to work with you on that. We do have a critical infrastructure advisory council already. But we have been looking into whether we need something that can focus more specifically on cyber, because it is a unique expertise, as you well know. So we are happy to continue to have our staff work with you on technical assistance on that.
Katko: And it's fair to say that cybersecurity is probably one of the biggest threats to our country right now overall, and so the more we can have information flowing, going back and forth between the stakeholders, and Homeland Security, the better it's going to be.
Nielsen: Yes, sir. I know it's not the particular topic today but I will just say, as I have said before, the threat to cybersecurity is blinking red. It is absolutely one of, if not the highest, threat that we face in the homeland.
11:25 a.m. ET, March 6, 2019
Every girl over 10 who crosses the border is given a pregnancy test, Nielsen says
DHS Secretary Kirstjen Nielsen described the journey of immigrants to the US southern border as "perilous" and said young girls on the trip are "absolutely victims of violence and abused."
She also disclosed that so many young immigrants are sexually abused on the journey that immigration officials now give pregnancy tests to girls as young as 10.
"Very unfortunately, because of the increase in violence, at ICE, when we have families with children, we have to give every girl a pregnancy test over 10. This is not a safe journey," she said.
This is similar to how President Trump has described the trip: He has repeatedly claimed that one in three women are assaulted on the journey to the US southern border. Trump's assertion appears to be somewhat true — though there are reasons to be skeptical of the data it's based on.
Indeed, the trek to the US-Mexico border has been reported to be violent.
According to data from Doctors Without Borders, 68.3% of migrants and refugees "entering Mexico reported being victims of violence during their transit toward the United States," and nearly one-third of women said they'd been sexually abused. But this very violence is also why women have chosen to travel in caravans.
This data from Doctors Without Borders, however, is measuring a small group of migrant women and more data is needed to accurately assess the number of women that are assaulted, physically or sexually.
Fact check from CNN's Holmes Lybrand
11:19 a.m. ET, March 6, 2019
Nielsen said she doesn't know how many children are in custody
DHS Secretary Kirstjen Nielsen was unable to say the number of children who were in Customs and Border Protection custody — but she promised to provide it later.
Here's how her exchange with Rep. Sheila Jackson Lee went down:
Lee: "Do you know how many young people are detained?"
Nielsen: "I don't have that in front of me."
10:56 a.m. ET, March 6, 2019
Nielsen defends Trump's national emergency declaration despite his claim he "didn't need to" do it
Chairman Bennie Thompson just asked Nielsen about President Trump's statement that he "didn't need to" declare a national emergency at the border.
The Homeland Security secretary defended Trump's declaration, which she's previously supported, though said she wouldn't disclose what the two talked about as it is "protected under privilege."
"My conversations of course with the President, generally speaking, are protected under privilege, but what I would say is his explanation in general, in public has been that he hoped Congress would act, that it didn't have to come to issuing an emergency declaration if Congress had met his request to fund the resources that CBP has requested," she said.
10:35 a.m. ET, March 6, 2019
Nielsen pushes Congress for merit-based immigration system, echoing Trump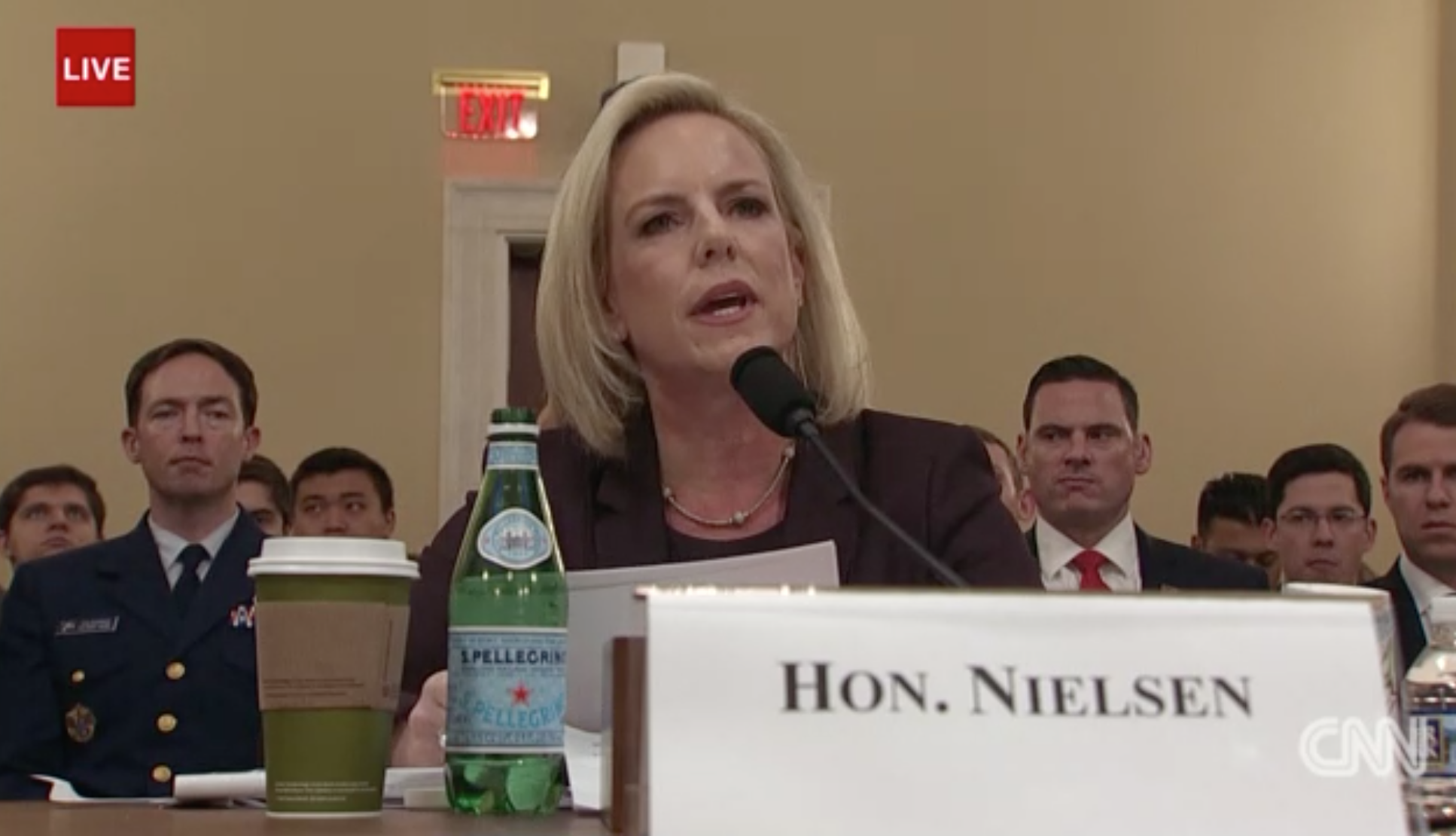 DHS Secretary Kirstjen Nielsen is pushing Congress for an immigration system that President Donald Trump has repeatedly urged its members to consider — one based on merit.
"We want to strengthen legal immigration and welcome more individuals through a merit-based system that enhances our economic vitality and the vibrancy of our diverse nation," she said.
The system, which prioritizes high-skilled workers, is used in some parts of the world, though not in the US. Since the 1960s, the US immigration system has largely based entry on family ties.
Immigration restrictionist advocates believe a merit-based system would reduce immigration rates and ensure that they do not need public assistance.
Critics argue, however, that in doing so such a system could harm industries that rely on low-skilled immigrant labor.