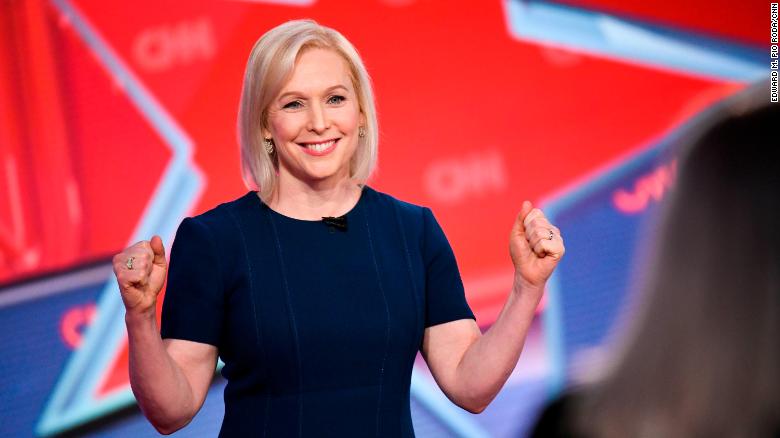 Democratic presidential hopeful Kirsten Gillibrand just chatted with CNN and answered a few questions after tonight's town hall.
We asked her five, simple questions so voters can get to know her better.
Here's what she said:
CNN: What's one thing about you that surprises people?
Gillibrand: "One thing that surprises people about me is that I used to speak Chinese."
CNN: What's the best piece of advice you've ever received?
Gillibrand: "Never give up. Be brave. Be bold. Believe in yourself."
CNN: What's your favorite movie and why?
Gillibrand: "Wonder Woman 'cause she's kick-ass and she's strong and bold and brave and never gives up."
CNN: What three issues do we have to deal with right now?
Gillibrand: "A lot — global climate change, making sure we have health care as a right not a privilege, making sure people who want to be working or underemployed or unemployed have a job. Full employment."
CNN: Name one thing that makes you different than all the other 2020 Democratic candidates.
Gillibrand: "Well I have a very different story and I come from a rural part of a state as diverse as New York. I won a 2 to 1 Republican district twice and then I brought my whole state together with the highest vote total at 72% and bring people together in Congress all the time. I actually pass a lot of legislation big bills like 9/11 health bill and "Don't ask, don't tell" repeal and small bills like the 18 bills that passed in the last Congress, like more money for rural broadband or more money for manufacturing."