Kirsten Gillibrand takes questions at CNN town hall
10:16 p.m. ET, April 9, 2019
Actress Connie Britton was Gillibrand's college roommate
New York Sen. Kirsten Gillibrand opened tonight's town hall with little Chinese and a brief story about her college years.
Asked to describe herself in Chinese, the Democratic presidential candidate did so, saying, "Hi. How are you?" as well as her Chinese name. A translator in Erin Burnett's ear said her accent was pretty impressive.
Gillibrand said she learned Chinese in college and traveled throughout the country. She also lived in Beijing and shared a dorm with actress Connie Britton.
"We struggled just to get through because it was really hard. You're in a very different country with very few rights. Very few rights for women, very few rights for people in general. We bought bikes and biked all around Beijing, and we explored every weekend. We went all across China and then I spent a second semester in Taiwan," she said.
10:02 p.m. ET, April 9, 2019
NOW: Gillibrand takes the stage for CNN town hall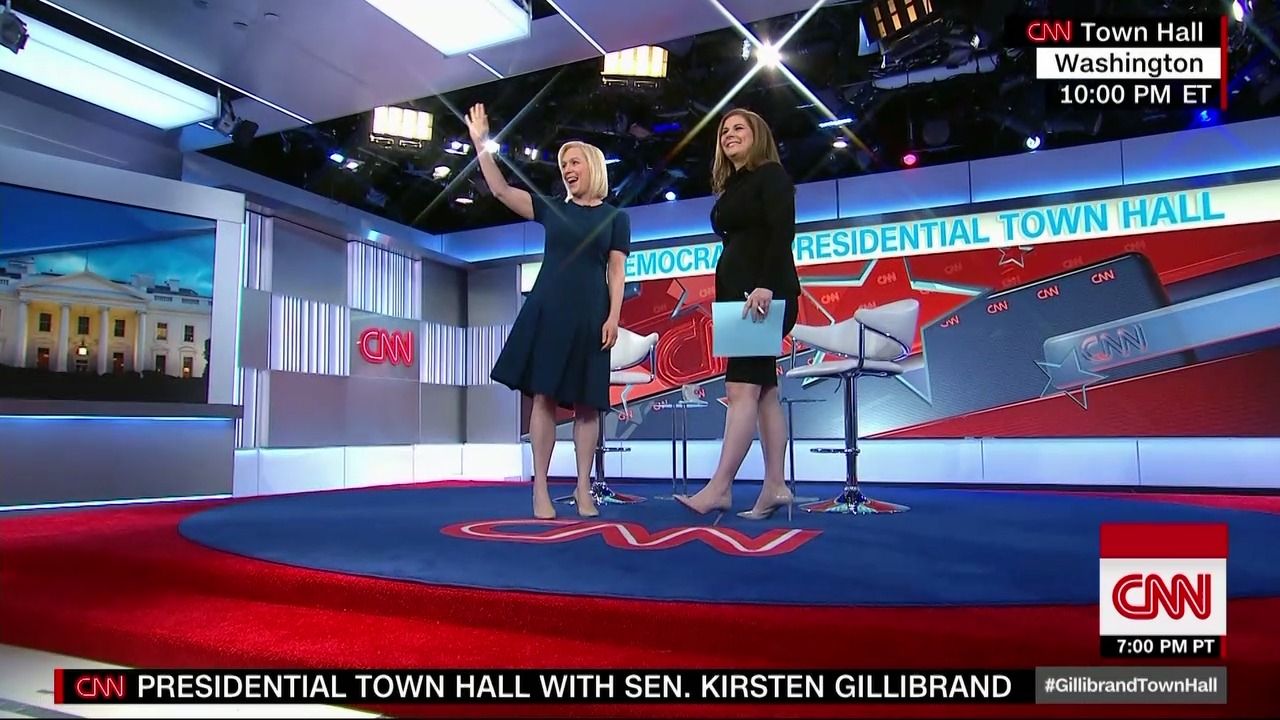 New York Sen. Kirsten Gillibrand just took the stage for tonight's CNN town hall in Washington, D.C. You can watch it live in the video player above.
Democrats and Independents are sitting in the audience tonight.
Earlier today, Gillibrand tweeted about the town hall, saying she was excited to "answer voters' questions and share why I'm running and who I'm fighting for."
9:22 p.m. ET, April 9, 2019
What you need to know about Kirsten Gillibrand
Sen. Kirsten Gillibrand is running to win the Democratic presidential nomination.
The New York Democrat started her official campaign with a trip to Michigan, a once solidly blue state that Democratic nominee Hillary Clinton lost to President Trump.
Here's what else you should know about Gillibrand:
She was a former US House representative in a heavily Republican district in New York. She was tapped in 2009 to fill Hillary Clinton's US Senate seat in New York when Clinton was named Secretary of State.
Gillibrand was re-elected to the Senate in 2018 and rose to national prominence as an outspoken critic of Trump, an advocate for women's issues, and a forceful proponent of the #MeToo movement — all of which will be central to her 2020 campaign.
In 2017, she was the first senator to call for former Minnesota Democrat Al Franken to resign from the Senate after allegations that he touched women inappropriately.
Her past conservative record on immigration and guns is also being scrutinized by the left and attacked by Republicans who seek to paint her as a flip-flopper. Her shift further to the left on the issue of gay marriage once she was appointed to the Senate was documented in a Washington Post story this year.
9:05 p.m. ET, April 9, 2019
Kirsten Gillibrand tees up for CNN's town hall
New York Sen. Kirsten Gillibrand tweeted a video today showing off her batting skills in preparation for tonight's town hall.
"Getting ready for tonight's CNN town hall!," she tweeted.
The Democratic presidential candidate appeared to hit the ball into center field.
Watch the moment:
8:54 p.m. ET, April 9, 2019
Tonight: Sen. Kirsten Gillibrand will face voters at a CNN town hall
Democratic presidential candidate Kirsten Gillibrand is set to face voters' questions at a CNN town tall in Washington, D.C. tonight.
The event, moderated by CNN's Erin Burnett, starts at 10 p.m. ET. You can watch it live on CNN or in the video player above.
Gillibrand, 52, is one of six women seeking the Democratic nomination and one of six senators running for president.
The New York Democrat launched an exploratory campaign in January, announcing it on CBS' "The Late Show with Stephen Colbert." She officially announced her candidacy in March.
Gillibrand campaigned as a child with her grandmother Dorthea Noonan, a longtime president of the Albany Democratic Women's Club. The New York Democrat called for former Sen. Al Franken to resign and has acknowledged her increasingly progressive stances on immigration and gun reform running counter to previous positions she held when running for the House (she served as a member of the U.S. House of Representatives from 2007 to 2009, representing New York's Capital District).