Supreme Court nominee faces sexual assault allegation
7:38 p.m. ET, September 21, 2018
7:19 p.m. ET, September 21, 2018
Grassley says if no agreement on Ford testimony, committee will vote Monday
Senate Judiciary Committee chairman Chuck Grassley said if there is no agreement tonight on testimony by Christine Blasey Ford, the committee would vote on the Brett Kavanaugh nomination on Monday. 
The deadline has been extended to 10pm.
The statement:
"Despite the fact that the July 30th letter remains hidden, my committee has been investigating the allegations and has heard from multiple witnesses since Sunday. Ms. Katz has discussed Dr. Ford's allegations in numerous media interviews and said on TV Monday morning that Dr. Ford wants to share her account with the Senate Judiciary Committee. It's Friday night and nothing's been agreed to despite our extensive efforts to make testimony possible," Grassley said. "I'm extending the deadline for response yet again to 10 o'clock this evening. I'm providing a notice of a vote to occur Monday in the event that Dr. Ford's attorneys don't respond or Dr. Ford decides not to testify. In the event that we can come to a reasonable resolution as I've been seeking all week, then I will postpone the committee vote to accommodate her testimony. We cannot continue to delay."
4:12 p.m. ET, September 21, 2018
Ben Carson says good people won't want to serve in government after Ford's allegations
From CNN's Aaron Pellish
Secretary of Housing and Urban Development Ben Carson said people will be less inclined to accept high-ranking government positions after Christine Blasey Ford's allegations of sexual assault against Brett Kavanaugh.
"The fearful part is that good people will be afraid to serve their government. They won't want to take the chance of their reputation being sullied," he said while speaking at the Values Voter Summit.
He added: "First of all, sexual predators... it's abominable, there's no room for it. Having said that, we must recognize that there are two sides to every story."
Carson, who was speaking in a personal capacity at the Christian political conference, spoke at length about the importance of confirming Brett Kavanaugh into the Supreme Court. Carson said that "(Democrats) thought they had the courts, but it was snatched away from them in November of 2016." 
"They realized that they are going to lose the courts for another generation," he said. "So what is left? Chaos and destruction." 
3:57 p.m. ET, September 21, 2018
Ford has until 5 p.m. ET to respond to Senate GOP offer
From CNN's Man Raju
Christine Blasey Ford and her legal team have until 5 p.m. ET to respond to the Senate GOP offer, a source says.
The offer... 
Proposes Wednesday as the hearing date.
Calls for the use of an outside counsel (instead of having senators ask the questions).
Calls for Ford to testify first, before Brett Kavanaugh.
3:33 p.m. ET, September 21, 2018
Sen. Susan Collins appalled by Trump's tweets about Kavanaugh accuser
From CNN's Clare Foran and Jim Acosta
Republican Senator Susan Collins said she was "appalled" by President Donald Trump's tweet disparaging Christine Blasey Ford, who has accused his Supreme Court nominee Brett Kavanaugh of sexual assault.
"I was appalled by the President's tweet," said the Maine senator, who spoke to reporters at an event Friday afternoon.
"We know that allegations of sexual assault -- I'm not saying that's what happened in this case -- but we know that allegations of sexual assault are one of the most unreported crimes that exist so I thought that the President's tweet was completely inappropriate and wrong."
Collins, a crucial swing vote on Kavanaugh's nomination, added that "we should attempt to make this as comfortable a process for her as possible."
In a series of tweets Friday morning, President Trump called Kavanaugh "a fine man," and suggested that Ford should have come forward with her allegations earlier, casting doubt on her credibility.
2:35 p.m. ET, September 21, 2018
What undecided Republicans have said about Kavanaugh's nomination
From CNN's Daniella Diaz and Elizabeth Landers
Whether Brett Kavanaugh is successfully confirmed to the US Supreme Court has become a question of Senate math.
Republicans hold a slim 51-49 majority in the chamber. If all Democrats oppose his nomination, he'll need every Republican to vote yes. (If only one Republican opposes Kavanuagh, but every other Republican supported him, Vice President Mike Pence would have to cast a tie-breaking vote.)
Some Republicans are still undecided. Here are three we're watching — and what they've said about the judge:
Lisa Murkowski of Alaska on July 9 — "While I have not met Judge Kavanaugh, I look forward to sitting down for a personal meeting with him. I intend to review Judge Kavanaugh's decisions on the bench and writings off the bench, and pay careful attention to his responses to questions posed by my colleagues on the Senate Judiciary Committee."
Jeff Flake of Arizona on July 9 — "As I have said before, approving a nominee who will interpret the Constitution rather than legislate from the bench should be our top priority. I look forward to meeting with Judge Kavanaugh and reviewing his record throughout the confirmation process."
Susan Collins of Maine on September 12 — "I am still completing my due diligence. I spent an hour today going through the committee's sensitive documents at the Judiciary Committee that have not yet been released. I would note, however, that every document Democrats asked to have cleared and released was released by the order of the Justice Department and President Bush. So what I'm finding is that a lot of the information has not necessarily been accurately presented, and that's why I think it's really important I continue my review. I am also going to be talking to the judge later this week with a few more questions that I have."
1:37 p.m. ET, September 21, 2018
Wednesday hearing may not be a sure thing, Dem aide says
From CNN's Manu Raju
Last night, Ford's camp said that she couldn't get to DC before Thursday because of everything her family is dealing with, a senior Democratic leadership aide tells CNN. This means Wednesday's hearing date may be an issue for the talks going forward.
1:00 p.m. ET, September 21, 2018
US Marshals investigating threats against Kavanaugh and his family
From CNN's Ariane de Vogue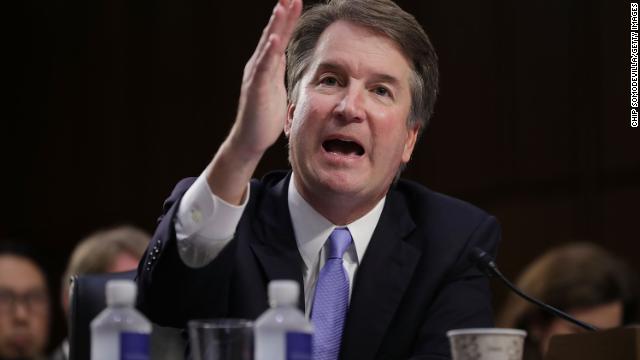 The US Marshals Service is investigating threats against Supreme Court nominee Brett Kavanaugh and his family, according to a source close to Kavanaugh.
As a judge, Kavanaugh gets Marshals Service protection.
A senior administration official previously told CNN that the number of death threats made against Supreme Court nominee Kavanaugh and his family have increased since Ford's allegations came to light. There are several current threats against the Kavanaughs that law enforcement deems credible, while several others have been opened and closed since he was nominated, sources said.
12:56 p.m. ET, September 21, 2018
Democrats push back on the GOP's hearing proposal
From CNN's Manu Raju
There are Democratic concerns about the Senate Judiciary Republicans' proposal for a hearing with Christine Blasey Ford — specifically with the GOP's plan to have outside counsel ask the questions.
"Outside counsel doesn't vote on Kavanaugh. Senators do. Republicans need to do their jobs and not hide," a Senate Democratic leadership aide said.
Why Republicans want the outside counsel: Republicans on the committee agreed to hire outside counsel — a woman with experience on these issues — to ask the bulk of the questions at the hearing. This is for both optics (all 11 GOP members are men) and order (there are concern that the hearing would be deemed a political circus.)
This is not what Ford and her lawyers want: Ford's attorney Debra Katz said outside counsel would make the hearing appear too much like a trial.