Supreme Court nominee faces sexual assault allegation
9:52 a.m. ET, September 21, 2018
Kellyanne Conway says there's no reason to attack Ford — moments before Trump attacks Ford's allegation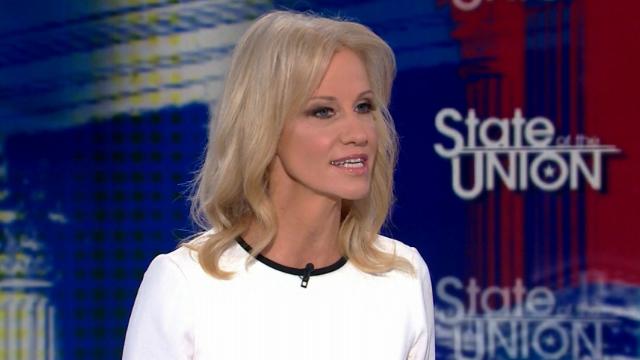 Just moments before Trump began tweeting attacks on Christine Blasey Ford's claim that she was sexually assaulted by Brett Kavanaugh, Counselor to the President Kellyanne Conway told reporters said "there's no reason" to attack Ford.
After appearing on New Day this morning, Kellyanne Conway spoke with reporters on the North Lawn of the White House and answered questions on Kavanaugh and Ford.
"There's no reason to attack her," Conway said.
She continued: "The President is defending his nomination to the United States Supreme Court as a man of character, integrity, impeccable academic and judicial qualifications … The President is defending his nominee, but that nominee needs to defend himself against what he says are uncategorical and unequivocally false allegations."
Just after that, Trump tweeted that Kavanaugh is being "assaulted" and suggested that Ford would have filed charges immediately after the alleged attack if it "was as bad as she says." He also questioned why the FBI wasn't involved decades ago, when the alleged assault occurred.
Here are the tweets:
9:42 a.m. ET, September 21, 2018
A hearing next week is now more than likely
The impasses is broken — sort of.
After days of communicating through sternly worded letters and media appearances, all the relevant parties — Christine Blasey Ford's attorney, Debra Katz, and both the majority and minority staff of the Senate Judiciary Committee — are now negotiating the details of a public hearing.
Congressional aides briefed on the process say there is still a lot of detail to iron out, but all agree that after last night's call between the parties, a hearing next week is more than likely. 
But remember: Nothing is set yet – and nothing will be set until Senate Judiciary Chairman Chuck Grassley gets sign off from the other 10 Republicans on the committee. But all signs are pointing to hearing in the latter half of next week. 
9:28 a.m. ET, September 21, 2018
2 of Ford's hearing requests are non-starters, Senate staffer says
A senior GOP Senate staffer tells CNN that two of Christine Blasey Ford's conditions for testifying at a committee hearing are non-starters:
Subpoenaing Mark Judge or other witnesses, as Ford has requested, is not possible as the Senate does not take subpoena requests from witnesses.
Ford's demand that Brett Kavanaugh testify first is also unlikely. The thinking is Ford should testify first to give Kavanagh opportunity to respond.
It's important to note that Ford's team did not draw a "red line" on these issues. They were brought up as requests.  
9:18 a.m. ET, September 21, 2018
President Trump: Kavanaugh is under assault
President Trump just tweeted that his Supreme Court nominee Brett Kavanaugh is "assault by radical left wing politicians."
Kavanaugh has been accused of sexual assault, and his confirmation hearing has been delayed as the Senate works to possibly hear testimony from his accuser, Christine Blasey Ford.
Here's the tweet:
Trump followed up with a second tweet saying Ford or her parents would have "immediately filed charges" if the attack, which happened in high school, "was as bad as she says."
8:43 a.m. ET, September 21, 2018
These are the key concerns Ford and her legal team have raised
Christine Blasey Ford opened the possibility she would testify before Congress about her accusation of sexual assault against Supreme Court nominee Brett Kavanaugh.
An email her lawyers sent to the Senate Judiciary Committee said Ford "would be prepared to testify next week" if the senators offer her "terms that are fair and which ensure her safety."
Ford's attorneys and Senate Judiciary Committee aides held a conference call later Thursday, which a source told CNN lasted an hour.
These are the key points Ford's team raised: 
Ford's safety is a top concern.
They are opposed to using outside counsel to handle the questions.
They don't want Ford and Kavanaugh in the room at the same time.
They want Kavanaugh to testify first.
As for the hearing date, Ford's team proposed Thursday.
9:19 p.m. ET, September 20, 2018
Our live coverage has concluded for the night. We'll be back tomorrow.
8:43 p.m. ET, September 20, 2018
New details on call with committee and Ford's lawyers
The biggest concerns raised by Christine Blasey Ford's lawyer in a conference call with the Judiciary Committee were safety, the Monday hearing date, and the use of outside counsel or lawyer, according to a senior congressional source with knowledge of the call. 
Ford's team is opposed to the use of outside counsel, which Republicans have spent the past few days talking about hiring to conduct the question portion.
Ford's lawyer made clear that at no point during any potential hearing could Ford be in the same room as Kavanaugh, the source said.
A second source said she wants Kavanaugh to testify first on the panel before her.
Adding additional witnesses remained a point of dispute, with direct questions over whether (or why not) Mark Judge could testify. The second source said she wants the committee to subpoena Judge and other alleged witnesses.
Ford's lawyer proposed Thursday as a potential date for the hearing. No commitments were made, but GOP staff plans to report to Grassley, who will then discuss with McConnell/committee members.
The biggest holdup at this point remains the hearing date, the source says, which is actively being negotiated. The second source said her camp proposed a Thursday hearing.
"More problems could arise, and there's a lot more to iron out, but it was an important first step," the source said, indicating things are moving toward the hearing happening next week.
8:02 p.m. ET, September 20, 2018
Maine senator's office among those deluged with Kavanaugh calls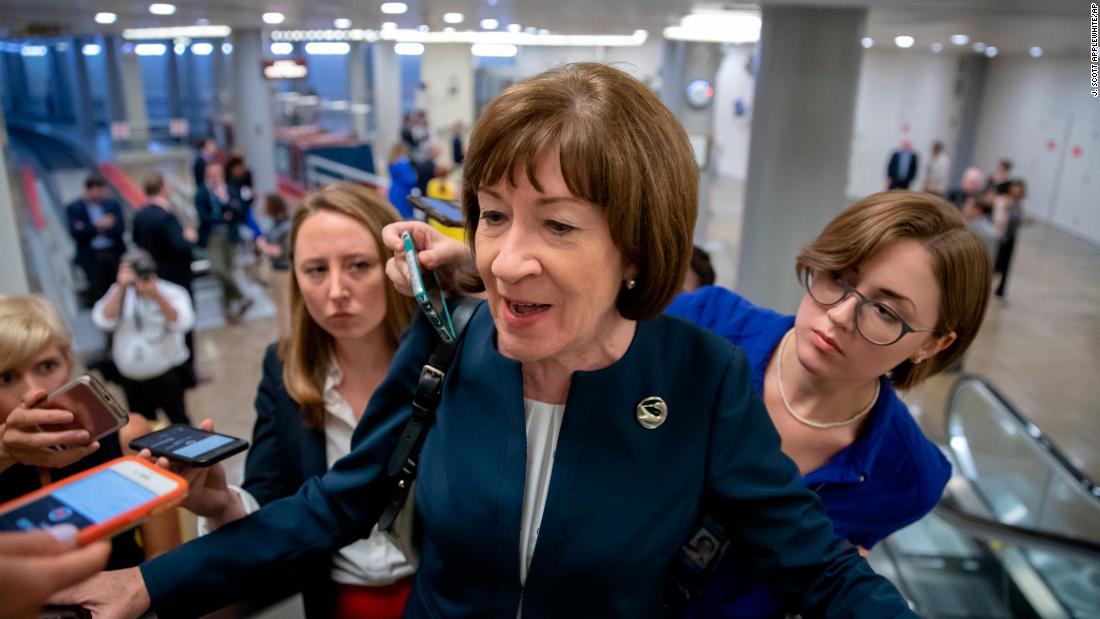 As the nomination process of Brett Kavanaugh to the Supreme Court has reached a crescendo in the last week, some senators are feeling the heat over what their vote will be more than others.
Maine's senior senator, Republican Susan Collins, has yet to announce her decision on Kavanaugh's nomination, and as one of the chamber's more moderate members she is a crucial vote to watch. Republicans can confirm President Donald Trump's nominee without any support from Democrats but since the GOP only controls the chamber by 51-49, there is barely any room for Republicans to lose votes from their own ranks. 
And constituents from Maine and beyond are voicing their concerns, as CNN observed from her Bangor office on Thursday.
"So don't rush the vote is what you're saying?" asked one of the staffer who worked the phones Thursday during a call with constituents.
The two aides who take calls who sit in the cozy office estimated that they receive more than a hundred calls a day on the issue of Kavanaugh's nomination. 
Keep reading Elizabeth Landers' report from Bangor, Maine.
7:40 p.m. ET, September 20, 2018
Source familiar with conference call on hearing: some agreements, some disagreements
A source familiar with the conference call held between Senate Judiciary aides and Christine Blasey Ford's attorneys said the accuser's legal team laid out some of its stipulations for testifying before the committee.
One of the chief requests from Ford is that the hearing not happen on Monday.
"She was not willing to do Monday," the source said.
One show of good faith, the source said, was that Ford's attorneys have canceled cable news interviews for the evening. That shows all sides are working toward crafting an agreement for the testimony to happen, the source said.
Talks are continuing to have a female attorney to handle the questions that would be asked on behalf of the all male GOP side of the committee, the source added.
The call lasted an hour.