Supreme Court nominee faces sexual assault allegation
12:30 p.m. ET, September 19, 2018
Chuck Grassley will offer to interview Ford in her home state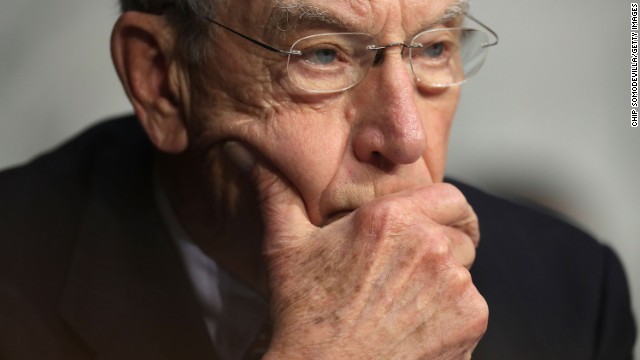 A Senate Judiciary Committee aide said chairman Sen. Chuck Grassley will offer to send staffers to California to interview professor Christine Blasey Ford, if that makes her more comfortable.
The aide said the letter to Ford's lawyer will be made public soon.
The same aide said a decision on what form Kavanaugh's testimony will take will depend on whether Ford agrees to cooperate, but they aren't at the point of locking in any details with regards to Kavanaugh's testimony.
"If she doesn't come, there will have to be some kind of decision" as to whether Kavanaugh testifies in public or private, the source said.
11:22 a.m. ET, September 19, 2018
Kavanaugh continuing prep sessions at the White House today
As questions swirl about whether a public hearing will still go forward Monday if Christine Blasey Ford doesn't show, Judge Brett Kavanaugh is continuing with prep sessions at the White House today, a source familiar tells CNN.
Kavanaugh wants to be prepared to give his account if Ford does decide to testify without first having an FBI investigation. He has undergone multiple, lengthy practice sessions over the last few days — detailing his teenage years and dating life to his confirmation team after Ford went public with her accusation of sexual assault. 
Another source says Grassley received the letter from Ford's attorneys requesting an FBI investigation before she testifies minutes before it broke on CNN last night. Grassley is expected to formally respond today or tomorrow, and he is still open to the idea of meeting with Ford in her designated setting, be that public or private, this person with knowledge of his thinking says, but is unlikely to move the date. 
11:58 a.m. ET, September 19, 2018
Grassley says he's focused on bringing Ford in Monday, dismisses calls to let FBI investigate incident
Senate Judiciary Chairman Chuck Grassley told reporters he was trying to get Dr Ford to testify publicly or privately by Monday at the hearing.
Asked by CNN's Manu Raju why not delay the hearing and let the FBI investigate as Ford wants, he said: Right now, "I'm concentrating on doing everything I can to make sure to make Dr. Ford is comfortable to testify."
He said: "We are going to reach out to everyone we know about" who knows about the incident.
"I'm not worried about anything else" over the next few days except to get her to testify. Referring to the calls to reopen FBI probe, he said he's "only focused" on getting her to testify.
Asked by CNN's Sunlen Serfaty if the hearing would go on with or without Ford, Grassley said: "We don't have any problem with Kavanaugh coming ... but we want to make sure it is a fruitful hearing for both sides."
10:37 a.m. ET, September 19, 2018
Senate committee still asking if Ford will testify
Senate Judiciary Committee staffers are reaching out to Christine Blasey Ford's attorneys today to see if she would like to testify in public or private at the Monday session, according to George Hartmann, a spokesman for Sen. Chuck Grassley.
"It remains up to Dr. Ford what forum and format she wants to approach the committee and tell her story," Hartmann said. "The chairman is amenable to public or private interview or a private staff interview .... And that decision is hers."
What happens if she doesn't show? If Ford doesn't appear Monday, no decisions have been made about next steps, GOP aides and senators said.
Kavanaugh has privately told senators he's eager to defend himself, so Republicans may allow him to testify by himself about the incident, a GOP source said. But it's still uncertain if that will happen.
Sen. John Kennedy, a member of the committee, expressed confidence to CNN that Ford may still show Monday and said, "I don't know" what will happen with the hearing if she doesn't appear.
Republican senators want to hold a committee vote next week if she stays away.
So far, the committee has conducted a staff-level investigation into the incident. GOP staff interviewed Kavanaugh, who denied the episode. And GOP staff reached out to others mentioned in the Washington Post piece.
Democratic staff have declined to participate, saying the FBI should probe the matter instead.
10:08 a.m. ET, September 19, 2018
GOP senator says call for investigation is a delay tactic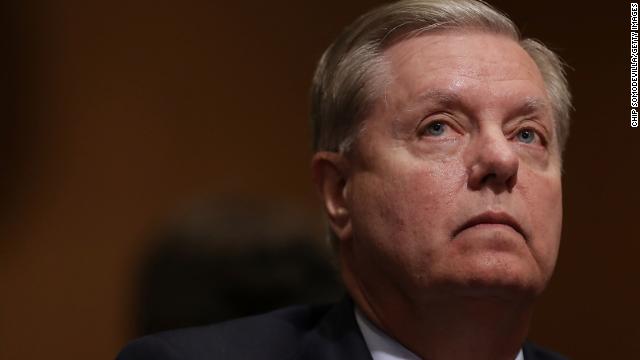 Sen. Lindsey Graham said the call for an FBI investigation before the Senate holds a hearing on sexual assault allegations against Supreme Court nominee Brett Kavanaugh is a delaying tactic and not about getting the truth.
Professor Christine Blasey Ford, who has accused Kavanaugh of sexual assault, and all 10 Democrats on the Senate Judiciary Committee say the FBI should conduct an investigation prior to a hearing.
Graham just released this statement:
Requiring an FBI investigation of a 36 year old allegation (without specific references to time or location) before Professor Ford will appear before the Judiciary Committee is not about finding the truth, but delaying the process until after the midterm elections.  
 He added that it's "imperative" that the Senate committee votes on Kavanaugh soon,
"It is imperative the Judiciary committee move forward on the Kavanaugh nomination and a committee vote be taken as soon as possible," he said in a statement.
9:57 a.m. ET, September 19, 2018
Trump on a possible Kavanaugh probe: The FBI doesn't do that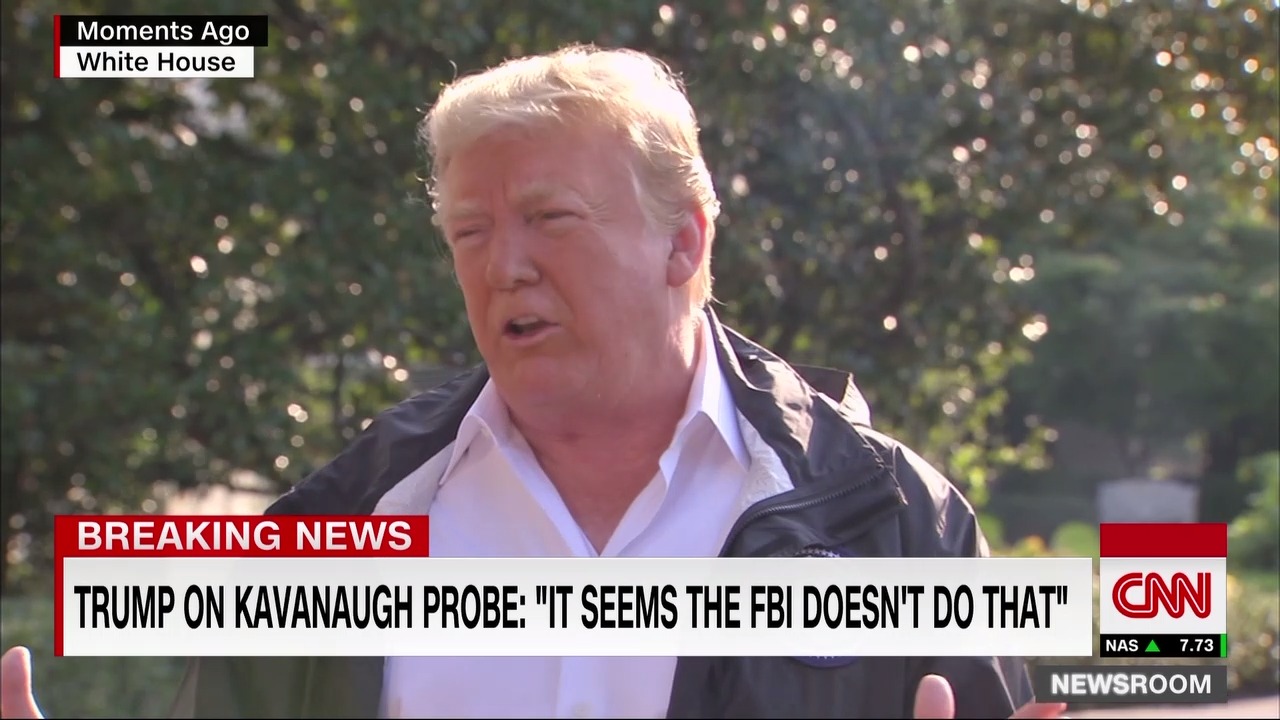 President Trump stressed his Supreme Court nominee Brett Kavanaugh has already been investigated by the FBI, and downplayed the prospects of an additional probe.
"It would seem that the FBI really doesn't do that," Trump said.
He continued: "They have investigated about six times before, and it seems that they don't do that," he told reporters at the White House.
9:51 a.m. ET, September 19, 2018
Trump: It would be unfortunate if Ford doesn't show on Monday
President Trump, leaving the White House this morning, said his Supreme Court nominee Brett Kavanaugh has been treated "very, very tough."
"It is very unfair, I think, to — as you know, Justice Brett Kavanaugh has been treated very, very tough. And his family, I think it is a very unfair thing what's going on."
Trump did not express sympathy for Christine Blasey Ford, the woman who has accused Kavanaugh of sexual assault.
However, the President said he's looking forward to hearing Ford's testimony. Yesterday, Ford said she wants the FBI to investigate before she testifies before the Senate.
"I really want to see her. I really would want to see what she has to say," Trump said. "If she shows up, that would be wonderful. If she doesn't show up, that would be unfortunate."
9:26 a.m. ET, September 19, 2018
GOP senator: If we don't hear from Ford on Monday, let's vote
Sen. Bob Corker, a Republican from Tennessee, urged his colleagues to move ahead with Supreme Court nominee Brett Kavanaugh's confirmation process if the woman who has accused him of sexual assault, Christine Blasey Ford, doesn't testify on Monday.
Both Ford and Kavanaugh had been invited to testify before a Senate panel on Monday.
But Ford yesterday insisted the FBI should investigate the incident before senators hold the hearing on the allegations.
"Republicans extended a hand in good faith. If we don't hear from both sides on Monday, let's vote," Corker tweeted.
9:02 a.m. ET, September 19, 2018
6 ways Kavanaugh's confirmation process could play out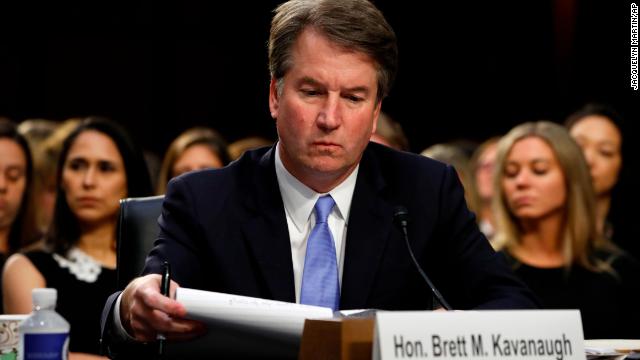 After the woman accusing Supreme Court nominee Brett Kavanaugh of sexual assault insisted the FBI should investigate the incident before senators hold a hearing on the allegations, it's now up to Republicans to respond.
Here are six ways things could play out:
Republicans rally, confirm Kavanaugh: If the hearing goes forward and Ford is not believable or if it is canceled because she won't testify, there's a decent chance Republicans could rally around Kavanaugh and confirm him. 
Pence casts tie-breaker, confirms Kavanaugh: In the current Senate, two Republicans and every Democrat would have to oppose Kavanugh to put his nomination in actual jeopardy. If only one Republican opposed Kavanuagh, Vice President Mike Pence would have to cast a tie-breaking vote. 
Kavanaugh fails, Republicans find a new nominee before Election Day: If Kavanaugh's nomination does falter, there's little time for Republicans to push another nominee through before the election. 
Kavanaugh fails, Republicans vote on a new nominee in the Lame Duck: If Republicans keep their Senate majority or expand it, confirming a nominee after Election Day won't be much of an issue.
Kavanaugh falters, Democrats win Senate Majority: Let's say Republicans are unable to confirm Kavanaugh or some other replacement nominee after losing the election and Democrats take over. Would Democrats work with President Trump and Republicans to find a nominee everyone can agree on? 
Kavanaugh falters, Democrats block a nomination until 2021: If Republicans fail to get a nominee through and Democrats take control of the Senate, the Democratic base will be lobbying hard for their lawmakers to sit on the nomination until after the next presidential election.