Supreme Court nominee faces sexual assault allegation
8:45 a.m. ET, September 19, 2018
Here's how the FBI investigated Anita Hill's sexual harassment allegations against Clarence Thomas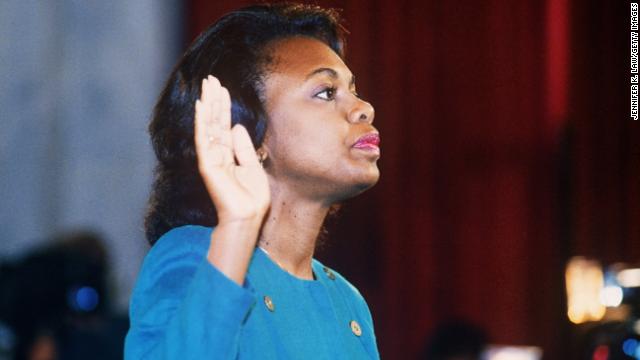 As Christine Blasey Ford's lawyers insist the FBI investigate her claims of sexual assault against Brett Kavanaugh, here is a look back at how the FBI investigation into Anita Hill's sexual harassment allegations against Clarence Thomas came about.
Clarence Thomas underwent his initial hearings before the Senate Judiciary Committee in early September 1991.
Anita Hill says she spoke with the Judiciary Committee in "early September," and that an FBI investigation was suggested to her on Sept. 20, 1991. 
On Sept. 23, 1991, allegations of harassment were brought to the attention of the Senate Judiciary Committee, which immediately informed the White House, according to a statement from then-deputy press secretary Judy Smith.
Upon learning of the allegations, the White House "promptly directed the FBI to conduct a full, thorough and expeditious investigation," according to the statement.
Three days later, on Sept. 26, 1991, the FBI completed its investigation, and a report was submitted to the White House and the Judiciary Committee. The White House deemed the allegations "unfounded."
On Oct. 6, 1991, Nina Totenberg of NPR obtained a copy of the FBI report and reported on the allegations, the first time the public became aware of the story.
On Oct. 11, 1991, Hill begins her testimony during Thomas' Senate confirmation hearing.
8:02 a.m. ET, September 19, 2018
Kavanaugh's accuser wants an FBI investigation. Here's where things stand now.
The woman accusing Supreme Court nominee Brett Kavanaugh of sexual assault says the FBI should investigate the incident before senators hold a hearing on the allegations.
In a letter addressed to Senate Judiciary Chairman Chuck Grassley and obtained by CNN last night, Christine Blasey Ford's attorneys argue that "a full investigation by law enforcement officials will ensure that the crucial facts and witnesses in this matter are assessed in a non-partisan manner, and that the Committee is fully informed before conducting any hearing or making any decisions."
So what happens now? Ford's decision raises the political stakes for Republicans however they choose to respond.
Early signs are that the GOP will press on and try to get Kavanaugh confirmed, effectively bypassing Ford's demands for an investigation by arguing that they offered her the opportunity to testify and she did not take the chance to have her case heard.
But a quick confirmation vote could expose the GOP to claims it is not willing to initiate a fair process to honor a woman's accusations against a powerful man. Republicans could decide to permit an investigation — but that path would delay Kavanaugh's confirmation, possibly for weeks, and leave open the possibility that it could be stalled completely.
5:46 p.m. ET, September 18, 2018
Our live coverage of the furor around Judge Brett Kavanaugh's nomination and the sexual assault allegation that threw it into chaos is concluding for the evening. Stick with CNN Politics for the latest throughout the evening. We'll be back first thing tomorrow.
5:18 p.m. ET, September 18, 2018
Kavanaugh joked in 2015 lecture: What happens at Georgetown Prep stays at Georgetown Prep
In 2015, then-Judge Brett Kavanaugh of the United States Court of Appeals for the D.C. Circuit, speaking in a lecture to law students at Washington's Catholic University of America, joked that his school friends had a "good saying" that they've "held firm" to present day:
"What happens at Georgetown Prep stays at Georgetown Prep."
"That's been a good thing for all of us, I think," Kavanaugh said to laughter in the crowd.
The remark came in an otherwise unremarkable address on the role of a judge in calling balls and strikes, but it suddenly found a new audience on Tuesday afternoon when Sen. Elizabeth Warren tweeted it and asked, "Is this really what America wants in its next Supreme Court Justice?"
The clip surfaced days after the judge, now a nominee to the Supreme Court, was accused of sexual assault while a Georgetown Prep student, throwing his nomination into question.
See it:
4:19 p.m. ET, September 18, 2018
The Kavanaugh vote has officially been canceled
Senate Judiciary Chairman Chuck Grassley has officially canceled a committee vote on Brett Kavaunagh's Supreme Court nomination. The vote was scheduled for Thursday.
Here's the notice on the committee's website: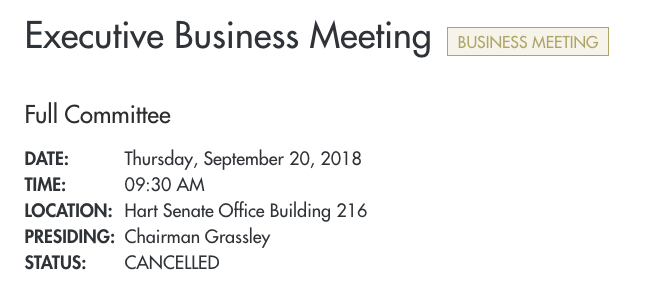 3:42 p.m. ET, September 18, 2018
George W. Bush stands by Kavanaugh amid sexual assault allegation
Former President George W. Bush told Politico he is standing by his previous comments praising Judge Brett Kavanaugh as his nomination to the Supreme Court was suddenly thrust into question over the weekend.
"Laura and I have known and respected Brett Kavanaugh for decades, and we stand by our comments the night Judge Kavanaugh was nominated," Bush said.
In the former comments, Bush called Kavanaugh "a fine husband, father, and friend – and a man of the highest integrity" who "will make a superb Justice."
3:18 p.m. ET, September 18, 2018
GOP senator says if Ford doesn't show, he supports vote on Kavanaugh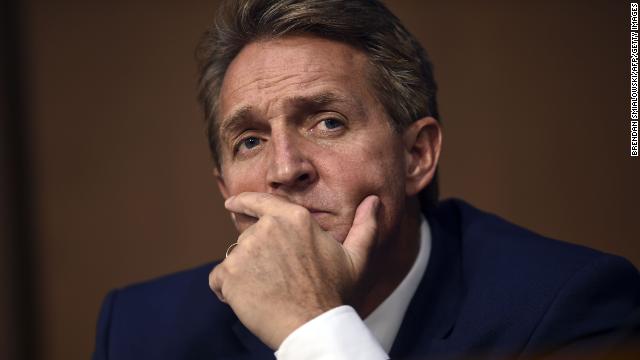 GOP Sen. Jeff Flake said if Brett Kavanaugh's accuser Christine Blasey Ford fails to appear at the hearing scheduled for Monday, he would support his party's push to move forward on a vote on Kavanaugh's nomination. 
"I think we'll have to move to the markup," he tells CNN.
Flake said he's hopeful Ford will accept the committee's invitation and speak at the hearing.  
"I hope she does. I think she needs to be heard," Flake said.