Supreme Court nominee faces sexual assault allegation
5:18 p.m. ET, September 18, 2018
Kavanaugh joked in 2015 lecture: What happens at Georgetown Prep stays at Georgetown Prep
In 2015, then-Judge Brett Kavanaugh of the United States Court of Appeals for the D.C. Circuit, speaking in a lecture to law students at Washington's Catholic University of America, joked that his school friends had a "good saying" that they've "held firm" to present day:
"What happens at Georgetown Prep stays at Georgetown Prep."
"That's been a good thing for all of us, I think," Kavanaugh said to laughter in the crowd.
The remark came in an otherwise unremarkable address on the role of a judge in calling balls and strikes, but it suddenly found a new audience on Tuesday afternoon when Sen. Elizabeth Warren tweeted it and asked, "Is this really what America wants in its next Supreme Court Justice?"
The clip surfaced days after the judge, now a nominee to the Supreme Court, was accused of sexual assault while a Georgetown Prep student, throwing his nomination into question.
See it:
4:19 p.m. ET, September 18, 2018
The Kavanaugh vote has officially been canceled
Senate Judiciary Chairman Chuck Grassley has officially canceled a committee vote on Brett Kavaunagh's Supreme Court nomination. The vote was scheduled for Thursday.
Here's the notice on the committee's website: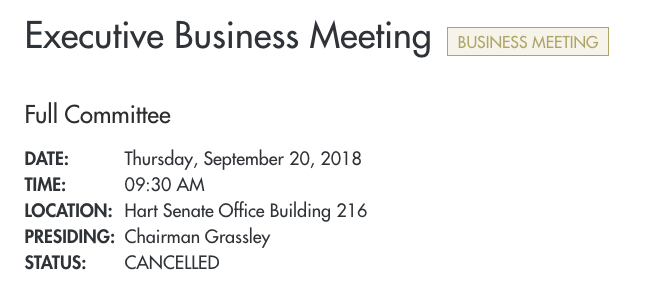 3:42 p.m. ET, September 18, 2018
George W. Bush stands by Kavanaugh amid sexual assault allegation
Former President George W. Bush told Politico he is standing by his previous comments praising Judge Brett Kavanaugh as his nomination to the Supreme Court was suddenly thrust into question over the weekend.
"Laura and I have known and respected Brett Kavanaugh for decades, and we stand by our comments the night Judge Kavanaugh was nominated," Bush said.
In the former comments, Bush called Kavanaugh "a fine husband, father, and friend – and a man of the highest integrity" who "will make a superb Justice."
3:18 p.m. ET, September 18, 2018
GOP senator says if Ford doesn't show, he supports vote on Kavanaugh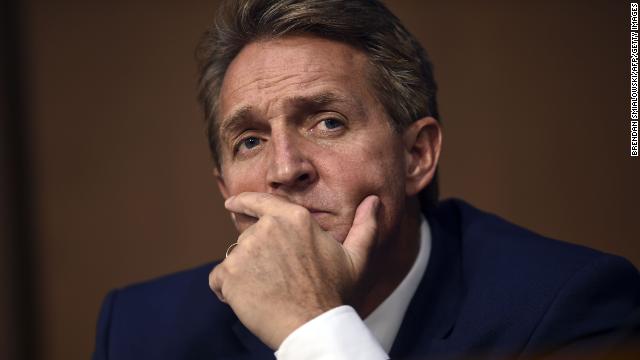 GOP Sen. Jeff Flake said if Brett Kavanaugh's accuser Christine Blasey Ford fails to appear at the hearing scheduled for Monday, he would support his party's push to move forward on a vote on Kavanaugh's nomination. 
"I think we'll have to move to the markup," he tells CNN.
Flake said he's hopeful Ford will accept the committee's invitation and speak at the hearing.  
"I hope she does. I think she needs to be heard," Flake said.
3:14 p.m. ET, September 18, 2018
Trump says he feels terribly for Kavanaugh and his family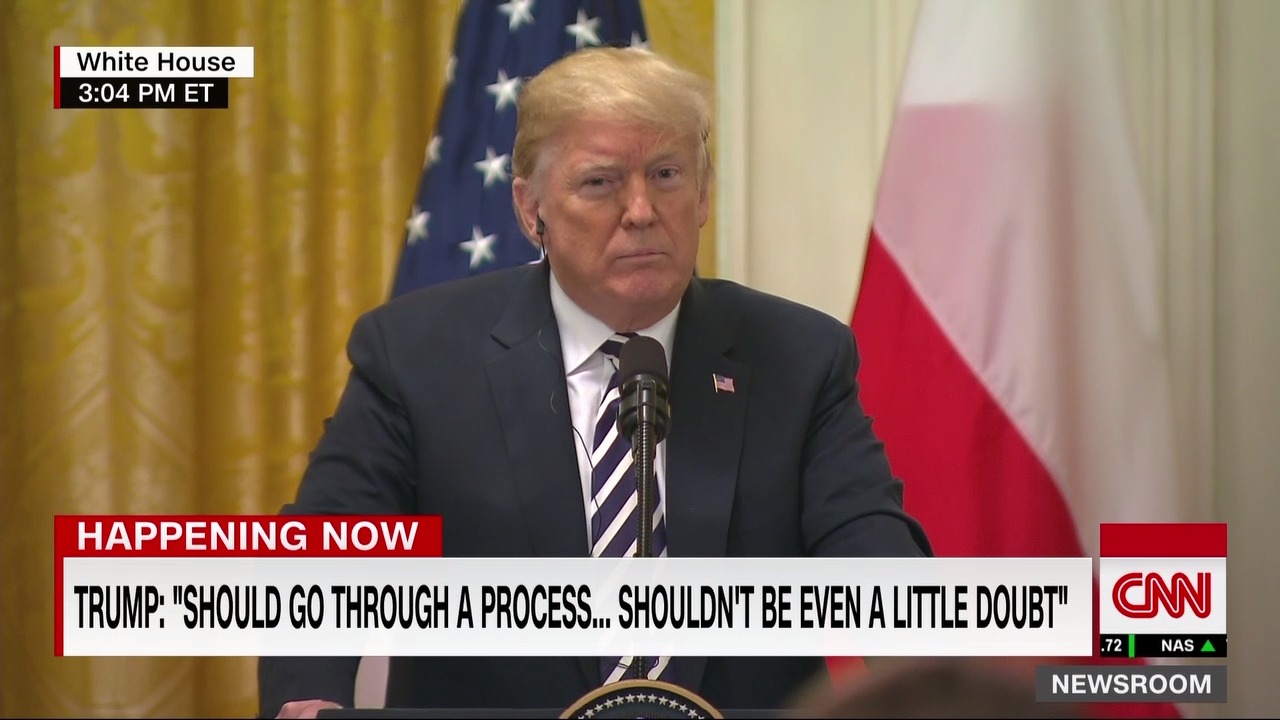 President Trump defended his Supreme Court nominee Brett Kavanaugh, saying he feels "terribly" for the judge and his family in the wake of sexual assault allegations against him.
"I feel so badly for him that he is going through this to be honest with you. I feel so badly for him. This is not a man that deserves this," Trump said at a news conference Tuesday. "Honestly I feel terribly for him, for his wife who is an incredible lovely woman. And for his beautiful young daughters. I feel terribly for them." 
He mentioned Kavanaugh's accuser, Christine Blasey Ford, once — but not by name. He also did not express any sympathy for her.
"Hopefully the woman will come forward, state her case," Trump said.
Watch:
2:41 p.m. ET, September 18, 2018
How GOP senators are responding to the uncertainty of Monday's hearing
Senate Judiciary Chairman Chuck Grassley said Professor Christine Blasey Ford has not yet agreed to appear at Monday's hearing with Brett Kavanaugh — and she has not responded to requests to do so.
It's now not clear if the hearing, organized after Ford accused Kavanaugh of sexual assault, will actually happen, according to some Hill sources.
Sen. Orrin Hatch told reporters that lawmakers were meeting to figure out next steps — including if the hearing would proceed without Ford.
Here's what other GOP senators are saying about the uncertainty:
Sen. John Cornyn, R-Texas, called Ford's silence "pretty telling," but added they hope she does testify. "She hasn't responded to the committee's normal processes, and we don't know if she's coming or not but this is her chance. This is her one chance," Cornyn said.
Sen. Susan Collins called the uncertainty of Ford's appearance "very puzzling." She said: "I've said from the beginning that these are very serious allegations and she deserves to be heard. She is now being given an opportunity to come before the Senate Judiciary Committee to answer questions and I really hope that she doesn't pass up that opportunity."
Sen. Lisa Murkowski said Ford "put herself out there" when she came forward and released her name. "If she is not going to be part of the hearing, I think that that would be a very interesting and unfortunate turn of events," she said.
2:26 p.m. ET, September 18, 2018
GOP senators say they may give Ford the option to testify in private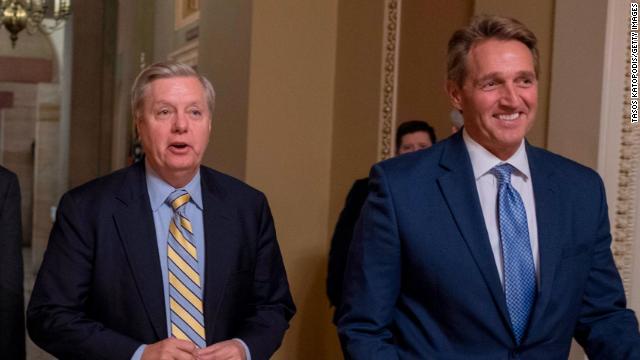 Emerging from a meeting in Senate Majority Leader Mitch McConnell's office, Sens. Jeff Flake and Lindsey Graham both signaled that the GOP still — at the moment — plans to hold the hearing Monday.
Republicans are pushing for professor Christine Blasey Ford to come, and they are offering her an option to testify in a public or private session, they said.
Sen. John Cornyn also said Ford has the option of a closed or an open session:
Flake, who threatened to vote against Kavanaugh over the allegations, raised concerns about Ford's unwillingness to testify — a sign that if she opts not to testify it could be enough to swing key GOP votes in the "yes" column. 
Asked if they would delay the hearing, Graham said this: 
"No. ... She's got a chance to come — we run the committee, not her lawyer, not the Democrats. .. they've had this accusation since the end of July. They've done nothing with it until a week ago. We're going to give her a chance to have her say because everyone should. .. We're going to hear this out and we're going to vote."
1:14 p.m. ET, September 18, 2018
Trump says FBI shouldn't investigate Kavanaugh sexual assault allegation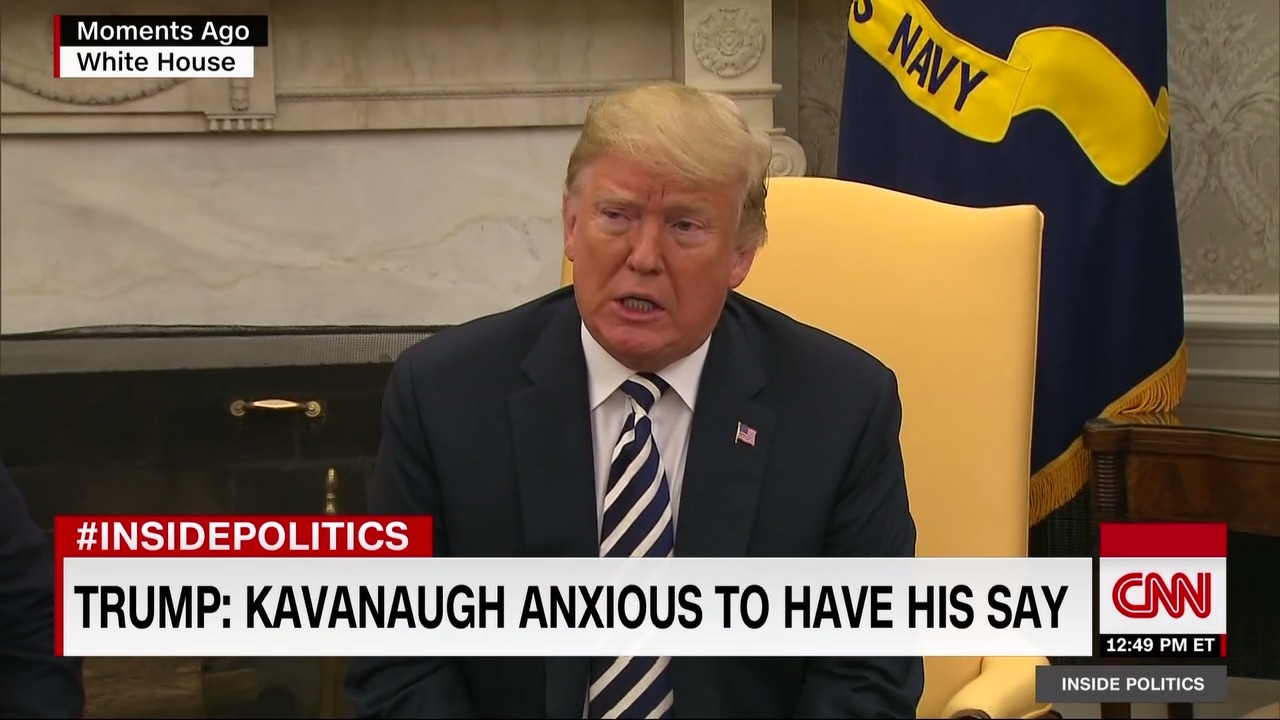 President Donald Trump said Tuesday he does not believe the FBI should delve any further into the decades-old sexual assault allegation leveled against Supreme Court nominee Brett Kavanaugh, claiming the FBI does not want to be involved.
"I don't think the FBI really should be involved because they don't want to be involved," Trump said, though he then held open the possibility of the FBI involving itself in the matter. "This is not really their thing."
President Donald Trump's comments came as Senate Democrats ramped up calls for the White House to direct the FBI to reopen Kavanaugh's background investigation before any hearings on the allegation of sexual assault leveled against Kavanaugh over the weekend can proceed. The Senate Judiciary Committee has invited both Kavanaugh and Christine Blasey Ford, his accuser, to testify before the committee on Monday.
Trump said Kavanaugh "is anxious" to testify and cast doubt on Ford's willingness to testify.
"Judge Kavanaugh is anxious to do this. I don't know about the other party. But judge kavangh is anxious to do it," Trump said. "We want everybody to be able to speak up and to speak out."
The President also once again lamented Sen. Diane Feinstein, the top Democrat on the judiciary committee, over her handling of the allegation against Kavanaugh, which she only disclosed last week despite first getting word of the allegation in July.
Ford did not tie her name to the allegation until this past weekend after previously disclosing the allegation anonymously to Democratic lawmakers.
Watch more:
12:36 p.m. ET, September 18, 2018
A top Republican was just asked about Anita Hill. He said he's looking forward, not backward.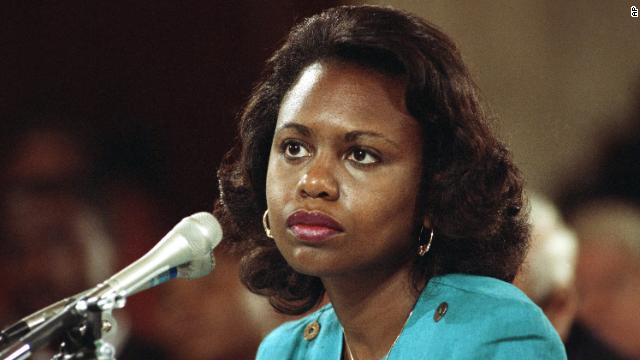 CNN caught up with Sen. Chuck Grassley outside Senate Majority Leader Mitch McConnell's office.
When asked about the possibility of adding more witnesses to the hearing, he said: "We've had two people that want to tell their story and that's what we're going to do -- is do what we planned."
When Anita Hill's 1991 hearing was brought up, here's how Grassley responded:
CNN: During Anita Hill, there were multiple witnesses not just the two central characters?
Grassley: "You were talking about history. We are not looking back. We are looking forward."
CNN: How do you get passed, he said, she said?
Grassley did not respond.