Brett Kavanaugh nomination faces delay
11:05 a.m. ET, September 28, 2018
Chuck Grassley: The American Bar Association doesn't dictate this committee
Senate Judiciary Committee Chairman Chuck Grassley pushed back against a letter from the American Bar Association urging the Senate to delay a vote on Brett Kavanaugh until the FBI investigates the allegations against him.
Grassley said the ABA will not dictate how the Senate committee operates.
"The ABA is an outside organization, like any other that can send us letters and share their advice — but we're not going to let them dictate our committee's business," Grassley said.
Grassley also noted that the letter was written by the group's president.
"Tis letter is from the president of the ABA, one individual. He doesn't represent the hundreds of thousands of lawyers in the United States," he said.
Watch the moment:
10:57 a.m. ET, September 28, 2018
Lindsey Graham warns a vote against Kavanaugh "will tear this country apart"
Sen. Lindsey Graham just spoke at length to explain, sometimes emotionally, why he would vote yes on Kavanaugh and how what happened to the nominee could forever change the Senate Judiciary Committee as it has threatened to "tear this country apart."
"This has never been about the truth. This has been about delay and destruction. And if we reward this, it is the end of good people wanting to be judges. It is the end of any concept of the rule of law. It is the beginning of a process that will tear this country apart," Graham said.
He promised that, should he be named chairman of the committee next year, "I'm going to remember this," as "there's the process before Kavanaugh and the process after Kavanaugh." He mentioned Jeff Flake, who "has wrastled with this decision" and is trying to be fair.
To Democrats, Graham said an FBI investigation "is going to do nothing" but keep it "going to just keep it going and going and going until he breaks and he won't, until the next five come forward."
On Kavanaugh, Graham promised, "I'm going to vote yes. And I'm going to tell his two daughters that I am proud of your dad. And I really, really believe he's a good man."
As for the woman who accused Kavanaugh of sexual assault, Graham said he was going to tell her "I am sorry you had to go through this, too."
10:44 a.m. ET, September 28, 2018
Lindsey Graham: "I'm a single white man from South Carolina and I'm told I should shut up. But I will not"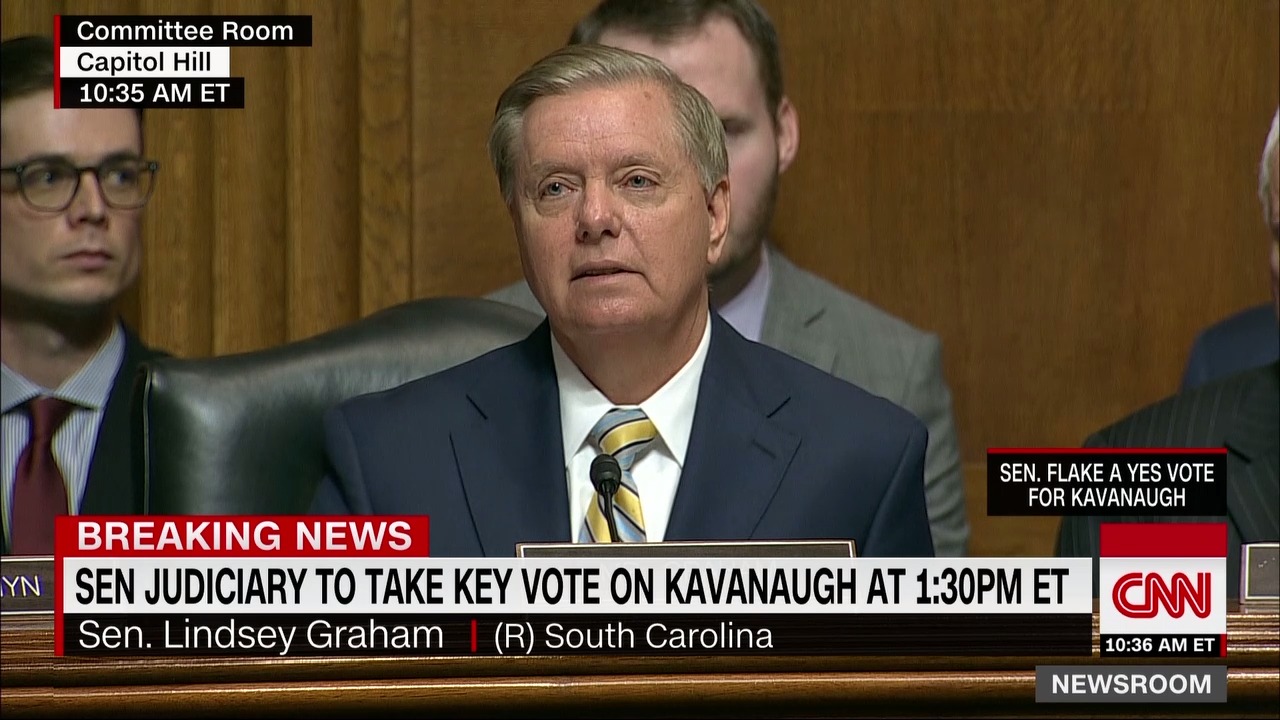 Sen. Lindsey Graham, who forcefully came to Judge Brett Kavanaugh's defense at yesterday's committee hearing — reversing the momentum and potentially saving Kavanaugh's nomination — just opened his remarks at the Senate Judiciary meeting with a self-deprecating remark that nods to the identity politics of the moment.
"I know I am a single white male from South Carolina and I am told I should shut up, but I will not shut up if that's okay," he said.
"Because," he added, "I got here the same way everybody else did. The people in South Carolina voted for me and senator Scott to be their voice, men and women, and I'm going to try to be their voice today."
10:35 a.m. ET, September 28, 2018
As the committee hearing continues, protesters are detained in hallway
Protesters outside the Senate Judiciary Committee hearing are being taken into custody by Capitol Police after blocking the hallway by sitting down.
"We will not go back....We won't be silent...Arrest the rapists, not survivors...We believe Christine." they chanted.
Watch:
10:31 a.m. ET, September 28, 2018
Calls to the National Sexual Assault Hotline up 201% yesterday
The National Sexual Assault Hotline experienced a 201% increase in calls yesterday, Sara McGovern, spokeswoman for RAINN, the Rape, Abuse & Incest National Network which runs the hotline, told CNN.
"We often see an uptick when sexual assault is in the news. For example, last weekend, from Friday to Sunday we saw a 57% increase compared to an average Friday to Sunday. Since Dr. Ford has come forward with her allegations, we have seen a 45.6% uptick compared to the same time period in 2017."
Similarly, the DC Rape Crisis Center, said it experienced a 15% increase in calls to its hotline "under the metoo movement." 
Indira M. Henard, executive director of the hotline, said, "However, in the recent days, specifically within the last 48 to 72 hours, we've seen a significant spike in hotline calls as a result of the Kavanaugh hearings."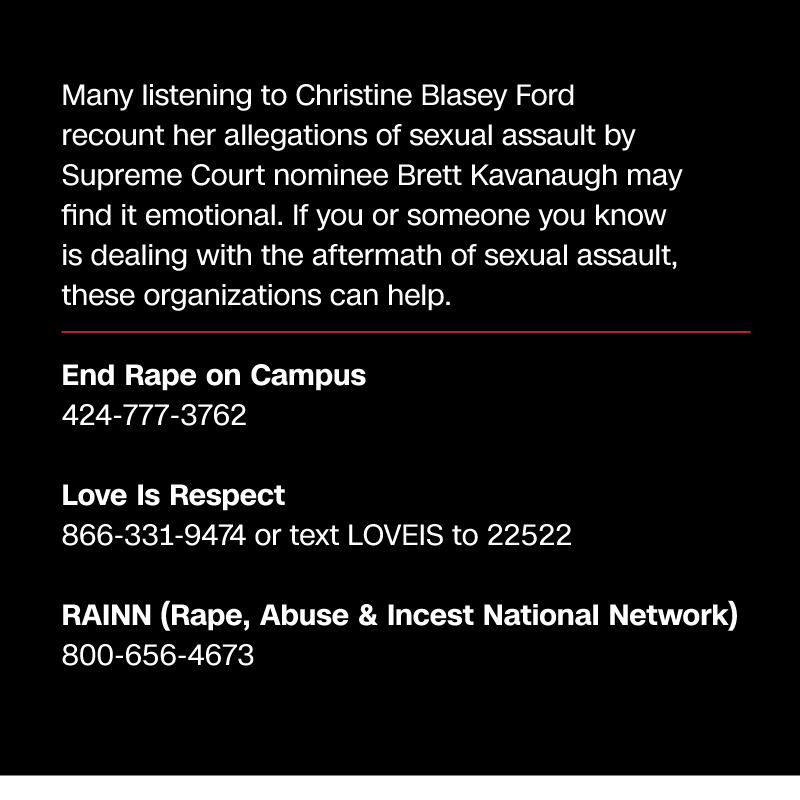 10:28 a.m. ET, September 28, 2018
Democratic senator: The Senate has become an arm of the Trump White House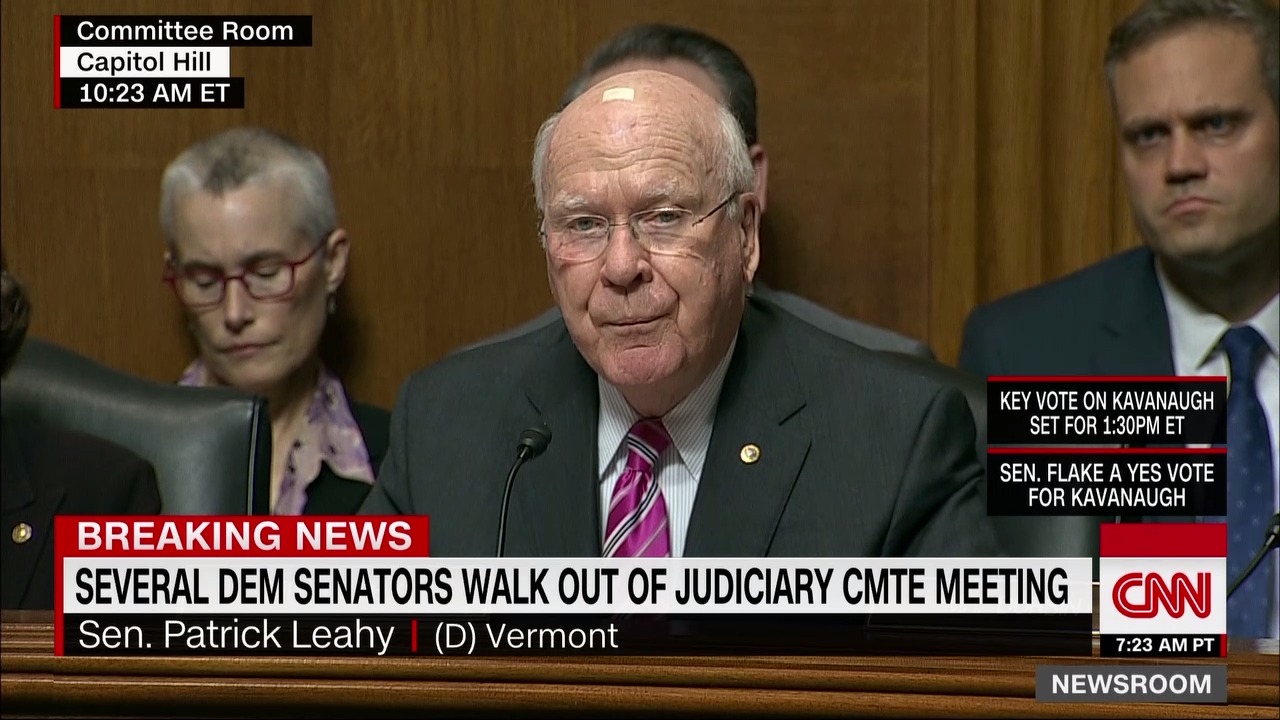 Sen. Patrick Leahy, a Democrat from Vermont, said the Senate and its Judiciary Committee are no longer the "independent branch of government" they're supposed to be.
Instead, it's "an arm — and a very weak arm — of the Trump White House," he said.
Here's how he opened his statement to the committee today:
"It feels like 'Alice in Wonderland' around here. It's unbelievable where we are today. It's almost surreal. This Judiciary Committee is no longer an independent branch of government. And we're supposed to be. The Senate is supposed to be an independent, equal branch of government. We're no longer that. We are an arm — and a very weak arm — of the Trump White House. Every semblance of independence has just disappeared. It's gone. And I think that is something historians will look at, and they'll call it a turning point in the United States Senate."
Watch the moment:
10:30 a.m. ET, September 28, 2018
Why the Democratic senators walked out: "This has got to stop"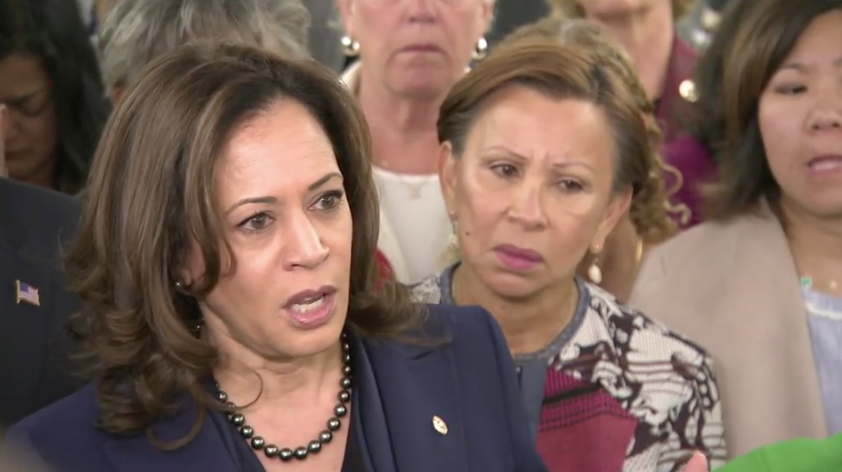 Democratic Senators Mazie Hirono, Kamala Harris, Richard Blumenthal, and Sheldon Whitehouse just explained why they walked out.
Sen. Mazie Hirono said it's "because it's very clear that the Republicans will break every norm, every rule, to get this person on the Supreme Court." She said Brett Kavanaugh would arrive with "a cloud" and would "weaken the court" as a result. "This has got to stop. So I walked out. I'm not going to participate in this charade anymore," she said.
Sen. Kamala Harris said, "From top to bottom this has been about bullies. Listen to the people. All we have asked for is that there be an FBI investigation."
She said Kavanaugh accuser Christine Blasey Ford "poured out her heart and "gave the process dignity and respect."
"The least we could do is give her the dignity and respect of a process that has credibility," she said. "We are talking about putting on the United States Supreme Court for a lifetime."
"For the sake of our democracy and the integrity of our democracy you would think that members of the United States Senate would say wait a minute, there's enough here to push pause," she said. "Let's reflect on what we're about to do."
Sen. Richard Blumenthal added, "All of America is watching the United State's Senate today... and they should be deeply embarrassed ... there are two who should be called as witnesses ... there needs to be an FBI investigation .."
10:16 a.m. ET, September 28, 2018
Some of the Democrats who walked out of the meeting are now speaking on Capitol Hill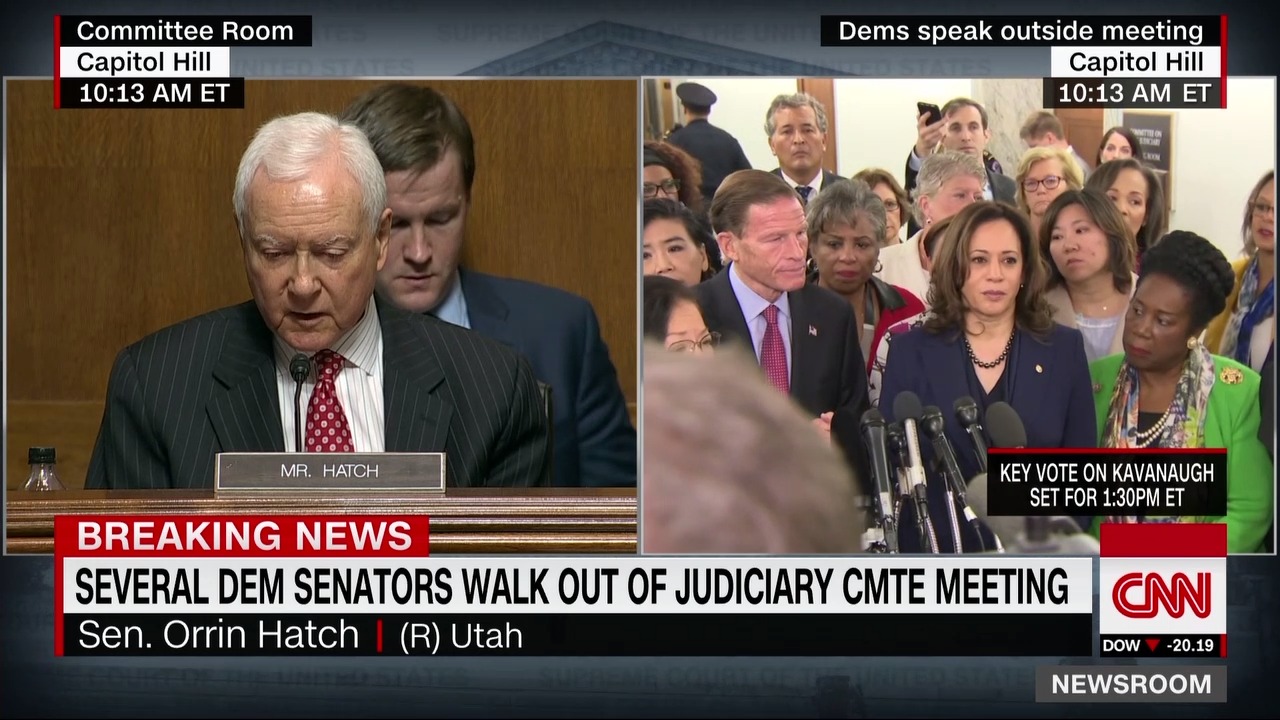 Sen. Kamala Harris, Sen. Richard Blumenthal and Sen. Mazie Hirono, three of the Democrats who just walked out of the Senate Judiciary Committee meeting, are speaking outside the room now.
Republicans are continuing their meeting inside.
Harris, alongside Sen. Cory Booker, refused to vote when the committee was voting on a motion to hold the Brett Kavanaugh vote later this afternoon.
Blumenthal introduced a motion to a subpoena Mark Judge — who Christine Blasey Ford says was in the room when she was allegedly attacked by Kavanaugh — but it was voted down.
Joined by their House colleagues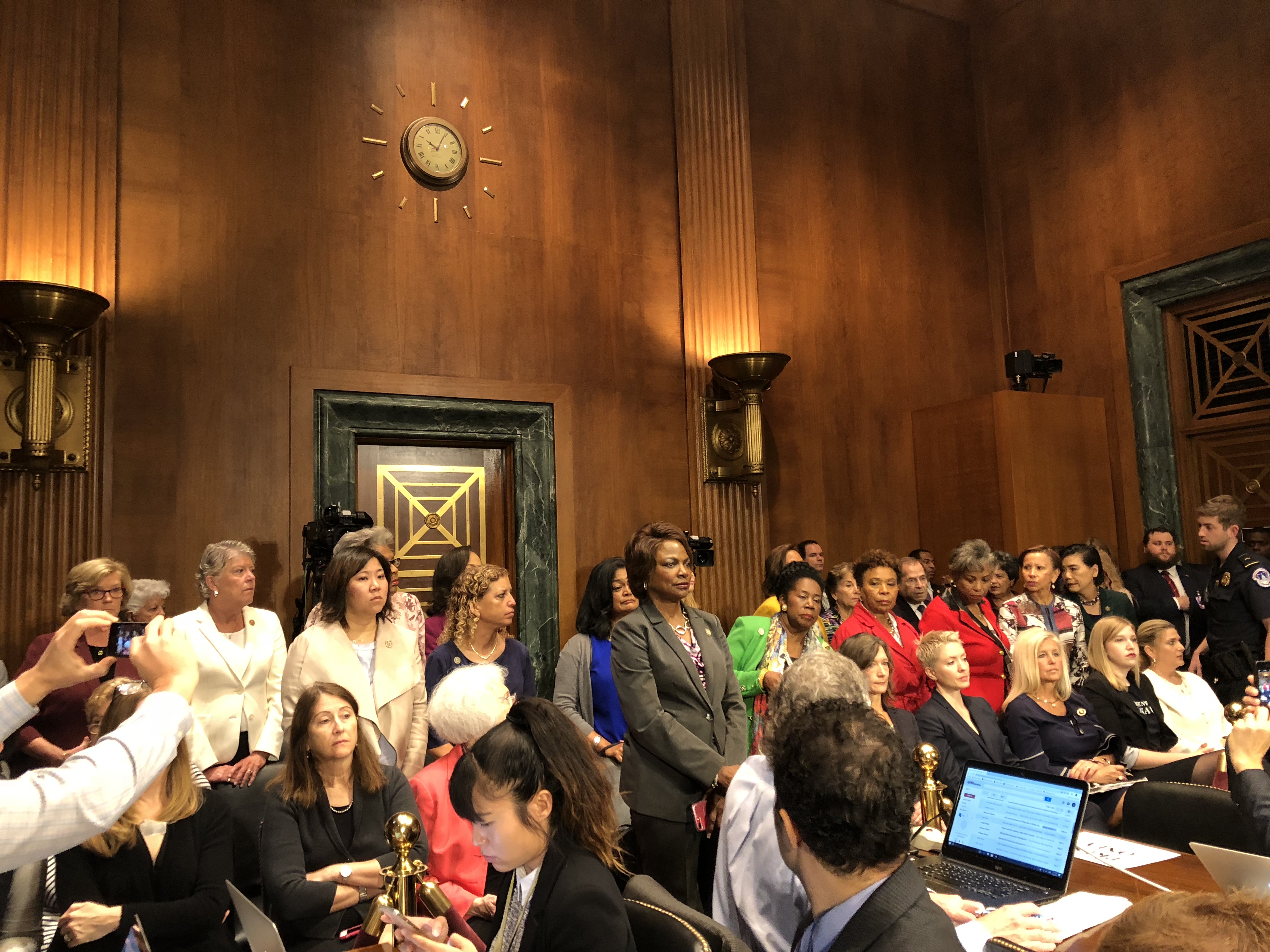 Moments after the senators left, a number of House Democratic women who were watching as spectators, including Reps. Debbie Wasserman Schultz, Pramila Jayapal, Sheila Jackson Lee and Barbara Lee, stood up in silence for a few minutes — then walked out as well.
11:23 a.m. ET, September 28, 2018
Jeff Flake has been frowning since the moment he arrived in the committee room
Sen. Jeff Flake, who was just confronted by two sexual assault survivors who accused him of telling women their assaults don't matter after he announced he would vote to support Brett Kavanaugh's Supreme Court nomination, has been frowning since he arrived at the markup meeting.
Last night, after leaving the hours-long testimony that featured compelling testimony from both Dr. Christine Blasey Ford and Kavanaugh, Flake told CNN, "This is a tough decision, it really is."
When his friend Democratic Sen. Chris Coons learned he'd vote yes just before this morning's meeting, Coons said, "Oh, f--k," thought for a moment and added, "We each make choices for our own reason. I'm struggling, sorry."