Brett Kavanaugh nomination faces delay
12:39 p.m. ET, September 28, 2018
Here's the latest whip count on the senators who could decide how this goes
R - Sen. Susan Collins ⚠️
R - Sen. Lisa Murkowski ⚠️
D - Sen. Joe Manchin ⚠️
D - Sen. Heidi Heitkamp ⚠️
R - Sen. Jeff Flake ✅
R - Sen. Bob Corker ✅
D - Sen. Doug Jones ❌
D - Sen. Bill Nelson ❌
D - Sen. Joe Donnelly ❌
D - Sen. Jon Tester ❌
(⚠️= Undeclared. We don't know where they stand.)
12:27 p.m. ET, September 28, 2018
Another red-state Democrat says he's a no on Kavanaugh
Sen. Jon Tester just announced he will not vote to conform Supreme Court nominee Brett Kavanaugh.
He said this in a statement:
"I have deep concerns about the allegations of sexual assault against Judge Kavanaugh. Unfortunately, Judge Kavanaugh couldn't find time to discuss these concerns with me in person, so the only information I have is from what he said in his hearings. I'll be voting against him."
Jon Tester is one of five Senate Democrats running for re-election in states that President Donald Trump carried by double digits in 2016, but Tester has shown an ability to win tough races in the past.
He won re-election in 2012 by almost four percentage points while Barack Obama lost Big Sky Country to Mitt Romney by 13.
12:24 p.m. ET, September 28, 2018
Jeff Flake just left the hearing room with his Democratic friend. We don't know why.
Republican Sen. Jeff Flake just walked out of the Senate Judiciary Committee meeting, tapping Democratic Sen. Chris Coons on the way out. Coons followed him out of the room.
The two men are good friends.
Earlier today, when Coons was informed Flake intended to vote for Supreme Court nominee Brett Kavanaugh, Coons got emotional. He teared up before saying, "We each make choices for our own reason. I'm struggling, sorry."
Watch the moment they left together here:
12:00 p.m. ET, September 28, 2018
Yale Law dean calls for investigation into Kavanaugh allegations
The dean of Yale Law School is calling for an investigation into the allegations against Supreme Court nominee Judge Brett Kavanaugh before his confirmation.
Yale Law School Dean Heather Gerken released this statement:
"I join the American Bar Association in calling for an additional investigation into allegations made against Judge Kavanaugh. Proceeding with the confirmation process without further investigation is not in the best interest of the Court or our profession."
Kavanaugh attended Yale for both undergraduate and law school.
11:42 a.m. ET, September 28, 2018
Key Democratic senator says he'll vote no on Kavanaugh
Sen. Joe Donnelly, a Democrat from Indiana, just announced he will vote no on Supreme Court nominee Brett Kavanaugh.
From his announcement:
"I have deep reservations about Judge Kavanaugh's nomination to this lifetime position and, as I stated, we have been unable to get all the information necessary regarding this nomination, despite my best efforts. Only 113 people have ever served on the Supreme Court, and I believe that we must do our level best to protect its sanctity. 
"While I would gladly welcome the opportunity to work with President Trump on a new nominee for this critically important position, if Judge Kavanaugh's nomination comes before the full Senate for a vote under these circumstances, I will oppose it."
Why this matters: Donnelly was one of five remaining senators who essentially held the future of Kavanaugh's nomination in their hands.
Now, two Republicans -- Sens. Susan Collins of Maine and Lisa Murkowski of Alaska -- and two Democrats in red states -- Sens. Joe Manchin of West Virginia and Heidi Heitkamp of North Dakota, have yet to say how they'll vote.
11:24 a.m. ET, September 28, 2018
Democratic senator: "Kavanaugh dodged and dissembled, ranted and raved"
Sen. Sheldon Whitehouse, a Democrat from Rhode Island, but it bluntly: "I believe Dr. Ford."
"I may be wrong, but I believed her," he told the committee. "And I believe Kavanaugh dodged and dissembled, ranted and raved, filibustered and prevaricated. I did not find him credible."
Whitehouse pushed back about many of the things Brett Kavanaugh said in his testimony yesterday.
"I don't believe 'The Devil's Triangle' is a drinking game, and I don't believe calling yourself a girl's 'alumnus' is being her friend. And I think drinking until you 'ralph' or fall out of the bus or don't remember the game or need to piece together your memory the next day is more consistent with Dr. Ford's and others' testimony than his own. 
Watch the beginning of his speech:
11:05 a.m. ET, September 28, 2018
Chuck Grassley: The American Bar Association doesn't dictate this committee
Senate Judiciary Committee Chairman Chuck Grassley pushed back against a letter from the American Bar Association urging the Senate to delay a vote on Brett Kavanaugh until the FBI investigates the allegations against him.
Grassley said the ABA will not dictate how the Senate committee operates.
"The ABA is an outside organization, like any other that can send us letters and share their advice — but we're not going to let them dictate our committee's business," Grassley said.
Grassley also noted that the letter was written by the group's president.
"Tis letter is from the president of the ABA, one individual. He doesn't represent the hundreds of thousands of lawyers in the United States," he said.
Watch the moment:
10:57 a.m. ET, September 28, 2018
Lindsey Graham warns a vote against Kavanaugh "will tear this country apart"
Sen. Lindsey Graham just spoke at length to explain, sometimes emotionally, why he would vote yes on Kavanaugh and how what happened to the nominee could forever change the Senate Judiciary Committee as it has threatened to "tear this country apart."
"This has never been about the truth. This has been about delay and destruction. And if we reward this, it is the end of good people wanting to be judges. It is the end of any concept of the rule of law. It is the beginning of a process that will tear this country apart," Graham said.
He promised that, should he be named chairman of the committee next year, "I'm going to remember this," as "there's the process before Kavanaugh and the process after Kavanaugh." He mentioned Jeff Flake, who "has wrastled with this decision" and is trying to be fair.
To Democrats, Graham said an FBI investigation "is going to do nothing" but keep it "going to just keep it going and going and going until he breaks and he won't, until the next five come forward."
On Kavanaugh, Graham promised, "I'm going to vote yes. And I'm going to tell his two daughters that I am proud of your dad. And I really, really believe he's a good man."
As for the woman who accused Kavanaugh of sexual assault, Graham said he was going to tell her "I am sorry you had to go through this, too."
10:44 a.m. ET, September 28, 2018
Lindsey Graham: "I'm a single white man from South Carolina and I'm told I should shut up. But I will not"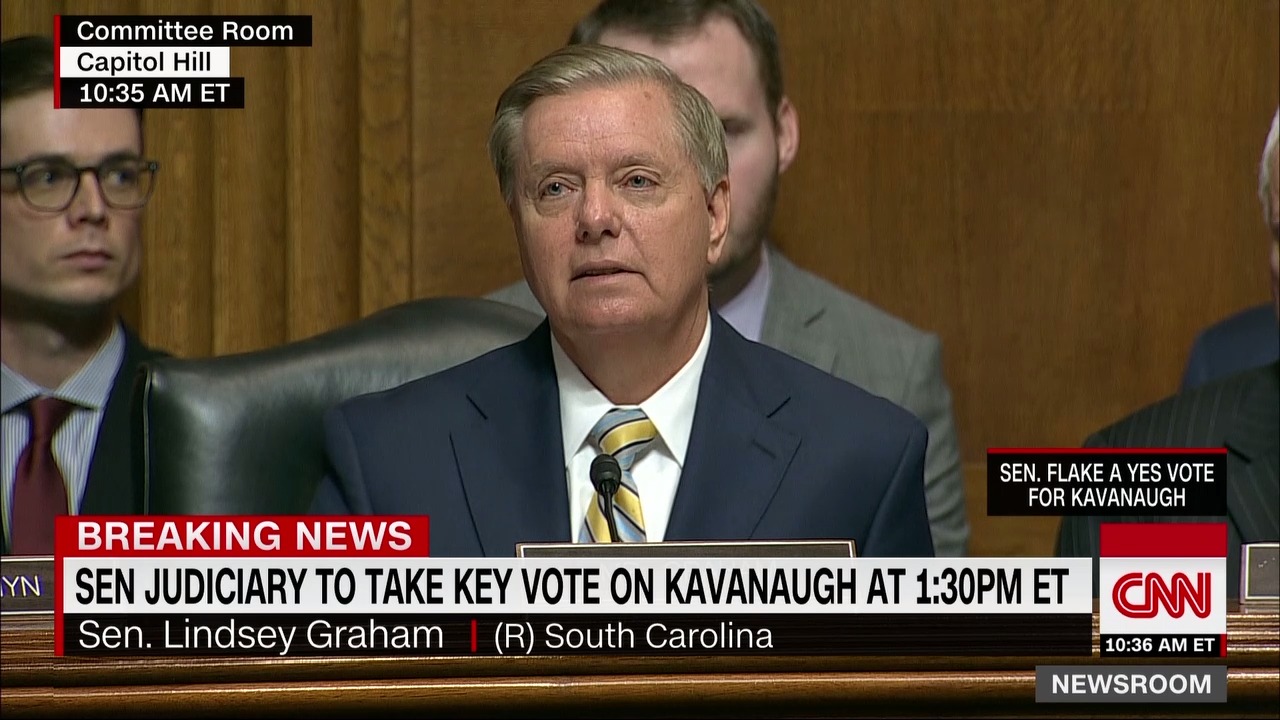 Sen. Lindsey Graham, who forcefully came to Judge Brett Kavanaugh's defense at yesterday's committee hearing — reversing the momentum and potentially saving Kavanaugh's nomination — just opened his remarks at the Senate Judiciary meeting with a self-deprecating remark that nods to the identity politics of the moment.
"I know I am a single white male from South Carolina and I am told I should shut up, but I will not shut up if that's okay," he said.
"Because," he added, "I got here the same way everybody else did. The people in South Carolina voted for me and senator Scott to be their voice, men and women, and I'm going to try to be their voice today."