Kavanaugh fights more allegations
6:34 p.m. ET, September 26, 2018
5:45 p.m. ET, September 26, 2018
Sen. Collins privately raises concerns about new allegations and lack of subpoena for Kavanaugh friend
From Phil Mattingly and Manu Raju
Sen. Susan Collins, who could determine whether Brett Kavanaugh gets a lifetime seat on the Supreme Court, raised serious concerns at a private meeting about the newest allegations of sexual misconduct against the nominee - and questioned why the Senate Judiciary Committee had not subpoenaed a close friend of the federal judge.
Multiple sources familiar with the private Wednesday meeting told CNN that Collins appeared unnerved by the latest allegation, citing in particular that it was a sworn statement sent to the panel, which carries with it the possibility of perjury for lying to Congress.
Collins, sources said, did not indicate how she would vote. But her private concerns underscore how Kavanaugh faces a critical test Thursday: He must reassure at least three key GOP senators that he did not act improperly towards women in the 1980s when he testifies after one of his accusers, Christine Blasey Ford. He can't afford to lose more than one GOP senator if all Democrats vote against his nomination.
5:26 p.m. ET, September 26, 2018
President Trump says he's open-minded about hearing allegations against Kavanaugh
From CNN's Kevin Liptak and Jeremy Diamond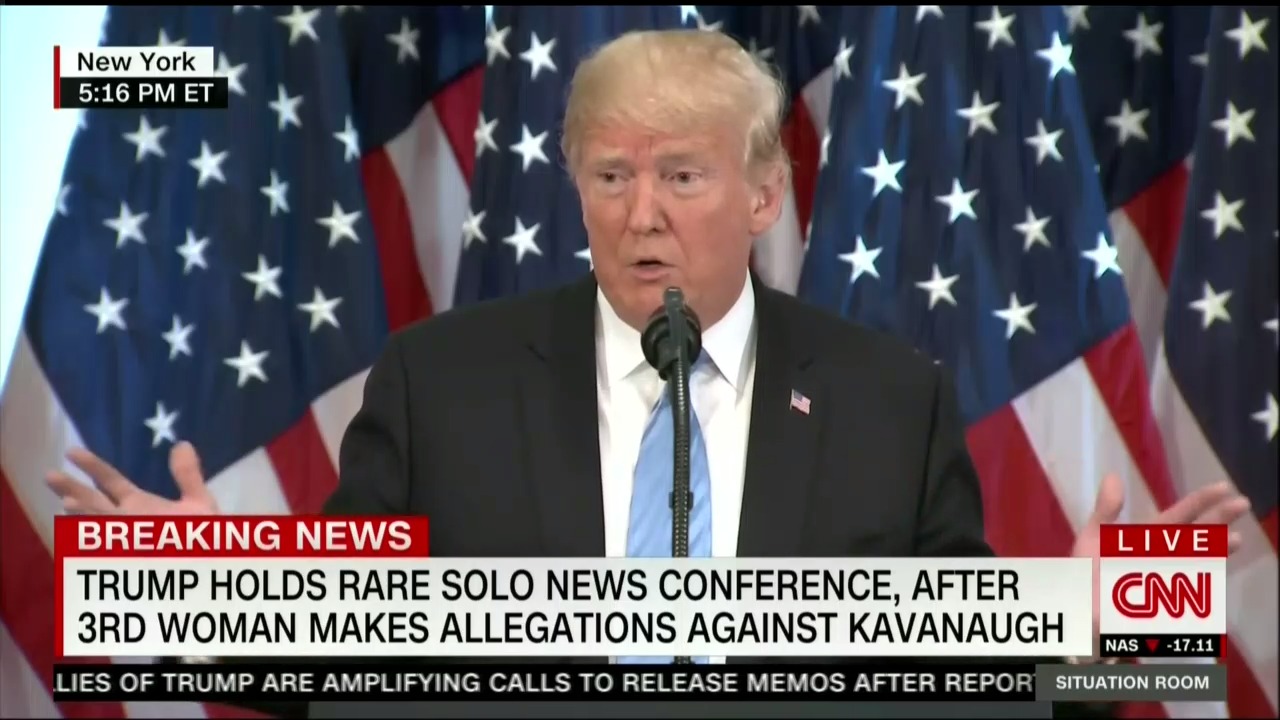 President Donald Trump signaled Tuesday that he could change his mind if he finds the women who have accused Brett Kavanaugh of sexual assault and other inappropriate behavior.
"They're giving the women a major chance to speak. Now it's possible I'll hear that and say hey I'm changing my mind. Hey, that's possible," Trump said.
He did not respond to a follow up from CNN's Jim Acosta about whether he would support the other women beyond Christine Blasey Ford getting a chance to testify on Capitol Hill.
"Whoever is given a chance...We've delayed it a long time," Trump said. "They're going to have a big shot at speaking, at making their case."
"I'm going to see what happens tomorrow. I'm going to be watching. I'm going to see what's said. It's possible they will be convincing," he said during a news conference.
"I can't tell you if they're liars until I hear them," he went on. 
Asked directly whether there is a scenario in which he withdrew Kavanaugh's nomination, Trump indicated there was.
"If I thought he was guilty of something like this, sure," he said.
4:59 p.m. ET, September 26, 2018
Trump to hold rare news conference amid Kavanaugh allegations
President Trump is about to hold a rare news conference where he'll likely be asked about the Brett Kavanaugh allegations. You can watch it live, and see key updates, right here.
4:58 p.m. ET, September 26, 2018
More than 60 of Kavanaugh's high school friends sign letter refuting latest allegations
From CNN's Allie Malloy
In under six hours today, more than 60 men women who attended Georgetown Prep with Brett Kavanaugh or went to sister schools and knew him well during his time in high school signed a letter to directly refute the allegations released earlier today by Michael Avenatti.
They write:
"We have seen reports today that Julie Swetnick, who says she graduated from Gaithersburg High School, submitted a declaration to the Committee alleging that Brett participated in horrific conduct during high school, including targeting girls for gang rape. Nonsense. We never witnessed any behavior that even approaches what is described in this allegation. It is reprehensible.
The letter continues: "Brett Kavanaugh is a good man. He has always treated women with respect and decency."
4:47 p.m. ET, September 26, 2018
Trump campaign: Kavanaugh is "the victim of a televised witch hunt"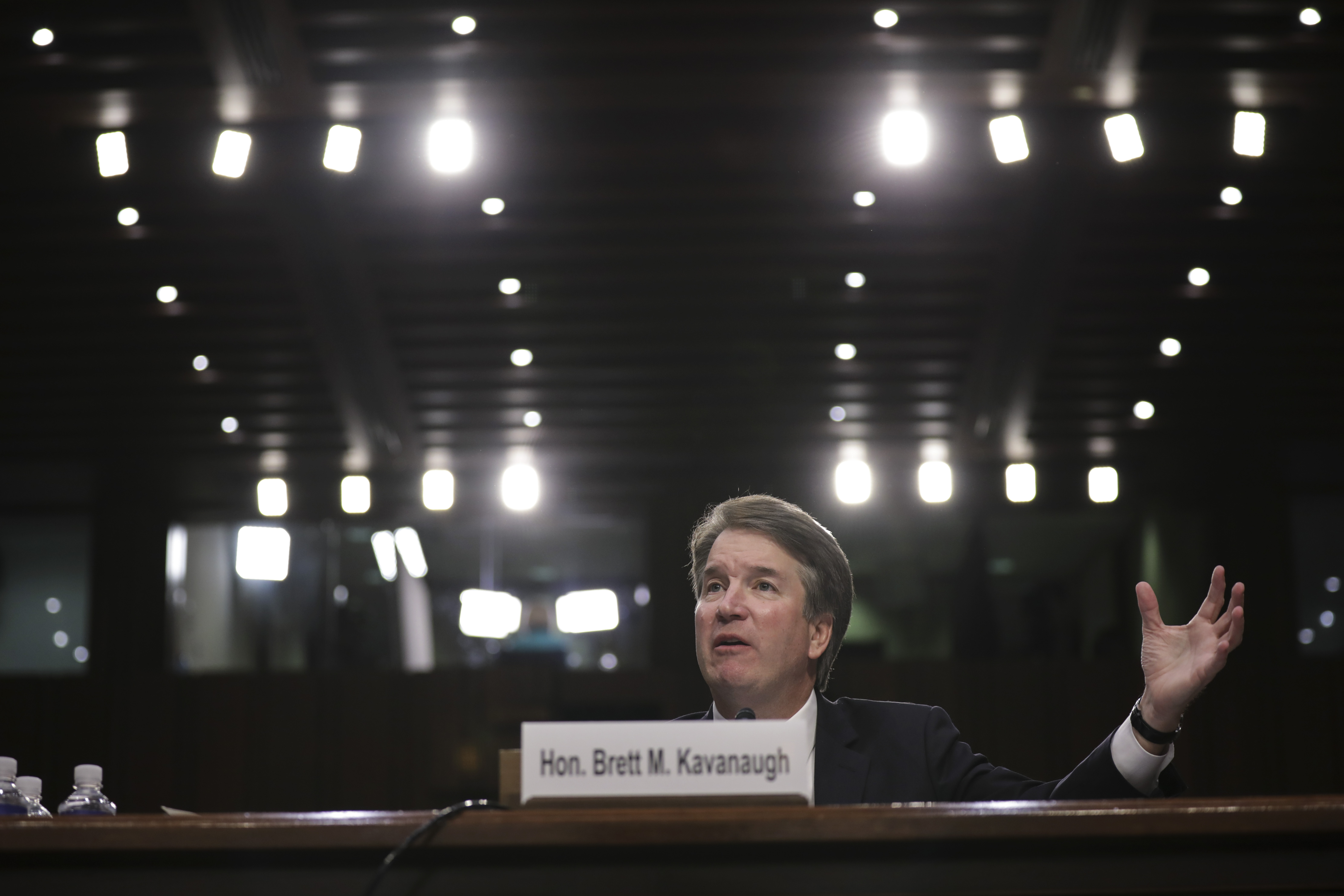 The Trump campaign just sent out an email defending the President's Supreme Court nominee Brett Kavanaugh, calling the judge "victim of a televised witch hunt."
Those who receive the email are asked to add their names to a "list of supporters who want to stand up to Senate Democrats and stop the witch hunt against Judge Kavanaugh."
Here's how the email starts:
Friend,
Judge Kavanaugh has become the victim of a televised witch hunt playing out in front of his own family.
Democrats only want to smear this man because he was nominated by President Trump.
We've heard from every liberal senator. They've even told us to "SHUT UP." Now it's time for these Senate obstructionists to hear from the American people.
4:41 p.m. ET, September 26, 2018
Senate Judiciary Republican staff asks Avenatti if Swetnick will agree to interview today
From CNN's Ariane de Vogue and Sunlen Serfaty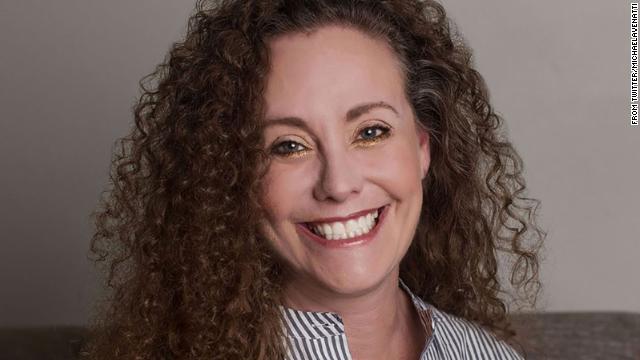 The Senate Judiciary Committee's Republican staff emailed Michael Avenatti, noting it's the 6th email to Avenatti since his Sunday tweet, a committee source tells CNN.
The judiciary staffer asks Avenatti to let him know "immediately" whether his client -— Julie Swetnick — "will agree to an interview by committee investigators today." 
The email said the interview can be done "by telephone anytime this afternoon or this evening."
4:29 p.m. ET, September 26, 2018
How the hired prosecutor is preparing for the Kavanaugh hearing
From CNN's Liz Landers and Sunlen Serfaty
A Senate Judiciary Committee source described some of the preparations that the committee is taking for tomorrow's hearing with Kavanaugh and Blasey Ford.
Rachel Mitchell, the hired prosecutor who will do the questioning on behalf of Republican senators, has been working "all day long today" with the committee's attorneys — a group of 25 people that she has at her disposal.
This source insists that Mitchell will be equally as tough on both Kavanaugh and Ford.
"She's going to question like a prosecutor does to BOTH witnesses," one aide said.
Mitchell is supposed to speak with the Republican members of the committee this afternoon.
One thing Mitchell is NOT doing? The source said that she has had no talks ahead of time with Kavanaugh's team or White House.
4:16 p.m. ET, September 26, 2018
Why the more aggressive denial from Kavanaugh? He heard Trump's criticism.
From CNN's Kaitlan Collins
Brett Kavanaugh issued a much more forceful response today after a third woman emerged to accuse him of inappropriate sexual behavior.
Through her attorney, Julie Swetnick said she attended "well over 10" parties where Kavanaugh was present and saw him "drink excessively at many of these parties and engage in abusive and physically aggressive behavior towards girls." 
It wasn't long before Kavanaugh issued a statement saying, "This is ridiculous and from the Twilight Zone. I don't know who this is and this never happened." 
It was his most aggressive response to date since allegations have threatened to derail his nomination.
A person familiar with how the statement was crafted said that was in direct response to Kavanaugh being told President Trump and other senior White House aides thought he needed to be more assertive while defending himself against these claims.