Kavanaugh fights more allegations
1:30 p.m. ET, September 24, 2018
Accuser's sister: "Deb has been tremendously brave"
Denise Ramirez, Deborah Ramirez's sister, said she is proud of her sister, who came forward with new allegations against Supreme Court nominee Brett Kavanaugh.
Ronan Farrow and Jane Mayer of The New Yorker reported Sunday that Deborah Ramirez, 53, attended Yale with Kavanaugh and said she remembers Kavanaugh exposing himself to her at a dormitory party.
"I am extremely proud of my sister. This is not easy for anyone, but Deb has been tremendously brave and her honesty is above reproach," her sister said in a statement.
Denise Ramirez refused to say more. 
12:42 p.m. ET, September 24, 2018
Kellyanne Conway defends Kavanaugh on White House surrogates phone call 
Source familiar with Kellyanne Conway's comments on call: She reiterated that one man should not have to shoulder the me too movement.
She also said this is the first time somebody has had to defend their actions as a teenager versus actions that happened during adulthood. The source familiar with the call said there was "no wobbling" from the White House on Kavanaugh.
1:33 p.m. ET, September 24, 2018
Anti-Kavanaugh protests lead to arrests at the Capitol
Protests at the US Capitol on Monday led to some arrests as demonstrators gathered to oppose embattled Supreme Court nominee Brett Kavanaugh's confirmation to the high court.
The demonstrators sought to put pressure on Sen. Susan Collins, a potential swing vote, by showing up at her Dirksen Senate office. An aide from Collins' office came out into the hallway at one point to listen to the protestors.
The protestors implored the senator to take a stand sooner rather than later, saying: "Collins needs to make a decision now when it matters and stand up for us."
Another protestor indicated that she was still holding out hope that Collins would be a "no" vote on Kavanaugh's nomination, saying, "We believe that Senator Collins can be a hero."
Capitol Hill police worked to make sure that people had room to move throughout the hallways, and later arrests began to take place outside of Collins' office to protestors occupying the hallway.
12:04 p.m. ET, September 24, 2018
Some Republicans increasingly concerned about Kavanaugh's fate, source says
With the Brett Kavanaugh story changing by the hour, there are growing concerns among some Senate Republicans on the Judiciary Committee about the fate of the Supreme Court nominee, according to a senior GOP aide.
The aide said "it can't just be about winning."
Here's exactly what the aide said:
"There are certainly concerns about the situation, Republicans recognize that they can't be glib about what's going on. It can't just be about winning because getting Judge Kavanaugh on the bench with a cloud like this would be deeply damaging to the institution, even if Republicans have serious concerns about politics and motives behind the scenes. So they'll work on the verifying as much as they can even as the landscape seems to change by the hour."
11:38 a.m. ET, September 24, 2018
GOP leadership determined to move forward with Kavanaugh's nomination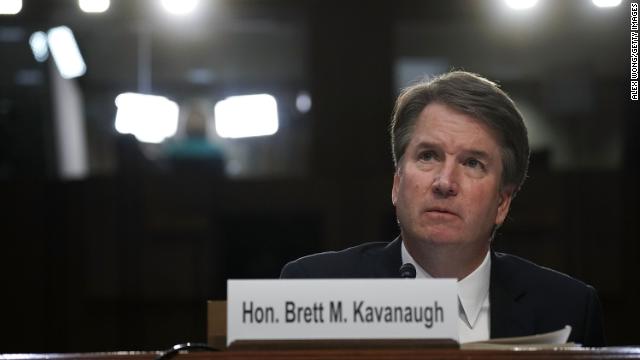 Senate GOP leadership has hardened its resolve to move forward with Brett Kavanaugh's nomination in the wake of the New Yorker reporting last night, per multiple GOP officials and aides.
While Republican aides acknowledge Christine Blasey Ford's sexual assault allegations and the looming hearing on them have left Kavanaugh's nomination in limbo, the newest allegations "have made people more angry then worried," one senior official told CNN.
The official pointed to strong statements from Sens. Tom Cotton and Lindsey Graham this morning, and said it's Senate Majority Leader Mitch McConnell will reiterate his support for the nomination this afternoon. 
Cotton, in a statement, put the blame on Democrats for the stories – and called it "character assassination."
Graham, a senior member of the Judiciary Committee, called the allegations "wholesale character assassination."
The statements echo what has become a drumbeat of public and private messages from outside conservative and grassroots groups to push forward amid the allegations. 
What to watch now: The key to everything remains the vote count — and that means leaders are closely watching Sens. Susan Collins and Lisa Murkowski, as well as Sen. Jeff Flake, a member of the Judiciary Committee, to see what their reactions will be in the wake of the latest allegation, the officials and aides said.
11:23 a.m. ET, September 24, 2018
Lindsey Graham assails "total collapse" of Supreme Court confirmation process
Republican Sen. Lindsey Graham today released a statement slamming Democrats for Judge Brett Kavanaugh's "wholesale character assassination" and the "total collapse" of the confirmation process.
Graham, a key Trump ally in the Senate and Judiciary Committee member, called for the nomination process to move forward with a hearing and a vote "soon thereafter."
See it:
When it comes to stopping President Donald Trump and his agenda, there seem to be no boundaries.
Whether it's coaching witnesses or reporting thinly-sourced stories without proper verification, everything is fair game and falls into the category of "The Ends Justify the Means."
What we are witnessing is the total collapse of the traditional confirmation process for a Supreme Court nominee. It is being replaced by a game of delay, deception, and wholesale character assassination. 
Clearly when it comes to President Trump, elections – in the eyes of Democrats – have no consequences.
In my view, the process needs to move forward with a hearing Thursday, and vote in committee soon thereafter.
11:14 a.m. ET, September 24, 2018
Dem senator calls for "impartial, federal investigation" into Kavanaugh allegations
U.S. Senator Chris Coons, a Democratic member of the Senate Judiciary Committee, released a statement after the second allegation against Judge Kavanaugh calling for a "professional, impartial, federal investigation."
See it:
These new allegations are deeply concerning and reinforce the need for the FBI to investigate claims against Judge Kavanaugh. Everyone - the accusers, Judge Kavanaugh, and the American people - would benefit from a professional, impartial, federal investigation. I agree with Ranking Member Feinstein's call for an immediate postponement of this week's hearing and investigations into these claims.