5:03 p.m. ET, September 7, 2018
Our live coverage of Judge Brett Kavanaugh's confirmation hearing has ended. Visit CNNPolitics to read more or scroll through the posts below.
4:56 p.m. ET, September 7, 2018
The Kavanaugh hearing concluded today. Here's what happens next.
From CNN's Manu Raju
This week's hearing for Supreme Court nominee Brett Kavanaugh consisted of introductions, questions from senators and testimonies from witnesses. But what happens next?
Here's a look at the next steps in Kavanaugh's confirmation process:
More questions: Senators are submitting questions for the record for Kavanaugh.
When votes are expected: A committee vote is expected the week of Sept. 17, according to Republican lawmakers and aides. The floor vote is expected to take place the last week of September. 
4:37 p.m. ET, September 7, 2018
The Kavanaugh hearing is over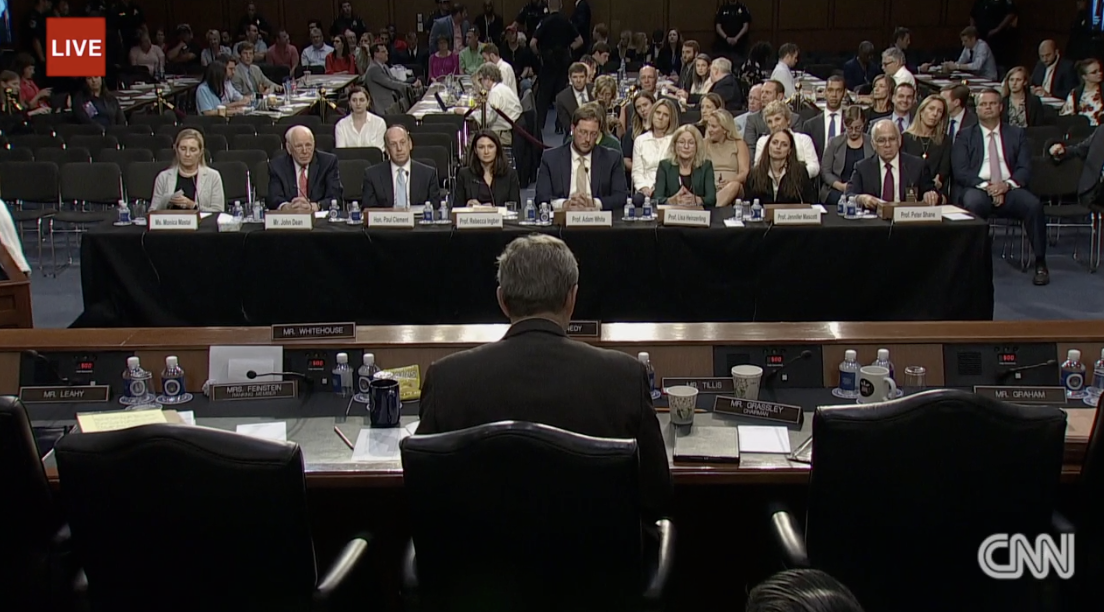 The confirmation hearing for Supreme Court nominee Brett Kavanaugh concluded Friday afternoon, following days of questions from senators and testimonies.
Republican Sen. John Kennedy, a member of the Senate Judiciary Committee, ended the hearing with some searing words to Watergate-era White House counsel John Dean.
Here's that exchange:
Kennedy: "I think you and your co-conspirators hurt my country ... I believe in second chances, but you did the right thing ultimately. But you only did it when you were cornered like a rat, and it's hard for me to take your testimony seriously, and I'm gonna give you a chance to respond, but I couldn't sleep tonight if I didn't tell you that.
Dean: "The President has also called me a rat ... and I don't think you understand."
Kennedy: "I'm not calling you a rat though in the sense of what you did with the prosecutor that's not what I mean, but I honestly feel that way, as an American you hurt our country."
Dean then explained how he tried to end "the cover-up" and offered to send Kennedy a copy of his book, which he said detailed his actions.
4:09 p.m. ET, September 7, 2018
John Dean: Kavanaugh's testimony didn't reveal if he thinks US v. Nixon was correctly decided 
From CNN's Ellie Kaufman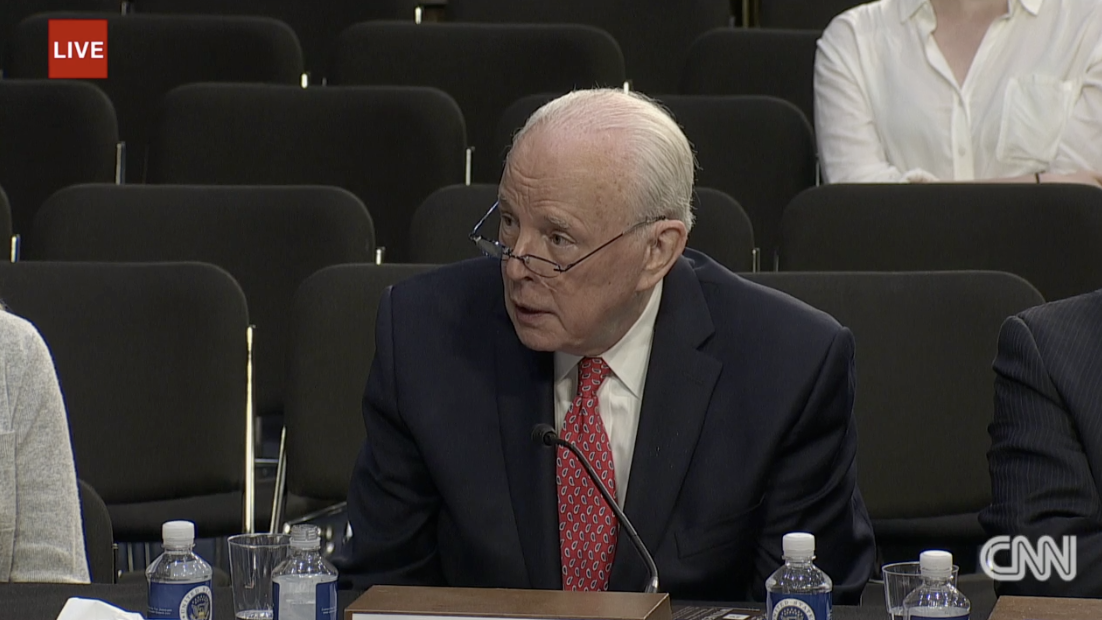 Watergate-era White House counsel John Dean said Brett Kavanaugh's testimony doesn't reveal if the judge thinks US v. Nixon was correctly decided. 
In response to Sen. Sheldon Whitehouse, a Democrat from Rhode Island, Dean noted that Kavanaugh lauded the ruling "in the context of a judge needing a backbone, he didn't say it was rightly decided, and he repeated that several times during the hearings, so I don't think he has informed this committee of his real position on that very important case."
2:56 p.m. ET, September 7, 2018
Parkland survivor and Sen. Blumenthal share emotional exchange about guns at Kavanaugh hearing
From CNN's Annie Grayer
One of the witnesses to take the stand on Day 4 of Judge Brett Kavanaugh's Supreme Court nomination hearing was Aalayah Eastmond. Eastmond is a senior at Marjory Stoneman Douglas High School in Parkland, Florida, and is a survivor of the mass shooting at the school took that the lives of 17 people.
Eastmond recounted her experience from that day, and how she hid under the dead body of a classmate to remain out of view from the shooter.
Read an emotional exchange between Eastmond and Sen. Richard Blumenthal:
Blumenthal: "If I were Judge Kavanaugh, who as you know said that assault weapons should not be banned, cannot be banned, under the Second Amendment of the Constitution, what would you say to him?"
Eastmond: "That my life along with all the other youth is more important than that gun."
Blumenthal: "And if he said to you, you know there is this legal principle that says unless there was a ban, or one analogous to it, at the time of our constitution, or traditionally in our law, what would you say about the real impact of that kind of assault weapon on your life?"
Eastmond: "Yeah, it's unimaginable. The shooter at my school shot thirty-four kids in under six minutes. And that gun ended seventeen lives on February 14th. That gun ended lives at Sandy Hook. That gun ended lives all over the country and there's mass shootings that happen almost every month, and I believe that that gun needs to be banned. Any assault rifle. And he needs to listen to us because our lives are just as important as any American's freedom to own a gun."
2:27 p.m. ET, September 7, 2018
Only 5 senators were in the room to hear Parkland shooting survivor's testimony on Kavanaugh
From CNN's Ariane de Vogue
Only five senators attended the testimony of a Parkland shooting survivor who spoke about her concerns about Brett Kavanaugh's nomination to the Supreme Court.
In her testimony, Parkland shooting survivor Aalayah Eastmond recalled details about the deadly Feb. 14 shooting at Marjory Stoneman Douglas High School in Florida.
Sens. Chuck Grassley, Sheldon Whitehouse, Cory Booker, Mike Lee and John Kennedy sat and listened to her testimony, which drew applause from those in attendance.
She also criticized Kavanaugh and his reaction to Fred Guttenberg, the father of a slain Parkland student who tried to give him a handshake earlier this week.
"As you make your final decision, think about it as if you had to justify and defend your choice to those who we lost to gun violence," Eastmond testified at Kavanaugh's confirmation hearing.
"If Kavanaugh doesn't even have the decency to shake hands with a father of a victim, he definitely won't have the decency to make life changing decisions that affect real people," she added.
Guttenberg accused Kavanaugh of ignoring him as he tried to shake his hand. Sources close to Kavanaugh pushed back saying the nominee had no idea who Guttenberg was and that security intervened to end the exchange.
Eastmond also expressed concerns about Kavanaugh's opinions on assault weapons and said too many dangerous people have access to those guns and use them to terrorize Americans.
What Kavanaugh has said: In 2011, Kavanaugh dissented from a majority opinion of the DC Circuit that upheld a ban that applied to semiautomatic rifles in the District of Columbia.
In his dissent, he wrote that the Supreme Court had previously "held that handguns -- the vast majority of which today are semiautomatic -- are constitutionally protected because they have not traditionally been banned and are in common use by law-abiding citizens."
11:45 a.m. ET, September 7, 2018
Former Nixon lawyer says Kavanaugh will drastically expand presidential power
Watergate era White House counsel John Dean warns that if Kavanaugh is confirmed, "we will have the most pro-presidential powers Supreme Court in the modern era."  
In prepared testimony, Dean says such a court is "deeply troubling" contemporaneous with a "Republican controlled Congress, which has shown no interest in oversight of a Republican president."
Warning the Supreme Court will be a "weak check, at best, on presidential powers," Dean says, "There is much to fear from an unchecked president who is inclined to abuse his presidential powers." 
He says he can attest to that "from personal experience." 
Dean tells the committee he is happy to share what he thinks would have happened if the Supreme Court had ruled in favor of Nixon.
Dean also goes through Kavanaugh's past statements and writings on whether a president can be indicted while in office, and finds, "under Judge Kavanaugh's view, even if a president shot someone in cold-blood on 5th Avenue, that president could not be prosecuted while in office. And based on Judge Kavanaugh's thinking at the time, he would give a president plenty of time to destroy the evidence."
11:27 a.m. ET, September 7, 2018
Woman who suffers from cerebral palsy: Kavanaugh will take away my rights
From CNN's Ellie Kaufman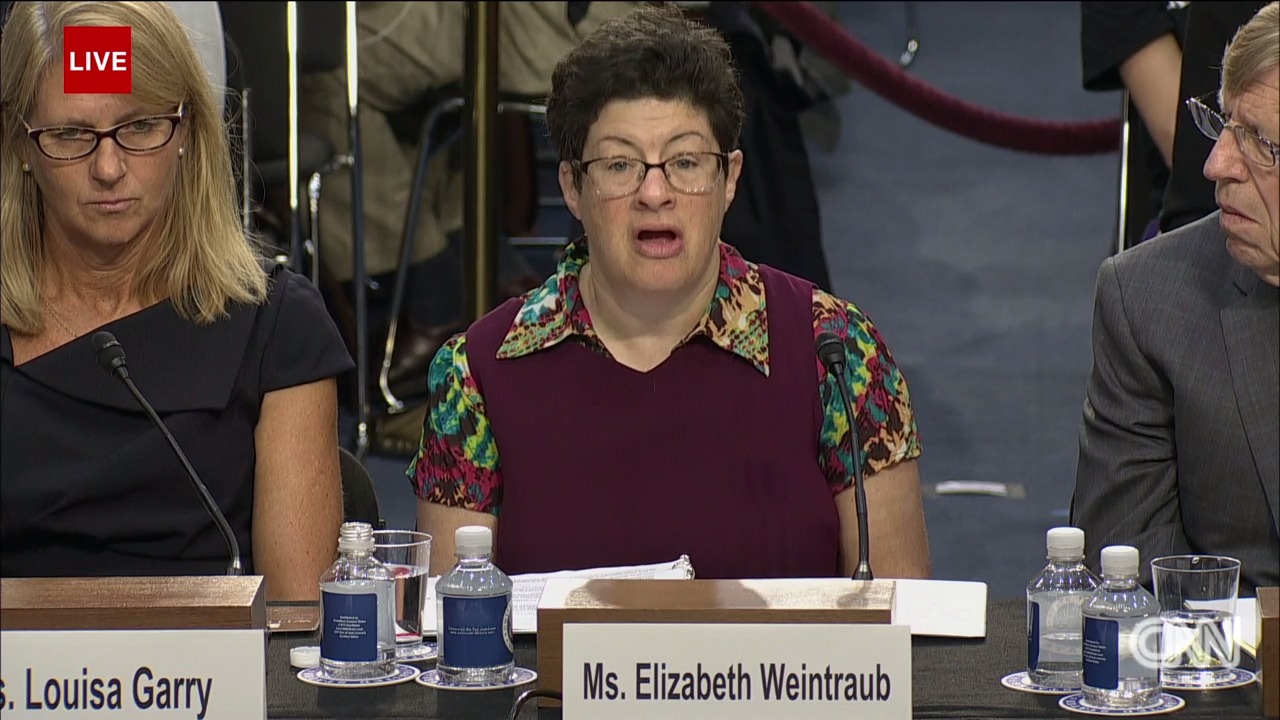 This morning so far Elizabeth Weintraub who suffers from cerebral palsy testified that she worries if Brett Kavanaugh is confirmed, he will turn the clock back and take away the rights of people with intellectual disabilities to make decisions for themselves.  
She criticized Kavanaugh's decision in a case concerning whether DC's disability services officials needed to determine the wishes of the parent/guardian before authorizing elective medical procedures:
Judge Kavanaugh's nomination matters to me.
When I read the decision in the Doe vs DC case, it made me very upset, because Judge Kavanaugh's decision completely disrespected people's rights and their freedom of choice because of their disability.
This is wrong.
All adults deserve to be treated like grown-ups and have the power to make decisions about their lives, especially when it is about their own bodies. 
11:25 a.m. ET, September 7, 2018
Woman who represented undocumented teen who sought access to an abortion says Kavanaugh dissent caused her "pain"
From CNN's Ellie Kaufman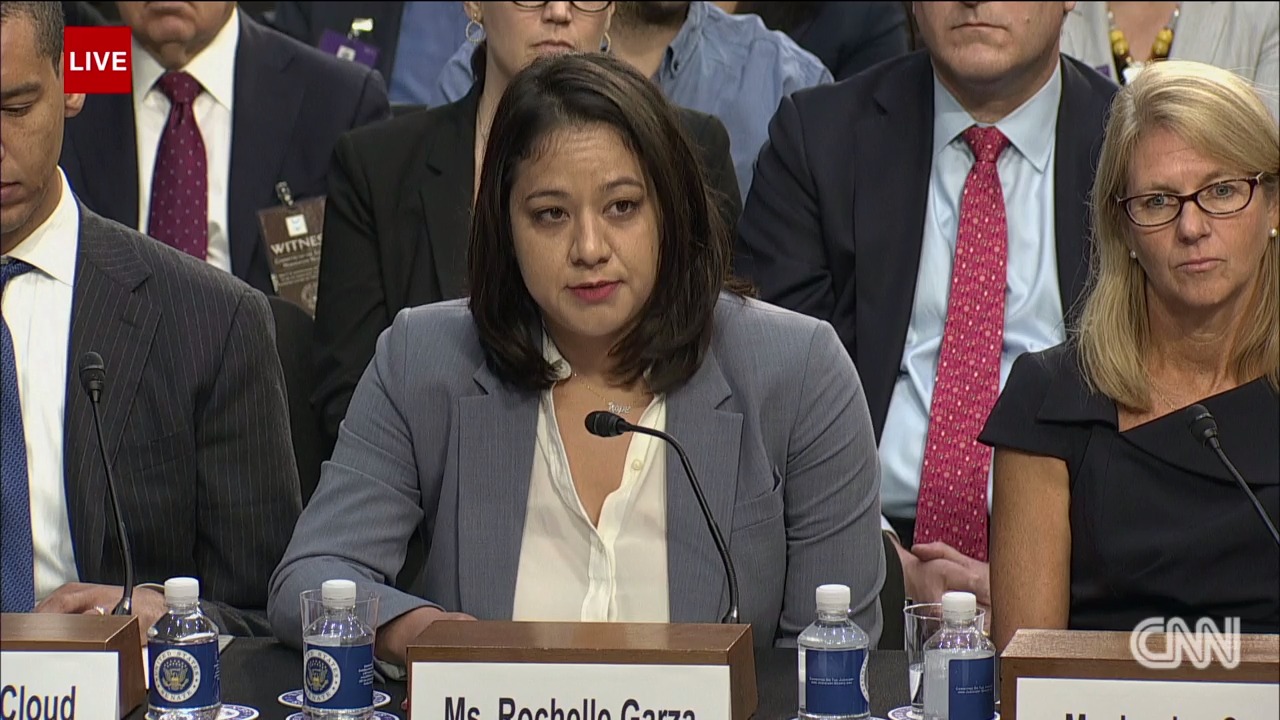 Rochelle Garza, the legal guardian of an undocumented teen who sought access to an abortion last fall while she was in US custody, testified today. 
The teen ultimately prevailed before the DC Circuit but Kavanaugh, a judge on that court, dissented from the opinion.
Garza spoke today of "the pain" that Kavanaugh's decision caused the young woman. She said Kavanaugh's decision could have led to a process that "could have taken weeks, and might have forced her to carry the pregnancy to term against her will, particularly because Texas bans abortion at 20 weeks and Jane was already 15 weeks pregnant."