11:43 a.m. ET, September 6, 2018
Mazie Hirono releases Kavanaugh email on native Hawaiians 
Brett Kavanaugh wrote that government programs targeting Native Hawaiians "as a group" is "of questionable validity under the Constitution" and would be "subject to strict scrutiny" in an email sent during his time in the Bush White House.
Kavanaugh was responding to upcoming testimony from a Treasury Department official regarding investment in "Indian Country."
"I think the testimony needs to make clear that any program targeting Native Hawaiians as a group is subject to strict scrutiny and of questionable validity under the Constitution," Kavanaugh wrote in 2002.
Why this matters: The email, marked committee confidential, was released Thursday morning by the office of Hawaii Sen. Mazie Hirono, in a protest that may have flouted Senate rules.
Kavanaugh has publicly questioned the indigenous status of Native Hawaiians in the past, including in an op-ed and an amicus brief, and he was pressed on the issue by Hirono in Wednesday's hearing.
11:35 a.m. ET, September 6, 2018
Kavanaugh says he hasn't had inappropriate conversations about the Mueller investigation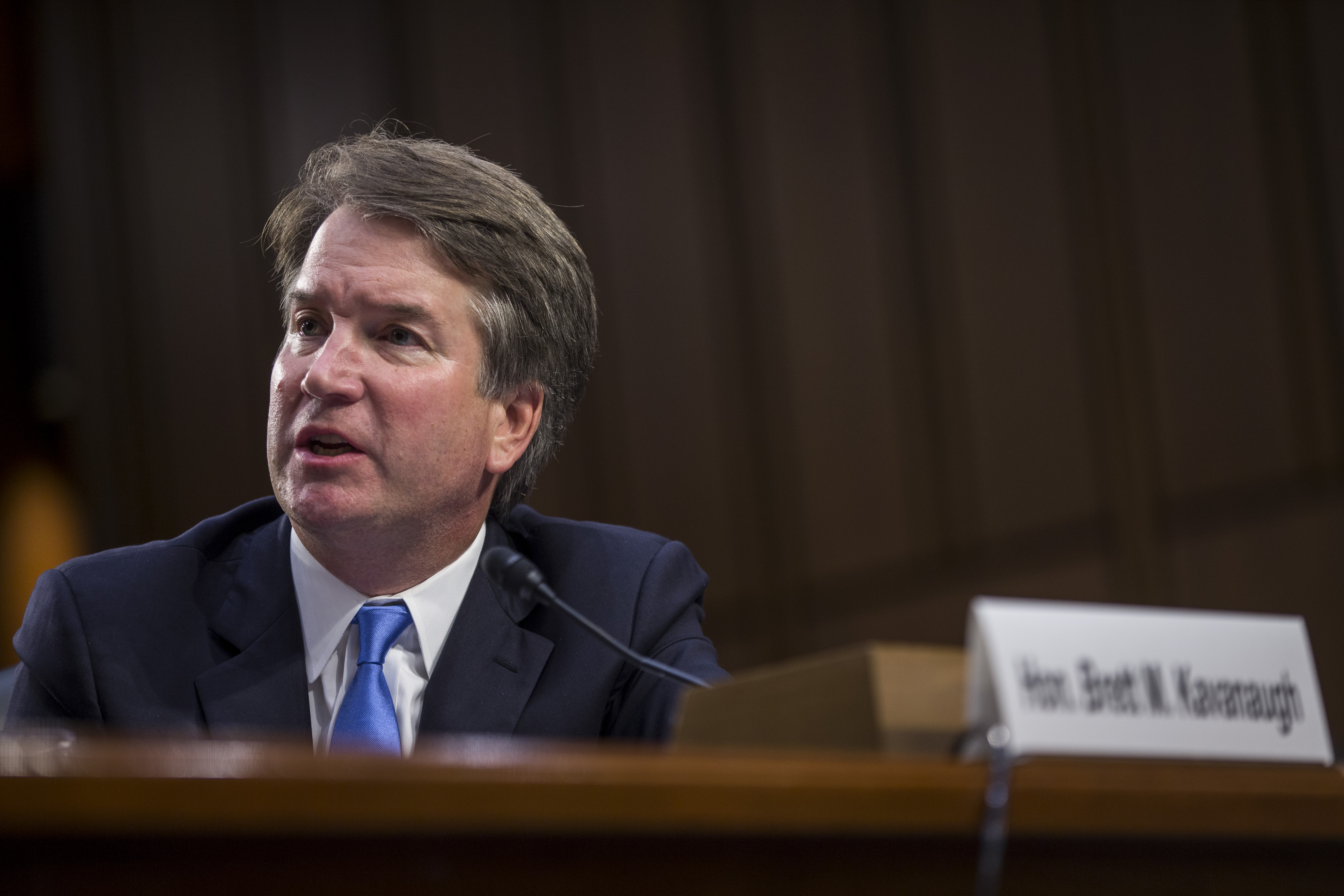 An exchange between California Democratic Sen. Kamala Harris and Judge Brett Kavanaugh on Wednesday night raised questions about conversations he may or may not have had about the special counsel's investigation into Russian interference in the 2016 election.
Kavanaugh denies having had any "inappropriate" conversations about special counsel Robert Mueller's investigation "with anyone." He said that he doesn't "recall any conversations of that kind with anyone at that law firm," referring to Kasowitz Benson Torres, the firm founded by President Trump's personal attorney Marc Kasowitz.
Sen. Kamala Harris spoke to CNN about last night's exchange with Kavanaugh.
"I have a good reason to believe there was a conversation," Harris told CNN.
When asked what she is basing it off of, Harris replied: "Information that I've received that's pretty reliable and I asked him a clear question and he couldn't give a clear answer."
She wouldn't say who the person was — if it was Kasowitz himself or Rudy Giuliani. Or provide more details.
She also didn't confirm that she'd bring it up again.
11:09 a.m. ET, September 6, 2018
Kavanaugh downplays 2003 Roe v. Wade email
Judge Brett Kavanaugh downplayed the newly released email showing him commenting on Roe v. Wade while working in the White House.
What he said: Kavanaugh said he was simply questioning the accuracy of a colleague's interpretation of the scholarly opinion around the case.
"The broader point was simply that I think it was overstating something about legal scholars and I'm always concerned with accuracy and I thought that was not quite an accurate description of all legal scholars because it referred to all," Kavanaugh said.
He went on to call Roe v. Wade "an important precedent" that has "been reaffirmed many times."
11:09 a.m. ET, September 6, 2018
Here are the Booker documents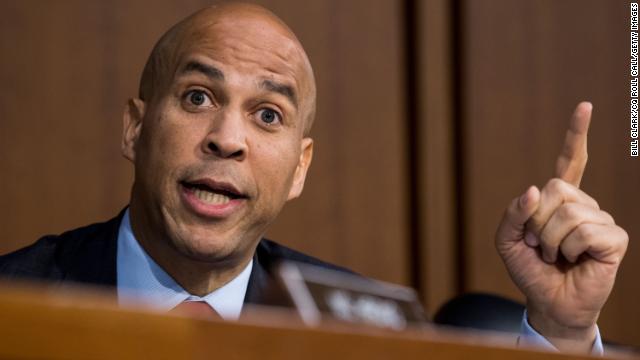 Sen. Cory Booker's office just sent out an email linking to 12 pages of the documents that were previously marked "committee confidential."
"As I've been saying from the beginning, this process has been a sham," Senator Booker said in a statement.
He added:
"The fact that tens of thousands of documents revealing a Supreme Court nominee's views on key issues were deemed Committee Confidential and not available to the public reflects the absurdity of this process. The public has a right to access documents about a Supreme Court nominee's views on issues that are profoundly important, such as race and the law. This process has demonstrated an unprecedented level of secrecy and opaqueness that undermines the Senate's Constitutional duty to advice and consent."
10:56 a.m. ET, September 6, 2018
Coons expects Kavanaugh hearing to go late tonight for 3rd round of questions
Programming note: Sen. Chris Coons, D-Delaware, said the Senate Judiciary Committee is expecting to go late into tonight -- 10 or 11 p.m. ET. Coons says he and other democrats have prepped for a third round of questions, saying that Committee Chairman Chuck Grassley told them if they asked for a third round, he'd allow it.
3:18 p.m. ET, September 6, 2018
Booker: "This is about the closest I'll probably ever have in my life of to an I am Spartacus moment"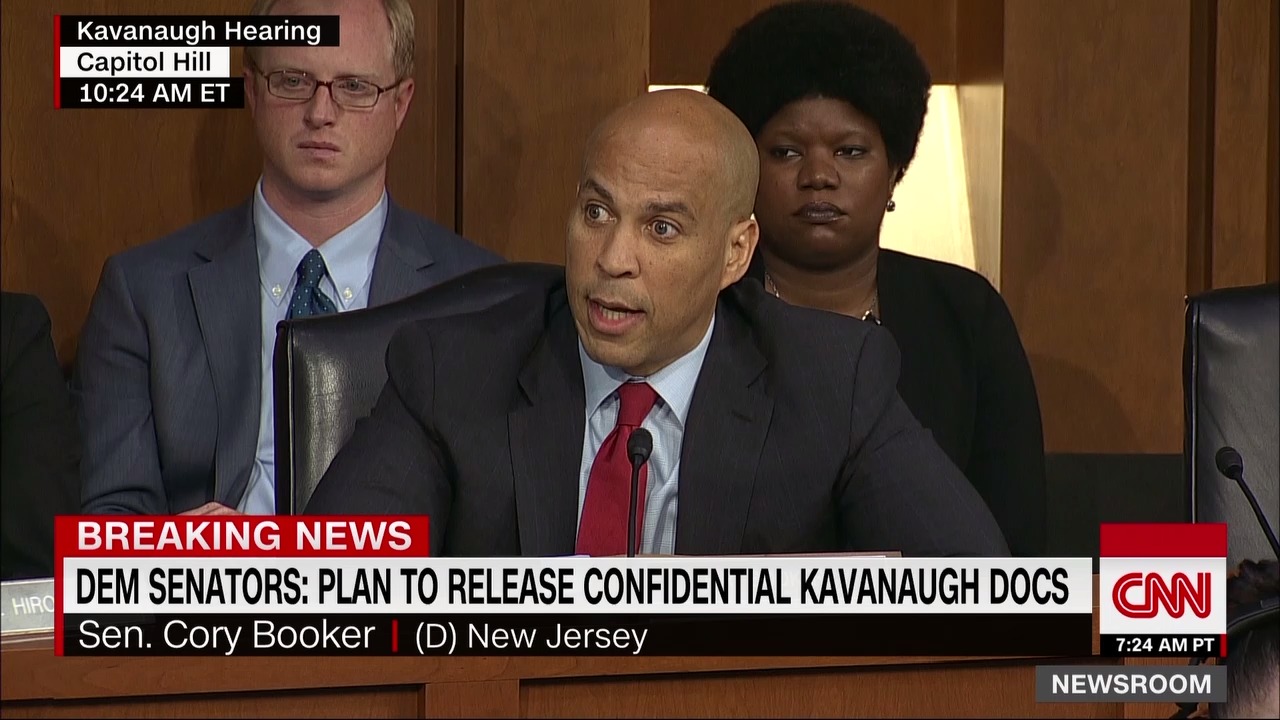 The second day of questioning in Supreme Court nominee Brett Kavanaugh's confirmation hearing began with another bitter controversy over the GOP's handling of the process and the behavior of Democrats seeking to slow his confirmation.
New Jersey Democratic Sen. Cory Booker complained that the late production of documents by the White House about Kavanaugh's work as a White House operative under George W. Bush and the failure by the committee to make some material public had exposed "this process as a bit of a sham."
In a striking political gambit, Booker said he was willing to break Senate rules and resort to civil disobedience by releasing a document that is only available to the committee about racial profiling.
"I understand the penalty comes with potential ousting from the Senate ... I openly invite and accept the consequences of my team releasing that email right now," Booker said.
"This is about the closest I'll probably ever have in my life to an 'I am Spartacus' moment," he added later.
Judiciary Chairman Chuck Grassley, R-Iowa, objected to Booker's use of the word sham.
"Can I ask you how long you are going to say the same thing three or four times?" he asked Booker.
Texas Sen. John Cornyn said that if Booker went ahead he would commit and offense that would be tantamount to releasing classified information.
"Running for president is not an excuse for violating the rules of the Senate," Cornyn told Booker, a potential Democratic candidate in 2020.
Read more here.
10:22 a.m. ET, September 6, 2018
Kavanaugh disputed whether Roe v Wade was settled law in 2003 email obtained by CNN
Brett Kavanaugh disputed whether Roe v. Wade, the Supreme Court case that widely legalized abortion across the US, was "settled law of the land" in 2003 when he was serving in the Bush White House, according to an email obtained by CNN. 
"I am not sure that all legal scholars refer to Roe as the settled law of the land at the Supreme Court level since Court can always overrule its precedent, and three current Justices on the Court would do so. The point there is in the inferior court point," Kavanaugh wrote, responding to a draft op-ed that was circulated for edits between lawmakers and White House staff.
What the draft said: The draft, meant to be submitted under the name of "high-profile, pro-choice" women in support of a Bush judicial nominee, had said that "it is widely understood accepted by legal scholars across the board that Roe v. Wade and its progeny are the settled law of the land."
The document was first reported by the New York Times.
Meanwhile, senators are once again returning to why certain documents have been designated committee confidential …
Sen. Richard Blumenthal called it "an arbitrary and capricious designation."
And Blumenthal says, "eventually they will come out" because he thinks that the archives won't ultimately agree with the designation.
10:19 a.m. ET, September 6, 2018
Booker says he is releasing confidential document and is ready to face the consequences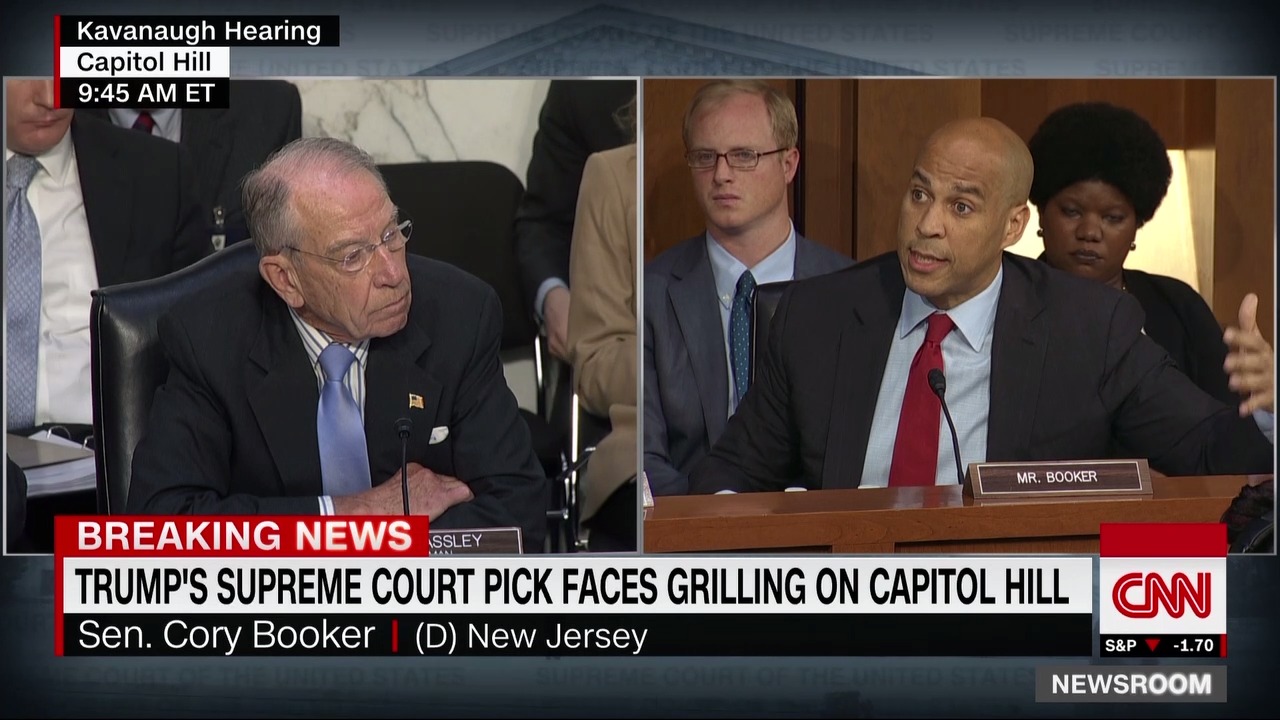 Democratic Sen. Cory Booker said today he is "knowingly violating the rules" and will release a document labeled "committee confidential" on racial profiling, one that he asked Judge Brett Kavanaugh about last night.  
"I knowingly violated the rules that were put forth. I'm told the committee confidential rules have knowing consequences. So, sir, I come from a long line as all of us do as Americans of understanding what that kind of civil disobedience is and I understand the consequences."
Booker says he can be ousted for it. "I am before your process is finished, I am going to release the e-mail about racial profiling," he said. "I understand the penalty comes with potential ousting from the Senate."
Why does this matter? Democrats are angry about the process of keeping some documents committee confidential.  
Watch the moment:
9:52 a.m. ET, September 6, 2018
Times obtains leaked Kavanaugh emails on Roe v. Wade, other topics
At the center of Democrats' unhappiness with how the Kavanaugh hearings have been conducted are documents that were deemed "committee confidential," meaning Senators aren't allowed to ask Judge Brett Kavanaugh questions that specifically reference them.
Many deal with Kavanaugh's time in the Bush White House. As of last night, they remained private, even as Sen. Cory Booker called the process "rigged" and Sen. Kamala Harris offered thinly veiled questions about one email in particular.
This morning, the New York Times published a story detailing emails from Kavanaugh that addressed hot-button issues such as Roe v. Wade, affirmative action, and the Bush administration's warrantless surveillance program.
In one email obtained by the Times, Kavanaugh challenged the accuracy of deeming the Supreme Court's landmark Roe v. Wade abortion rights decision to be "settled law of the land," the paper reported.
Their publication will likely give Democratic senators the ability to ask Kavanaugh specific questions about their contents. They will likely argue that since they are now public, they can no longer be deemed confidential.