4:17 p.m. ET, September 5, 2018
Why Kavanaugh highlighted the 9-0 Brown v. Board of Education decision
Judge Brett Kavanaugh didn't wait for anyone to ask him whether he thought a landmark civil rights opinion was correctly decided, "Brown versus Board," the Supreme Court nominee said Wednesday, is "the single greatest moment in Supreme Court history in so many ways."
GOP Sen. John Cornyn had been on a different path asking about precedent when Kavanaugh jumped in to speak about the 1954 opinion that held that state laws requiring separate but equal schools violated the Constitution.
Kavanaugh explained why he is so inspired by the opinion: "The fact that it lived up to the text of the equal protection clause, the fact that it understood the real-world consequences of the segregation on the African American students who were segregated into other schools and stamped with a badge of inferiority. That moment in Brown versus Board of Education is so critical to remember, and the opinion is so inspirational," he said.
Kavanaugh praised the Brown decision, an 9-0 ruling, several times during the hearing. His answer, however, has been in contrast to some of President Donald Trump's other judicial nominees. We mentioned Wendy Vitter earlier, whose comments triggered outrage by many, though others agree and say that nominees should not offer up their personal thoughts on decided cases.
Kavanaugh has sought to draw a line: He's unwilling to speak about more recent decisions like 1973's Roe v. Wade but he said he is willing to make an "exception" for some older cases like Brown.
It's a distinction that some Democrats don't like.
They want to hear his opinions on Roe v. Wade, because they fear that he may be the critical fifth vote to overturn it. But so far, in this hearing Kavanaugh has not tipped his hand. He's only spoken broadly. He said that it is important precedent that was reaffirmed in a case called Planned Parenthood v. Casey.
"I understand the importance of the issue," Kavanaugh told Sen. Dianne Feinstein. " I understand the importance that people attach to the Roe v. Wade decision, to the Planned Parenthood v. Casey decision. I don't live in a bubble. I understand. I live in the real world. I understand the importance of the issue."
3:18 p.m. ET, September 5, 2018
Kavanaugh says WH counsel spoke to him two days after Kennedy retired
Sen. Sheldon Whitehouse focused on the role of the federalist society in the judicial selection process, asking Judge Brett Kavanaugh to discuss when he spoke with White House Counsel Don McGahn about the current nomination.
"When Justice Kennedy retired on the Wednesday, Mr. McGahn called me later that afternoon said we need to talk on Friday," Kavanaugh explained. "He came over to my office on Friday evening or late afternoon, we talked for three or four hours, uh, interview and going through the usual kinds of questions you would go through when you're embarking on a process like this, and then I met with, interviewed with, the President on Monday morning," he said.
Note: Kavanaugh was not on the first list of potential Supreme Court nominees released by the President. His name was added to one issued by the White House in Nov 2017.  
2:47 p.m. ET, September 5, 2018
Trump: Woodward's book released to "interfere" with Kavanaugh hearing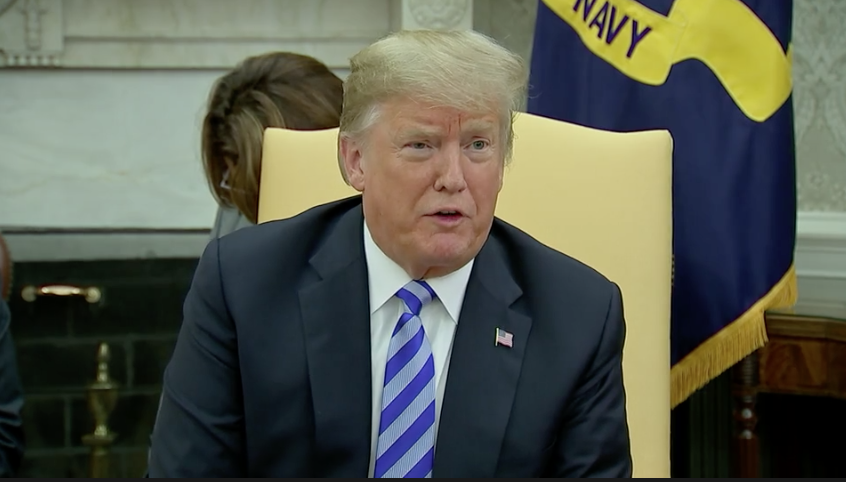 President Donald Trump on Wednesday accused veteran journalist Bob Woodward of timing his book release to coincide with the hearings for Supreme Court nominee Brett Kavanaugh and once again slammed it as "a work of fiction."
"It was put out to interfere in my opinion with the Kavanaugh hearings," Trump said in the Oval Office alongside the Emir of Kuwait.
Some background: Woodward's new 448-page book, "Fear: Trump in the White House," provides an unprecedented inside-the-room look through the eyes of the President's inner circle. From the Oval Office to the Situation Room to the White House residence, Woodward uses confidential background interviews to illustrate how some of the President's top advisers view him as a danger to national security and have sought to circumvent the commander in chief.
It describes how Trump's closest aides have taken extraordinary measures in the White House to try to stop what they saw as his most dangerous impulses, going so far as to swipe and hide papers from his desk so he wouldn't sign them.
Trump called the allegation that officials removed paperwork from his desk to prevent him from signing it "false" and "made up."
2:34 p.m. ET, September 5, 2018
Trump: Kavanaugh has been "totally brilliant" and Democrats are "grasping at straws"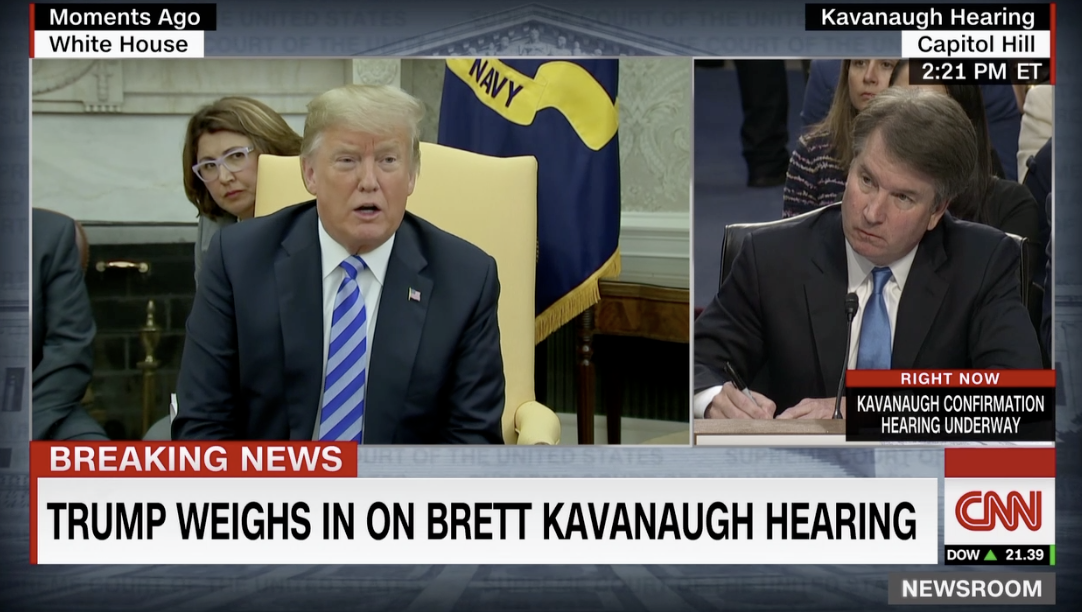 President Trump sharply criticized Democrats participating in Judge Brett Kavanaugh's confirmation hearings, and said they were "grasping at straws," while praising the performance of his second Supreme Court nominee.
"I think that the other side is grasping at straws. And, really, the other side should embrace him because you're never going to find better in terms of talent or intellect than what you have in Brett Kavanaugh," he said.
Trump said he has been watching the hearings and has been impressed by Kavanaugh's remarks.
"I watched today for a little while. I saw some incredible answers to very complex questions. He is an outstanding intellect. He's an outstanding judge. He was born for the position. I heard as long as ten years ago people were saying he should be a supreme court judge. I didn't know him at the time. But I was hearing from a lot of people, friends of mine from Washington and other places saying that Brett Kavanaugh should be a Supreme Court judge some day. And I'm honored that I gave him the chance. I've watched his remarks. I've watched his performance. I've watched his statements and, honestly, they've been totally brilliant."
Watch:
2:16 p.m. ET, September 5, 2018
Kavanaugh brings up Brown v. Board of Education decision
Without being asked, Judge Brett Kavanaugh again brought up the seminal Brown v. Board of Education decision. "That moment is so critical to remember, the opinion is so inspirational," he said, citing the unanimity as one particularly great aspect.
He has repeatedly talked today about how it is one of the greatest moments in Supreme Court history. Brown v. Board held that state laws requiring separate but equal schools violated the Constitution.
Some other Trump judicial nominees, however, have refused to discuss whether Brown was correctly decided. In April, for instance, Wendy Vitter wouldn't touch the question at her confirmation hearing to become a federal judge in Louisiana.  
"I don't mean to be coy," Vitter said, "but I think I can get into a difficult, difficult area when I start commenting on Supreme Court decisions -- which are correctly decided and which I may disagree with." Vitter emphasized that, if confirmed, she'd set aside "personal, religious or political views" and she would be bound by Supreme Court precedent.
1:57 p.m. ET, September 5, 2018
Manchin: "I haven't seen anything" disqualifying in Kavanaugh's record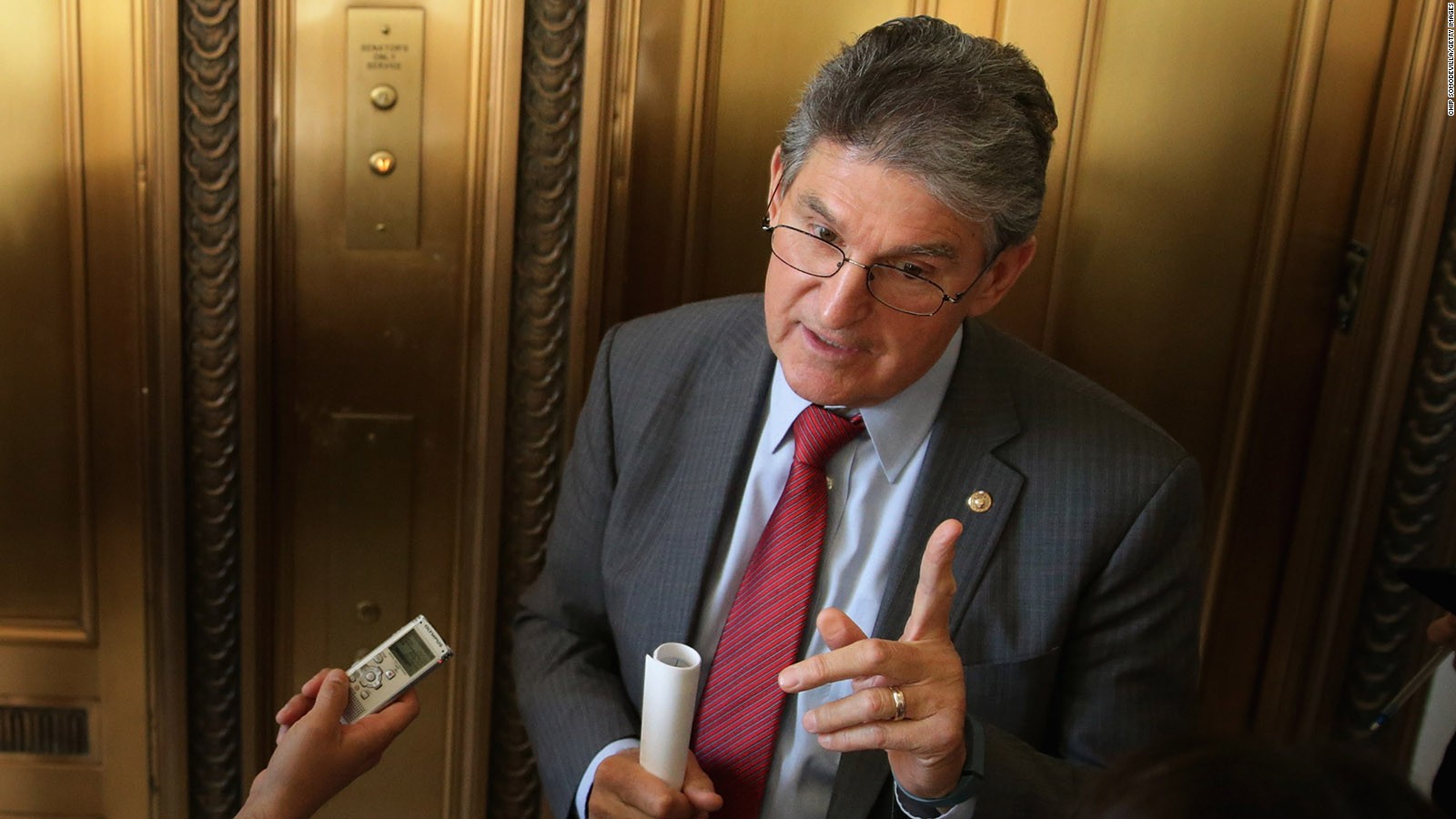 Sen. Joe Manchin, a key swing vote, told CNN that he has seen nothing disqualifying so far in Brett Kavanaugh's testimony -- and he sharply criticized both sides' handling of the nomination process.
"No, I haven't seen anything from that standpoint," Manchin said when asked if he's seen anything disqualifying yet. "He's handled himself very professionally ... His dialogue is more specific in his approach to being a jurist."
He said he would reserve judgment until after the hearings.
Manchin, a West Virginia Democrat up for reelection this year, sharply criticized both parties when asked about Democrats' aggressive posture at the start of yesterday's hearings.
"Both sides have been deplorable in how they've handled themselves," Manchin said. "That's what makes people sick."
"The whole approach to how we're operating today is nothing like we've seen .. No one can say this is normal, this is civil or exemplifying for our kids," Manchin said, citing the lack of action on Merrick Garland as well.
Manchin added: "Anybody who announces how they're going to vote before a president makes their appointment, there's no commonsense or reasoning in that whatsoever."
1:57 p.m. ET, September 5, 2018
At least 36 protesters arrested at today's Kavanaugh hearing, group claims
The Women's March claimed at least 36 protesters were arrested at today's confirmation hearing and a sit-in at Ohio Sen. Rob Portman's office.
Winnie Wong, senior advisor to the Women's March, spoke to CNN and explained some of the strategy and activism around the Kavanaugh protests.
"This is well-organized and scripted. This isn't chaos," Wong said outside the hearing rooms. "It's exercising your constitutional rights."
The Women's March has partnered with the Center for Popular Democracy (CPD) this week to provide support to its members who want to participate in the democratic process, though Wong also advised there are approximately 20 groups present here in DC — and emphasized that the groups are getting along and coordinating and supporting one another. Case in point: N.A.R.A.L. president Ilyse Hough walked by during the conversation and air-kissed Wong's cheek before singing her praises.
The group has been organizing around these Supreme Court hearings for about a month, she estimated.
Wong said that the Women's March has 300 people committed to "actions" during the week — and that most of their members knowingly signed up for action that could get them arrested. The Women's March group drew from their 1.5 million member email list to spread the word, drawing a variety of women from around the country who Wong says have traveled to participate.
What happened yesterday: Wong was arrested Tuesday along with Women's March co-founders Linda Sarsour and Bob Bland. She recounted what she yelled from the back of the room: "I said for any senator who votes yes on the confirmation of Judge Kavanaugh there will be a political price to pay. That to me is an explicit demand and a promise."
Capitol Police said they had made 70 arrests on Tuesday on the Senate side of Capitol Hill by the end of the first day of hearings.
Police said in a statement that they had "responded to numerous incidents of unlawful demonstration activities within the Senate Office Buildings today that were associated with the first day of hearings held by the Senate Judiciary Committee."
1:30 p.m. ET, September 5, 2018
Schumer tries but fails to invoke rule that would put time limits on Kavanaugh hearing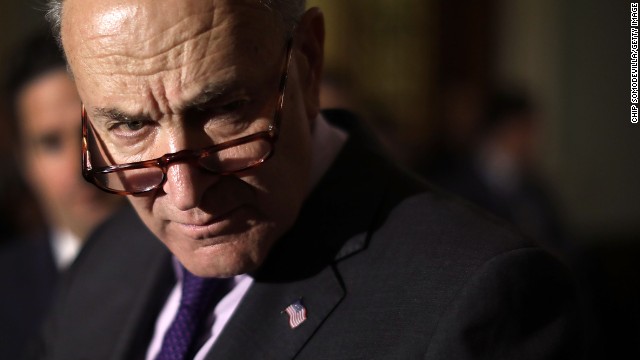 Senate Minority Leader Chuck Schumer, a Democrat from New York, tried to invoke the two-hour rule, which requires unanimous consent for committees to meet for more than two hours after the Senate comes into session -- or past 2 p.m. ET -- in order to block action in the Judiciary Committee. 
Senate Majority Leader Mitch McConnell, a Republican from Kentucky, countered by taking the Senate immediately out of session, which nullifies the need for consent for the Committee to meet. 
The Kavanaugh hearing went on uninterrupted.
1:24 p.m. ET, September 5, 2018
Graham gave Kavanaugh an opportunity to address Parkland dad, but he chose not to
Judge Brett Kavanaugh did not address the confusion around a missed handshake Tuesday with the father of a slain Parkland student, when given the opportunity by Sen. Lindsey Graham to do so.
Asked what he'd like to say to Fred Guttenberg, the Parkland father, and the "many other people here with personal situations," Kavanaugh spoke generally, saying "I've not lived in a bubble. And I understand how passionately people feel about particular issues. And I understand how personally people are affected by issues."
Here's the exchange:
Graham:
"I want to give you a chance to say some things to the people that have attended this hearing. I think there is a father of a Parkland student who was killed. I think there is a mother of a child who has got terrible healthcare problems. And there are many other people here with personal situations. What would you like to say to them, if anything, about your job as a Supreme Court Justice?"
Kavanaugh:
"Senator, I understand the real-world effects of our decisions. In my job as a judge for the last 12 years, I've gone out of my way in my opinions and at oral arguments, if you listen to oral arguments, to make clear to everyone before me that I understand the situation, the circumstances, the facts. For example, as I was saying to Senator Feinstein earlier, in the Heller II case about the facts in DC and I want to reassure everyone that I base my decisions on the law, but I do so with an awareness of the facts and an awareness of the real-world consequences. And I've not lived in a bubble. And I understand how passionately people feel about particular issues. And I understand how personally people are affected by issues. And I understand the difficulties that people have in America. I understand for example, well, to start, I understand the situation of homeless people because I see them on a regular basis when I'm serving meals."