10:58 a.m. ET, September 4, 2018
Kavanaugh's daughters just left the hearing
Judge Brett Kavanaugh's two daughters just left the hearing. 
A source close to Kavanaugh tells CNN "that was always the plan, they'd stay for an hour and go back for intros" later in the day.
12:02 p.m. ET, September 4, 2018
Democrats held discussions over the weekend to plan for this morning's protests
There were ongoing discussions throughout the holiday weekend, including a call, led by Senate Minority Leader Chuck Schumer, where leadership and Senate Judiciary Committee Democrats agreed to do this at the beginning of the hearing, per a person familiar.
Their goal: Democrats want to slow the process and protest the document issue. Efforts will ebb and flow throughout the day. They were given new ammunition with the 42,000 documents sent to the Hill last night. 
During the hearing, Republican Senator Thom Tillis called out Democrats during the hearing, and Sen. Dick Durbin (D-IL) confirmed the call.
10:47 a.m. ET, September 4, 2018
CNN legal analyst: "I've never seen such a disruption"
CNN legal analyst Joan Biskupic, who has covered the Supreme Court for 25 years and is the author of several books on the judiciary, tells us she's "never seen such a disruption" at a hearing such as today's.
Here's her quick take on what we're witnessing:
Stunning. I've never seen such a disruption. The question is whether Democrats can keep up the momentum or if this will simply derail for an hour or so. I believe Democrats have a real complaint: Kavanaugh's staff secretary years during the George W. Bush administration were crucial. Judiciary Chairman Chuck Grassley keeps talking about quantity, but quantity isn't relevant if so many of the docs are redacted and partial conversations. Nothing we've seen so far adds to the picture of this nominee. Grassley also keeps comparing apples and oranges. He just raised the issue of John Roberts' documents from his time as solicitor general. But this is about White House counsel work, and Roberts' materials from that tenure was turned over.
12:01 p.m. ET, September 4, 2018
Analysis: Liberal groups had feared Democrats wouldn't come out swinging
It's fair to say leading into this hearing, liberal groups feared that the Senate Democrats weren't going to go hard enough on this. They have felt let down by Dems failing to block or challenge enough of Trump's lower court judge nominees. Senate Minority Leader Chuck Schumer's folks stepped in to the relief of some of the groups and played a bigger role than they thought he would.
10:20 a.m. ET, September 4, 2018
Grassley threatens hearing will continue through the weekend
Don't make any weekend plans yet -- Sen. Chuck Grassley just threatened his colleagues that the hearing could extend through Saturday and Sunday.
"I have found that it takes longer to argue why you shouldn't do anything then let people argue why they wanted," he told Democratic colleagues who were raising concerns about the late-night document dump and asking for an adjournment.
"These things are going to be said throughout this hearing. We are going to be in session Tuesday, Wednesday, Thursday, Friday, Saturday, Sunday till we get done this week, so however long people want to take we're going to not necessarily accommodate all obstruction, but if people got something to say, this chairman is gonna let them say it, but it it gets pretty boring to hear the same thing all the time."
10:13 a.m. ET, September 4, 2018
Feinstein: "Give us the time to do our work"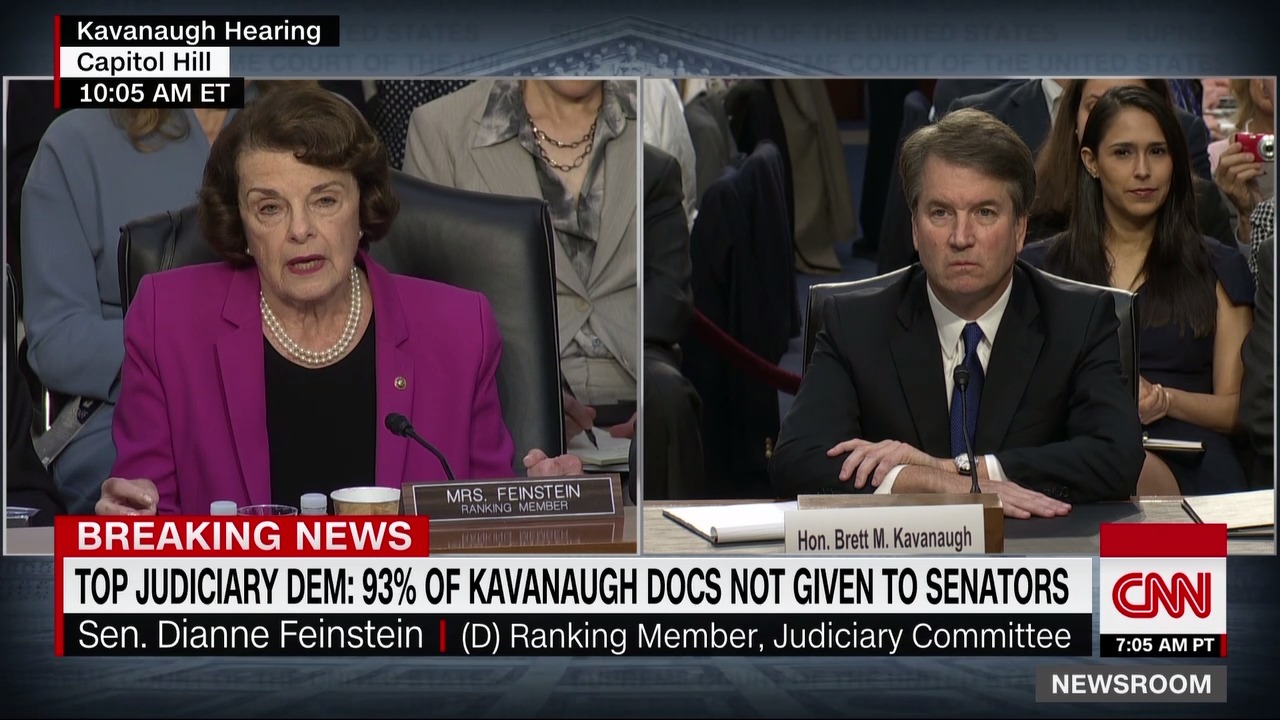 Sen. Dianne Feinstein, in her opening statement, appealed to Republicans to give Democrats more time to review the recently released documents before continuing with today's hearing.
"I really regret this, but I think you have to understand the frustration on this side of the aisle," Feinstein said.
"Every one on this side of the aisle wants to do a good job," Feinstein added. "They want time to be able to consider what the findings are and there are tens of thousands of pages of emails and other items which could institute findings on a whole host of major subjects that this nominee may be faced with, and they're serious."
"It's not to create a disruption," she explained. "It's not to make this a very bad process. It is to say, 'Majority, give us the time to do our work so that we can have a positive and comprehensive hearing on the man who may well be the deciding vote for many of Americans' futures."
10:03 a.m. ET, September 4, 2018
Booker: "What is the rush, what are we trying to hide?"
Sen. Cory Booker appealed to Sen. Chuck Grassley to ask why they were "rushing through this process" in light of the late-night document dump.
Here's what Booker said:
Mr. Chairman I appeal to be recognized on your sense of decency and integrity. Even the documents you have requested Mr. Chairman, even the ones that you said, the limited documents that you have requested, this committee has not received...
What is the rush, what are we trying to hide by not having the documents out front? What is with the rush, what are we hiding by not letting those documents come out? Sir this committee is a violation of the values that we as a committee have striven for. Transparency. We are rushing through this process in way that is unnecessary and I appeal for the motion...
I appeal to your sense of fairness and decency your commitments that you've made to transparency this violates what you have even said and called for, sir. You called for documents, you yourself, limited documents, we thought there should be more. We have not received the documents that you have even called for. So sir, based upon your own principles, your own values, I call for at least to have a debate or a vote on these issues and not for us to rush through this process...
11:59 a.m. ET, September 4, 2018
Dems call to adjourn Kavanaugh hearing over withheld documents
Sen. Chuck Grassley, chair of the Senate's judiciary committee, just started today's hearing but was quickly interrupted by Democrats who argued they had not had time to review the 42,000 documents delivered last night.
Sen. Kamala Harris said, "We cannot possibly move forward, Mr. Chairman with this hearing. We have not been given an opportunity to have a meaningful hearing on this nominee."
Sen. Richard Blumenthal asked to adjourn the hearing if the motion was not heard. 
Sen. Cory Booker -- to cheers -- asked for a debate on the issues and asked why they were rushing through this. He appealed to Grassley's decency and integrity which Grassley said Booker was taking advantage of.
Grassley said he wanted to move forward, and protestors began shouting.
Grassley told his colleagues they ought to give the American people the opportunity to hear if Kavanaugh should become Supreme Court justice.
11:57 a.m. ET, September 4, 2018
Kavanaugh enters committee room smiling and holding his daughter's hand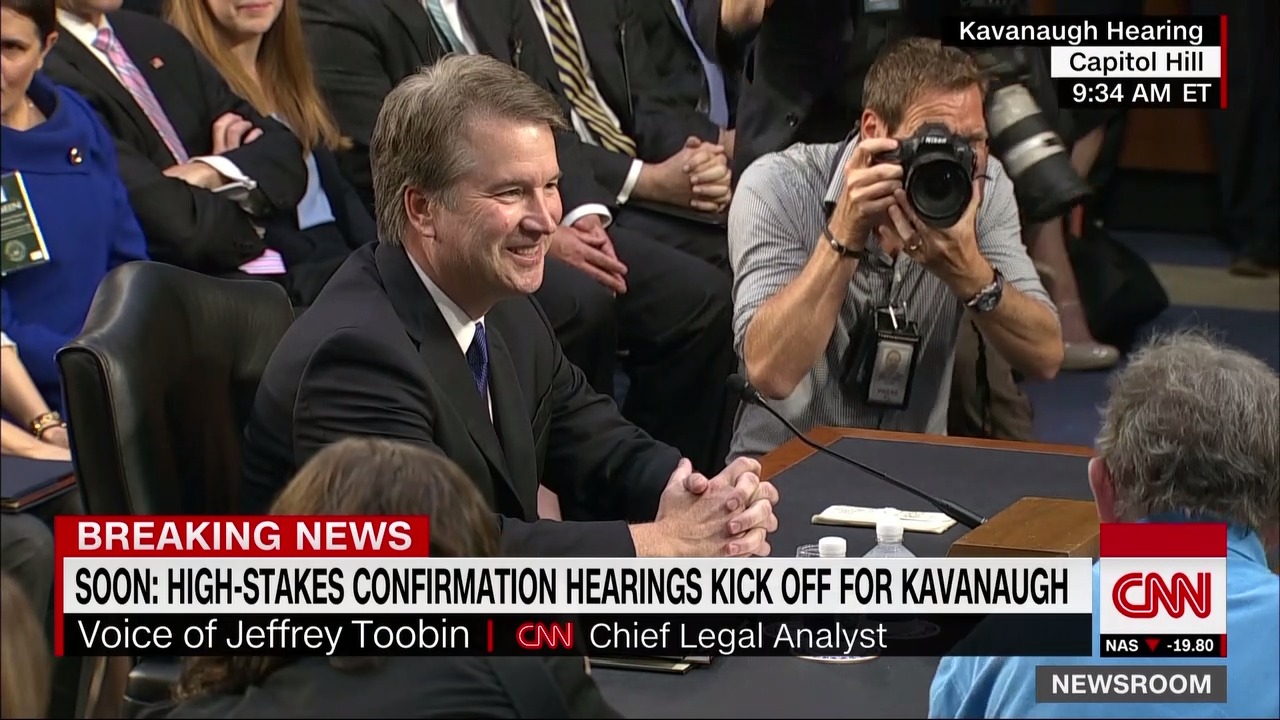 Supreme Court Justice Nominee Brett Kavanaugh just entered the Senate Judiciary Committee hearing room.
Kavanaugh was holding the hand on one of his daughters, and his other daughter and wife followed behind. Don McGahn was also accompanying Kavanaugh today.
He was smiling then took his seat before the cameras.