3:12 p.m. ET, September 4, 2018
Blumenthal: If Kavanaugh is confirmed, there will be an asterisk by his name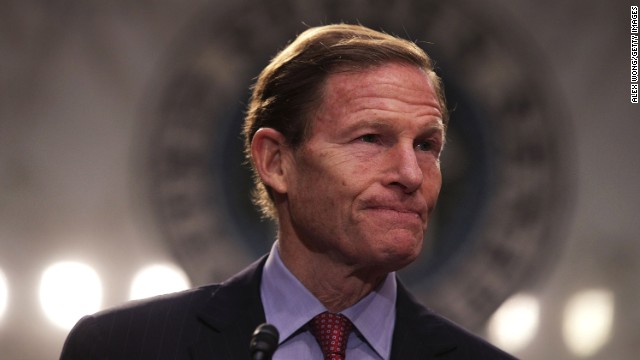 Connecticut Sen. Richard Blumenthal said Judge Brett Kavanaugh's nomination and confirmation process will always be considered tainted because it has been clouded in secrecy.
He joined fellow Democratic senators in asking why much of the documents from Kavanaugh's work in the Bush administration had not been released before Tuesday's hearing.
"I think that this process has been a grave disservice to you as well as this committee and the American people. If you are confirmed after this truncated and concealed process, there will always be a taint, there will always be an asterisk after your name. Appointed by a president named as an unindicted co-conspirator, after the vast majority of documents relating to the most instructive period of his life were concealed. The question will always be why was all that material concealed?" he said.
3:03 p.m. ET, September 4, 2018
Father of Parkland student says he was ignored by Kavanaugh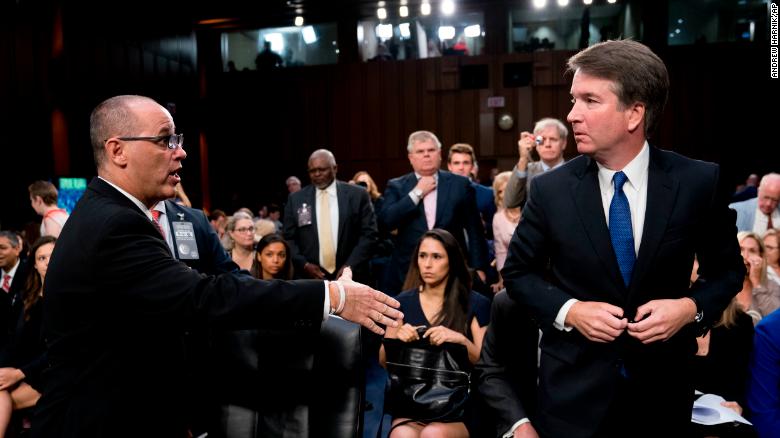 Fred Guttenberg, the father of a Parkland student, tweeted that when he walked up to Judge Brett Kavanaugh as the morning session ended and put out his hand to introduce himself, "He pulled his hand back, turned his back to me and walked away."  
A source familiar with the encounter said that Kavanaugh did not know who he was and security intervened to end the exchange before there could even be a handshake.  
The source explains an unidentified person approached Judge Kavanaugh. His security detail quickly stepped in because they did not know who the person was. When that occurred, and as security moved Judge Kavanaugh away from the man and toward an exit, the man began shouting at Judge Kavanaugh.
CNN has reviewed the video and it shows Guttenberg holding out his hand and Kavanaugh is seen listening to Guttenberg, expressionless, and then he turns away.  
White House spokesman Raj Shah tweeted in response to Guttenberg.
"As Judge Kavanaugh left for his lunch break, an unidentified individual approached him. Before the judge was able to shake his hand, security had intervened," he said.
To that, Guttenberg responded, "Incorrect. I was here all day and introduced by Senator Feinstein. No security involved. He turned and walked away."
Watch the moment:
2:40 p.m. ET, September 4, 2018
Blumenthal thanks Americans watching this hearing for their passion
Democratic Sen. Richard Blumenthal thanked Americans -- both watching at home and in the room -- for showing passion and interest in Judge Brett Kavanaugh's confirmation process.
He also thanked Kavanaugh and his family for his "commitment to public service."
Here's what Blumenthal said:
I want to begin by thanking Judge Kavanaugh and your family for your commitment to public service. I want to thank the many, many Americans who are paying attention to this hearing not only in this room but also across the country. I want to thank them for their interest and indeed their passion, that is what sustains democracy. That commitment to ordinary every day Americans participating and engaging in this process. There is a t-shirt worn by a number of folks walking around this building that says, 'I am what's at stake.' This vote and this proceeding could not be more consequential in light of what's at stake.
3:19 p.m. ET, September 4, 2018
Jeff Flake cites Trump tweet on Sessions over concerns about presidential power
Arizona Sen. Jeff Flake cited President Trump's tweet that blasted Attorney General Jeff Session and Justice Department's investigation into two lawmakers to express his concerns about presidential power.
Flake warned Judge Brett Kavanaugh to expect questions from him and others about his thoughts on presidential powers.
"Now, I know, and it has been brought up today, that a lot of the concern on the other side of the aisle stems from the concern of an administration that doesn't seem to understand and appreciate separation of powers and the rule of law. I have that concern as well. If you just look at what was said just yesterday by the president, I think it's very concerning," the Republican senator said.
Flake then read Trump's tweet:
Flake continued:
That is why a lot of people are concerned about this administration and why they want to ensure that our institutions hold. Thus far they have, gratefully. Jeff Sessions has resisted pressure from the President to punish his enemies and relieve pressure on his friends, and many of the questions that you will get on the other side of the aisle and from me will be how you view that relationship, where you believe the Article I powers end and Article II powers of the administration begin.
2:17 p.m. ET, September 4, 2018
Sasse: "Stop the charades" and support Kavanaugh
Nebraska Sen. Ben Sasse pleaded with his colleagues to support Judge Brett Kavanaugh and "stop the charades." He told fellow senators that they shouldn't be talking about Republican and Democratic judges and justices.
Here's what he said:
So the question before us today is not what is Brett Kavanaugh think 11 years ago on some policy matter, the question before us is whether or not he has the temperament and the character to take his policy views and his political preferences and put them in a box marked irrelevant and set it aside every morning when he puts on the black robe. The question is does he have the character and temperament to do that.
If you don't think he does, vote no, but if you think he does, stop the charades because at the end of the day I think all of us know that Brett Kavanaugh understands his job isn't to rewrite laws as he wishes they were, he understands that he's not being interviewed to be a super-legislator, he understands that his job isn't to seek popularity, his job is to be fair and dispassionate. It is not to exercise empathy. It is to follow written laws. Contrary to the Onion-like smears that we hear outside, Judge Kavanaugh doesn't hate women and children. Judge Kavanaugh doesn't lust after dirty water and stinky air. No, looking at his record it seems to me that what he actually dislikes are legislators that are too lazy and too risk averse to do our actual jobs.
2:09 p.m. ET, September 4, 2018
Sasse: Commentary that politicizes the Supreme Court is "a really dangerous thing"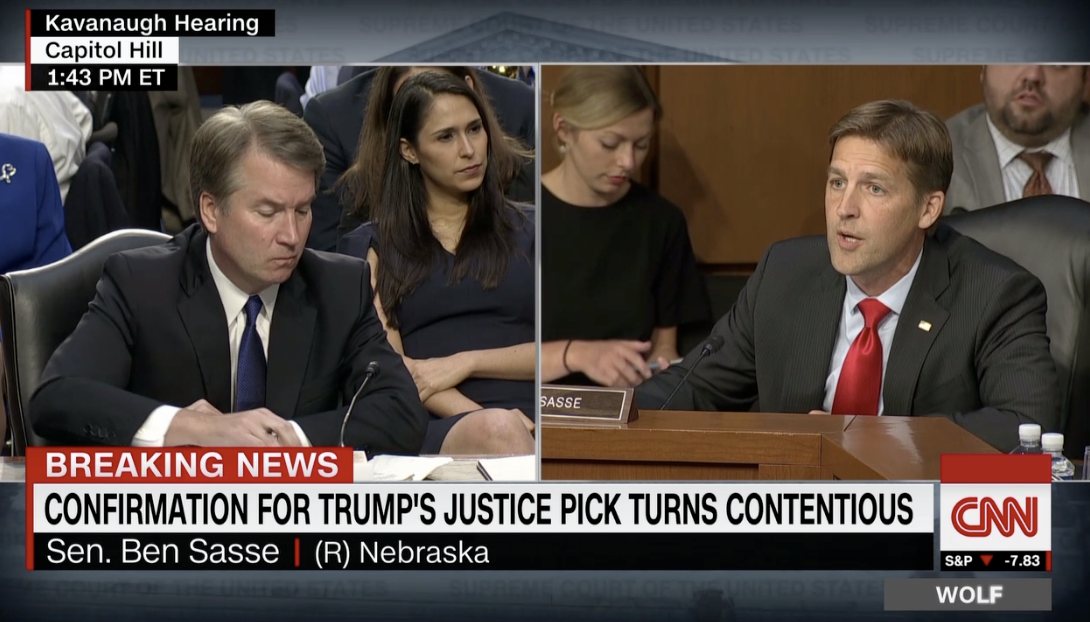 Republican Sen. Ben Sasse, speaking at Judge Brett Kavanaugh's hearing, said conversations about the Supreme Court have become partisan.
He explained that confirmation hearings should be like Schoolhouse rock civics lesson. Instead, he said the process has become ugly.
Here's what he said:
The hysteria around Supreme Court confirmation hearings is coming from the fact that we have a fundamental misunderstanding of the role of the Supreme Court in American life now. Our political commentary talks about the Supreme Court like they're people wearing red and blue jerseys. That's a really dangerous thing. And by the way, if they have red and blue jerseys, I would welcome my colleagues to introduce the legislation that ends lifetime tenure for the judiciary. If they're just politicians, then the people should have power, and they shouldn't have lifetime appointments. So until you introduce that legislation, I don't believe you really want the supreme court to be a politicized body. Though, that's the way we constantly talk about it now. We can and should do better than this. It's predictable that every confirmation hearing now is going to be overblown, politicized circus. And it's because we've accepted a new theory about how our three branches of government should work and in particular how the judiciary should work.
1:51 p.m. ET, September 4, 2018
Ted Cruz says Kavanaugh fight is about relitigating the 2016 election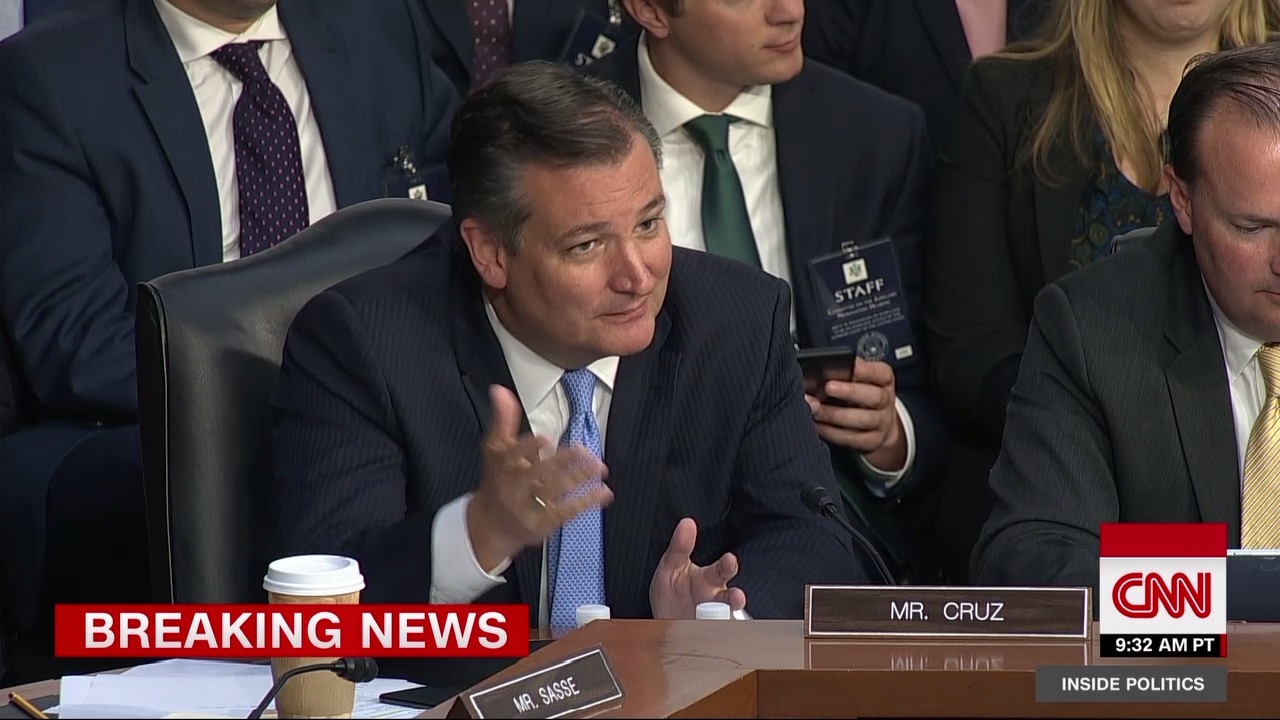 Sen. Ted Cruz accused Democrats of opposing Supreme Court nominee Brett Kavanaugh as a means of relitigating the 2016 presidential election.
"If it's not about documents, if it's not about Judge Kavanaugh's credentials, if it's not about his judicial record, what is this fight about?" Cruz asked. "I believe this fight is nothing more and nothing less than an attempt by our democratic colleagues to relitigate the 2016 presidential election."
1:20 p.m. ET, September 4, 2018
And we're back
The Kavanaugh hearing has resumed. Get caught up here.
12:57 p.m. ET, September 4, 2018
Senators take 30-minute break
The Senate Judiciary Committee just took a 30-minute break from Judge Brett Kavanaugh's confirmation hearing.
They are scheduled to return to the hearing at 1:17 p.m. ET.