4:39 p.m. ET, September 4, 2018
Lisa Blatt: "Kavanaugh is the best choice that liberals could reasonably hope for"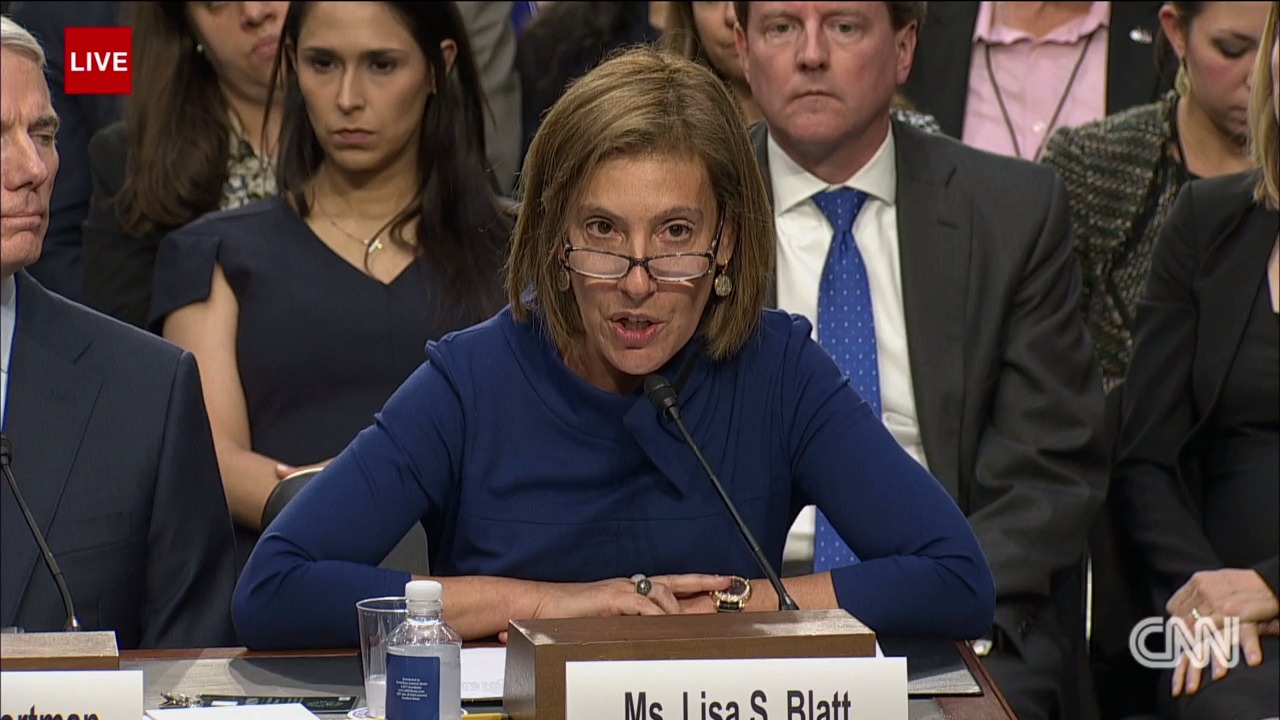 Lisa Blatt, a self-described "liberal feminist lawyer," praised Judge Kavanaugh as "the best choice that liberals could reasonably hope for" in a political reality where Republicans control the White House, Senate and House.
"Obviously I know that Judge Kavanaugh has a conservative judicial outlook. And if he is confirmed, he will have 1 of 9 votes to definitely decide the meaning of the Constitution, including how far to read it to protect the reproductive rights of women," she said. 
"Now if it were up to me, Justice Ginsburg would have all 9 votes. But that's not our system, and the reality is, that the Presidency and the Senate, are in Republican hands. Judge Kavanaugh is the best choice that liberals could reasonably hope for in these circumstances."
4:34 p.m. ET, September 4, 2018
Lindsey Graham vows to defend Mueller probe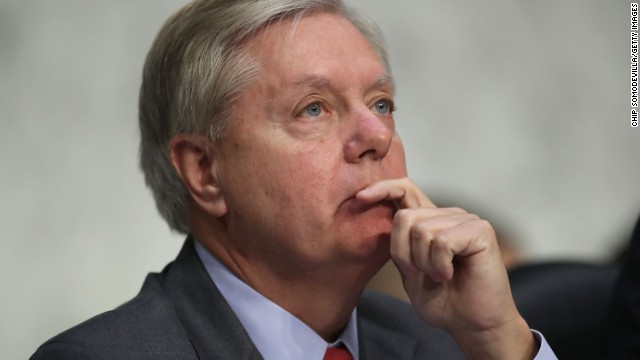 Republican Sen. Lindsey Graham, speaking at Judge Brett Kavanaugh's hearing, vowed to defend special counsel Robert Mueller's investigation into Russia's interference in the 2016 presidential election.
"There's a process to find out what happened in the 2016 election. It's called Mr. Mueller. And I will do everything I can to make sure he finishes his job without political interference and I'm here to tell anybody in the country who listens that this is so hypocritical of my friends on the other side," said Graham, a Trump ally.
He then returned to the issue at hand -- Kavanaugh's nomination.
Speaking directly to President Trump, Graham said, "You do some things that drive me crazy, you do some great things. You have never done anything better in my view than to pick (Supreme Court Justice Neil) Gorsuch and Kavanaugh."
4:31 p.m. ET, September 4, 2018
Graham: "This is shaping up to be the hypocrisy hearing"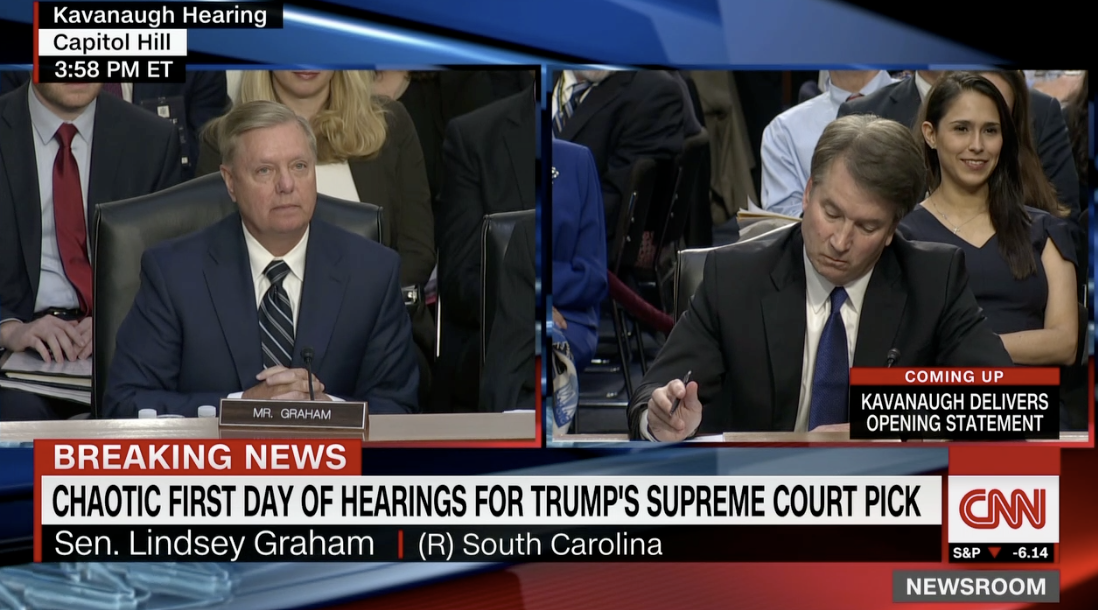 Republican Sen. Lindsey Graham described today's hearing -- at which Judge Brett Kavanaugh is finally about to speak -- as "the hypocrisy hearing," citing Democrats' outrage in contrast to their past positions with regards to President Bill Clinton nominating Justice Stephen Breyer while he was under investigation and Sen. Ted Kennedy choosing a "staff person."
He also brought up Roe v. Wade.
"Who would ever play politics on the campaign trail with Roe v. Wade, what a bastard Donald Trump is," he said, mimicking Democrats before quoting Hillary Clinton stating, "We need a Supreme Court that will stand up on behalf of women's rights."
He added, "If you even suggest that you will pick a nominee that's not gonna uphold Roe v. Wade that's the end of you, but you've figured that out, you don't need me to tell you. so this is the way we do politics, this is a big decision called Roe v. Wade, there are two sides and a bunch of nuances."
4:18 p.m. ET, September 4, 2018
Kamala Harris: "I am concerned whether you would treat every American equally"
Democratic Sen. Kamala Harris explained to Supreme Court nominee Brett Kavanaugh why Lady Justice wears a blindfold -- because justice is blind to one's status in life, how much money they have, what they look like, who they're related to or how they speak.
"Every Supreme Court justice must understand and uphold that ideal," Harris told the nominee. "And sir, should those cases become before you... I am concerned whether you would treat every American equally or instead show allegiance to the political party and the conservative agenda that has shaped and built your career."
She added, "I am concerned your loyalty would be to the president who appointed you and not to the constitution of the United States."
4:15 p.m. ET, September 4, 2018
For Kamala Harris, the next Supreme Court pick is personal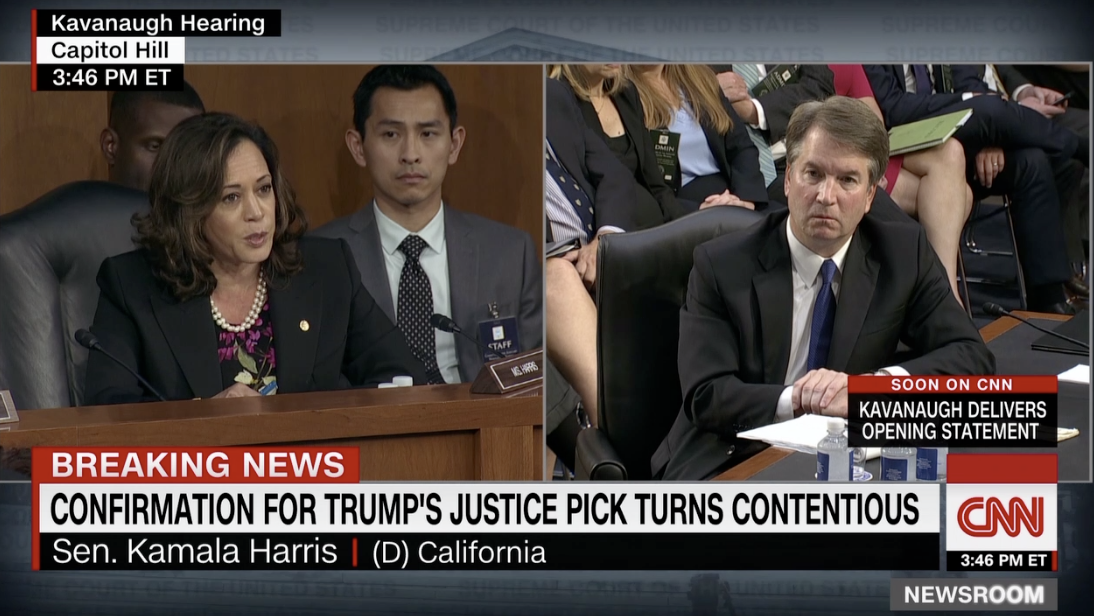 California Sen. Kamala Harris reflected on her life as a black woman to demonstrate the importance of confirming a Supreme Court pick.
She recalled starting her first day of kindergarten and being part of the second class of students to integrate Berkeley public schools.
"This was decades after the Supreme court ruled Brown v. Board of Education that separate was inherently unequal. As I've said many times, had Chief Justice Earl Warren not been on the Supreme Court of the United States, he could not have led a unanimous decision and the outcome then of that case may have been very different," Harris said.
She continued:
"Had that decision not come down the way it did, I may not have had the opportunities that allowed me to become a lawyer or a prosecutor. I likely would not have been elected district attorney of San Francisco or the attorney general of California. And I most certainly would not be sitting here as a member of the United States Senate. So for me a Supreme Court seat is not only about academic issues of legal precedent or judicial philosophy, it is personal."
3:42 p.m. ET, September 4, 2018
Cory Booker tells Kavanaugh: "I cannot support your nomination"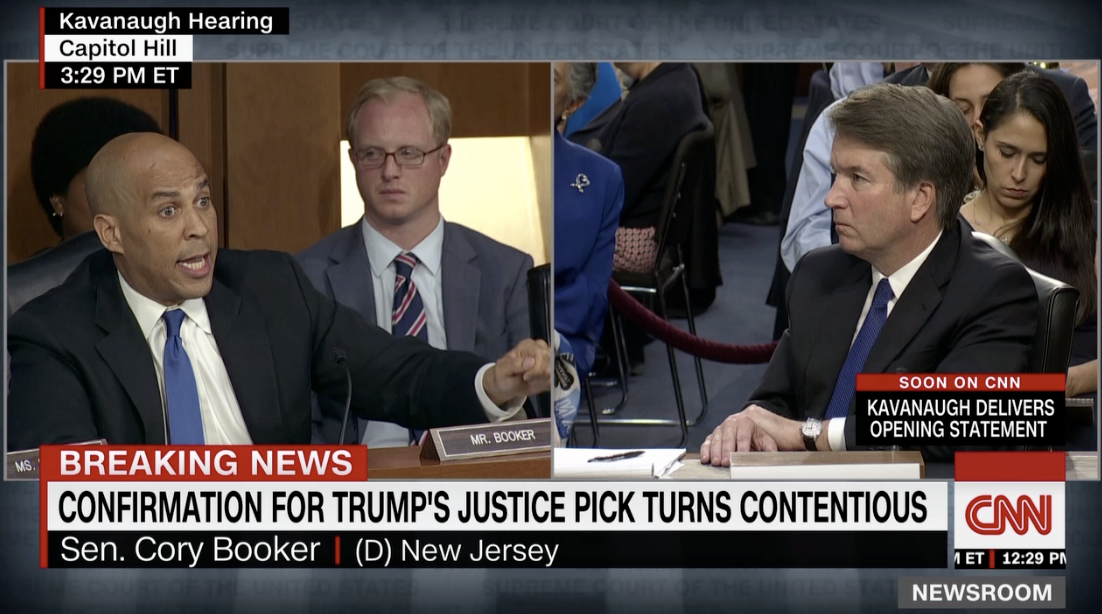 New Jersey Sen. Cory Booker told Judge Brett Kavanaugh that he would not support his nomination and urged fellow colleagues to hold off on voting on the Supreme Court nominee.
"This to me is a profound and historical moment. I cannot support your nomination, not just because of the body of your work, but also the perverse process by which this comes forward," Booker said.
He continued: "We should not vote now. We should wait. And if we are not waiting, we should object to your nomination."
3:31 p.m. ET, September 4, 2018
Grassley and Booker disagree on Kavanaugh, but their friendship remains intact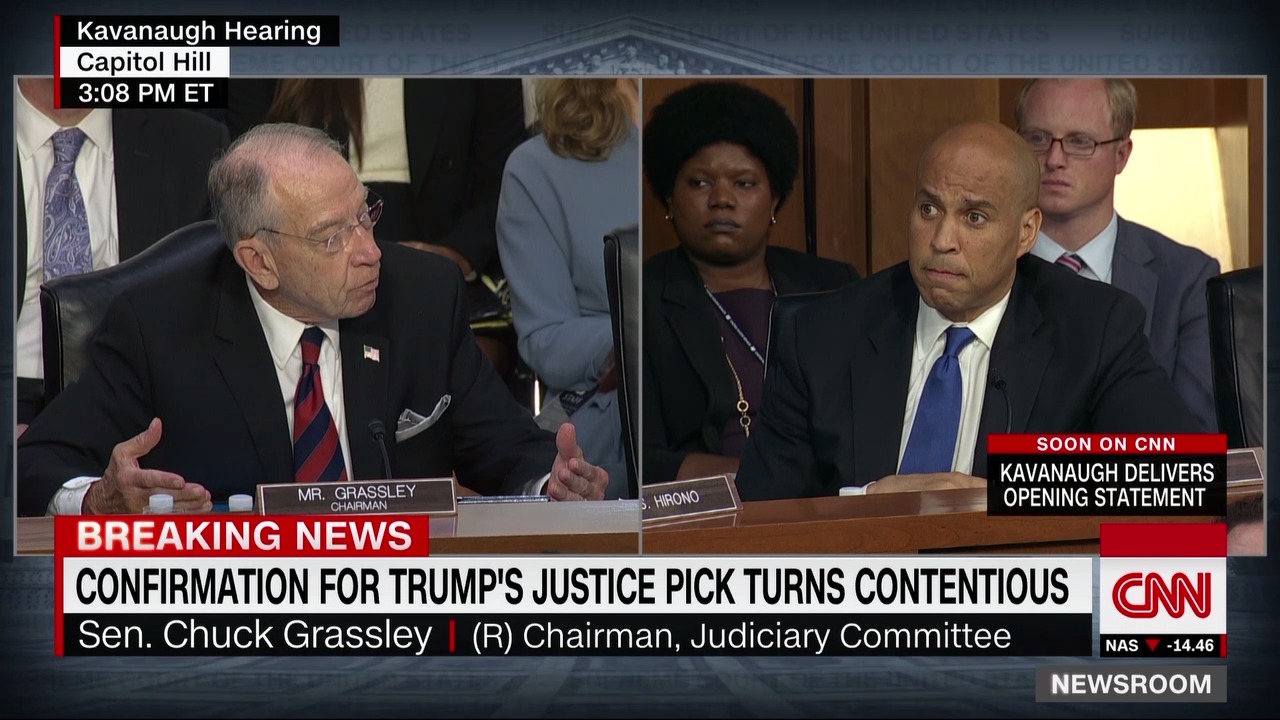 Sens. Cory Booker and Chuck Grassley just shared a moment of bipartisan friendship while talking about their fundamental disagreements with regard to the Kavanaugh documents.
Thanking Grassley, the Republican committee chairman, for the opportunity to make their case, "even though you have not ruled in our favor of which I'm disappointed," Democratic Sen. Booker told him, "I do hope you understand that I value your friendship" and "I've come to have a deep respect for you, sir."
Grassley responded, "If you worry about our friendship being affected it will not be" and touted the committee's history of producing bipartisan bills."
Booker thanked him, and said, "I appreciate that."
He then added: "It doesn't detract from the fact that I just fundamentally disagree with the way you've been concluding today."
3:12 p.m. ET, September 4, 2018
Blumenthal: If Kavanaugh is confirmed, there will be an asterisk by his name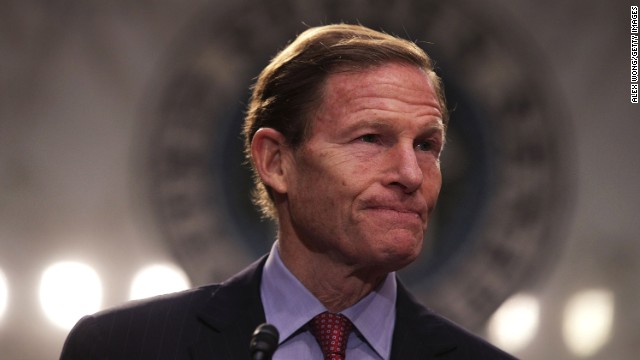 Connecticut Sen. Richard Blumenthal said Judge Brett Kavanaugh's nomination and confirmation process will always be considered tainted because it has been clouded in secrecy.
He joined fellow Democratic senators in asking why much of the documents from Kavanaugh's work in the Bush administration had not been released before Tuesday's hearing.
"I think that this process has been a grave disservice to you as well as this committee and the American people. If you are confirmed after this truncated and concealed process, there will always be a taint, there will always be an asterisk after your name. Appointed by a president named as an unindicted co-conspirator, after the vast majority of documents relating to the most instructive period of his life were concealed. The question will always be why was all that material concealed?" he said.
3:03 p.m. ET, September 4, 2018
Father of Parkland student says he was ignored by Kavanaugh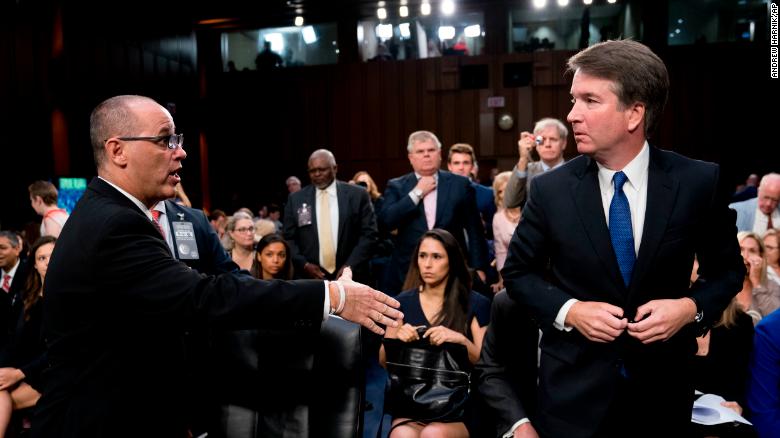 Fred Guttenberg, the father of a Parkland student, tweeted that when he walked up to Judge Brett Kavanaugh as the morning session ended and put out his hand to introduce himself, "He pulled his hand back, turned his back to me and walked away."  
A source familiar with the encounter said that Kavanaugh did not know who he was and security intervened to end the exchange before there could even be a handshake.  
The source explains an unidentified person approached Judge Kavanaugh. His security detail quickly stepped in because they did not know who the person was. When that occurred, and as security moved Judge Kavanaugh away from the man and toward an exit, the man began shouting at Judge Kavanaugh.
CNN has reviewed the video and it shows Guttenberg holding out his hand and Kavanaugh is seen listening to Guttenberg, expressionless, and then he turns away.  
White House spokesman Raj Shah tweeted in response to Guttenberg.
"As Judge Kavanaugh left for his lunch break, an unidentified individual approached him. Before the judge was able to shake his hand, security had intervened," he said.
To that, Guttenberg responded, "Incorrect. I was here all day and introduced by Senator Feinstein. No security involved. He turned and walked away."
Watch the moment: