11:54 a.m. ET, September 5, 2018
Kavanaugh won't say if he thinks Trump has a right to self-pardon himself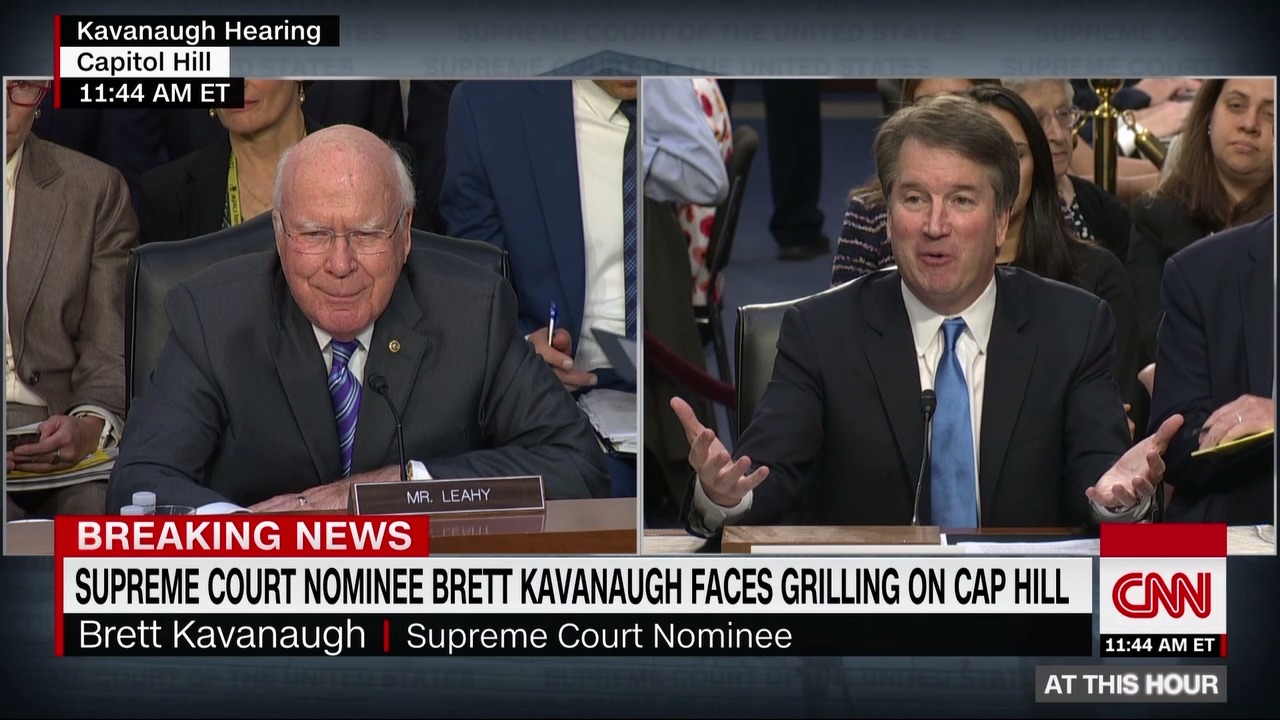 Judge Brett Kavanaugh was asked by Sen. Patrick Leahy whether President Trump has an absolute right to pardon himself as Trump has claimed.
"The question of self-pardons is something I've never analyzed. It is a question that I've not written about. It is a question therefore that is a hypothetical question that I can't begin to answer in this context as a sitting judge and as a nominee to the Supreme Court," Kavanaugh replied.
Asked if the President could pardon someone "in exchange for a promise from that person that they wouldn't testify against him," Kavanaugh again demurred.
"I'm not going to answer hypothetical questions of that sort," he told Leahy.
Leahy replied: "I hope for the sake of the country that remains a hypothetical question."
12:13 p.m. ET, September 5, 2018
Kavanaugh calls judge's sexual misconduct accusations a "gut punch"
Judge Brett Kavanaugh recalled his relationship with Judge Alex Kozinski, who retired last year after accusations of sexual misconduct.
Kavanaugh suggested his communications over the last number of years were infrequent except when working on a specific project together.
Kavanaugh denied knowing anything about the allegations before they came to light and said he was "shocked" by them, calling them a "gut punch" for him and the judiciary.   
He remembered finding out about the allegations: "And when I heard, when it became public I think it was in December it was a gut punch. It was a gut punch for me, it was a gut punch for the judiciary and I was shocked and disappointed, angry, a swirl of emotions."
"No woman should be subjected to sexual harassment in the workplace," especially in the judiciary he said.
Visit here for more of CNN's coverage on sexual misconduct in the courts.
12:50 p.m. ET, September 5, 2018
PHOTO: Kavanaugh holds up his small, well-worn copy of the Constitution
Supreme Court nominee Judge Brett Kavanaugh held up a small copy of the US Constitution as he told Sen. Orrin Hatch, "If confirmed to the Supreme Court and as a sitting judge, I owe my loyalty to the Constitution. That is what I owe loyalty to. And the Constitution establishes me as an independent judge bound to follow the law as written."
11:06 a.m. ET, September 5, 2018
Kavanaugh refuses to say if he believes a sitting president could be subpoenaed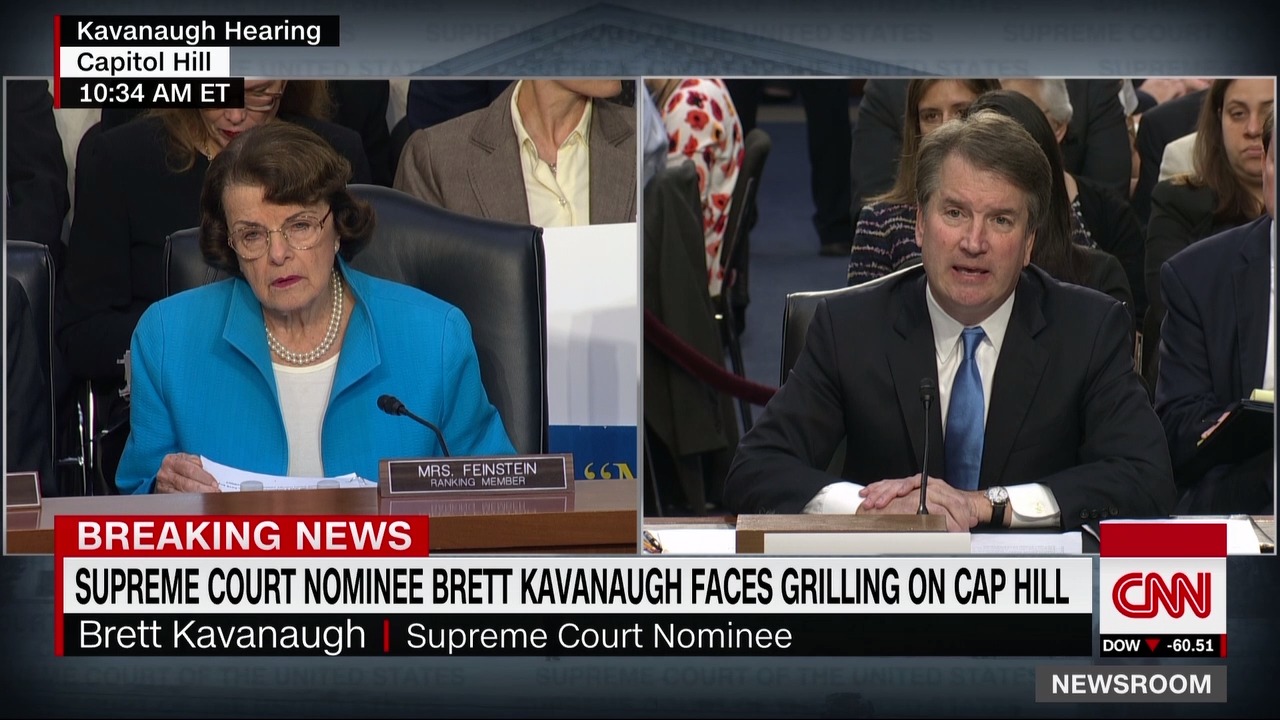 Sen. Dianne Feinstein asked Judge Brett Kavanaugh directly: "Let me ask you this. Can a sitting president be required to respond to a subpoena?"
Kavanaugh responded that the question was hypothetical.
Feinstein replied: "So you can't give me an answer on whether a president has to respond to a subpoena from a court of law?"
Kavanaugh said: "My understanding is that you're asking me to give my view on a potential hypothetical, and that is something that each of the eight justices currently sitting on the Supreme Court, when they were sitting in my seat, declined to decide potential hypothetical cases."
Senate Democrats later tweeted the exchange, calling it "troubling":
12:50 p.m. ET, September 5, 2018
What Kavanaugh thinks about assault weapons
Sen. Dianne Feinstein just questioned Judge Kavanaugh's opinion on assault weapons, specifically what he's said in the past about how "common use" dictates the rights of Americans to own and continue to use them.
Kavanaugh said he follows Supreme Court precedents on the issue specifically as they relate to the Second Amendment, though admitted that doesn't mean "that there is no gun regulation permissible."
Feinstein questioned why assault weapons would be common use -- since they aren't commonly used.
Kavanaugh disagreed, stating there were "millions and millions and millions of semi automatic rifles that are possessed."
Feinstein asked how he reconciles that with the amount of school shootings in America. "How do you reconcile that?"
Kavanaugh responded:
"Senator, of course the violence in the schools is something we all detest and want to do something about. And there are lots of efforts I know underway to make schools safer. I know at my girls school they do a lot of things now that are different than they did just a few years ago in terms of trying to harden the school and make it safer for everyone. Guns, hand guns and semi-automatic rifles, are used for hunting and self-defense, but as you say, Senator, as you rightly say, they are used in a lot of violent crime and cause a lot of death."
12:05 p.m. ET, September 5, 2018
Kavanaugh says no one asked him about his views on Roe v. Wade
In an exchange between Sen. Chuck Grassley and Judge Brett Kavanaugh, Grassley asks the Supreme Court nominee if anyone had asked him to "make any promises or assurances at all" regarding how he would rule in various cases.
Kavanaugh replied: "No."
Grassley followed up by asking Kavanaugh if anyone had asked him about his views on Roe v. Wade — the SCOTUS case that broadly legalized abortion across the United States.
"No," Kavanaugh said.
10:06 a.m. ET, September 5, 2018
Kavanaugh: US v. Nixon is "one of the greatest moments in American judicial history"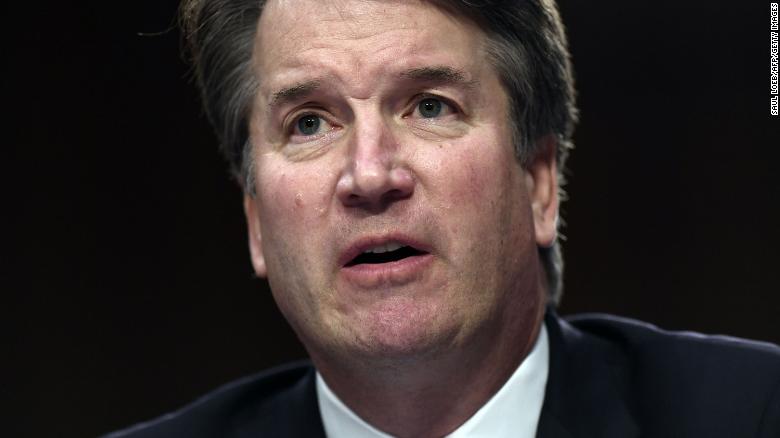 Judge Brett Kavanaugh told Sen. Chuck Grassley that he believed a pivotal Supreme Court case ordering President Nixon to disclose information in response to a criminal subpoena was "one of the greatest moments in American judicial history."
"You think about United States versus Nixon, which I've identified as one of the greatest moments in American judicial history, where Chief Justice Burger who had been appointed by President Nixon brought the court together in a unanimous decision to order President Nixon in a response to a criminal trial subpoenaed to disclose information," Kavanaugh said.
CNN's Ariane de Vogue notes that he's said this about US v. Nixon before, but it contradicts one interview he did in the Washington law journal in 1999, in which he said the landmark opinion that ordered President Richard Nixon to turn over White House recordings toward the end of the Watergate investigation might have been "wrongly decided."
12:48 p.m. ET, September 5, 2018
Kavanaugh: "No one is above the law in our constitution"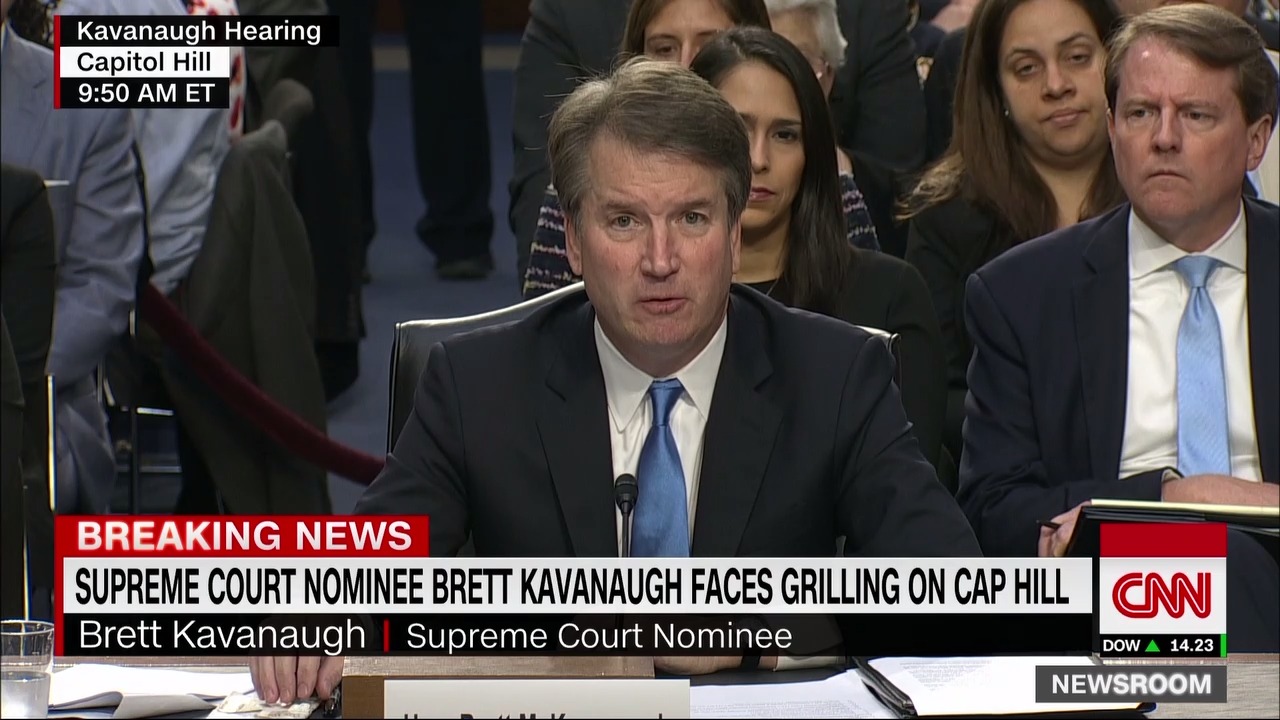 Sen. Chuck Grassley just asked Judge Brett Kavanaugh, in the first segment of questioning led by the chairman, to speak to his thoughts regarding judicial independence from the executive branch -- a key subject for anyone concerned about how Kavanaugh would rule on issues directly related to President Trump.
"No one is above the law in our constitutional system," Kavanaugh said. "Under our system of government, the executive branch is subject to the law, subject to the court system ... it is an important part of the constitutional structure."
"We are not supposed to be influenced by political pressure from the executive or from the Congress. We are independent," he added. "We make decisions based on law, not based on policy, not based on political pressure, not based on the identity of the parties, no matter who you are in our system, no matter where you come from, no matter how rich you are or how poor you are, no matter your race, your gender, no matter your station in life, no matter your position in government."
12:08 p.m. ET, September 5, 2018
Protesters just disrupted Grassley while he was talking about yesterday's protesters
Sen. Chuck Grassley, chairman of the Judiciary Committee, opened today's hearing by talking about the protesters that frequently disrupted yesterday's. Citing NBC News, Grassley said they were interrupted 63 times and 70 people were arrested. He noted that the Constitution permits freedom of speech, but "we also were finally able to conduct our hearing the way it should be conducted." 
Two protesters, one shouting, "Sham president, sham justice! Stop the slaughter of our children. Sham president, sham justice!" then disrupted him as he continued talking about yesterday's disruption. 
Watch: