Brett Kavanaugh and Christine Blasey Ford testify on sex assault allegations
8:21 p.m. ET, September 27, 2018
8:17 p.m. ET, September 27, 2018
Senators say committee to vote on Kavanaugh tomorrow, Grassley only confirms 9:30 meeting
Sens. Roy Blunt and Bill Cassidy just said the plan, as laid out in the closed door meeting is Friday, the Senate Judiciary Committee is set to vote on the Kavanaugh nomination, and the first procedural vote is set to take place on the floor Saturday at noon.
Senate Judiciary Committee chairman Chuck Grassley repeatedly declined to answer questions as he repeated over and over again, "We're meeting at 9:30" -- a reference to the committee meeting scheduled to take place tomorrow morning.
The only other clue he gave about the state of affairs came was he asked when will the nomination come to the floor and said, "depends on what happens tomorrow."
7:56 p.m. ET, September 27, 2018
GOP source close to nomination: Vote on Kavanaugh is uncertain but "definitely close"
A GOP source close to the Kavanaugh nomination process conceded White House and Senate Republicans aren't yet sure if they have the votes to push the nominee across the finish line. 
"Definitely close," the source said. 
7:52 p.m. ET, September 27, 2018
VP Pence: "I stand with Judge Kavanaugh...take the vote"
Vice President Pence tonight said, "I stand with Judge Kavanaugh...take the vote."
He tweeted:
"Today, Senate Republicans conducted a hearing that was fair & respectful to Judge Kavanaugh & Dr. Ford. The same cannot be said of the Democrats. Based on today & his decades of service, I stand with Judge Kavanaugh – a person of integrity & impeccable credentials. Take the vote."
7:44 p.m. ET, September 27, 2018
Mark Judge's lawyer: He "does not recall the events described by Dr. Ford"
Mark Judge is the third individual who Christine Blasey Ford claims was in the room when Brett Kavanaugh allegedly assaulted her.
In response to Ford's testimony, Judge's lawyer Barbara Van Gelder said Judge "does not recall the events described" by Ford.
"Mr. Judge does not recall the events described by Dr. Ford in her testimony before the US Senate Judiciary Committee today," the statement said. "We have told the Committee that Mr. Judge does not want to comment about these events publicly. We also have said that he is willing to answer written questions, and he has. In addition, he is willing to participate in a confidential, fact-finding investigation.  He will not respond to any media inquiries."
7:39 p.m. ET, September 27, 2018
Manchin after Collins, Murkowski, Flake meeting: "There are no decisions on anything"
Leaving the meeting with Sens. Susan Collins, Lisa Murkowski and Jeff Flake, Joe Manchin said, "There have been no decisions.  We meet all the time ... I think you all know we trust each other.  We are friends.  Which is so hard to find around here."
"We are still talking. There are no decisions on anything. There are some concerns that people have and we're going to try to close the loop," he said.
About the hearing, he said, "both were credible."
7:35 p.m. ET, September 27, 2018
Kavanaugh's opening statement was delivered for an audience of one: Trump
Judge Brett Kavanaugh's opening statement today, a fiery, scorched-earth speech that may well have salvaged his bid for the Supreme Court, was not only aimed at the Senate Judiciary Committee. It carried an even bigger goal: to keep President Donald Trump from losing faith in his nomination. 
Kavanaugh was being urged by some — including old friends from Bush world — to take a softer approach today. But in the end, he tuned out the advice, and sat down to write a speech with a sole aide. An overarching goal: please Trump and, in turn, circle the conservative wagons behind him, an official close to the process said.
Two White House officials said that while the President never seriously considered asking Kavanaugh to withdraw, he did discuss the idea — publicly and privately — that he would quickly announce another nominee and use the rejection of Kavanaugh to rally conservatives in the mid-term elections.
It didn't come to that, but there were "incredibly tense moments" in the White House after Christine Blasey Ford finished her testimony. A White House official said the president found Ford "compelling" and "very credible" and had serious questions about how Kavanaugh would perform. 
"He didn't disappoint. He exceeded every expectation," a White House official said.
The President was publicly silent throughout the day, but his hand was guiding nearly every pivotal move – from Sen. Lindsey Graham's boisterous speech to the decision to shut down the Republican-selected special prosecutor. 
7:32 p.m. ET, September 27, 2018
Christine Blasey Ford's GoFundMe campaign is surging after today's testimony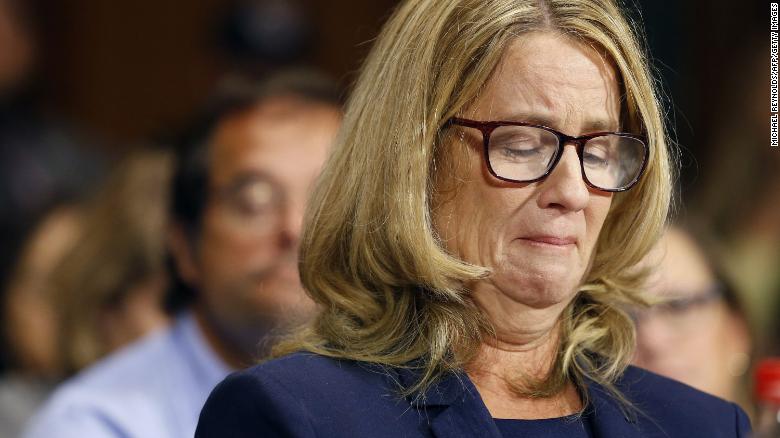 A GoFundMe campaign set up on for Christine Blasey Ford raised more than $200,000 in the wake of her testimony Thursday.
As of 7:30 p.m., the campaign had raised more than $410,000. Before Ford's testimony, the total amount raised was "approximately $175,000," according to a spokeswoman for the website.
The organizers of the campaign, who set an original goal of $150,000, said all additional funds will "cover travel costs as well as security" for Ford while the initial $150,000 will go entirely to security for Ford and her family.
8:04 p.m. ET, September 27, 2018
Someone made curious Wikipedia edits from the US Capitol
A Twitter account that tracks anonymous Wikipedia edits that are "made from IP addresses in the US Congress" detected edits on the pages of three Republican members of the Senate Judiciary Committee on Thursday evening, while the committee was questioning Supreme Court nominee Brett Kavanaugh.
The edits appeared to post street addresses and phone numbers belonging to Sen. Orrin Hatch, Sen. Lindsey Graham, and Sen. Mike Lee.
There was also an edit on the term "Devil's Triangle," which Kavanaugh described as a drinking game similar to Quarters.
The developer who created the tracker said that the edits could have been made by anyone on the Capitol complex — including visitors using public WiFi.
Wikipedia has removed the information.