Brett Kavanaugh and Christine Blasey Ford testify on sex assault allegations
11:21 a.m. ET, September 27, 2018
People are watching the emotional hearing mid-flight
Across the world, people are watching the Kavanaugh-Ford hearing, and this includes passengers on planes at 35,000 feet.
Zette Emmons tells CNN this is her view aboard a JetBlue flight 415 from New York's John F. Kennedy International Airport to San Francisco.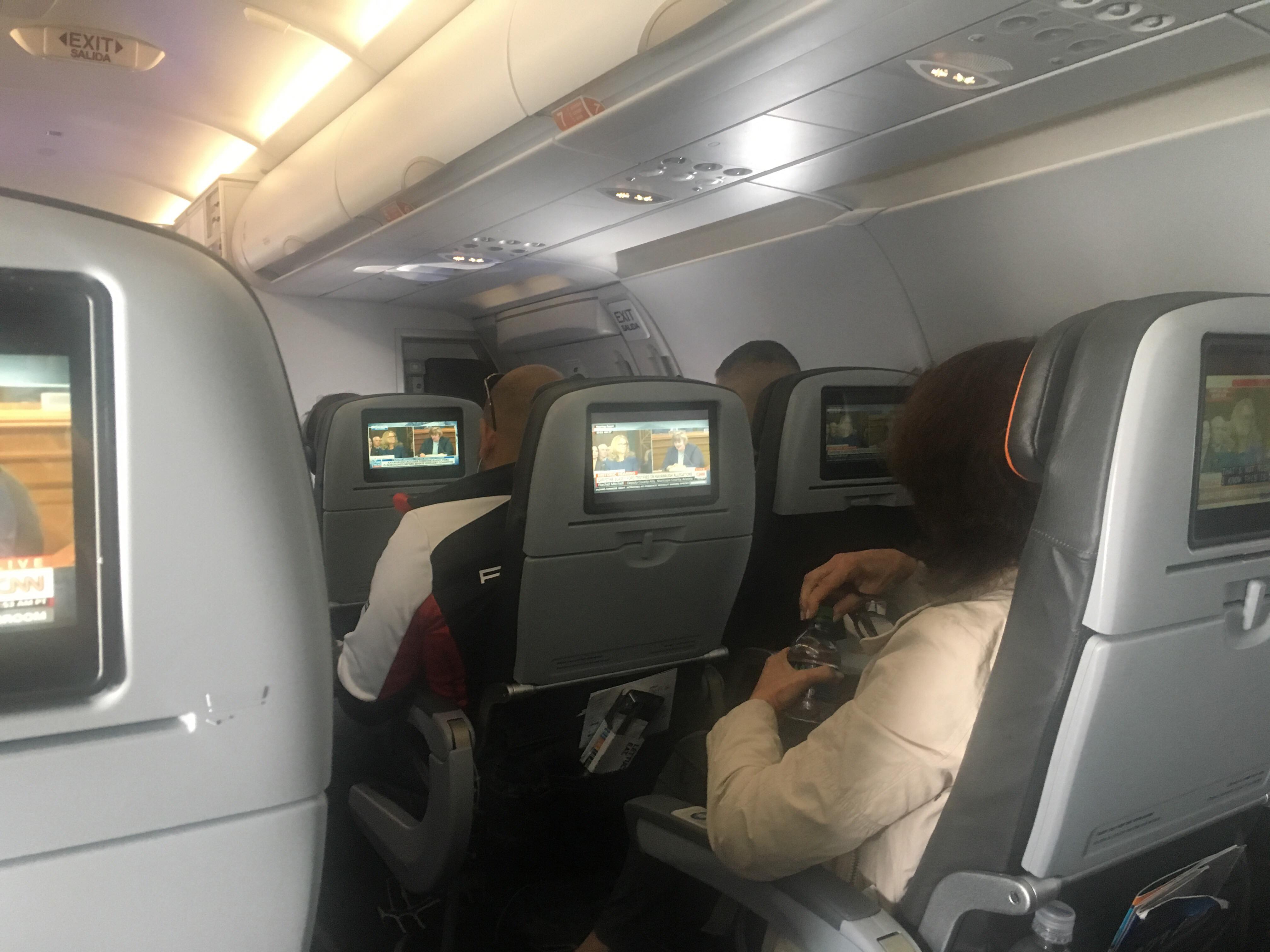 The New York Times' Ron Lieber says he's seeing a similar scene on his flight to Salt Lake City.
11:17 a.m. ET, September 27, 2018
Why Ford says she decided to come forward with her story now
Once Judge Brett Kavanaugh was nominated, Christine Blasey Ford said she was "calculating daily the risk benefit" of deciding whether or not to come forward with her accusation against Kavanaugh.
Ford said she wondered if coming forward would just be "jumping in front of train that was headed to where it was headed anyway" and if she would be "personally annihilated."
But Ford said she ultimately decided to come forward because reporters were outside her home, and in one instance, Ford said she mistook a reporter who came to one of her graduate school classes as a student.
"At that point I thought enough was enough," Ford said.
"The mounting pressure seemed like it was time to just say what I needed to say," she later added.
11:16 a.m. ET, September 27, 2018
Ford says it's "absolutely not" possible she mistook Kavanaugh's identity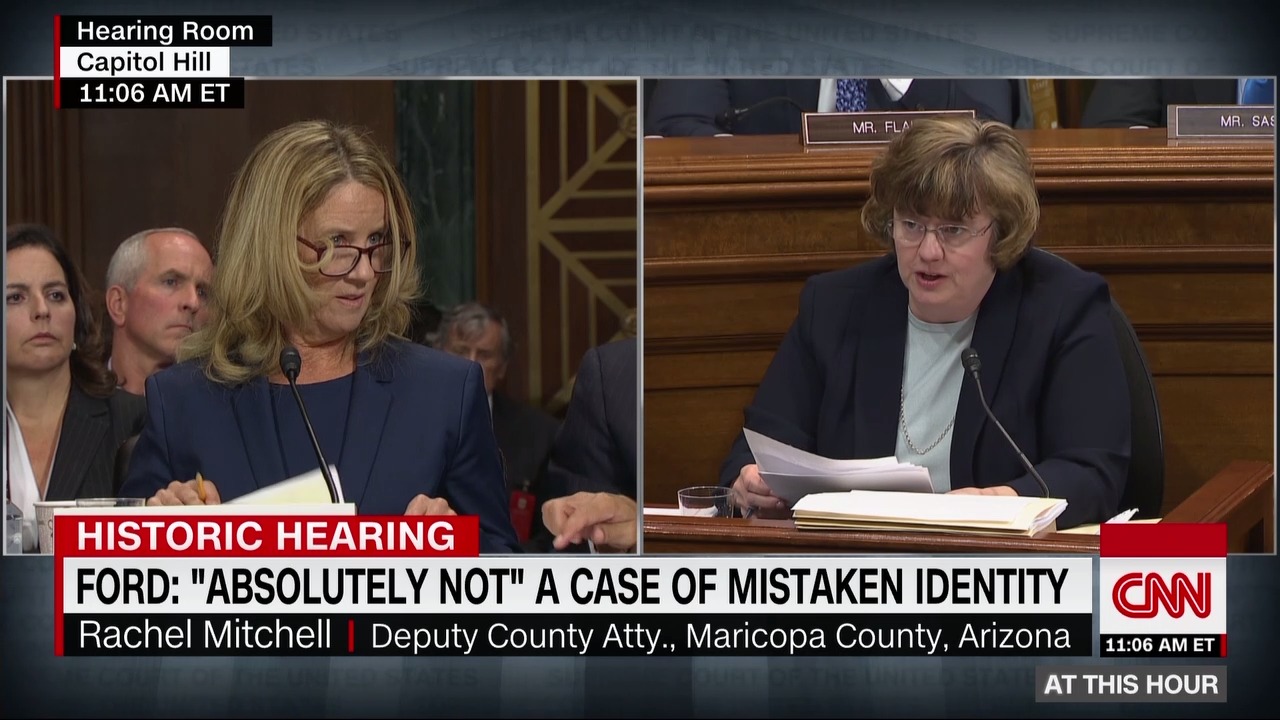 Sen. Dianne Feinstein just asked Christine Blasey Ford how she knew that Brett Kavanaugh was the boy who attacked her.
Here's how she responded:
"The same way I'm sure I'm talking to you right now. Basic memory functions. And also just the level of norepinephrine and epinephrine in the brain that sort of, as you know, encodes that neurotransmitter encodes memories into the hippocampus so the trauma related experience is locked there where as other details kind of drift.
Feinstein followed up with this question: "So what you're telling us is this could not be a case of mistaken identity?"
"Absolutely not," Ford said.
Watch the exchange:
11:09 a.m. ET, September 27, 2018
Sen. Elizabeth Warren meets with protesters outside hearing
As the hearing continues, Sen. Elizabeth Warren (D-Massachusetts) is meeting with protesters in the atrium outside the hearing.
11:00 a.m. ET, September 27, 2018
Ford wrote her opening statement herself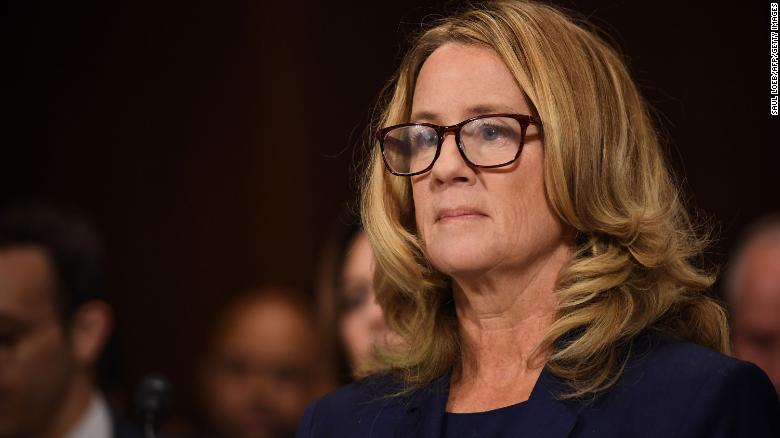 A source close to Christine Blasey Ford said she wrote her prepared remarks herself. 
11:12 a.m. ET, September 27, 2018
Ford, her voice shaking, describes the night she was sexually assaulted
Christine Blasey Ford, seemingly on the verge of tears, recounted the incident where she alleges Judge Brett Kavanaugh sexually and physically assaulted her while they were both at a party during their high school years.
Here's some of what Ford alleged took place during her testimony:
"Early in the evening, I went up a narrow set of stairs leading from the living room to a second floor to use the bathroom. When I got to the top of the stairs, I was pushed from behind into a bedroom. I couldn't see who pushed me. Brett and Mark came into the bedroom and locked the door behind them.
There was music already playing in the bedroom. It was turned up louder by either Brett or Mark once we were in the room. I was pushed onto the bed and Brett got on top of me. He began running his hands over my body and grinding his hips into me. I yelled, hoping someone downstairs might hear me, and tried to get away from him, but his weight was heavy. Brett groped me and tried to take off my clothes. He had a hard time because he was so drunk, and because I was wearing a one-piece bathing suit under my clothes. I believed he was going to rape me. I tried to yell for help. When I did, Brett put his hand over my mouth to stop me from screaming. This was what terrified me the most, and has had the most lasting impact on my life."
Ford said the alleged assault "drastically altered" her life, and for "a very long time" she was "too afraid and ashamed to tell anyone these details."
"I did not want to tell my parents that I, at age 15, was in a house without any parents present, drinking beer with boys. I convinced myself that because Brett did not rape me, I should just move on and just pretend that it had never happened," Ford said.
Watch:
10:52 a.m. ET, September 27, 2018
People watching Ford's testimony are tearing up in the room
You can hear and see in the room, as Blasey Ford describes her alleged assault through tears, that people supporters and some Senate staffers are crying and in tears.
Senator Klobuchar wiped away a tear.
10:49 a.m. ET, September 27, 2018
Ford says she doesn't remember everything, but what she does she will never forget
Christine Blasey Ford said she doesn't remember all the details about how the party where she was allegedly sexually assaulted was organized. She apologized for not recalling all of them.
"I truly wish I could be more helpful with more detailed answers to all of the questions that have and will be asked about how I got to the party and where it took place and so forth," she said.
"I don't have all the answers, and I don't remember as much as I would like to."
However, she added, what she does remember, she "will never forget."
But the details about that night that bring me here today are the ones I will never forget. They have been seared into my memory and have haunted me episodically as an adult
Watch more:
10:44 a.m. ET, September 27, 2018
Protesters are standing silent outside the hearing, clogging halls and elevators
Emily Qualey says she, and nine others, drove over 500 miles to deliver a message to her senator, Susan Collins: Vote no on Kavanaugh's nomination to the Supreme Court.
She and many others are silently protesting in the halls--even elevators--outside the hearing room.
Protesters lining the halls are silent. Their mouths are taped shut with "Believe survivors" and "Believe women" inscribed on the tape.
Similar messages are written on their raised palms, "I believe...We believe."