Brett Kavanaugh and Christine Blasey Ford testify on sex assault allegations
11:12 a.m. ET, September 27, 2018
Ford, her voice shaking, describes the night she was sexually assaulted
Christine Blasey Ford, seemingly on the verge of tears, recounted the incident where she alleges Judge Brett Kavanaugh sexually and physically assaulted her while they were both at a party during their high school years.
Here's some of what Ford alleged took place during her testimony:
"Early in the evening, I went up a narrow set of stairs leading from the living room to a second floor to use the bathroom. When I got to the top of the stairs, I was pushed from behind into a bedroom. I couldn't see who pushed me. Brett and Mark came into the bedroom and locked the door behind them.
There was music already playing in the bedroom. It was turned up louder by either Brett or Mark once we were in the room. I was pushed onto the bed and Brett got on top of me. He began running his hands over my body and grinding his hips into me. I yelled, hoping someone downstairs might hear me, and tried to get away from him, but his weight was heavy. Brett groped me and tried to take off my clothes. He had a hard time because he was so drunk, and because I was wearing a one-piece bathing suit under my clothes. I believed he was going to rape me. I tried to yell for help. When I did, Brett put his hand over my mouth to stop me from screaming. This was what terrified me the most, and has had the most lasting impact on my life."
Ford said the alleged assault "drastically altered" her life, and for "a very long time" she was "too afraid and ashamed to tell anyone these details."
"I did not want to tell my parents that I, at age 15, was in a house without any parents present, drinking beer with boys. I convinced myself that because Brett did not rape me, I should just move on and just pretend that it had never happened," Ford said.
Watch:
10:52 a.m. ET, September 27, 2018
People watching Ford's testimony are tearing up in the room
You can hear and see in the room, as Blasey Ford describes her alleged assault through tears, that people supporters and some Senate staffers are crying and in tears.
Senator Klobuchar wiped away a tear.
10:49 a.m. ET, September 27, 2018
Ford says she doesn't remember everything, but what she does she will never forget
Christine Blasey Ford said she doesn't remember all the details about how the party where she was allegedly sexually assaulted was organized. She apologized for not recalling all of them.
"I truly wish I could be more helpful with more detailed answers to all of the questions that have and will be asked about how I got to the party and where it took place and so forth," she said.
"I don't have all the answers, and I don't remember as much as I would like to."
However, she added, what she does remember, she "will never forget."
But the details about that night that bring me here today are the ones I will never forget. They have been seared into my memory and have haunted me episodically as an adult
Watch more:
10:44 a.m. ET, September 27, 2018
Protesters are standing silent outside the hearing, clogging halls and elevators
Emily Qualey says she, and nine others, drove over 500 miles to deliver a message to her senator, Susan Collins: Vote no on Kavanaugh's nomination to the Supreme Court.
She and many others are silently protesting in the halls--even elevators--outside the hearing room.
Protesters lining the halls are silent. Their mouths are taped shut with "Believe survivors" and "Believe women" inscribed on the tape.
Similar messages are written on their raised palms, "I believe...We believe."
10:45 a.m. ET, September 27, 2018
Ford tells senators: "I am terrified" but it's my "civic duty" to be here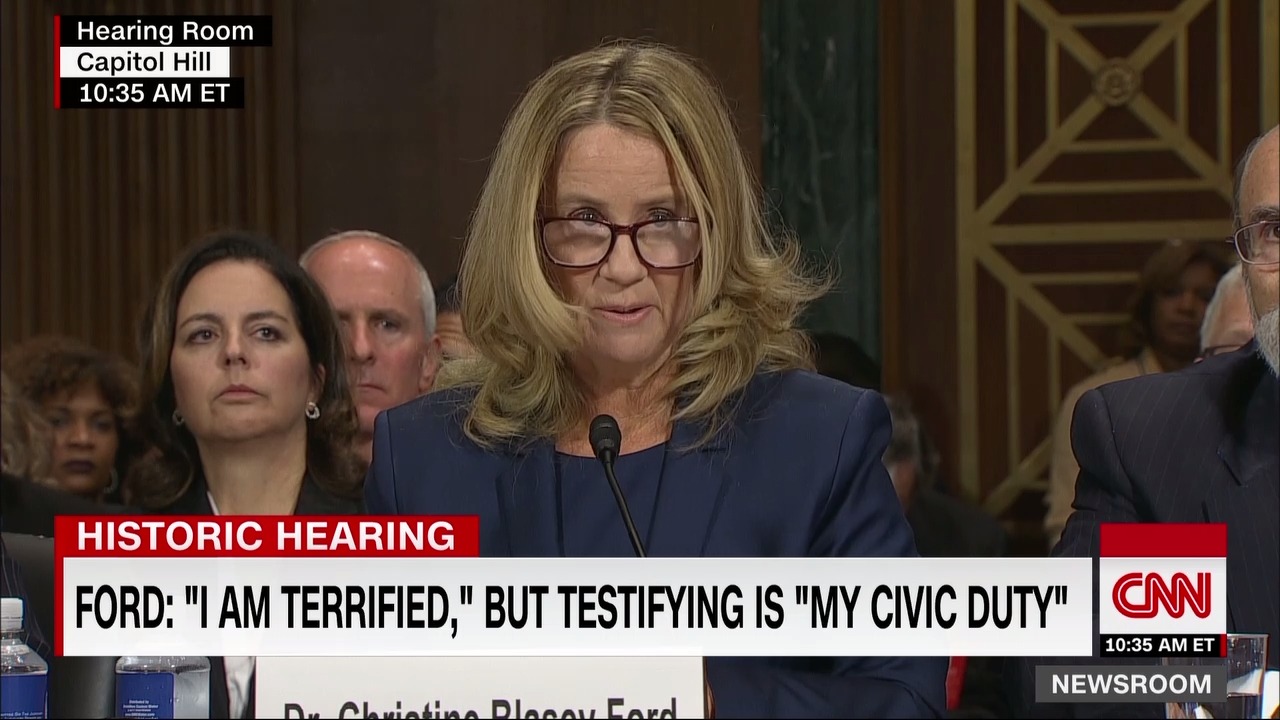 Christine Blasey Ford just introduced herself at the Senate Judiciary Committee hearing, admitted she was "terrified," and told senators why she has chosen to be there: It's her "civic duty."
"I am terrified. I am here because I believe it is my civic duty to tell you what happened to me while Brett Kavanaugh and I were in high school," she said. "I have described the events publicly before. I summarized them in my letter to ranking member Feinstein, and again in a letter to Chairman Grassley. I understand and appreciate the importance of your hearing from me directly about what happened to me and the impact it has had on my life and on my family."
She then explained how she met Brett Kavanaugh, "the boy who sexually assaulted me."
10:37 a.m. ET, September 27, 2018
Ford was just sworn in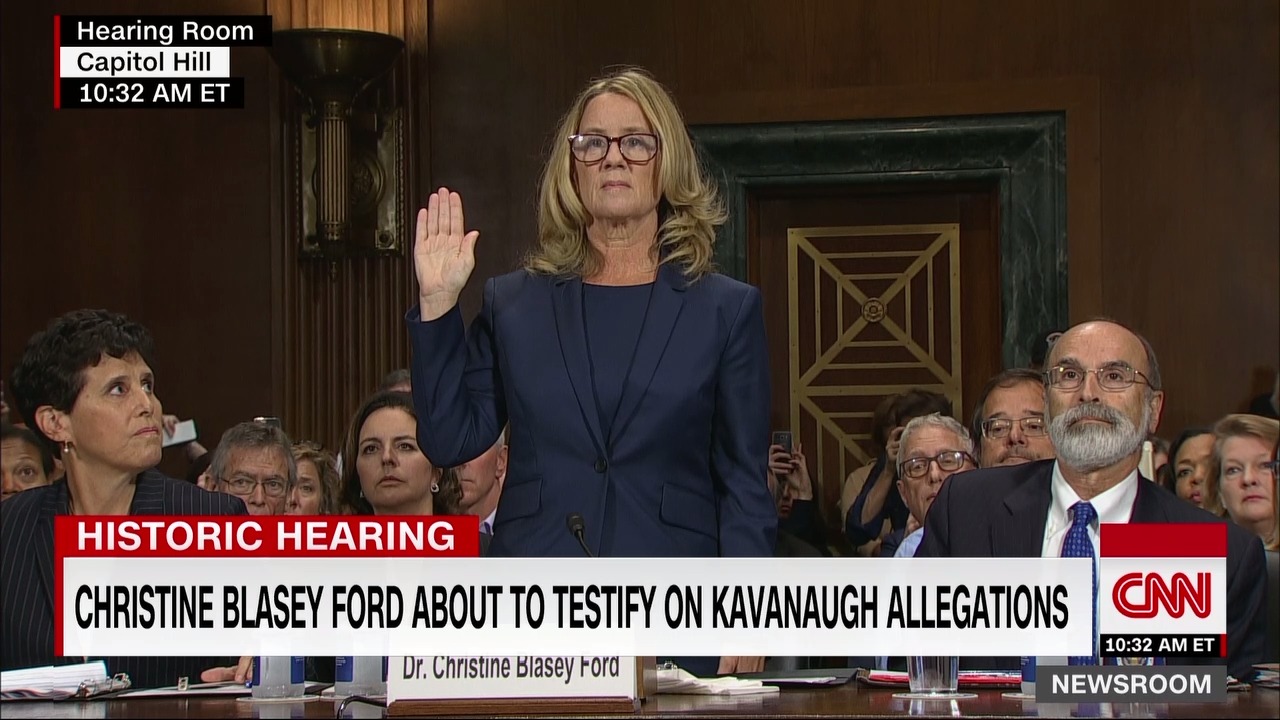 Christine Blasey Ford was just sworn in for today's testimony.
Watch the moment:
10:33 a.m. ET, September 27, 2018
Hearing kicks off with a feisty exchange between committee members
Following opening remarks from Senate Judiciary Committee Chairman Chuck Grassley, Democratic Sen. Dianne Feinstein made a jab at the Iowa Republican for not "properly" introducing Judge Brett Kavanaugh's accuser -- Christine Blasey Ford.
She then continued to read off Ford's resume, which includes multiple degrees of higher education.
Feinstein, during her remarks, spoke to Ford: "I am very grateful to you for your strength and your bravery in coming forward. I know it's hard," she said.
During his opening remarks, Grassley noted that Kavanaugh had been through six FBI background checks with no sexual assault allegations, and called his Democratic colleague's call for an FBI investigation into the accusations "obstruction."
He also criticized Feinstein for not immediately sharing Ford's claim when she initially received the letter detailing the allegation in July.
"Every step of the way, the Democratic side refused to participate in what should have been a bipartisan investigation," Grassley said.
10:30 a.m. ET, September 27, 2018
What we've learned about Ford's work and education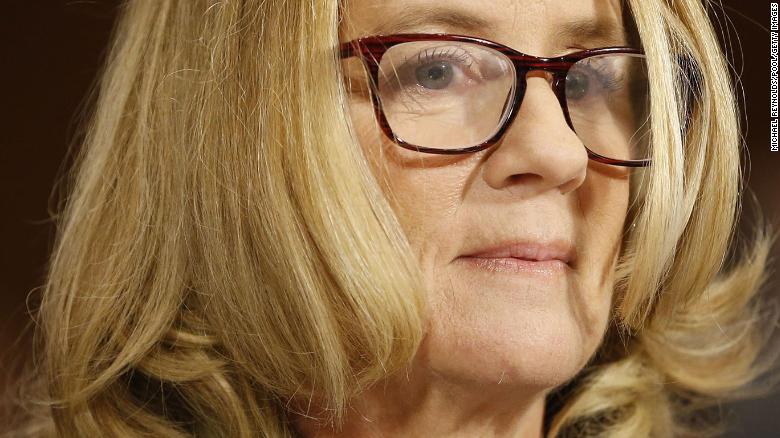 Sen. Dianne Feinstein spent some of her opening statement introducing Christine Blasey Ford.
Here's what we have learned so far:
Ford has a bachelor's degree from the University of North Carolina, Chapel Hill.
She has two master's degrees — one from Stanford and one from Pepperdine — and a doctorate from the University of Southern California.
She works as a professor and is affiliated with both Stanford University and Palo Alto University.
Ford has published more than 65 peer-reviewed articles.
She has two sons.
10:30 a.m. ET, September 27, 2018
Grassley hits Feinstein and calls for FBI probe in opening statement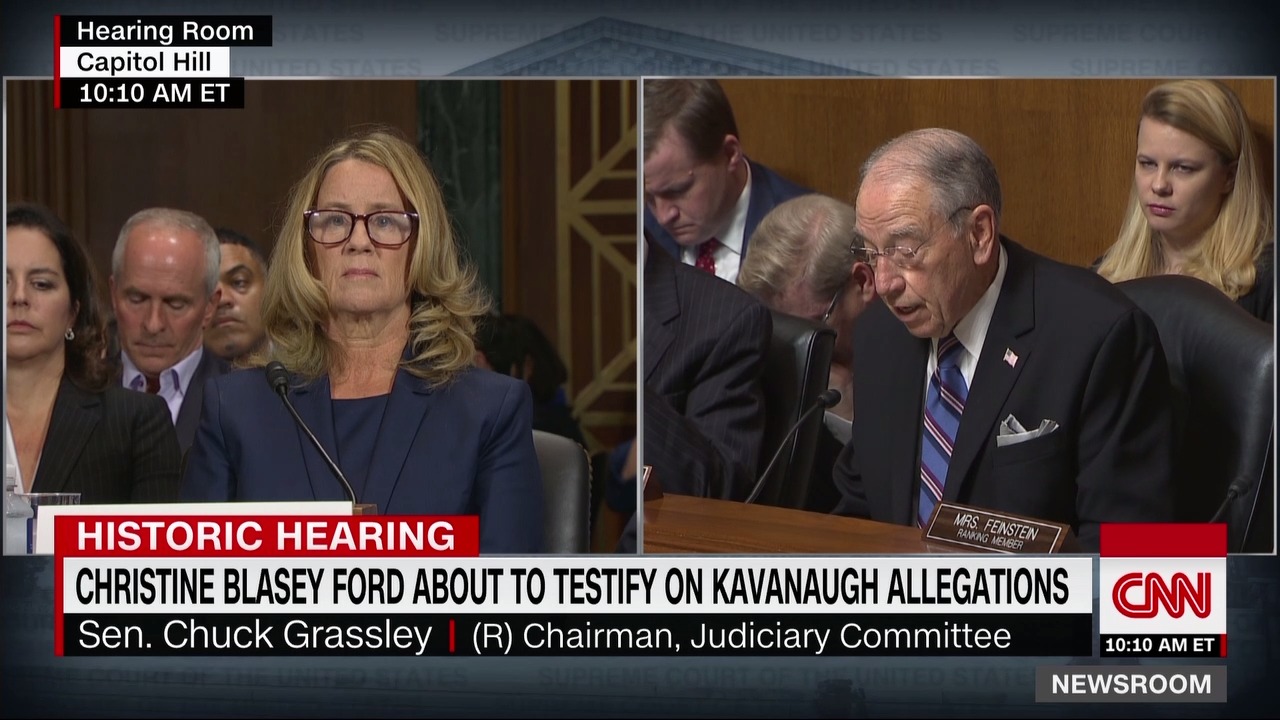 Judiciary Committee Chairman Chuck Grassley, an Iowa Republican, opened up by lashing out against the process that led to the hearing, taking shots at the ranking member, California Sen. Dianne Feinstein, and defended the lack of an FBI probe into Christine Blasey Ford's allegations.
"Some of my colleagues -- consistent with their stated desires to obstruct the Kavanaugh nomination by any means necessary -- pushed for an FBI investigation into the allegations," Grassley said.
"But I have no authority to force an Executive Branch agency to conduct an investigation into a matter it considers to be closed."
He also said the FBI was not in the business of making assessments of these kinds of allegations, suggesting Democrats' calls for a probe were disingenuous. He also quoted another former Judiciary Committee chair, former Vice President Joe Biden, who during the Anita Hill testimony nearly 27 years ago said, "the FBI explicitly does not in this or any other case reach a conclusion."
Democrats have argued that the FBI could help establish a baseline of facts for the senators on the committee.