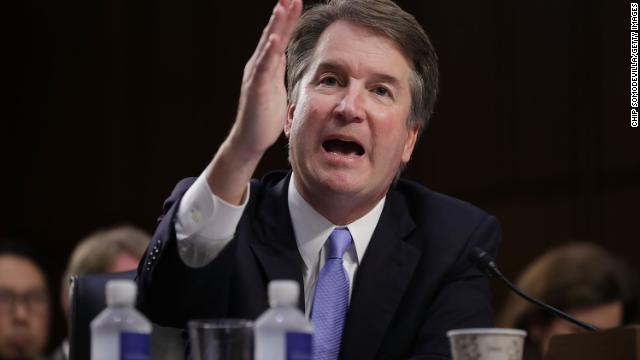 Expect to see a different Brett Kavanaugh than the robotic figure we saw on Fox News earlier in the week. A lot has changed since then.
"He's incandescent" — in this case meaning extremely angry — one person involved in his prep said. And although we saw an early version of an opening statement, that is expected to change as Kavanaugh defends himself against attacks, some of which he has called coming from the "Twilight Zone."
Kavanaugh spent one day this week sitting with White House Counsel Don McGahn and a small number of other advisors going through hearing prep. This is different from the preparations he went through — involving at times dozens of people — for his earlier confirmation hearing before Ford's allegations came out.
For Kavanaugh, according to his supporters, it's not as much about a Supreme Court seat now but defending his name. In regard to Ford's allegations, he vehemently denies them. He says that perhaps she was sexually assaulted by someone in some place but it wasn't him. But regarding other allegations — some anonymous — that have come into the committee since Ford came forward, he has called some of them "ridiculous" 
One came from a letter sent to Sen. Gardner alleging conduct in 1998. According to the letter a woman's daughter was with friends when Kavanaugh shoved one of the girls "up against the wall very aggressively." Kavanaugh told the committee: "We're dealing with an anonymous letter about an anonymous person and an anonymous friend. It's ridiculous. Total twilight zone. And no I've never done anything like that."
Democrats, on the other hand, and supporters of Christine Blasey Ford believe that Republicans on the committee are flooding the record with anonymous allegations only to diminish Ford's allegations. They note that late last night the committee released, to the media, information suggesting committee staff met with a man who believes he, not Kavanaugh, had the encounter with Ford. A Democratic aide said they were blindsided by the release and weren't informed beforehand. 
Ford's legal team issued a statement saying that the committee failed to point out that they found the allegation not to be credible. "This last minute attempt that seeks to undermine Dr. Ford won't work," the spokesman said.