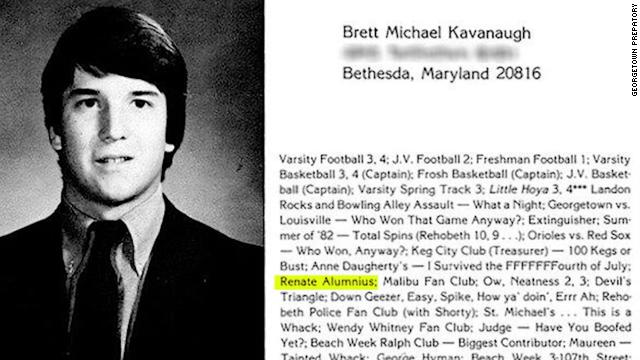 Supreme Court nominee Brett Kavanaugh said he cringes when he looks back at his high school yearbook — but maintained that the jokes in it were not about anything sexual.
"As high school students, we sometimes did goofy or stupid things. I doubt we're alone in looking back at high school and cringing at some things. For one thing, our yearbook was a disaster," he said.
Kavanaugh included "Renate Alumnius" as an entry in his high school yearbook page, and two of Kavanaugh's classmates told the New York Times the mentions of "Renate" were part of the high school football players' unsubstantiated boasting about their conquests with Renate Schroeder Dolphin
Kavanaugh explained the reference like this:
"One thing in particular we were sad about, one of our good — one of our good female friends, who we would admire and went to dances with had her name used on the yearbook page with the term alumnus. That yearbook reference was clumsily intended to show affection and that she was one of us. But in this circus, the media has interpreted the term was related to sex. It was not related to sex. 
Watch more: