Brett Kavanaugh and Christine Blasey Ford testify on sex assault allegations
10:14 a.m. ET, September 27, 2018
Kavanaugh will watch Ford's testimony from Mike Pence's office
When he does arrive on Capitol Hill, Judge Brett Kavanaugh is planning to watch at least the first portion of Christine Blasey Ford's testimony from Vice President Mike Pence's ceremonial office in the Senate side of the Capitol, a source familiar with the plan says.
As Ford's legal team requested, and Judiciary Committee Republicans agreed to, he will never be in the same room as Ford. He will make his way to the committee room after she departs. 
10:06 a.m. ET, September 27, 2018
Ford arrives at Senate hearing. This is the first time we've seen her since the allegation.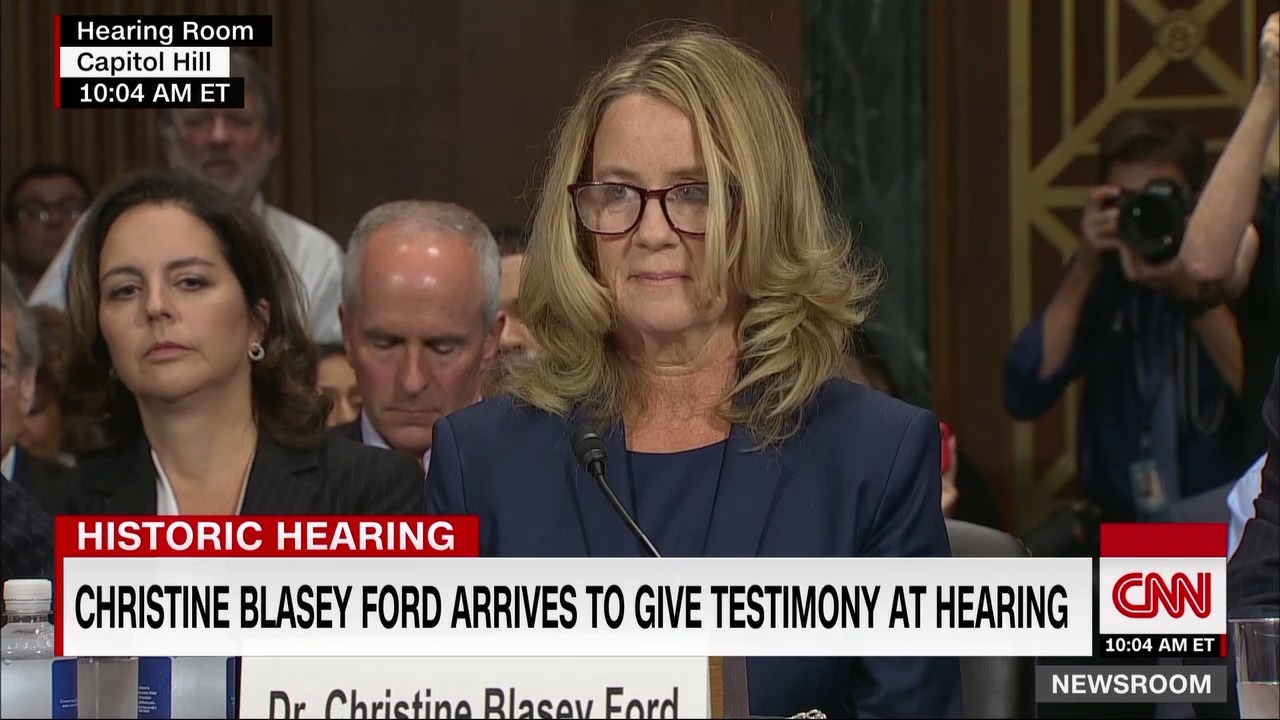 Christine Blasey Ford has arrived at the hearing table.
She'll testify before Brett Kavanaugh.
10:04 a.m. ET, September 27, 2018
Democrats are coordinating their questions, but not consolidating their time
Senate Democrats are not expected to consolidate their time -– meaning no one is giving up their allotted time to ask questions in order to give longer time to one or two.
But they ARE coordinating their questioning, CNN has learned.
11:42 a.m. ET, September 27, 2018
Susan Collins will watch the hearings — but not from her main office
An aide to Sen. Susan Collins tells CNN she will be watching the hearings but not from her office in the Dirksen building.
They anticipate protestors and people from the overflow viewing room just down the hall to make their way to her office later today.
A spokesperson said the senator will watch from her office in the Capitol building.
Clarification: This post has been updated to clarify where Collins is watching the hearing.
9:58 a.m. ET, September 27, 2018
Ford's friend: "She's ready, and she's determined"
Christine Blasey Ford's friend, Samantha Guerry, is here.
"She's ready, and she's determined," Guerry told CNN. 
9:57 a.m. ET, September 27, 2018
Rachel Mitchell is in the room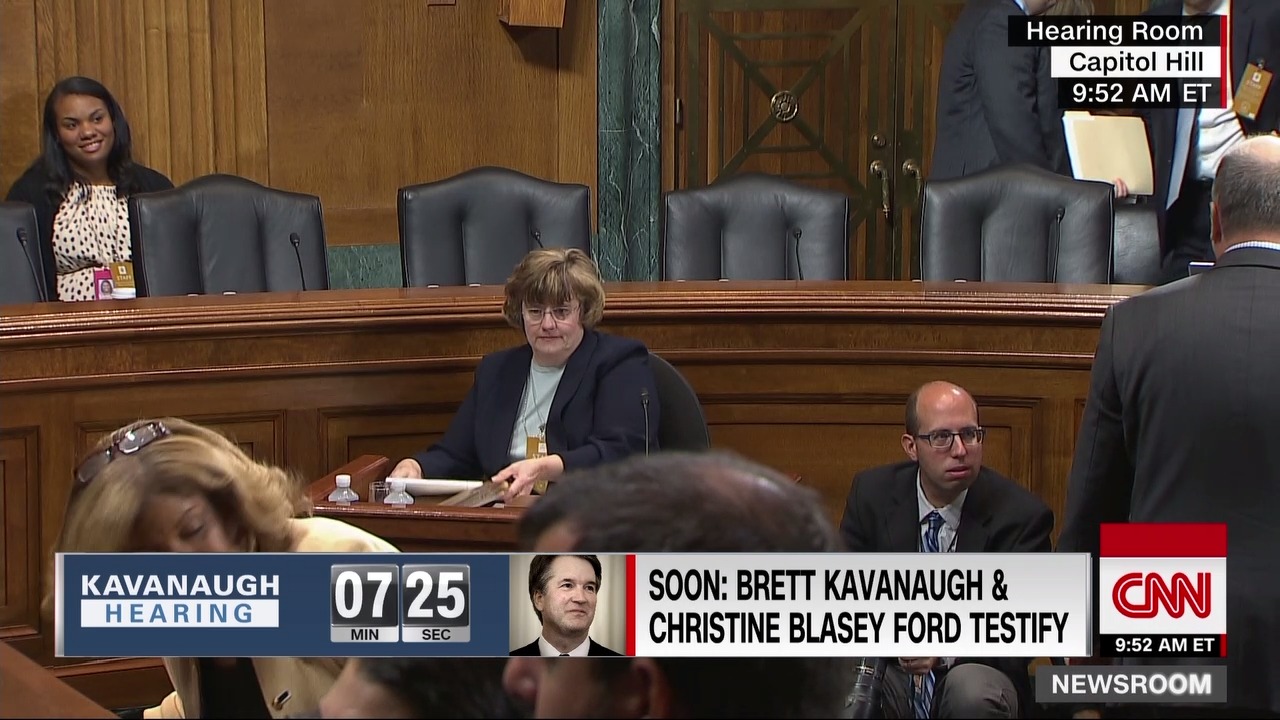 The prosecutor selected to serve as outside counsel for the Republican-led Senate Judiciary Committee at Supreme Court nominee Brett Kavanaugh's hearing is officially in the room.
Rachel Mitchell has been a prosecutor for more than 25 years in Arizona involved in crimes similar to the sexual assault allegation levied by Christine Blasey Ford against Kavanaugh, who has denied the claim.
Mitchell currently serves as the Deputy County Attorney in the Maricopa County Attorney's Office in Phoenix and is also is the division chief of the Special Victims Division, which handles cases of domestic violence, sex crimes, and auto theft. She has taken a leave of absence to come to Washington.
For over a decade, Mitchell, who was admitted to the Arizona state bar in 1992, ran the sex crimes bureau of that division, directing the prosecution of crimes including adult sexual assault.
On Thursday, however, she'll be handling a case unlike any she's ever prosecuted.
9:56 a.m. ET, September 27, 2018
Trump's message to Kavanaugh: Be forceful in your denials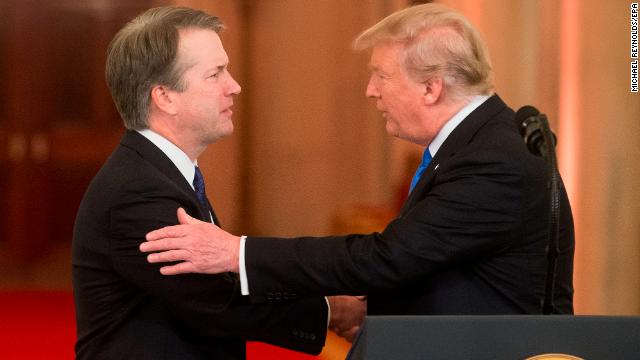 President Trump and Vice President Mike Pence have both phoned Judge Kavanaugh to voice their support for him ahead of today's hearing.
Trump had a message for Kavanaugh when they spoke, per someone familiar with the call: Be aggressive and forceful in your denials. Don't be afraid to push back on these allegations, Trump said. 
Will the belligerent style Trump has employed to refute similar allegations work for Kavanaugh today? Stay tuned. 
9:52 a.m. ET, September 27, 2018
Why we'll see a different, perhaps angrier, Kavanaugh today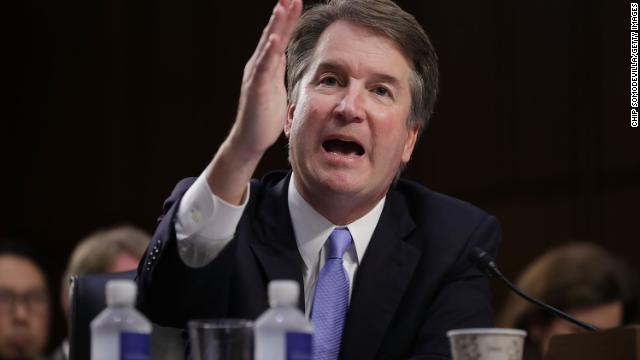 Expect to see a different Brett Kavanaugh than the robotic figure we saw on Fox News earlier in the week. A lot has changed since then.
"He's incandescent" — in this case meaning extremely angry — one person involved in his prep said. And although we saw an early version of an opening statement, that is expected to change as Kavanaugh defends himself against attacks, some of which he has called coming from the "Twilight Zone."
Kavanaugh spent one day this week sitting with White House Counsel Don McGahn and a small number of other advisors going through hearing prep. This is different from the preparations he went through — involving at times dozens of people — for his earlier confirmation hearing before Ford's allegations came out.
For Kavanaugh, according to his supporters, it's not as much about a Supreme Court seat now but defending his name. In regard to Ford's allegations, he vehemently denies them. He says that perhaps she was sexually assaulted by someone in some place but it wasn't him. But regarding other allegations — some anonymous — that have come into the committee since Ford came forward, he has called some of them "ridiculous" 
One came from a letter sent to Sen. Gardner alleging conduct in 1998. According to the letter a woman's daughter was with friends when Kavanaugh shoved one of the girls "up against the wall very aggressively." Kavanaugh told the committee: "We're dealing with an anonymous letter about an anonymous person and an anonymous friend. It's ridiculous. Total twilight zone. And no I've never done anything like that."
Democrats, on the other hand, and supporters of Christine Blasey Ford believe that Republicans on the committee are flooding the record with anonymous allegations only to diminish Ford's allegations. They note that late last night the committee released, to the media, information suggesting committee staff met with a man who believes he, not Kavanaugh, had the encounter with Ford. A Democratic aide said they were blindsided by the release and weren't informed beforehand. 
Ford's legal team issued a statement saying that the committee failed to point out that they found the allegation not to be credible. "This last minute attempt that seeks to undermine Dr. Ford won't work," the spokesman said.
9:52 a.m. ET, September 27, 2018
The line to attend the Kavanaugh-Ford hearing
There will be only about 20 seats for members of the public in room 226, the small room in which the Kavanaugh-Ford hearing will take place.
Abby Cruz, reporter for the Montgomery County Sentinel, filmed the line of people that are queuing for those limited seats.