Senators vote on Kavanaugh's nomination
3:01 p.m. ET, October 1, 2018
Why the public may not see the FBI's report on Kavanaugh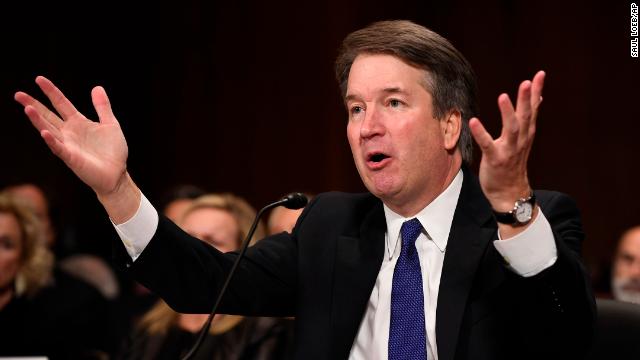 The FBI got right to work after they received the official request from the White House for a supplementary background investigation on Trump's Supreme Court nominee Brett Kavanaugh.
Agents have already reached out to key players related to the allegation from Christine Blasey Ford.
This will become important in the next few days: The White House ordered the FBI to do a supplemental background investigation. When the FBI completes its work, it sends what it has collected back to the White House. The White House then adds that information to the nominee's background file, which is then sent to the Senate.
Only then can senators see it, and only senators and a limited number of staff have access to it.
In other words, don't expect some big public report. There will likely be efforts to make the information public, especially by whichever side it helps. But it's not a clean process of public release.
2:41 p.m. ET, October 1, 2018
White House official says FBI not limited in investigation
The White House has made it clear to the FBI that agents are not limited in their expanded background search on Supreme Court nominee Brett Kavanaugh, one White House official tells CNN.
The source involved pushed back on the idea that the White House would stop further investigation. Now, the FBI can go back to the White House, and if it says there are other witnesses, the White House can send them back out. 
This source says the White House is 100% open to further calls by the FBI.
The source said it is "false" to say that the investigation is almost wrapped up but stressed even extra calls shouldn't take the FBI that long.
1:58 p.m. ET, October 1, 2018
Here's the list of people Senate Judiciary Democrats want interviewed
Nine of the 10 Democrats on the Senate Judiciary Committee sent White House counsel Don McGahn and FBI Director Christopher Wray a letter today. (Sen. Chris Coons did not sign it.)
The letter provides a list of individuals they believe should be interviewed at a minimum as part of the FBI investigation into the Brett Kavanaugh allegations.
The letter reads:
"We ask that you confirm that the FBI background investigation will include the allegations of Christine Blasey Ford, Deborah Ramirez and Julie Swetnick and that the FBI will perform all logical steps related to these allegations, including interviewing other individuals who might have relevant information and gathering evidence related to the truthfulness of statements made in relation to these allegations. 
And here's the list of people they want interviewed:
Christine Blasey Ford, Kavanaugh's first accuser
Lynne Brookes, Kavanaugh's friend from Yale
Russell Ford, Ford's husband.
Christopher Garrett
Timothy Gaudette, Kavanagh's friend and Georgetown Prep classmate
Adela Gildo-Mazzon, Ford's friend
Sean Hagan, Kavanaugh's Georgetown Prep classmate.
Jeremiah P. Hanafin, D.C.-area polygraph examiner who conduced Ford's
Mark Judge, Kavanaugh's friend and Georgetown Prep classmate
Thomas Kane
Brett Kavanaugh
Leland Keyser, Ford's high school friend
Keith Koegler, friend of Ford
Mark Krasberg
Bernie McCarthy
Richard Oh, Kavanaugh's classmate at Yale College.
Potomac Village Safeway, to examine the employment records for this store to verify Ford's claims and to determine the relevant time period
Deborah Ramirez, Kavanaugh's second accuser
Elizabeth Rasor, Ex-girlfriend and college classmate of Judge
James Roche, Kavanaugh's freshman roommate at Yale
Patrick J. Smyth, Kavanaugh's friend and Georgetown Prep classmate. 
Julie Swetnick, Kavanaugh's third accuser
Elizabeth Swisher, Kavanaugh's friend from Yale
Rebecca White, Ford's friend
1:48 p.m. ET, October 1, 2018
Kavanaugh's Yale roommate says he's never been contacted by the FBI
James Roche — one of Brett Kavanaugh's freshman year roommates at Yale — tweeted today that the FBI has never contacted him for any of his background checks
"I assume college behavior was not a topic of interest. They did not find Debbie's story because they were not looking for it," Roche tweeted, referring to Debbie Ramirez's allegation of an incident at Yale.
Roche previously said in a statement that Kavanaugh "became aggressive and belligerent when he was very drunk."  
I do remember Brett frequently drinking excessively and becoming incoherently drunk," Roche had said in a statement last week, before Kavanaugh's testimony. Kavanaugh said he never "blacked out" or "passed out" from drinking.
1:33 p.m. ET, October 1, 2018
FBI hasn't told the Senate when the Kavanaugh investigation will end
As of this morning, the FBI has not told the Senate Judiciary Committee about when the background investigation on Brett Kavanaugh will be complete, an aide to Chairman Chuck Grassley says.
On Friday, Senate Republicans agreed to allow the FBI to conduct a one-week investigation into the allegations against Kavanaugh.
12:56 p.m. ET, October 1, 2018
Trump: Kavanaugh should be interviewed by FBI if senators want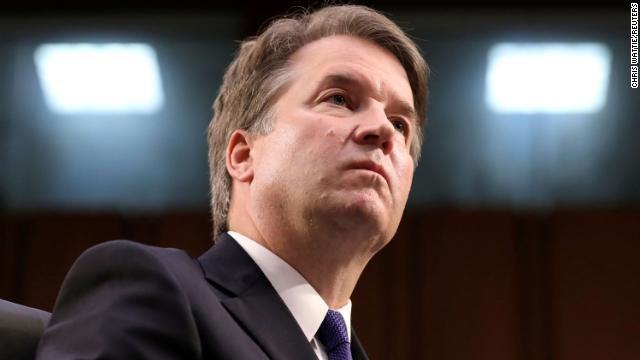 President Trump said Monday his Supreme Court nominee Brett Kavanaugh should be interviewed by the FBI if it helps lawmakers make a decision on his nomination.
 "I think so," Trump said when asked if the FBI should question his nominee. "It's up to them."
 "I think the FBI should interview anybody they want, but within reason," Trump told reporters in the Rose Garden.
"They should interview, but they should be guided by what the senators are looking for," he said.
12:51 p.m. ET, October 1, 2018
Trump on Kavanaugh: "He's had a little bit of difficulty. He talked about things that happened when he drank."
President Trump, in a comment that seemed to go further than Brett Kavanaugh's public comments, said of his nominee: "He's had a little bit of difficulty. He talked about things that happened when he drank."
Asked about concerns that the Supreme Court nominee mischaracterized his drinking, Trump said, "I watched him. I was surprised at how vocal he was about he fact that he likes beer ... This is not a man that said that he was perfect with respect to alcohol." 
Responding to questions from CNN's Kaitlan Collins, Trump suggested "there are bad reports on everybody" present in the Rose Garden, "Expect for Mike Pence by the way," he joked.  
"I think the Judge has been pretty amazing about describing his situation with alcohol and with beer," he said, pivoting to criticize Democratic Senators Corey Booker, Dianne Feinstein, and Richard Blumenthal. 
Pressed on whether lying would be disqualifying, Trump said, "I don't think he did."