Senators vote on Kavanaugh's nomination
11:29 a.m. ET, October 5, 2018
Murkowski spoke with members of GOP leadership for more than 20 minutes before leaving
Sen. Lisa Murkowski just left the Senate floor. She spoke with varying members of GOP leadership for more than 20 minutes, including Majority Leader Mitch McConnell.
She and McConnell spoke together for about two minutes, and she patted him on the shoulder as they split up.
Earlier, after Murkowski's no vote, Senators Collins and Murkowski sat together on the Senate floor. They didn't engage much while the roll was still being called.
Then, a few minutes later, Collins leaned in with her hand on Murkowski's chair and the two seemed to talk back and forth for several minutes.
11:17 a.m. ET, October 5, 2018
Republican senator: I have "transportation arranged" to get back to D.C. after daughter's wedding
Sen. Steve Daines, whose daughter is getting married tomorrow, says he's got transportation arranged for a quick return to DC if his vote is needed -- though he wouldn't say whether he will stay in Montana if the outcome isn't in doubt without his vote.
"We have transportation arranged, and we'll wait and see what happens," Daines said.
"At the end of this weekend I'll have walked my daughter down the aisle at her wedding and there will be a new Supreme Court justice."
"I've got a very happy daughter and I think we have a very happy judge right now, too. We've got one more step to take," he said.
11:03 a.m. ET, October 5, 2018
Kavanaugh family and friends hugging and exhaling as they leave Senate gallery
There was a group of people in the Senate gallery today as guests to Majority Leader McConnell who supported Kavanaugh's nomination. They filed out of the gallery smiling and hugging, and some were making a point of audibly exhaling.
Brett Kavanaugh's wife was not among them, and neither was Don McGahn, who was spotted earlier on the hill by CNN's Ted Barrett.
11:07 a.m. ET, October 5, 2018
Trump, watching from the White House, tweets he's "very proud" of the Senate vote
President Trump was watching the dramatic Senate cloture vote from the residence of the White House, an official said, with the fate of Supreme Court nominee Brett Kavanaugh still uncertain.
The president is not making calls to any senators, the official said, and is largely a bystander at this critical moment of his administration.
The president remains confident of Kavanaugh's confirmation, the official said, but intends to use either outcome in the midterm election campaign.
He tweeted his support when the vote passed:
10:54 a.m. ET, October 5, 2018
Senate votes 51-49 to move Kavanaugh's nomination to a final vote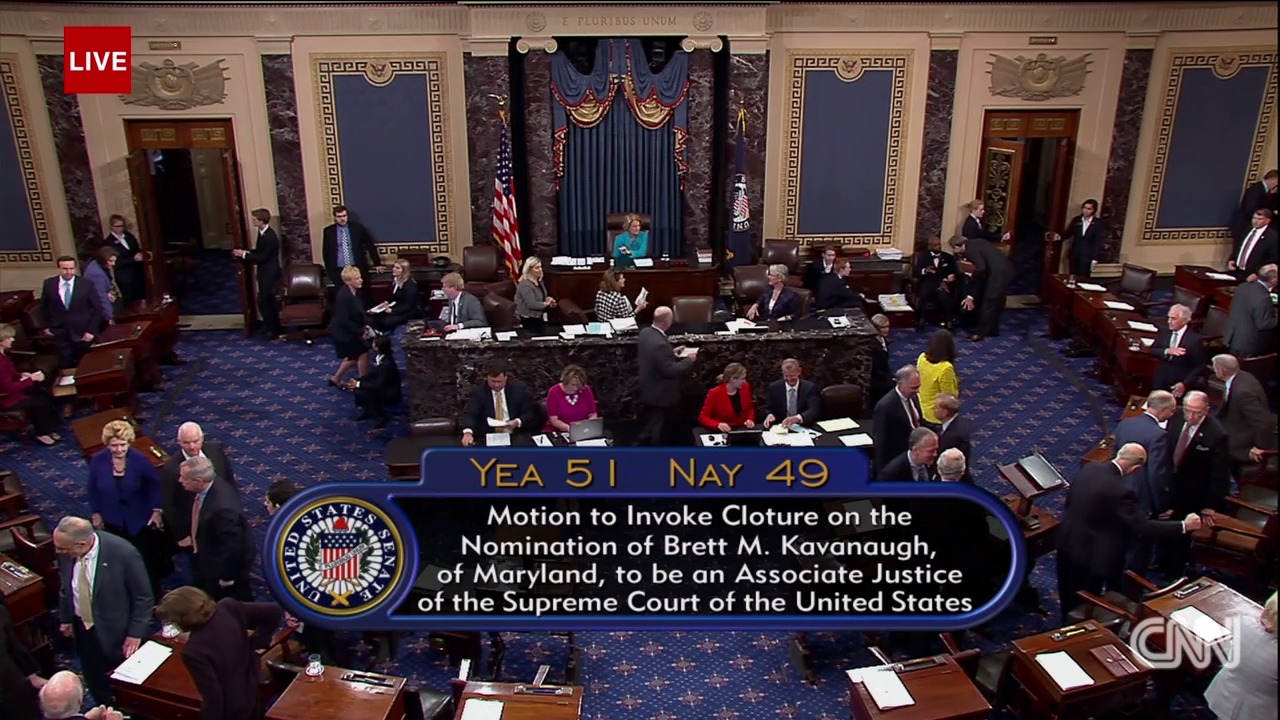 The Senate just voted to advance Brett Kavanaugh's Supreme Court nomination in a critical test of support.
A final confirmation vote is expected Saturday.
Republican Sens. Jeff Flake and Susan Collins supported the motion, as did Democratic Sen. Joe Manchin, who had been undecided.
GOP Sen. Lisa Murkowski voted no.
10:50 a.m. ET, October 5, 2018
As senators vote, protesters crowd Senate Majority Leader's office
Senate Majority Leader Mitch McConnell is in the Senate Chambers overseeing the cloture vote on Brett Kavanaugh's Supreme Court nomination.
Protesters are in his office, chanting, "We don't consent! No more rapist in power!"
10:48 a.m. ET, October 5, 2018
Murkowski votes NO on Kavanaugh procedural vote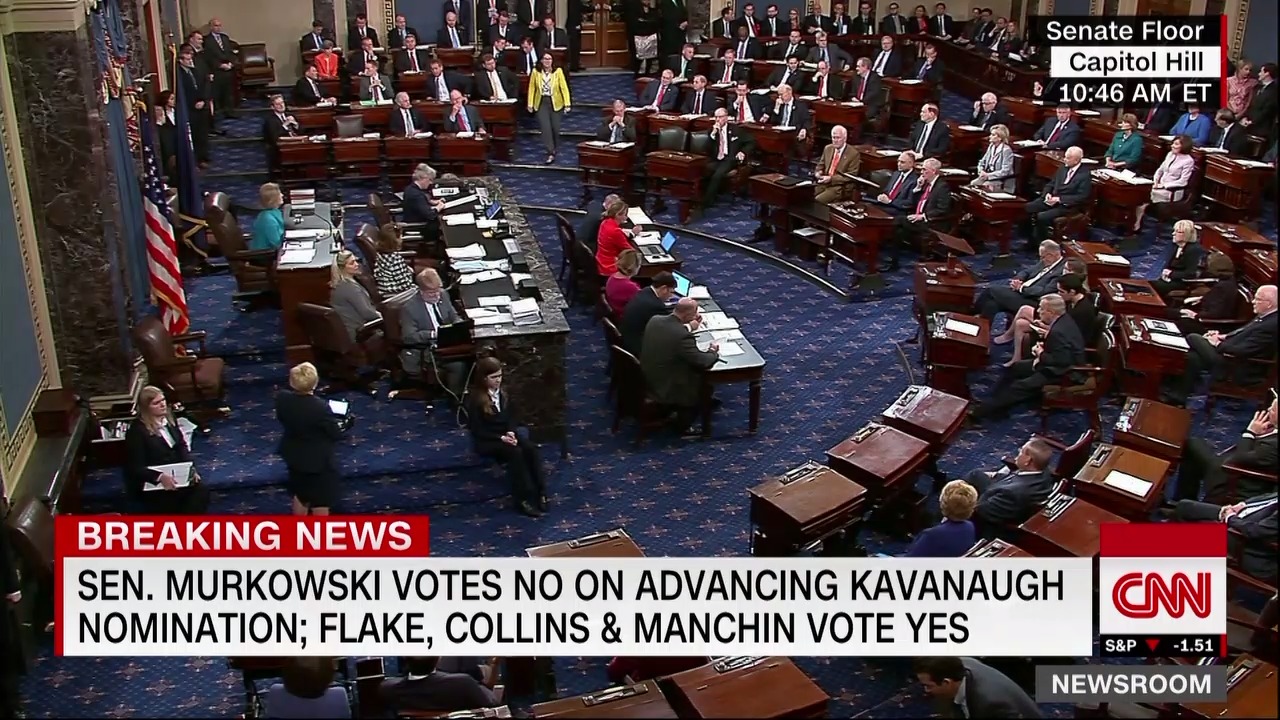 Republican Sen. Lisa Murkowski, a key swing vote on the final Kavanaugh confirmation, just voted no on a procedural vote to invoke cloture.
How it happened: Murkowski stood up. All eyes were on her. Then, speaking so softly that all of the reporters had to scramble to ask one another if we had heard correctly, she said "no" on the procedural vote. She then slowly sat back down.
10:43 a.m. ET, October 5, 2018
NOW: Senators vote on whether to invoke cloture on Kavanaugh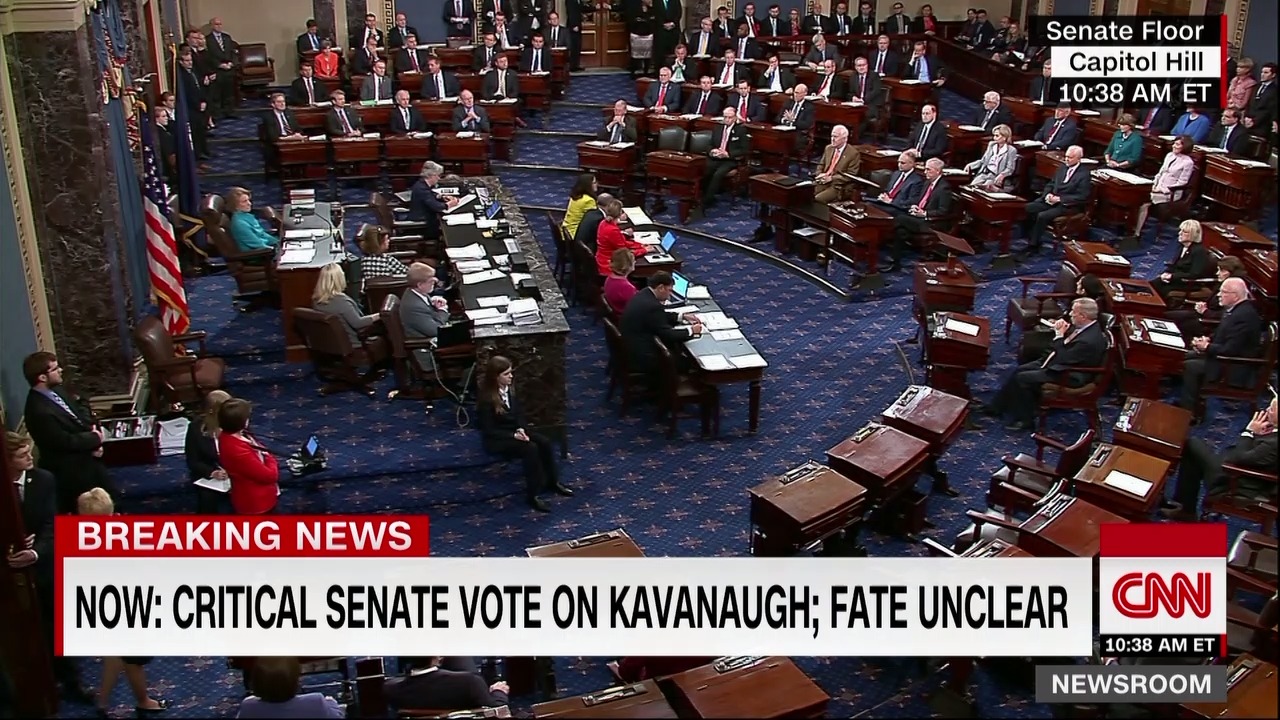 10:41 a.m. ET, October 5, 2018
Manchin leaves SCIF, but won't say how he's voting
Senator Manchin left the SCIF with Senator Tim Kaine, but he did not say how he will vote.
He also didn't say whether he would follow Collins on cloture and the final vote.
He said he read the FBI report.