Senators vote on Kavanaugh's nomination
12:01 p.m. ET, October 5, 2018
Murkowski a NO on Kavanaugh, says he's "not the right man for the court at this time"
Sen. Lisa Murkowski just explained her vote to reporters leaving the floor, calling it "the most difficult evaluation" she's had to make.
"He's not the right man for the court at this time," she said. "So I have taken my vote here this morning. I'm going to go back to my office and write a floor statement that is more fulsome."
11:58 a.m. ET, October 5, 2018
Protesters outside Sen. Flake's office detained
Capitol Police just moved in to start detaining anti-Kavanaugh protesters who were seated outside Arizona Senator Jeff Flake's office.
Flake voted yes to invoke cloture on Kavanaugh, yet we don't know where he'll land in the final vote expected tomorrow.
12:05 p.m. ET, October 5, 2018
Kavanaugh supporters thank senators for "yes" votes
11:43 a.m. ET, October 5, 2018
A smaller group of Kavanaugh supporters are lobbying senators, too
Debbie Martin, of Alexandria, Virginia, is on Capitol Hill today but she's not protesting Brett Kavanaugh's nomination to the Supreme Court.
Instead, she's out to show support.
Martin is making the rounds visiting Senate offices hoping to get votes for him with Freedom Works, a conservative political group.
"I felt I needed to be here," she told CNN. "I feel too strongly to sit at home just Tweeting about it."
Senators Susan Collins, Lisa Murkowski, Joe Manchin, David Perdue and Mike Lee have all been visited by her. She's headed to Senator Jeff Flake's office now.
They know that their group is not as numerous, or loud, on Capitol Hill today. But they're still out and about.
"I support Judge Kavanaugh," she said. "I think this process has been unfair and partisan. I think if he isn't confirmed, it's a bad precedent to set in our country. Uncorroborated accusations can ruin someone."
11:29 a.m. ET, October 5, 2018
Murkowski spoke with members of GOP leadership for more than 20 minutes before leaving
Sen. Lisa Murkowski just left the Senate floor. She spoke with varying members of GOP leadership for more than 20 minutes, including Majority Leader Mitch McConnell.
She and McConnell spoke together for about two minutes, and she patted him on the shoulder as they split up.
Earlier, after Murkowski's no vote, Senators Collins and Murkowski sat together on the Senate floor. They didn't engage much while the roll was still being called.
Then, a few minutes later, Collins leaned in with her hand on Murkowski's chair and the two seemed to talk back and forth for several minutes.
11:17 a.m. ET, October 5, 2018
Republican senator: I have "transportation arranged" to get back to D.C. after daughter's wedding
Sen. Steve Daines, whose daughter is getting married tomorrow, says he's got transportation arranged for a quick return to DC if his vote is needed -- though he wouldn't say whether he will stay in Montana if the outcome isn't in doubt without his vote.
"We have transportation arranged, and we'll wait and see what happens," Daines said.
"At the end of this weekend I'll have walked my daughter down the aisle at her wedding and there will be a new Supreme Court justice."
"I've got a very happy daughter and I think we have a very happy judge right now, too. We've got one more step to take," he said.
11:03 a.m. ET, October 5, 2018
Kavanaugh family and friends hugging and exhaling as they leave Senate gallery
There was a group of people in the Senate gallery today as guests to Majority Leader McConnell who supported Kavanaugh's nomination. They filed out of the gallery smiling and hugging, and some were making a point of audibly exhaling.
Brett Kavanaugh's wife was not among them, and neither was Don McGahn, who was spotted earlier on the hill by CNN's Ted Barrett.
11:07 a.m. ET, October 5, 2018
Trump, watching from the White House, tweets he's "very proud" of the Senate vote
President Trump was watching the dramatic Senate cloture vote from the residence of the White House, an official said, with the fate of Supreme Court nominee Brett Kavanaugh still uncertain.
The president is not making calls to any senators, the official said, and is largely a bystander at this critical moment of his administration.
The president remains confident of Kavanaugh's confirmation, the official said, but intends to use either outcome in the midterm election campaign.
He tweeted his support when the vote passed:
10:54 a.m. ET, October 5, 2018
Senate votes 51-49 to move Kavanaugh's nomination to a final vote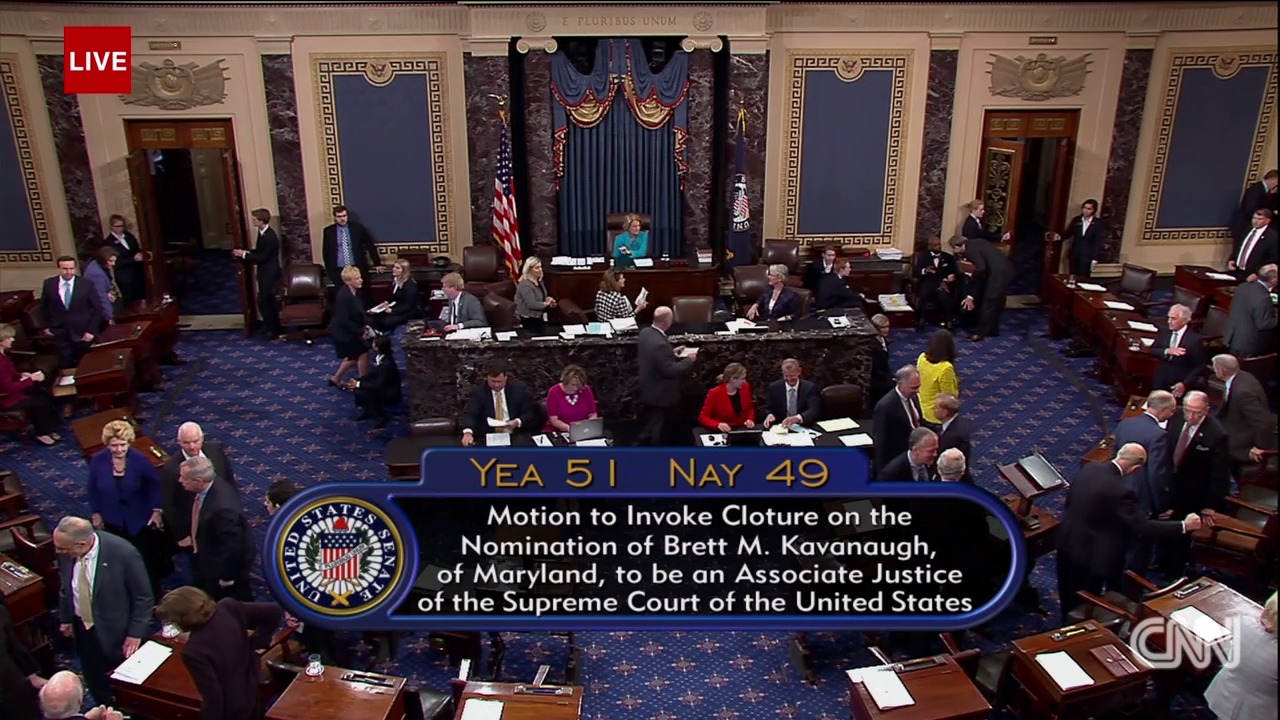 The Senate just voted to advance Brett Kavanaugh's Supreme Court nomination in a critical test of support.
A final confirmation vote is expected Saturday.
Republican Sens. Jeff Flake and Susan Collins supported the motion, as did Democratic Sen. Joe Manchin, who had been undecided.
GOP Sen. Lisa Murkowski voted no.