Senators vote on Kavanaugh's nomination
6:17 p.m. ET, October 5, 2018
Trump Jr. slams Manchin's "yes" vote for Kavanaugh
Donald Trump Jr. took to Twitter Friday to criticize Democratic Sen. Joe Manchin's vote to confirm Supreme Court nominee Brett Kavanaugh.
"A real profile in courage from Lyin' liberal @JoeManchinWV. Waited until Kavanugh had enough votes secured before he announced his support. I bet he had another press release ready to go if Collins went the other way," Trump Jr. tweeted.
What happened earlier today: Minutes after Republican Sen. Susan Collins announced on the Senate floor that she would vote yes to confirm Kavanaugh, Manchin, a red-state Democrat, released a statement declaring his support.
Here's what Manchin said:
"I have reservations about this vote given the serious accusations against Judge Kavanaugh and the temperament he displayed in the hearing. And my heart goes out to anyone who has experienced any type of sexual assault in their life. However, based on all of the information I have available to me, including the recently completed FBI report, I have found Judge Kavanaugh to be a qualified jurist who will follow the Constitution and determine cases based on the legal findings before him. I do hope that Judge Kavanaugh will not allow the partisan nature this process took to follow him onto the court."
5:33 p.m. ET, October 5, 2018
Collins says she made her decision last night
Maine Sen. Susan Collins said she made her decision on Kavanaugh last night.
"I made it last night, after finishing going through all the FBI interviews," the Republican lawmaker said.
Asked about whether it was a difficult decision, given the conviction in her speech, Collins said she struggled with it.
"Well believe me, I struggled with it for a long time because I did not want — I was very disturbed by the allegations that were put forth, and I found Christine Ford's testimony to be very heart-wrenching, painful and compelling," she said. "But there was a lack of corroborating evidence no matter where you looked among all the people she named as present at the party. And the FBI's investigation further indicated that lack of corroboration. Which is why having that supplemental investigation was important. I felt it was really important that we have a fairer approach, and I hope going forward that we can really rethink the nomination process and come up with an approach that treats everyone with far more dignity and compassion than was the case here."
5:10 p.m. ET, October 5, 2018
GOP source: White House, Kavanaugh insiders were holding their breaths as Collins spoke
A GOP source familiar with the nomination process said staffers on the committee, at the White House and in Brett Kavanaugh's inner circle were all holding their breaths as Sen. Susan Collins delivered her speech.
The source said they believed Collins would announce her support for Kavanaugh but given the unpredictability of the week, they were watching and waiting like everybody else.
"We were on the edge of our seats. Signs were good but you never take those for granted until it's announced. We're thinking that it shouldn't have been this close," the source said.
4:48 p.m. ET, October 5, 2018
President Trump delayed his signing ceremony to watch Sen. Collins' speech
President Trump delayed a signing ceremony and watched Sen. Susan Collins' floor speech in the dining room next to the Oval Office, a White House aide said.
Trump was in "a really good mood, to say the least," the aide said.
Trump had been scheduled to sign the Federal Aviation Administration reauthorization bill at 2:45 p.m. ET today.
But the aide said the signing was delayed because as soon as House members and senators entered the Oval Office for the planned signing event, Trump asked them if they wanted to watch Sen. Susan Collins' speech. And they did.
 The bill has now been signed, however. The legislation reauthorizes the FAA for five years and makes some regulatory changes related to plane travel.
4:46 p.m. ET, October 5, 2018
Chuck Grassley praises Collins for "exposing the ugliness" of Kavanaugh's confirmation process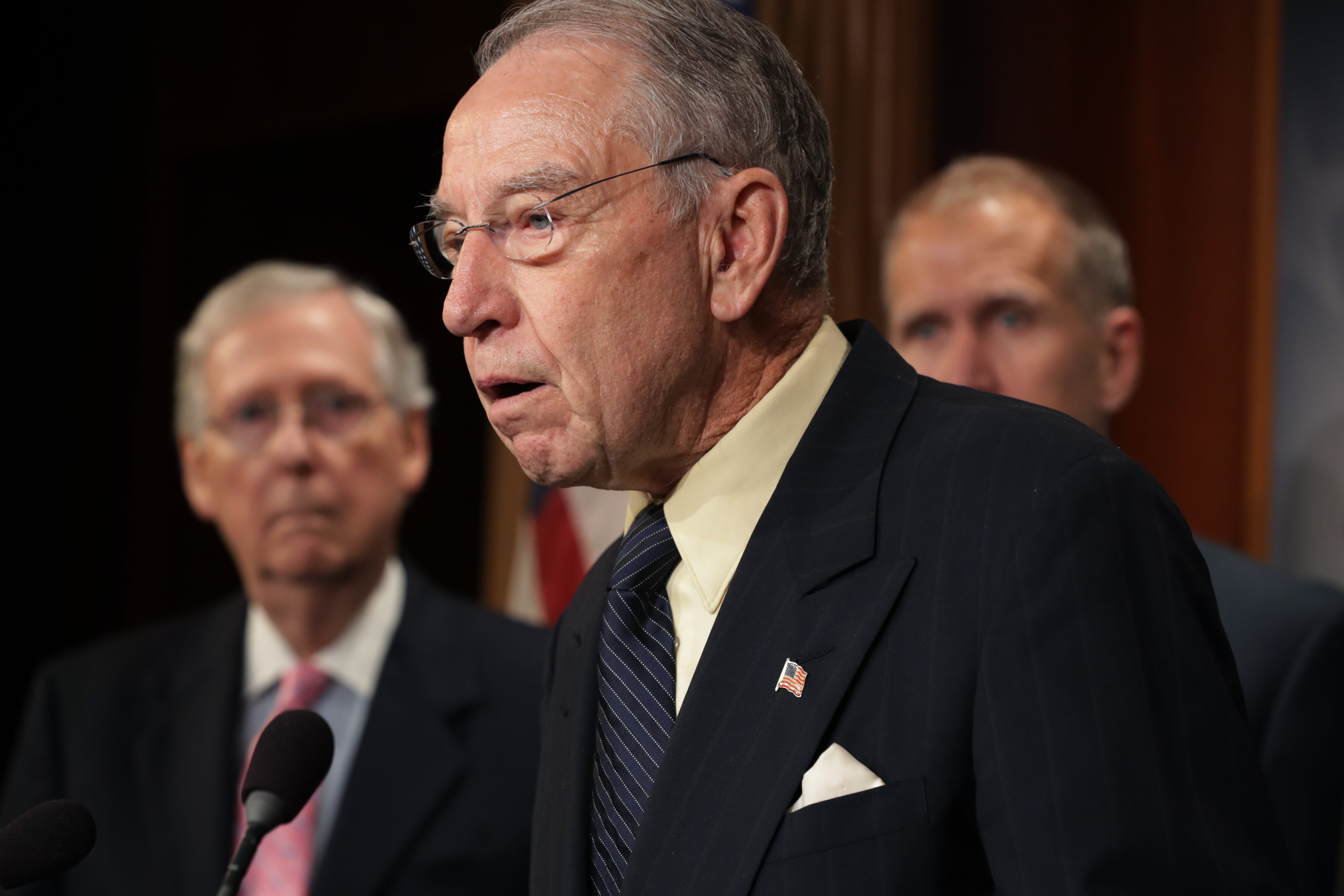 Sen. Chuck Grassley, the Senate Judiciary Committee chairman, tweeted praise for Sen. Susan Collins' decision to support Brett Kavanaugh's confirmation.
Grassley compared Collins to the late Sen. Margaret Chase Smith of Maine, who gave a now-famous 1950 speech, and who Grassley called "trailblazing."
"I commend Sen Collins for her thoughtfulness and am proud to have her support for such a well qualified nominee," Grassley wrote.
4:24 p.m. ET, October 5, 2018
10 key lines from Susan Collins' Senate floor speech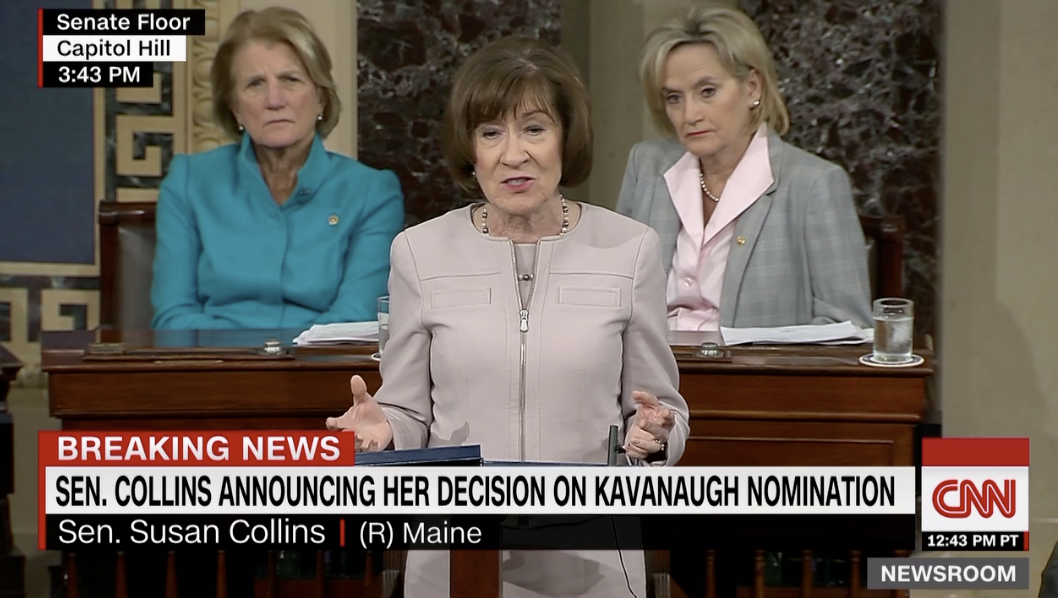 Republican Sen. Susan Collins just announced that she was supporting Brett Kavanaugh's confirmation after delivering a 45-minute speech before her colleagues on the Senate floor.
Here are a few key quotes from her speech:
Her decision: "Mr. President, I will vote to confirm Judge Kavanaugh."
On why she voting for Kavanaugh: "Despite the turbulent, bitter fight surrounding his nomination, my fervent hope is that Brett Kavanaugh will work to lessen the divisions in the Supreme Court so that we have far fewer 5-4 decisions and so that public confidence in our judiciary and our highest court is restored. 
On Kavanaugh's confirmation process: "But today we have come to the conclusion of a confirmation process that has become so dysfunctional, it looks more like a caricature of a gutter level political campaign than a solemn occasion.
On the controversy surrounding his record: "Over-the-top rhetoric and distortions of his record and testimonies at his first hearing produced short-lived headlines, which although debunked hours later continued to live on and be spread through social media."
On Kavanaugh's position on presidential power: "Judge Kavanaugh has been unequivocal in his belief that no president is above the law."
On Christine Blasey Ford's allegations: "I believe that she is a survivor of a sexual assault and that this trauma has upended her life."
On the Congress' handling of the allegations: "This is not a criminal trial, and I do not believe that claims such as these need to be proved beyond a reasonable doubt. Nevertheless, fairness would dictate that the claims at least should meet a threshold of more likely than not as our standard."
On Kavanaugh's nomination: "Mr. President, the politically charged atmosphere surrounding this nomination has reached a fever pitch, even before these allegations were known and it has been challenging even then to separate fact from fiction."
On the #MeToo movement: "The #MeToo movement is real. It matters. It is needed and it is long overdue."
On supporting survivors of sexual assault: "We must listen to survivors, and every day we must seek to stop the criminal behavior that has hurt so many. We owe this to ourselves, our children and generations to come."
4:17 p.m. ET, October 5, 2018
Former President George H.W. Bush praises Collins for showing "political courage"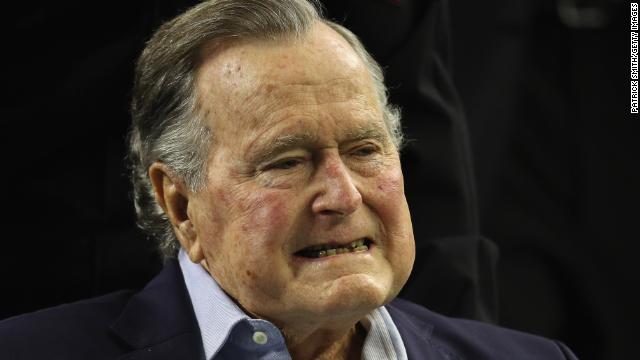 Former President George H.W. Bush took to Twitter to praise Republican Sen. Susan Collins' decision to vote to confirm Judge Brett Kavanaugh to the US Supreme Court.
Read his tweet:
4:16 p.m. ET, October 5, 2018
Mitch McConnell: Collins was "absolutely inspirational"
Speaking shortly after Sen. Susan Collins announced she would vote yes for Brett Kavanaugh's confirmation, Senate Majority Leader Mitch McConnell thanked her and applauded her speech.
"Those of us who've been in the Chamber today have had a unique opportunity to listen to a great statesman from Maine once again talk about this institution, how it ought to treat matters like this, and that she's given us the opportunity to think about how we can rise above the depths to which we've sunk during this process." McConnell said.
"I want to thank the senator from Maine. I've not heard a better speech in my time here and I've been here awhile. It was absolutely inspirational."
4:06 p.m. ET, October 5, 2018
Protesters to Manchin: "Shame! Shame!"
As Sen. Joe Manchin spoke to reporters after announcing his support for Kavanaugh's confirmation, protesters began chanting, "Shame! Shame!"
Individual voices in the crowd could be heard crying out, "Shame on you!" and "What is wrong with you?"
Manchin spoke with his eyes averted, to which the crowd responded by changing their chant to "Look at us, look at us!"
With both Collins and Manchin now voting yes, Kavanaugh is expected to have the support to be confirmed when a final vote takes place Saturday.
Watch it: